Is your magazine subscription website doing its job, or just showing up and collecting a paycheck?
"Do your job."
Those are the famous words of New England Patriots' coach Bill Belichick, and the mantra of the whole team, who I imagine you already know just won their fifth Super Bowl in the greatest game of all time (no New England bias here, nope!)
If you have a magazine, you have a magazine subscription website. Most publishers don't use the same definition as we do, because I don't think most magazine subscription websites do their job. They exist, and they process payments, but they do very little to attract (provocative pricing), entice (great copy and packages), and keep subscribers happy (digital archives and access).
[text_ad]
We're in the business of building successful subscription magazine websites that do their job, so that's our sole purpose in life and our sole responsibility to our clients. Because this is our specialty, and we have spent the last two decades teaching publishers how to build subscription websites for their magazines, I hope you won't take the following advice with a grain of salt. We have the data and benchmarks to back up all our best practices, which I doubt you'll find at any other custom CMS developer of magazine subscription websites.
If your magazine is weakening, if ad sales are down, if circulation is floundering, then it's likely that you're making at least one of the following mistakes with your magazine subscription website:
1. You are focused on content marketing, but forget magazine marketing.
We are 100% on board with SEO and creating free content to give away to subscribers. We agree that you should spend an immense time developing this content and free downloads to build a successful email list, and that search engines should be your #1 source of traffic.
However, all this work occurs on your free Portal, not your premium magazine subscription website (and yes, you should have both). And magazine marketing doesn't stop at content marketing. When is the last time you promoted your magazine in your email newsletters? How about in social media? You can't expect all of your traffic to come from your free Portal, your magazine subscription website has to do its job.
Along with publishing a regular editorial email newsletter with your free content, you should be sending at least one direct promotional email to your list every week with a direct ask to subscribe, and it's best to align these efforts with your social media efforts.
Your Portal does its job by attracting visitors and converting them into email subscribers. Once your list is built, you need to send people to your magazine subscription website in order to increase orders. It can't do its job if you don't actively send traffic. Try these 12 email template ideas for promoting your magazine:
A short one, straight to the point with a super-charged call to action.
A long one, including bullet points about every benefit they get as a magazine subscriber, and many calls to action.
One with video, featuring exclusive content only available to magazine subscribers.
One with a large image above the fold that provokes the email subscriber to keep reading to the call to action.
One that's highly designed and has more images than text (but don't forget that alt text in case they have images turned off)!
One in the form of a plain-text email from the editor.
One that polls them on their favorite content from your site (with a more subtle CTA for the magazine).
One that includes a "once a year" offer on the rate.
One that includes reader testimonials.
One that includes a list of links to premium content that would be immediately available to them, if they signed up for your web edition.
A free trial offer.
A "bonus gift" offer.
Once you've created your 12 email templates, to satisfy a whole quarter, choose a day of the week, say Wednesday, and roll through them every 12 weeks.
2. You have a confusing pricing scheme.
The folks at Newsweek once went digital (purportedly due to low ad sales) then went back to print, but how confusing is their magazine subscription page? Hey, maybe their money is in ad sales like most publishers, but you need to increase subscribers to satisfy those advertisers. Why confuse users with trials and full subscriptions in some rogue pricing scheme that doesn't really offer any kind of psychological incentive to do one or the other?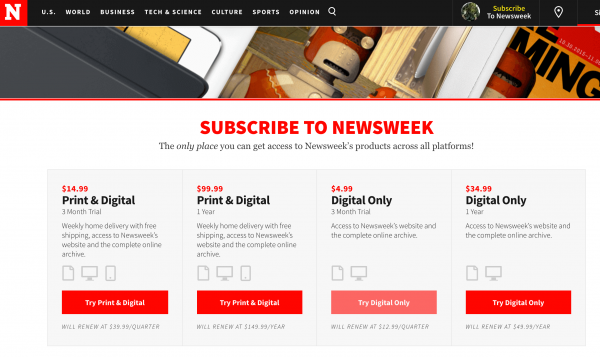 We prefer TIME's approach to pricing, who leverages contrast/decoy pricing. The general principle behind contrast pricing is that you offer three price points. The bottom price is the lowest, but the middle and highest price points are much higher. However, because the middle price point is so close to the highest, more than 60% choose the highest price option. Here's how TIME's magazine subscription website is sold using contrast pricing.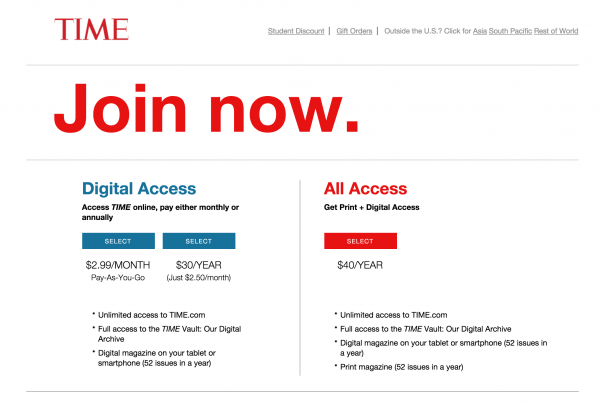 $2.99 a month sounds tempting, and $30 is a huge jump, but wait, you can get everything for just $10 more? Even if I was only originally interested in reading an article or two behind a firewall, suddenly $40/year looks great. Beyond pricing, we think TIME.com is a good example of a magazine subscription website and we think they're doing it well.
3. You are not touting the benefits of an archive (or you don't have one).
Niche magazines have a huge benefit when it comes to magazine subscription websites: archived content! If your content is evergreen (home, garden, health, crafts, etc.) this an enormous upsell and benefit to a digital subscription. Your online magazine library should be hosted within your magazine subscription website and new subscribers should be given immediate access.
Your online magazine library is an incredible upsell opportunity. Once your library is jam-packed with content for decades, you have a pretty lofty upsell. With contrast pricing you can add significant additional revenue. Just take a look at Biblical Archaeology Society, who sells their digital magazine for $19.95, the library for $29.95 and a bundle of both for $34.95. Now, $34.95 contrasted with $19.95 seems pricey, doesn't it? But if you're like most buyers, you'll also spot the $29.95 price compared to the $34.95 price – and now $34.95 doesn't seem so high. Hey, it's just $5 more … and you can get what's behind Door #1 and Door #2 for that extra $5! Might as well go for it!
If you don't already have an online archive, here are a few more reasons why you should:
The content for your online magazine library already exists. If your magazine has been in business for ten to twenty years or longer, then you have a mighty back issue archive to digitize, but it will become your greatest resource of new content and passive income.
The library content is free (for you). The content already exists, which means the content is free. You might have thousands to hundreds of thousands of articles of free content. The content still needs to be webified and edited, but it's now technically free, or at least paid for.
Your online magazine library makes money while you sleep. Every month, or week, or however often you update, your online magazine library will get updated with the newest content. Otherwise, once your back archives and articles are uploaded, they don't need to be updated, and you can generate additional revenue from this platform without added effort.
Your online magazine library is easy to search. With search functionality implemented, your editors can always go back and quickly find information for new articles. Or maybe your farming magazine wants to write about what the price of feed was back in 1950? Dig up an old article! You're now your own reference library.
It practically promotes itself. Don't be shy about posting snippets from noteworthy, historical articles in your archive. You're free to tease non-subscribers with the content they can only get their hands on if they subscribe. With so much content, you have much promotional material to work with.
If you don't have a digital archive, and you aren't using it as a huge benefit statement to new subscribers, then your magazine subscription website simply isn't doing its job.
4. You haven't tested a metered paywall.
Have you tried a metered paywall? Metered paywalls can be beneficial in a few ways, like offering up enough content to be indexed in search engines, and also allowing you to promote premium content in email and social channels.
There are two types, a hard paywall, and a soft paywall (and varying degrees in between):
A hard paywall requires users to pay to access all content. There is no content available to read without registering first, whether registration is free or paid. SEO, as you might imagine, is poor for sites who have hard paywalls. Some circumvent this issue by giving away at least 300 words of each article before the call-to-action which suggests the subscribe. However, news organizations aren't known for their search optimization savvy, so we generally don't see a hard paywall as an SEO-friendly option, and they're often done poorly.
A soft paywall, which is typically a metered paywall, may come in different levels of "softness" but refer to content that may be accessed up until a point. For example, a reader may get three articles for free before they are asked to subscribe.
Back in 2014, Peter Marsh, from Newscycle, polled 45 newspapers who found 73% were charging for content. He found 40% using a hard paywall, and had a retention rate of 15-20%. He found the remaining 60% using a soft/metered paywall had a retention rate of 58.5% (up to 90%!)
For niche magazines, we believe premium content should be gated. Your magazine content should not arrive for free on your website at the same time as your magazine is hitting newsstands or being delivered to paying subscribers.
We suggest at least a six-month delay between printed content, and when it hits your free website Portal. If your content is seasonal, you may even wait a full year to release it in the same season the following year.
In the meantime, your premium magazine content can still reap the benefits of SEO through a metered paywall.
Now it's your turn. What would you add to this list?