Not to be confused with the periodical or newsletter site
The magazine website is one of nine subscription website models that Mequoda has identified and defined. We do this because designing a website is as much about establishing a business model as it is about "design," and so many people simply don't understand how the different models are used, leading to websites that don't drive revenue the way the publisher expected.
We also believe that it takes two to tango, and that with every premium subscription model there is an affinity model paired with it, to drive audience development and subscriber engagement.
Here are the nine models, including the ones I've already blogged about.
Premium (paid) subscription website models
Affinity (free) subscription website models
A magazine subscription website archetype is set up to build subscriptions for a related print or digital magazine and to provide access to issues of the magazine.
A magazine website is only a magazine website if the user can view or download an issue of a magazine—one that is linear and periodic, has pages and a regular frequency, and can be viewed in HTML, downloaded as a PDF or downloaded to a mobile device.
The minimum information unit (MIU) of the magazine subscription website is an article.
Many people refer to any website that carries a legacy magazine brand and magazine content as a magazine subscription website; however, if the content is not organized in a magazine format and issues cannot be viewed or downloaded, it doesn't meet the basic criteria of being a magazine subscription website. It is, instead, a periodical subscription website.
LEDsmagazine.com and Makezine.com are benchmark sites for the magazine subscription website archetype. Both require registration for full access to the site; both offer their magazines as downloadable versions; and both are organized by issue.
LEDs Magazine, published by Pennwell, is an 8X, controlled circulation information source for professionals in the LED (light-emitting diode) industry. Qualified subscribers download their free issues of the magazine in PDF format, including the archives, from the website, LEDsmagazine.com. Visitors may access articles and other resources on the website.
As with all magazine subscription websites, the publication is available for download to subscribers. LEDs includes back issues in its subscription.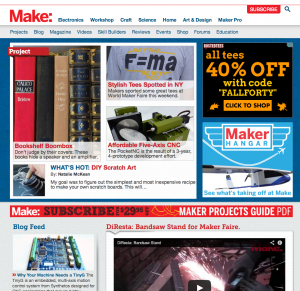 Make, a quarterly consumer magazine published by O'Reilly Media, is targeted to do-it- yourself enthusiasts. On Makezine.com, visitors can subscribe to the magazine and subscribers can download a digital version of each issue published within the term of the subscription.
[text_ad]
Evolving architecture
The magazine website is often confused with the newsletter or periodical website. There are a few critical differences, however. As mentioned above, a primary difference is that the magazine subscription website makes the magazine available to read or download on the site, while periodical and newsletter sites do not.
And since we first began documenting these archetypes, some hybrid versions of the magazine website have begun evolving. At sites such as Newyorker.com, which might appear to be a portal, complete with free, regularly-updated content, he magazine is indeed available as a complete issue. It's not a downloadable PDF, but it's a complete issue in HTML and its taxonomy is by issue, that is, date of publication, rather than by subject.
And remember the purpose of a magazine website: To sell subscriptions. And what you see first thing upon arrival at Newyorker.com – big, red and first in the navigation bar?

A hybrid similar to Newyorker.com is Wired.com. Compare its magazine page to a more traditional magazine website, Makezine.com. Wired, like The New Yorker, takes you to a table of contents, from which you can access every article. Make has a TOC, but you can't get the article; you get an excerpt, and subscribers have to download the entire issue as a PDF.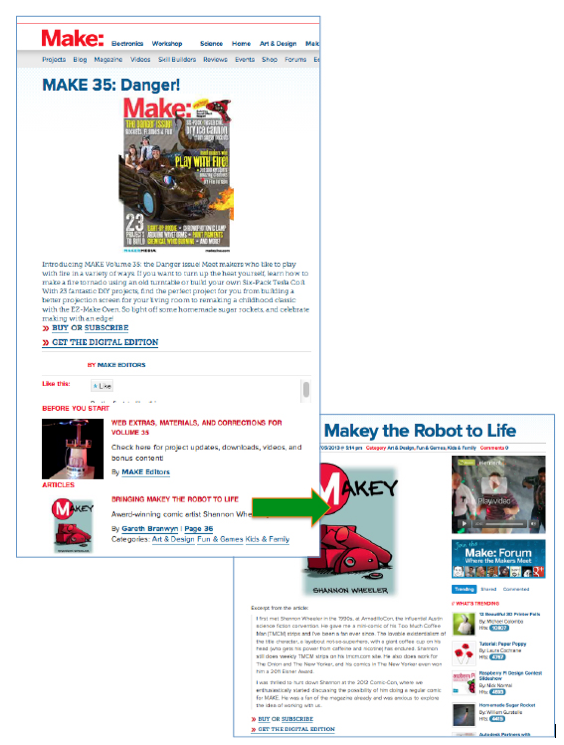 And because it is also dedicated to issues of its publication, the newsletter model can also include issues in a downloadable or HTML format. Examples of these sites include First Class Flyer and Canadian Edge.
Features of the Magazine subscription website business model
Who Pays
MIU
Frequency
% UGC
Authors
Taxonomy
Homepage
PAID
Magazine
User
Article
Low
Low
Many
Issue
What's New
Newsletter
User
Article
Low
Low
Few
Issue
What's New
Application
User
Record
NA
Low
Few
Search
What's Popular
Club
User
Profile
NA
High
Many
Search
What's Popular
Periodical
Varies
Article
High
Moderate
Many
Subject
What's New
Reference
Varies
Record
NA
Low
Many
Subject
What's Popular
FREE
Portal
Sponsor
Post
High
Moderate
Many
Subject
What's New
Community
Sponsor
Post
High
High
Many
Subject
What's Popular
Blog
Sponsor
Post
Moderate
Moderate
Few
Subject
What's New
Magazine vs. newsletter vs. periodical
Since there are many similarities between the magazine, newsletter and periodical subscription websites, let me point out how they differ.
| | | | | | | | |
| --- | --- | --- | --- | --- | --- | --- | --- |
| | Who Pays | MIU | Frequency | % UGC | Authors | Taxonomy | Homepage |
| PAID | | | | | | | |
| Magazine | User | Article | Low | Low | Many | Issue | What's New |
| Newsletter | User | Article | Low | Low | Few | Issue | What's New |
| Periodical | Varies | Article | High | Moderate | Many | Subject | What's New |
Here are the attributes to consider when building a website that distinguishes between magazine, newsletter and periodical sites.
Who pays: Both magazine and newsletter websites rely on subscription sales for a large part of their revenue. A periodical, as I mentioned in my post about those sites, can sell subscriptions, sell advertising, or do both.
MIU: For all three similar websites, the MIU is an article.
Frequency: A periodical is updated often, usually on an hourly or daily news cycle. Newsletter and magazine websites are generally updated only when a new issue is published. However, if these websites are paired with a portal or blog, the portal itself might feature daily news, such as that at LEDs.com.
% UGC/Content generation: Magazine and newsletter sites have very little user-generated content, with most of the content produced by the publisher, while  periodical sites may have some in the form "man on the scene" reporting and the like.
Authors: Magazine and periodical sites have many authors, while newsletters generally have only a few, or even just one.
Taxonomy: The periodical site is organized by subject, while magazine and newsletter sites are organized by issue, since they're focused on the publications themselves.
Homepage: All three subscription website models are focused on "what's new," that is, the latest issue on magazine and newsletter sites, or by the latest articles in each subject, on a periodical site.
As I noted above, another major difference is the focus of a magazine website on selling subscriptions to the magazine. Newsletter websites also want to sell subscriptions to the newsletter. A periodical website, however, is selling a subscription to the website itself.
With the advent of mobile publishing, it's less necessary for magazine publishers to make their issues available for reading or for download on their websites. However, if you're still reluctant to go the digital magazine route (and we don't recommend this, to be clear), the magazine subscription website model might be the one for you.
Of course we always recommend that such sites be paired with a portal or blog to engage non-subscribes, and, as I mentioned just last week, to get some content out from behind a paywall where Google can crawl it and drive traffic.
Are there any other examples of magazine subscription websites you're familiar with? What do you think are the pros and cons of this model?