ConsumerReports.org: How They Picked a Proven Strategy
With 1.6 million paid subscribers, ConsumerReports.org has more paid subscribers than any other publication-based website.
That may not be a huge surprise considering their print magazine has a paid circulation of 4.1 million and growing. Yet we can't help but wonder, while so many other magazine publishers are still so confused about their Internet publishing model, how has Consumer Reports been so clear from the very beginning?
"I think the reason we're as clear as we are is that we launched with a very pure model, and we've really been able to maintain and develop that. And fortunately it worked," says Joel Gurin, Executive Vice President of Consumers Union.

Joel Gurin
Executive Vice President of Consumers Union
By very pure model, Gurin simply means they had to take exactly what worked for them in print, and bring it to the Web. Because they are an information source, an invaluable one at that, they knew they had to be online. Advertising was clearly not an option, as it was that very principle that founded their existence.
So how would they support this enterprise? One option would've been to put just enough information on the Web to get people interested and drive up print subscriptions. But they felt that if they didn't put their ratings online, it just wouldn't feel like them. They knew once they went online, they would have to go all out and include ratings. Otherwise, they felt it would've frustrated people. Once that decision was made, they also realized they'd have to charge for it. "Otherwise we would've killed ourselves," says Gurin.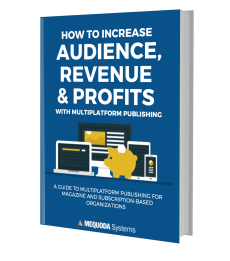 Learn the secrets behind today's most rapidly growing niche publishers. Download a FREE copy of How to Increase Audience, Revenue & Profits with Multiplatform Publishing, a guide to multiplatform publishing growth for magazine and subscription-based publishers. Download now.
"We didn't have a choice to deviate. The inability to take advertising was really a wonderful focusing. We just couldn't go there. We figured the worst case scenario would be that we wouldn't get a lot of traffic, but it would be there for people who wanted it," says Gurin. Looks like their worst case turned out to be a best case, to say the least.
Online vs. Print
Once they established their presence online, the folks at Consumer Reports thought about ways to enhance their online product. How could they make it different from their print product? What would make someone want to subscribe just to the online product, or to both print and online?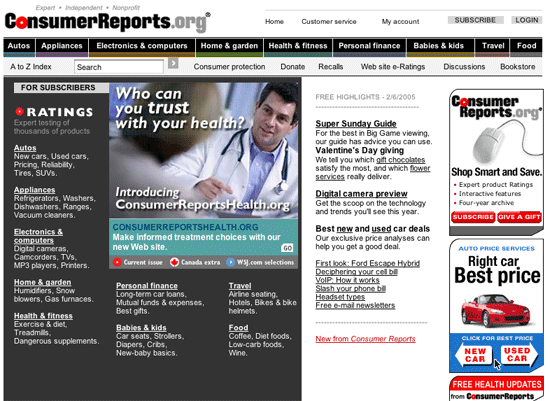 ConsumerReports.org Homepage. While there is significant content overlap between the magazine and the website, they still remain as two very different products just by the nature of how people use the different media.
It's clear to see that there is a distinction between the two products. All the content that is in the magazine is on the website plus more. The website has a four-year archive of information that is searchable by both issue and topic. So if you wanted to learn about electronics, you can look back four years and find all kinds of electronic information. The popularity of eBay makes this very helpful, as people are now buying more and more used equipment.
"Although there is a significant content overlap, they still remain as two very different products just by the nature of how people use the different media," says Gurin.
"People really go to the Web for direct search… something broke and you've got to buy a new one."
For the magazine, they try and provide much more context. For example, you might be thinking about remodeling your kitchen. The magazine would provide you with an in-depth article about how you might do that. "It's a different dynamic when you have to go and buy a new refrigerator or you food's going to go bad overnight," says Gurin.
Gurin continues by saying that they have an increasing number of dual subscribers. "Generally, I think it's a testimony to the fact that people really see value in both. There's a functionality to the Web that print can't do."
Turning Visitors into Subscribers
Another aspect of website publishing that print publishers often struggle with is how much information to give away for free. Consumer Reports, as you may have guessed, has this process locked down.
From a usability and design standpoint, they claim one of the hardest things for them to do is very clearly delineate between their free and paid content. Their goal is to make it clear to a visitor that this is a site they have to pay for. Next, they do their best to convince the visitor that this site is worth paying for.
If you go to the homepage, you'll see a section that clearly says "For Subscribers"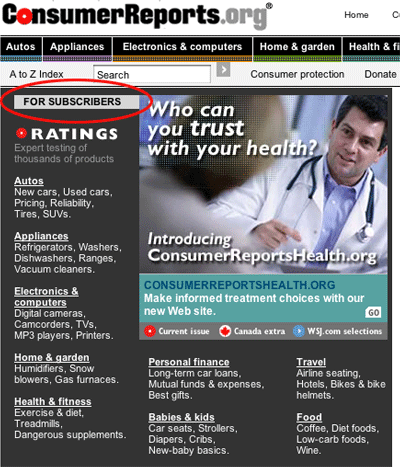 Although they claim it is one of their bigger challenges, the ConsumerReports.org homepage does a great job of differentiating between what is free and what is paid.
"Converting traffic into subscriptions is like art and science. But it's how to balance those things and get people engaged enough on the site to cause them to take the next step. Once they're ready to take the next step, you get to the sales page, and that's another part of the science. It becomes very much a direct marketing activity with how you present offers and how you try not to distract anybody from going through that process," says Gurin. (Read IMR's Long Live Long Copy from John Clausen.)
From a content standpoint, they tease the visitor by providing just enough information.
"If you're looking for an LCD TV, we provide a lot of free information about how to choose an LCD TV. But if you really want to find the one that's right for you, we help you subscribe. We kind of lead you right through the process," says Jerry Steinbrink, Senior Director and General Manager, Information Products

Jerry Steinbrink
Senior Director and
General Manager, Information Products
Their basic, or free content is the "how-to" content. The premium, or paid content is the specific product recommendations.
Up-sell, Cross-sell and Direct Mail Campaign
As with most successful online newspapers or magazines, ConsumerReports.org offers a cross-sell to the magazine upon receipt. Once you sign up for the website, they give you a thank you notice saying, "Thank you very much. If you'd like to take an introductory offer to the magazine, click here for a $12 subscription."
"We get a 20 percent take on that offer, which was a surprise," says Steinbrink. "It's interesting, because after talking with subscribers, we learned that once they're in that deep, they pretty much love everything that we do. So one of the basic reasons this works so well is because subscribers feel that the magazine's an entertainment value and they will use the Web as a research tool."
They've recently started a direct mail program to convert magazine subscribers to be joint subscribers to the website, and they've had phenomenal success with that. Consumer Reports may very well be a pioneer in this area, as you can imagine it would be very difficult to go out into the print world and drag them into the online world. Because this direct mail program and its concept is so new, they've actually used their database to try and identify the most likely prospects right up front.
At one point, CR tried selling a combination subscription for $39 through direct mail and that didn't' work at all.
"The price point was too high," says Steinbrink. "One of the other things about people wanting the two products is you put an aggressive price point in the cross-sell so that it's almost a no-brainer. For another dollar a month, or twelve dollars, it's not a big deal. But you immediately move up the price point from a $26 sub to an extra $12."
Marketing
Naturally, a magazine with such a strong brand like Consumer Reports gets a lot of traffic from people who directly type the magazine name into the URL. They won't bother searching, they'll just type "Consumerreports.com" or "ConsumerReports.org" right into the browser window. But Consumer Reports also has a strong search engine marketing program and search engine optimization program.
"We spend an awful lot of time and money on that side of the business (SEO and SEM). We were one of the first publishers to really focus on SEO, which was necessary for us because so much of our content is behind our pay wall," says John J. Sateja, Vice President, Publishing.

"We had to find a way for the search engines to see what we had to offer without showing all of it to them."

John J. Sateja
Vice President, Publishing
Steinbrink adds, "There's a good chance that even in a natural search, without us doing anything, we would come up pretty high because we do a lot of internal meta-tagging to make sure our site is as robust as it can be."
"We're relatively new to search engine marketing, and we're just kind of feeling our way through it. It has been profitable for us at the level that we're at now, so we're still trying to determine exactly where we want to be at with it," says Sateja.
They also do a fair share of pay-per-click marketing. Right now, they're bidding on hundreds of keywords, from the very specific to the very general. For example, they would bid on something as specific as the phrase "Canon digital camera" and as general as the word "appliance."
They're careful about affiliate marketing, simply for the sake of maintaining control of the brand. Because their affiliate agreements contain so many restrictions, they prefer not to offer affiliate marketing to the general public. For example, their agreements will say, "You can't show our content this way, you can't show it that way, you can't have ads around it, etc." Having people promote Consumer Reports without their direct control just doesn't work for them.
What Keeps People Coming Back
Putting their excellent reputation, astounding credibility and undeniable success aside, we still wonder, what keeps people coming back? "The audience that we go after and that buys our product are consumer researchers. They need to be savvy shoppers. They need to be informed, they want to keep up with the latest consumer information," says Gurin. "It's a big part of who they are."
Gurin compares it to his wife who is a nurse. "Everybody calls her about their medical problems. So for us, there's always someone in the neighborhood who would say, "I was thinking about getting a TV, what do you think?" and the CR subscriber would say, "Oh, I'll tell you, This is what you're getting." So they are the kind of people that study this stuff," says Gurin.
Plus, Gurin says they have "inners and outers." This he explains as people who go through stages in their life when they are a big consumer. They buy a new house, a new car, they have a new baby; these people tend to be more interested. "But then they think they're going to save some money for a while, which doesn't happen. So then they lapse and we hit them again, and they come back in. Or else they get an online subscription."
A lot of interesting dynamics going on there—can't argue with their methods.
We still couldn't help but wonder, there are hundreds of free reviews on digital cameras out there, so why would I go to CR and pay for a review?
Simple answer: "We test products. Nobody else tests products. They write about them, they tell you about them, but it's more of a trust factor. We're independent, non-profit, unbiased; people like that. People are really looking for someone they can trust," says Sateja.
Other CR products
In addition to the print magazine and the website, Consumer Reports also publishes "Consumer Reports on Health" and "Consumer Reports Money Advisor" newsletters. The health newsletter has about 400,000 subscribers, while the Money Advisor, in its first year out, already has more than 200,000 subscribers. They also publish and sell books about cars, babies and homes.
Consumer Reports has recently launched Consumer Reports Best Buy Drugs, a free public education site giving people information on how to find cost-effective medicines and potentially save thousands of dollars a year.
They have a lot of advocacy work going on in the health arena, probably more than just about any publishing organization, according to Gurin. "We almost have an embarrassment of riches online. We're doing a lot of advocacy stuff online, grassroots engagement, on a whole bunch of different issues through the Consumers Union Brand advocacy reports."
Gurin continues, "We're in a wonderful position in that we've got a lot of terrific people here, certainly on the business side, on the editorial side and also on the advocacy side who have helped us become a very web-savvy organization."
New ventures
ConsumerReports.org has recently done a deal with Yahoo! Shopping. Of course, there are many parameters around this deal, such as not placing ads near the CR name, so it's more of a private, custom version of Yahoo!'s typical deals. "It works for our subscribers and we put all disclaimers on it, saying we don't get anything out of this and the fact if we don't like who's on it, we throw them out," says Sateja.
Steinbrink adds, "It's been tremendously successful. Our subscribers like it, nobody's complaining about it. Yahoo! loves it because we're sending very qualified traffic to them and their retailers, and we have an incredible click-through rate on their individual retailers."
CR has no problem with rating those who they have deals with. In fact, the day they signed a deal with AOL and did a press release, they also did an announcement of how AOL was one of the worst shopping portals in the world.
Words of Advice from Consumer Reports
"One advantage that we have is that we're originators here. If you could really find your niche and find some way to differentiate yourself and find content that's unique to your brand then you're along the way of figuring out how you can actually sell your content," says Sateja. "I used to say that if you have content that can help people make money or save money, then you can make money off your content. Consumer Reports, is about saving money, The Wall Street Journal is about making money, so if you can package it together and have some original stuff that you can't get anywhere else, you should be successful."
Steinbrink agrees. "One of the things we want to hear is that you really have enterprise in your content. You really need to find your strongest niche and then work to make that even stronger, make it more valuable, more unique, because everybody is trying to do just about everything out there. If you're going to sell content, it has to be unique." He continues, "That may seem common-sensical, but I don't see a lot of publishers doing that."