Free tools for bloggers that will turn your editorial management strategy into a multi-dimensional experience
As a professional editor and blogger, there are certain tools you use on a regular basis. Your blogging platform is instrumental, but you probably also use social networks like Twitter and Facebook to share that content you're creating. Possibly, you're taking it one step further and submitting it to bookmarking sites.
Fortunately (or unfortunately), there's still plenty more you can do. As editors we have more time than we know what to do with, right? Just kidding.
However, for the ambitious editors who have bridged the gap into wearing their marketing hats every once in a while, these tools will not only be helpful but absolutely instrumental.
To become a better online editor and blogger, you absolutely must add these free blog tools to your bookmarks.
1. Yahoo! Site Explorer
http://siteexplorer.search.yahoo.com/

Yahoo! Site Explorer is an instrumental tool for finding out who is linking to you as well as analyzing your own pages. As YSE puts it, "Site Explorer allows you to explore all the web pages indexed by Yahoo! Search. View the most popular pages from any site, dive into a comprehensive site map, and find pages that link to that site or any page."
2. Open Site Explorer
http://www.opensiteexplorer.org/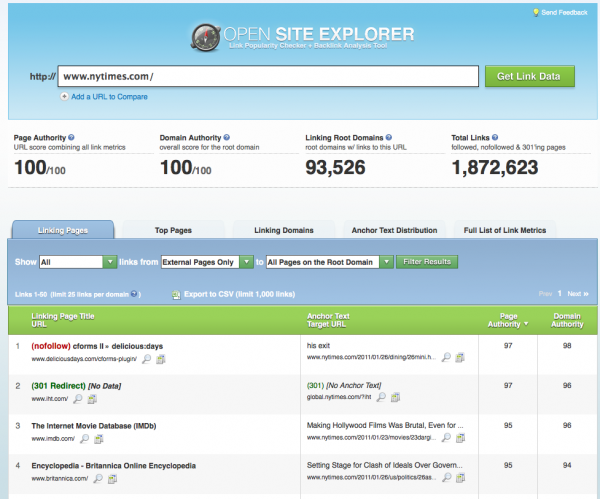 Taking it one step further is Open Site Explorer, run by the popular SEO software company, SEOMoz. Where Yahoo! Site Explorer tells you who's linking to you, Open Site Explorer will give you additional information, like the quality of those links. Even more fascinating, Open Site Explorer will tell you what anchor text that the site linking to you used when they linked to you.
3. Ping.fm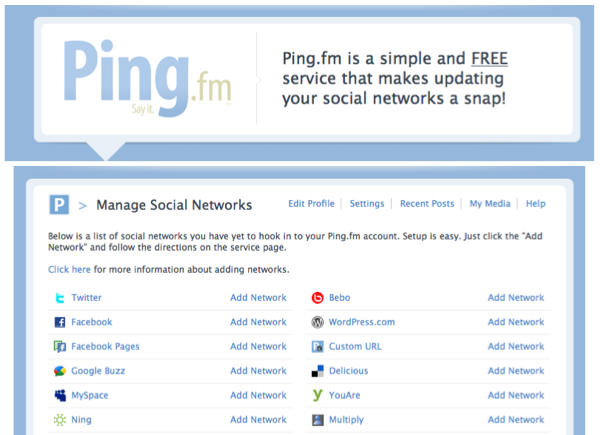 Ping.fm allows you to post the same thing to all of your social networks simultaneously. So, if you've written a new blog post, you can use this website, or its bookmark, to quickly post the same update in several places.
Additionally, you can hook up your RSS feed to Ping.fm and gain the ability to automatically post your new blogs to Twitter, Facebook and your other social networks at the same time.
4 & 5. Alltop & Technorati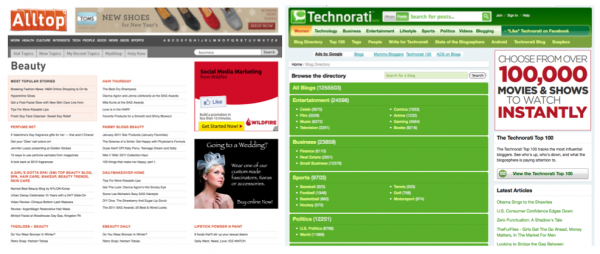 These two directory sites are instrumental for when you're looking for other bloggers in your niche. You might be looking for these bloggers to partner with them for guest posts or reviews, or perhaps you simply want more blogs to link as sources in your blogs.
On both of these sites, blogs are separated by their niche. The only difference between the two is that a blogger needs to submit and be approved by Alltop to be in their directory, whereas Technorati is a free-for-all where anyone can add themselves and automatically be included.
6. AddThis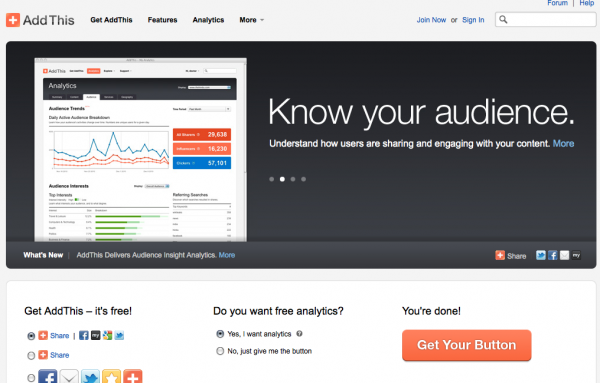 AddThis is a widget that editors can install on their blogs in order to allow readers to share and bookmark their content more easily, while providing the blogger with analytics on how their content is being shared.
[text_ad]
7. After The Deadline
http://www.afterthedeadline.com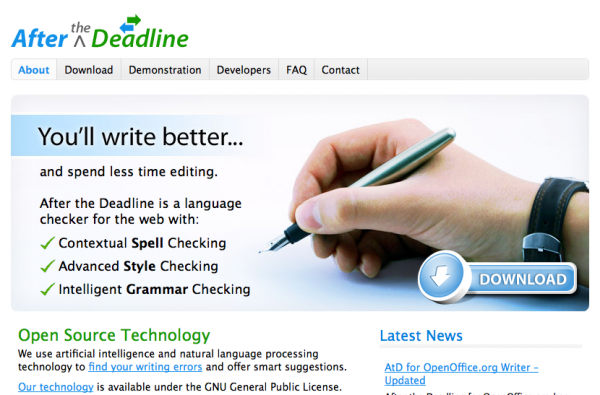 After the Deadline is a plugin for Firefox, Google Chrome and WordPress. This plugin is excellent for editors because it will spell-check, style-check and grammar-check any content that you enter into a field or form online.
So whether you're writing an article or posting a comment, you simply need to hit the After the Deadline button in your browser and it will create the green and red underlines that we're so familiar with in our offline word processing programs.
8. Cliche Finder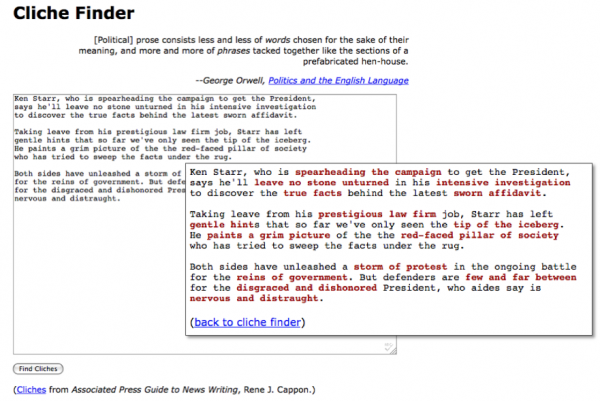 Cliche Finder is a simple tool that you can use to see if you're over-using clichés in your copy. All you'll do is copy and paste your copy from your website into the Cliche Finder form, and it will highlight any over-used phrases in red.
If your whole article/sales letter is in red, then you might end up wanting to find new ways of interpreting your points.
Note: The Cliche Finder tends to get tripped up when you have non-alphabetical characters like numbers or signs in your copy.
9. HARO
HARO (Help A Reporter Out) is a resource for both bloggers/journalists and regular Internet users. It runs completely on a daily email newsletter that is sent out to bloggers who are looking for sources and to people who want to be a source.
So if you're a blogger looking for someone who got stuck in Iceland during the volcano eruption, you'd fill out a form saying who you are, what your publication is, and what you're looking for.
People on the email list (free) will see your inquiry and say "Hey, I was there" and get in touch with you directly. You could then interview them and get quotes for whatever article you're writing.
On the flipside, if you want to be quoted somewhere (to get an inbound link or be published), you could look for questions that bloggers need answered. The topics are very broad, and their daily email never has a low supply of journalists looking for sources.
10. Blogger LinkUp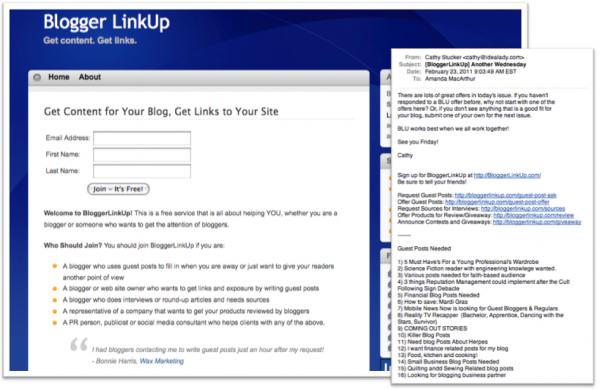 Blogger LinkUp is similar to HARO, except that this service connects bloggers with manufacturers and other bloggers. As BloggerLinkUp.com promises that "you will get emails once or twice a day, Monday through Friday. These emails will list bloggers looking for expert sources, requests for guest posts, bloggers and web masters offering guest posts, and PR reps and others seeking reviews of products. When you see a request that you can fulfill, just respond directly to the requester."
If you're looking for products to review, or you want your products reviewed, this is a great list to join. It's also excellent if you're looking to write more guest posts for external blogs, or if you're looking to find guest posts for your own.
11. Blog Planner
http://www.productiveflourishing.com/free-planners/
This Blog Planner from Productive Flourishing is a simple downloadable calendar for bloggers that allows you to make a pen and paper editorial schedule. It's updated every month, so every month you can come back and download that month's calendar template.
12. Flickr Commons
http://www.flickr.com/commons/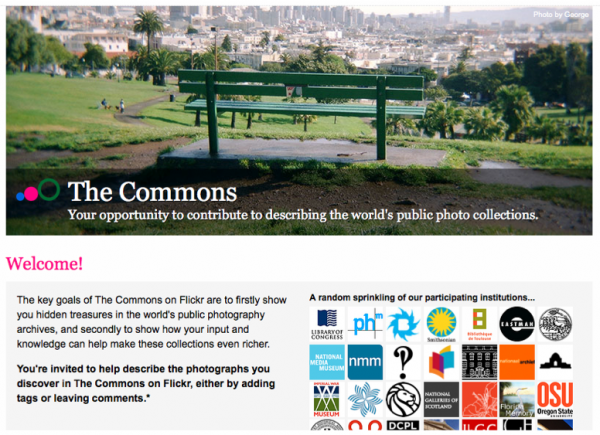 Flickr Commons takes away the pain of finding copyright and restriction-free images to use on your blog. All of the images in this collection have been contributed by places like The Library of Congress, NASA and The National Media Museum. They're free to use as much as you want in your blog posts.
13. Google Keyword Tool
https://adwords.google.com/select/KeywordToolExternal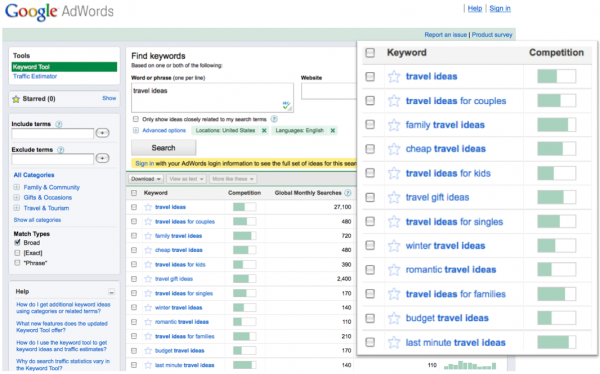 In its simplest form, the Google Keyword Tool is an excellent tool for bloggers who are looking for new inspiration on their blog posts. This tool allows you to type in a word or phrase about the topic you want to write about, and it will send you back all of the keyword phrases that people are searching for that are related to the phrase you entered.
So if you're a travel magazine and are completely blank on new ideas for a blog. You might type in "travel ideas" into the Google Keyword Tool. It will deliver back results like "travel ideas for couples" or "travel ideas for September" or "travel ideas for people with pet pigs". You get the idea.
Since the results its giving back to you are keyword phrases that people are searching for, you'll want to add those exact phrases to the title of your article, subhead, and throughout the article. There's a whole lot more to that process, which you can learn more about in our Google Keyword Tool Basics white paper.