If you think email is dying, you're just doing it wrong.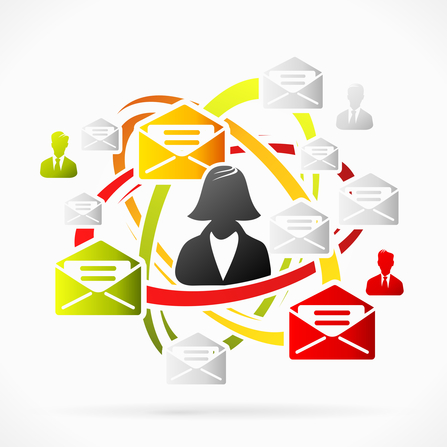 You're a superhero. You've got the villain right where you want him. You'll save the world, rid it forever of this foul knave, usher in an era of peace and prosperity, if you would just use your superpowers to put him away. Your moment of glory is at hand.
But you don't do it. You let him off. Why? Who knows why? I guess you have your reasons. But the gathering crowds groan, you're disgraced in the local daily, and the metropolis switches its allegiance to another guy or girl in a weird get-up.
Most importantly, your chance to do something big has come and gone, and you might never get another one.
Your superpower: doing email right.
If that seems a little dramatic as an allegory for email marketing, consider this: According to the Direct Marketing Association, companies who publish email newsletters and promotions see a 4,300% ROI. Pretty superpowerful, right? Also superpowerful: Personalized emails are six times more effective than boilerplate form blasts, yet 70% of companies fail to use them, according to Experian's 2013 study.
No wonder there's a perception out there that email marketing is obsolete. After all, if 70% of 10-speed owners failed to use their gears, people would probably say the same thing about bicycles.
But bicycles are not obsolete. Bicycles are better than ever. Bicycles will get you where you need to go. The same can be said for email marketing, provided you decide to wield the powers at your disposal with wisdom, efficiency, and discretion.
It's easy to stand out as a good email publisher, because it's so often misused. The bar isn't high.
Email's superpower: good content.
While email used to be the digital version of direct marketing, publishers who are seeing success with it are focusing more on the email and less on the marketing. More to the point, they're producing interesting, valuable content rather than polluting their consumers' inboxes with clumsy and inconsiderate promotional noise.
According to a MarketingSherpa Benchmark Report, 68% of B2C marketers report that relevant content is now a top priority in their emails. This content doesn't have to make consumers fall to their knees and weep in joyful wonder, but it must be fresh, compelling, and reasonably in tune with your typical recipient's online habits and tastes. It can potentially include:
Repurposed blog posts, user-generated material, and original multimedia
Skillfully deployed subscription deals, provided the consumer recognizes a true benefit and not a bait-and-switch trick
Integrated social media features that enhance rather than detract from the email's impact – according to GetResponse, emails that include social sharing buttons boast a 158% higher click-through rate
Above all, publishers who use email as more than a promotional platform – who use it as its own publishing medium – get ahead. These publishers get to know their recipients and put them in charge, fostering a real relationship instead of flooding them with snake oil. It's the snake oil that gives email a bad name.
Use email as a publishing platform.
Did you think email was just for marketing? Have you been calling it a marketing platform instead of a publishing platform?
We've analyzed the email newsletters of hundreds of different publishers. Some are packed with interesting content that makes a subscriber stay subscribed. Others seem to blast promotional emails every single day without offering a taste of the content in the form of an editorial email newsletter.
Mequoda publishers practice the former. If you read last month's post about our Cobbler's Kids pyramid, then you know that we spend 14% of our revenue creating content. And much of that content is given away for free through our email newsletter. In fact, you're reading that content right now.
Our publishers are capitalizing on the fact that open rates in the publishing industry continue to rise. According to some of the leading email service providers' most recent available data, these are the average open rates for publishers:
MailChimp 22.93%
MailerMailer 13.5%
ConstantContact 18.26%
SilverPop 16.4%
GetResponse 28.56%
That's a quick and dirty average of nearly 20%, which jibes with what representatives from a few other providers reported for the Media and Publishing segment during informal conversations. According to Epsilon's 2013 E-Mail Trends and Benchmarks, open rates – the coin of the realm when it comes to email metrics – have performed at steadily rising levels year over year.
Good publishers use email for good.
Bayou City, a Mequoda client and recent winner of the 2014 Nichee Award for Best Niche Start-Up Magazine, is a a Houston-area, advertising-supported magazine about "close-in" neighborhoods of the city. At Bayou City, the editors identify lifestyle trends, which they translate into Houston life, and create content that conveys those trends as experiences.
Though the magazine only launched in November of 2013, its audience is already fiercely loyal, due to its thoughtful editorial content that's on the pulse. In fact, in an industry where the average open rate hovers around 20%, Bayou City boasts average open rates around 45% but can reach as high as 65% on any given day. Mequoda client averages aren't so shabby either, with a 2013/2014 average of 26.5%.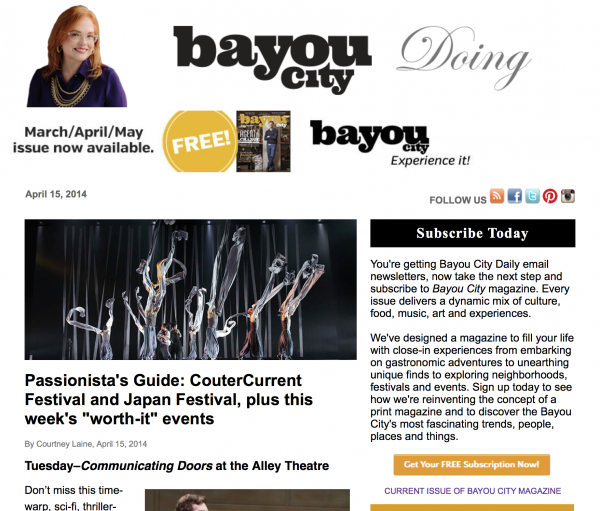 You might think that subject lines are the major factor for open rates, and they are, but good subject lines don't trump content. If the subject lines are great but the content consistently disappoints, your email newsletter open rates will drop.
Another reason why Bayou City has higher open rates, which is something we've tested for years, is that Becky Davis, founder and editor in chief, is at the top of the newsletter. Subscribers like Becky. They like seeing a real editor deliver the news, rather than a byline.
What makes for a good email strategy?
More content than promotion. In retail, consumers sign up for emails to get coupons. In the publishing world, consumers sign up for content.
Curate the best content. If you're giving away a lot of content on your website, pick the best content to promote.
Check in with readers. You have new ways to get subscriber feedback now. On Twitter or Facebook, ask readers how you can improve your email newsletter.
But don't forget your own goals.
Make room for featured products. Assign promotional slots to products that relate back to the editorial in each newsletter. An article on knitting could promote a book on knitting, and an article on HR could have a featured product for an upcoming HR webinar.
Send traffic back to your website. At the very least, provide links back to your website for related articles or to read the full article. Click rates improve when short 50-word excerpts or snippets are used that link back to the original article.
Strike when the iron is hot. Let your editorial newsletters be editorial. Good content keeps subscribers on your list. When you send promotional emails, align them with your newsletters. Create a problem on Tuesday morning in your editorial newsletter, and solve it Tuesday afternoon with a product later in the day through a promotional email.
Think of email as an undervalued but solid stock, ripe for investment if you're willing to do the legwork while managing your expectations.
With the advent of SenderScore, spam filters, blacklists, and more intuitive mail clients – in harmony with higher standards for design and content – there's no reason why email open rates won't continue to improve.