How we've built a digital publishing and consulting system that resonates with our target audience
"So what exactly does Mequoda Group do for a living?" people often ask us.
I have been involved in Internet marketing and publishing since 1995, when I was running an agency called Blue Dolphin Direct—primarily a print direct marketing and editorial consulting firm for a variety of magazine and newsletter clients. It was during that time when the folks at ComputerWorld had the revolutionary idea that we could sell subscriptions to their print magazine via the Internet. The program took about eight months to develop and was successful, in that we were able to sell print subs at a cost per order of about $65—a little below their average cost per order via direct mail. And that was the beginning of our journey.
In early 2000, we converted the agency into BlueDolphin.com, which was an early, successful online retailer of print magazine and newsletter subscriptions—albeit a hub-less site. And although we became very good at mining our database, we were not so good at building it through the kind of frictionless sources that we see successful integrated media companies using today.
In late 2003, we concluded that the action was not in managing a centralized retail site for the print magazine and newsletter community but, instead, in helping individual publishers build their own portals, or hubs. So three of us formed Digital Media Advisors—still not having a clue about what we now know as the Mequoda System.
We spent 2004 researching successful online companies and, discovering similarities among them, began to label the approach they seemed to be following as the "Media Quote Daily Methodology." That was quite a mouthful and, rather quickly, the shorthand version emerged: "Mequoda Methodology." In early 2005, we decided to change our company name to Mequoda Group and rebrand every product we produced under the Mequoda label—including Internet Media Review which was the precursor to the current Mequoda Daily.
By mid-2005, I found myself running the Mequoda Group, an Internet marketing research team of 20 people—most of whom had been working on the Internet for five to 10 years and who now use the Mequoda System as a backdrop for finding high-performance, integrated media companies.
10 years later
Fast forward to today, as we celebrate our 10th year in business. As online trends in digital publishing have changed, so have we, but our focus on research has kept us ahead of the curve. Many of the best practices we were teaching back in 2005 and 2006 are still part of our best practices today, and publishers are still only beginning to adopt them, with great success.
At Mequoda, we've always been transparent with our readers, clients and subscribers. We share our data every week in the Mequoda Daily, and at events we bring up all of our own internal numbers, subscribers and live analytics just to show you that we practice what we preach.
And that is exactly what I wanted to write about today, because last month at the Niche Media Conference someone said to me, right after my session, "I get your system and I want to sign up right now." His reason, which is what inspired this post, was his next comment:
"You guys do the best job of walking your own walk of any firm I've ever seen. I like the fact that you're doing the same thing that you're telling me to do. You're not just teaching it, you're living it."
This is one of the first times in 10 years someone I'd just met understood our model right off the bat. For 10 years, we've been building the Mequoda System, which we not only use on our own site, but we build for our clients. We are test dummies, through and through.
But how did this person come to this conclusion so fast?
I had just presented our "Cobbler's Kids" pyramid. This is a new pyramid we came up with to show the structure of our business model to this group of niche publishers. It's a pyramid that can be replicated by any publisher, but with different items on each level of the pyramid. The principle of the pyramid can reveal where your assets are and how the free levels support the paid levels at the top of your business pyramid.
So I figured if he got that, it might be worth exposing the system here on the Daily, to show that we're not just teaching people to be content marketers, but that the principles are all the same except what's at the top of the pyramid.
For a publisher, it's subscriptions, magazines, events, and etcetera. We are a software company, not an information company, but we're building it up in the same way because we can relate to publishers in that way.
Let me explain. Here is our pyramid, which we call the "Cobbler's Kids" because I am the cobbler, and Mequoda is one of my kids.
.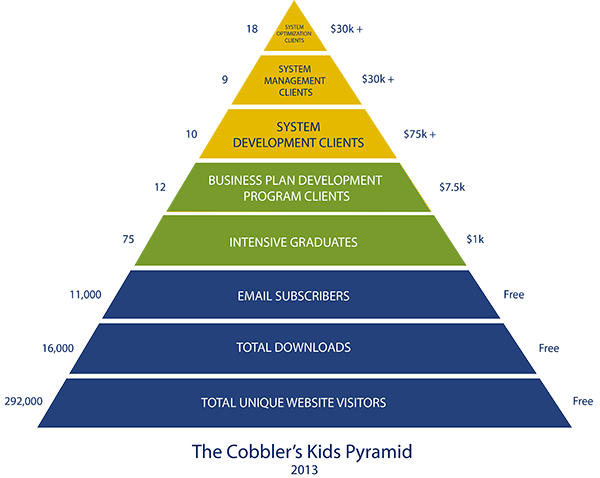 The Mequoda Pyramid
The data in this pyramid features a complete year of 2013 data. On the left you'll see the number of people / subscribers / attendees / clients, and in the right you'll see how much money is charged for each.
The bottom of the pyramid, marked in blue, is everything we do for free.
These are our audience development efforts, also known as our "marketing expenses". If you just look at the blue on the bottom, we're publishers, but we don't charge anything for those levels which is why people think of us sometimes as publishers because they're free and what the largest percentage of our audience gets to see: the Mequoda Daily blog, our free downloads, and our email newsletter.
We spend about $200,000 a year generating content for the bottom of the pyramid and we don't charge anything for it.
The next step up on the pyramid, marked in green, is our live Intensive event where people go to learn our system (or train their employees on their new Mequoda System) and our Business Development program which are both value priced. For this level, we generate around $165k per year but spend over $400k to produce them.
If you look at levels one through five, all revenue is spent on content creation, delivery and client engagement.
They are lead generators to the top of the pyramid and a marketing expense that we absorb. These levels are qualifiers. It's where we ask people to spend some money with us, but it doesn't begin to cover the cost of the services being rendered.
In reality, it costs us $25,000 or more for a business development plan, but we charge $7,500. It costs us around $2,000 per Intensive seat, but we charge $1497 and take $500 off if you register two or more people, because we want to fill those $2000 seats!
But we charge less and absorb the costs so that leads can afford to turn into clients and move on to the top of the pyramid.
The top of the pyramid, in yellow, funds the lower level pyramids. And like the yin and the yang, they give rise to one another.  All of the research we produce on the lower levels gives power to the top of the pyramid, where our development, management and optimization clients are getting the most up-to-date consulting best practices and state of the art systems being built that are constantly evolving. Our clients at the top of the pyramid benefit from every level below them.
Currently Mequoda generates $3m per year, and we spend 14% on marketing, but as you might assume, our version of marketing isn't the same as other consultants. Instead of sponsoring events, we hold our own Intensives. Instead of paying to be featured on other blogs, we write our own. Instead of sponsoring other company ebooks, we produce and publish our own.
And compare that to other consultants that spend an average of 25% on marketing, typically outside of their company via sponsorships and ads, we not only keep our costs down, but our money is spent in a way that benefits our readers, subscribers and especially our clients. Every nickel is spent to support the top of the pyramid.
We double down because all of the effort we're putting into content generation is doubling up into documentation for the consulting group so we have that base of information so that folks at the top of the company have something to use as reference material.
We're always building websites that attract, convert and engage the most website visitors and every level of our pyramid counts.
I'm curious to know how your pyramid stacks up. Does every level lead to the top?