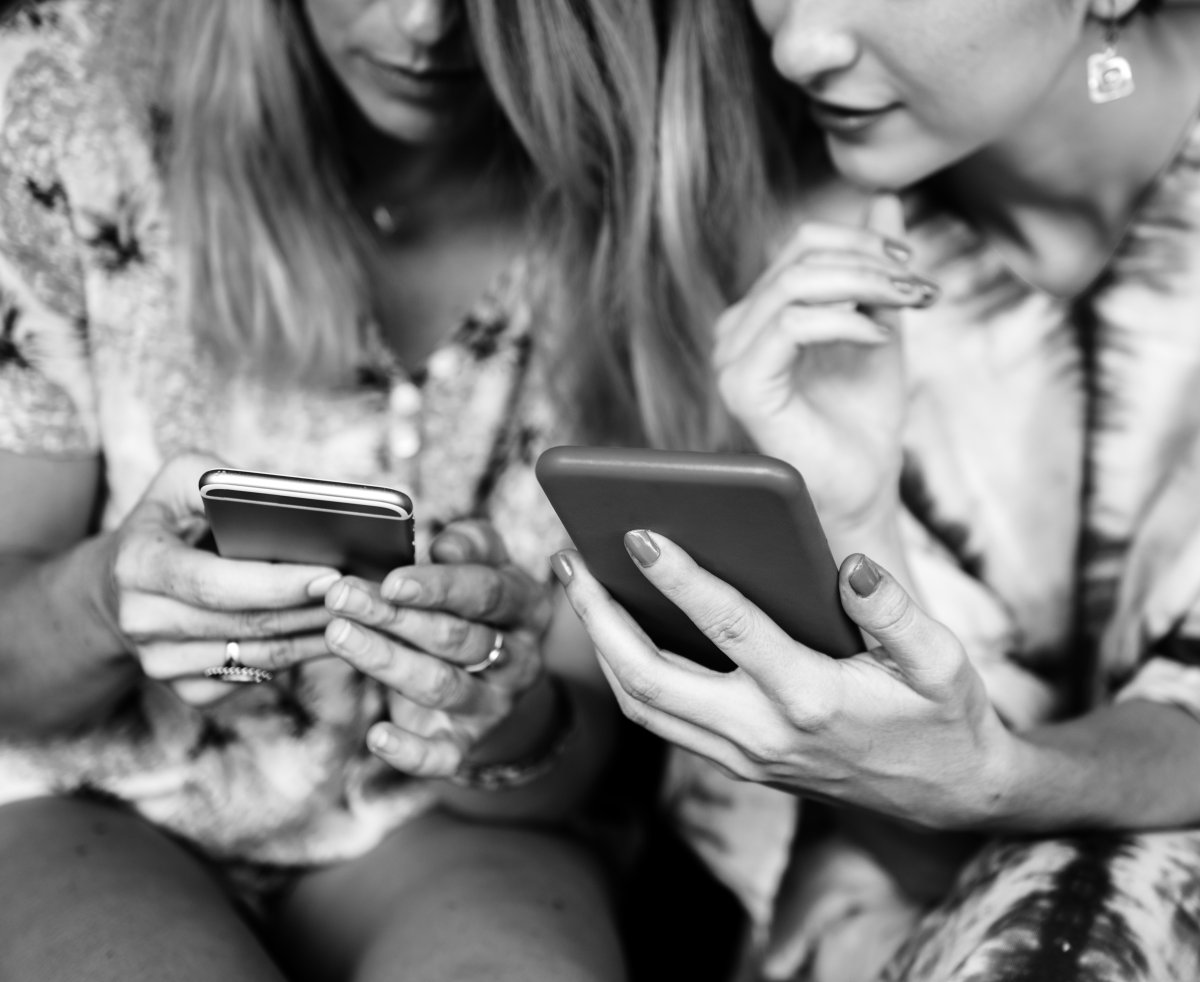 If your magazine doesn't have a consistent social media presence by now, then you're light years behind the competition. It used to be a struggle to get buy-in from the higher-ups and prove the value of social media marketing for magazines (heck, any industry), but all of that has changed. Facebook, Twitter, Instagram, Snapchat, Pinterest—they're all fair game and should play an integral role in the way your publication shares content and engages with readers.
But first, let's talk about the most beneficial approach to social media in regards to SEO and email capture, which is a little strategy we call the 12x12x12. At its core, it's a Twitter strategy, however it can be branched out onto any platform that allows links like Facebook and LinkedIn, but not Instagram or Snapchat – we'll get to those later.
To get the SEO benefits of social media, you simply need to be promoting your content regularly. We've found that when an article hasn't been promoted in over 12 months, it begins to slip in search results and can go from a page 1 result to a page 3 or 4 result quickly. We've also tried getting these posts back onto page 1 by re-promoting them in social media, and in many cases that simple act helps them resurface.
The 12x12x12 Social Media Marketing for Magazines Strategy
To start, choose the most recent free article you've published on your website. Hopefully it's SEO'd and contains evergreen content (content that doesn't expire with the direction of the wind) because this content performs best using this strategy. A shortened variety works for timely news content.
Again, think of this in terms of Twitter, but the formulas can also apply to other social networks. Twitter is certainly the best place to start because the news feed is in real-time more so than any other network, so re-publishing an article frequently won't mean your followers see every single Tweet. This is by no means an exhaustive list of every Twitter formula that could exist and in fact, I suggest that you test these out and create your own. The purpose of using these formulas is to determine which ones your audience responds to best, and then improve from there.
The 12 social media formulas:
The subtitle: Easy, just use the subtitle
The subtitle + context: The subhead, plus a little more to make it catchy
The excerpt: Interesting statement
The summary: What they'll learn by clicking the link
The shout-out: @ anybody mentioned
The hashtag(s): Insert extra (related)  trending hashtags
The quote: Find a relevant quote and use it
The quippy click-bait: Short and sweet
The friendly suggestion: First-person request to read/share
The question: Ask a related question
The engagement: Ask them to comment/give feedback
The takeaway(s): Subheads and major points
We'll run through 12 examples of each below, and then how these posts would be scheduled for maximum effectiveness.
Below we've created examples using a general-interest magazine publisher, Good Housekeeping. The post is titled, How to Fix a Sedentary Lifestyle (Because It's Never Too Late to Get Moving).
1. The subtitle: Easy, just use the subtitle
Goal: Your title show up in the preview automatically, so find out if your subtitle is click-worthy enough and test which subtitles in your Tweets end up performing best. It's a great way to test subtitle formulas for your articles.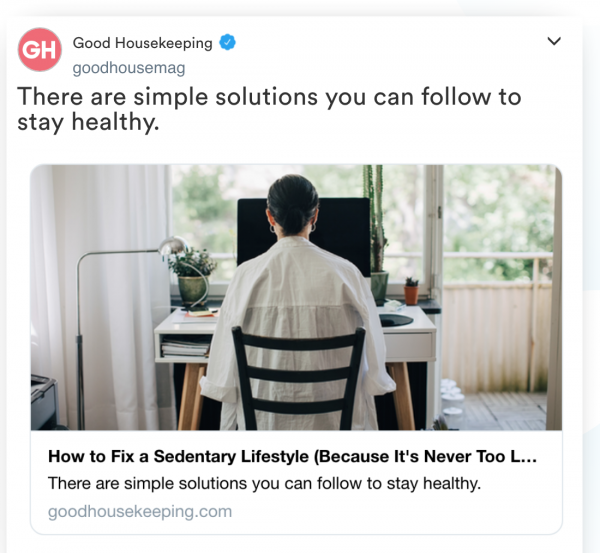 2. The subtitle + context: The subhead, plus a little more to make it catchy
Goal: Add more context to the Tweet, which often leads to retweets if it's catchy.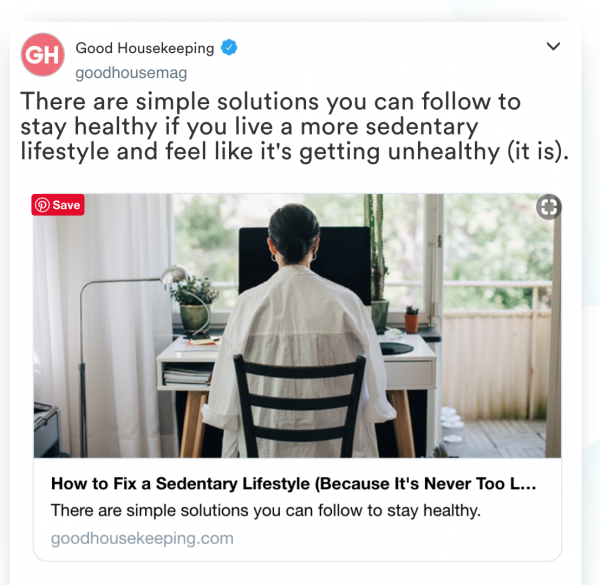 3. The excerpt: Interesting statement
Goal: Make a bold statement from the article to get more retweets.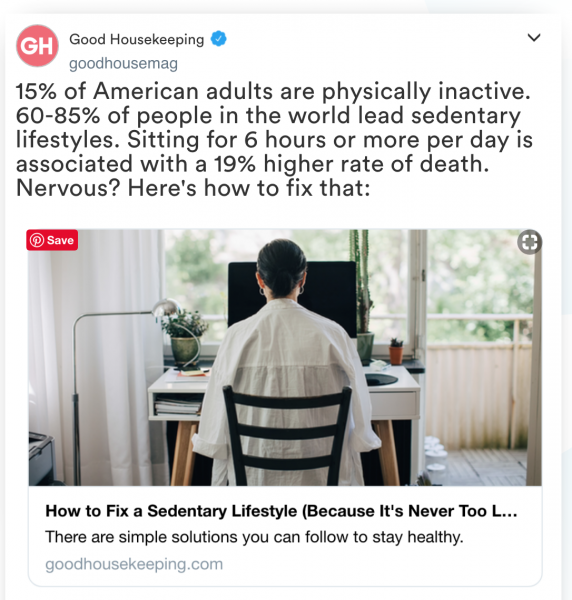 4. The summary: What they'll learn by clicking the link
Goal: Give them the facts, and challenge them to keep reading to find out why your statement is so.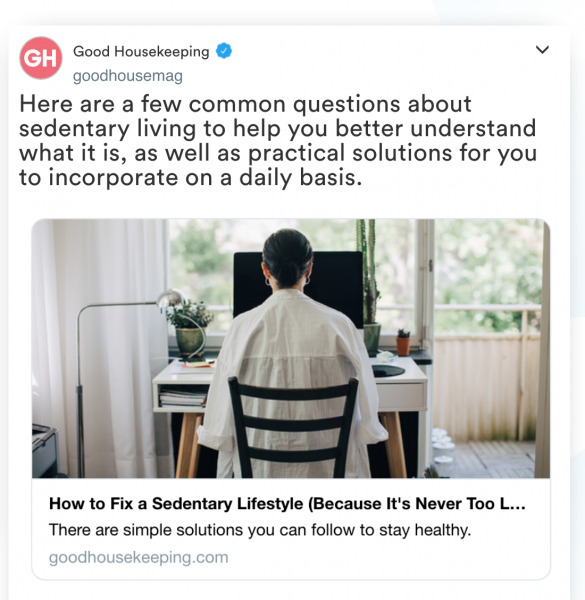 5. The shout-out: @ anybody mentioned
Goal: Get your post in front of the people you've mentioned and hope for them to retweet the post too.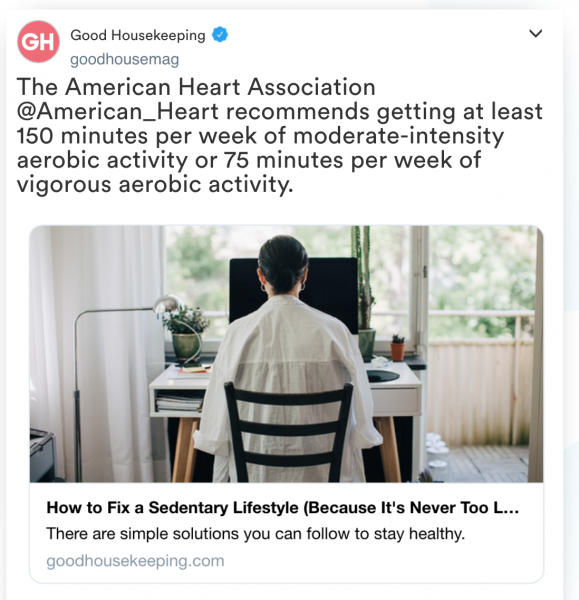 6. The hashtag(s): Insert extra (related)  trending hashtags
Goal: Get your post in front of other like-minded readers who enjoy similar topics.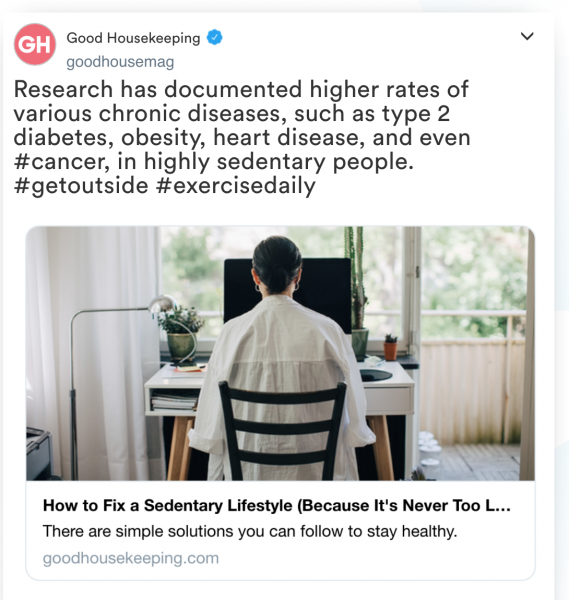 7. The quote: Find a relevant quote and use it
Goal: People love to retweet quotes, and retweets send great social signals to Google about your post.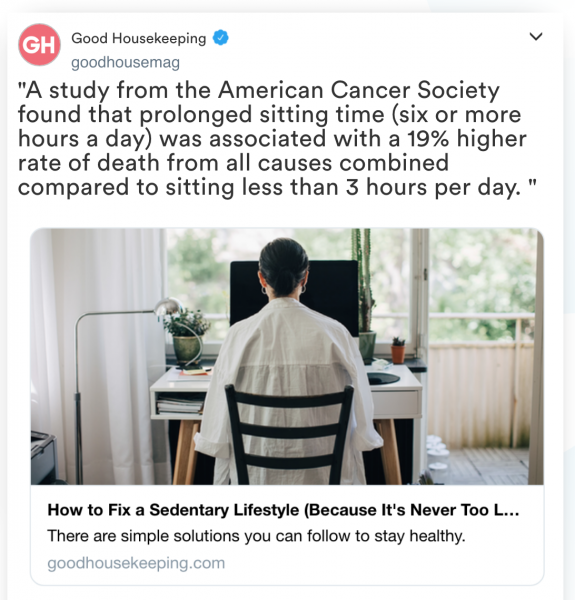 8. The quippy click-bait: Short and sweet
Goal: Forget the small talk, just get them to click and read.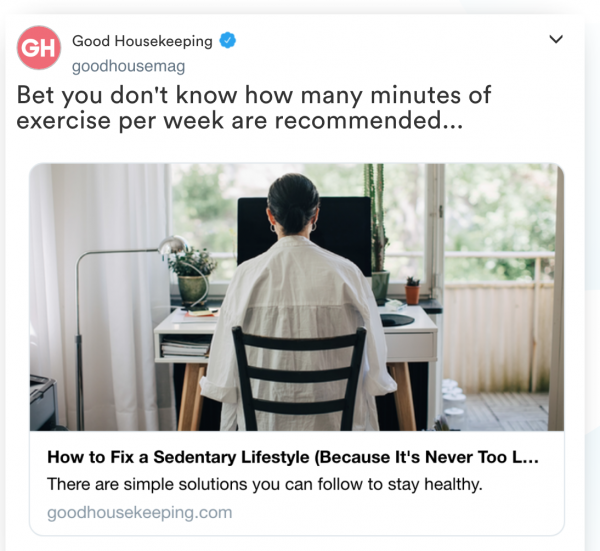 9. The friendly suggestion: First-person request to read/share
Goal: This first-person request can garner more replies, retweets and favorites based on the personal nature of the request.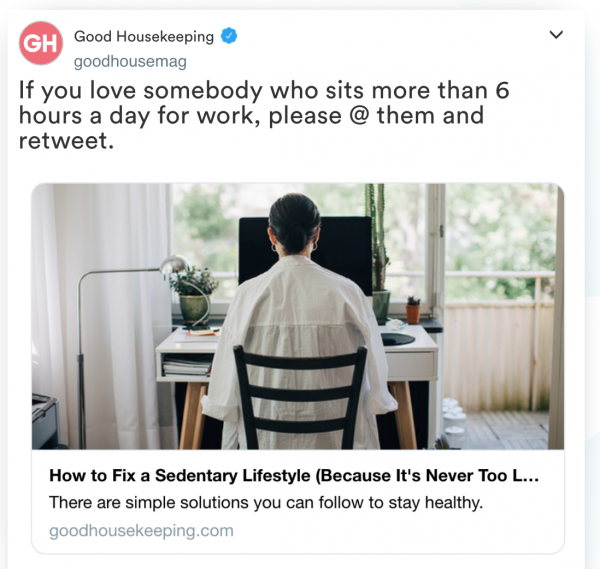 10. The question: Ask a related question
Goal: Inspire followers to engage with you. Ask them a question related to the article and get them to read on.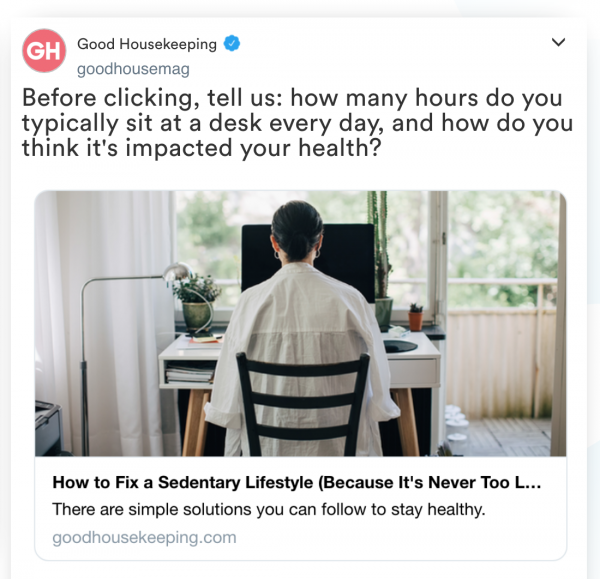 11. The engagement: Ask them to comment/give feedback
Goal: Get followers to your site and boost its SEO with more post comments.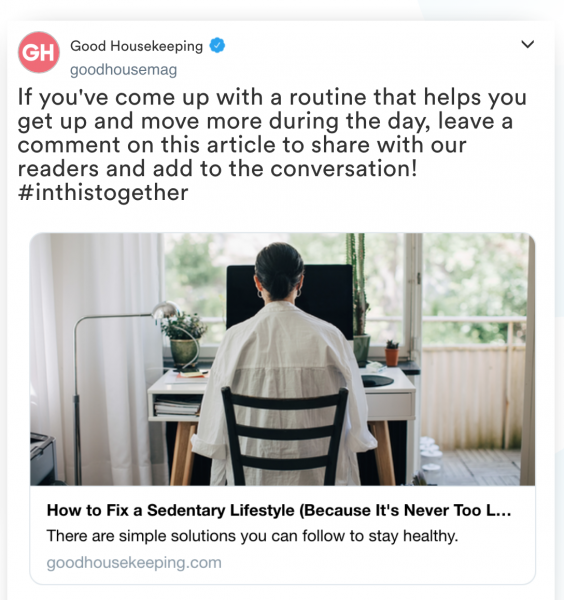 12. The takeaway(s): Subheads and major points
Goal: Lay it all out there. Some people just want the facts, Jack. Bring on the retweets.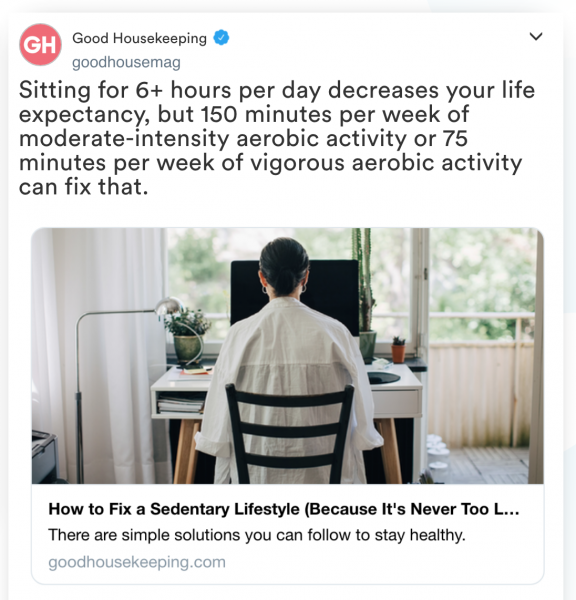 Scheduling Your New Tweets
The biggest effort in social media marketing for magazines, is now that you've written your Tweets, you'll want to schedule them out for a while. Here's a basic twelve-day schedule for a publisher that posts one article per day.
Daily Publishing Schedule
Subtitle: January 1st, 9am (the first time the article is promoted)
Subtitle & Context: January 2nd
Excerpt: January 3rd
Summary: January 4th
Shout-Out: January 5th
Hashtag: January 6th
Quote: January 7th
Quippy Click: January 8th
Friendly Suggestion: January 9th
Question: January 10th
Engagement: January 11th
Takeaway: January 12th
If you're a Mequoda partner and use
Haven Share
or something like
CoSchedule,
you can let the tool choose the best time to send when you schedule the posts, which is nice. Of course, you can come up with your own timing system, but I find that incorporating the goal of choosing different times for each of your formulas can also help to determine the best Tweet times for your followers. Next, these Tweets get scheduled out for a year.
Monthly Publishing Schedule
Title: February 1st
Title & Subhead: March 1st
Excerpt: April 1st
Summary: May 1st
Shout-Out: June 1st
Hashtag: July 1st
Quote: August 1st
Quippy Click:  September 1st
Friendly Suggestion: October 1st
Question: November 1st
Engagement: December 1st
Takeaway: January 1st
Promotional Tweets
And don't forget promotional Tweets in your approach to social media marketing for magazines. If you follow the Mequoda best practice of sending several spotlights (promotional) emails per week, and one circ-builder (freebie) per week – set up promotional Tweets for the same days. Feel free to use the formulas above, or make up your own!
You can also try:
Using the headline from your promotional email
Excerpting from your landing page
@ing out the cover story company / model of your product
Giving away one solid take-away (a mini recipe, a quote, an image, something only paid buyers will get)
Showing a photo of you holding / reading / using the product
Using the 12x12x12 formula as if it was an article.
At Mequoda, in our research on social media marketing for magazines we've found that social media followers convert better into email subscribers than anyone else. That's why we suggest aligning your circulation efforts with your social media efforts. So for example, if you create free reports to build your email list, you likely also promote these free reports to your email list through an email template called a circ-builder. The goal of a circ-builder is to promote free products to your existing email list, with the suggestion that they forward their email to a friend, thus increasing email capture rates.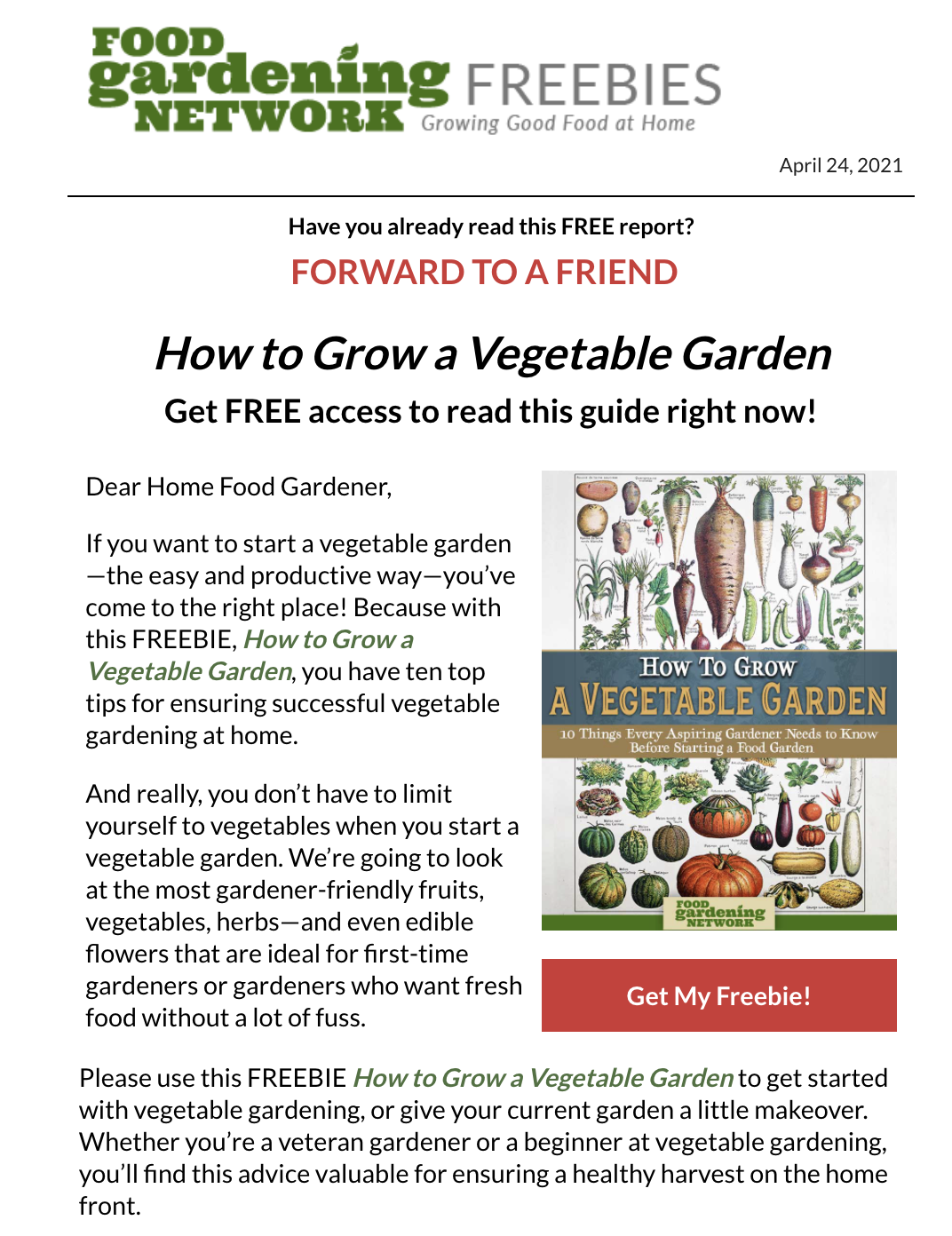 If you send out a circ-builder email every week promoting one of your free products, you should also schedule social posts to publish, promoting the same product. Keeping an aligned schedule will make it easier to remember to keep your free product promotions in rotation.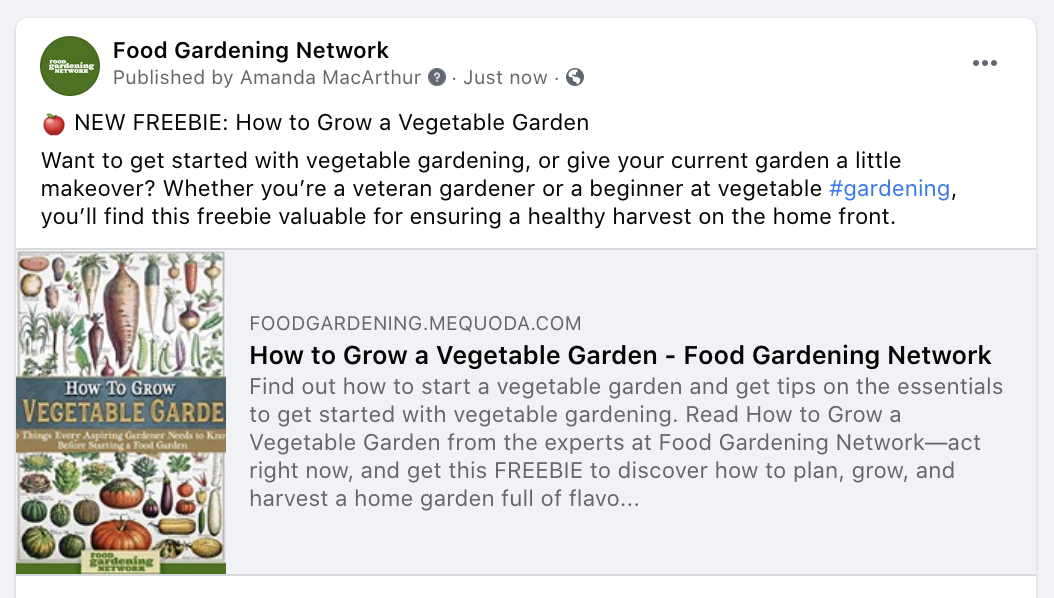 Bonus Social Media Marketing for Magazines
Magazine publishers should be sharing links to articles every day, but they shouldn't stop there — the ones that can see beyond the obvious and try different ways to get their magazines recognized are the ones who are winning the social media game. Here are a few of our favorites to help you get your creative juices flowing.
Food Gardening Magazine
The recently launched Food Gardening Magazine is already gaining traction on social media using the methodology above. On Facebook, Food Gardening Magazine doesn't just promote free content, they promote content behind their metered paywall as well, including making new issue announcements. Since readers can visit up to three premium articles per month, they use their credits up quickly via Facebook and are more likely to convert later.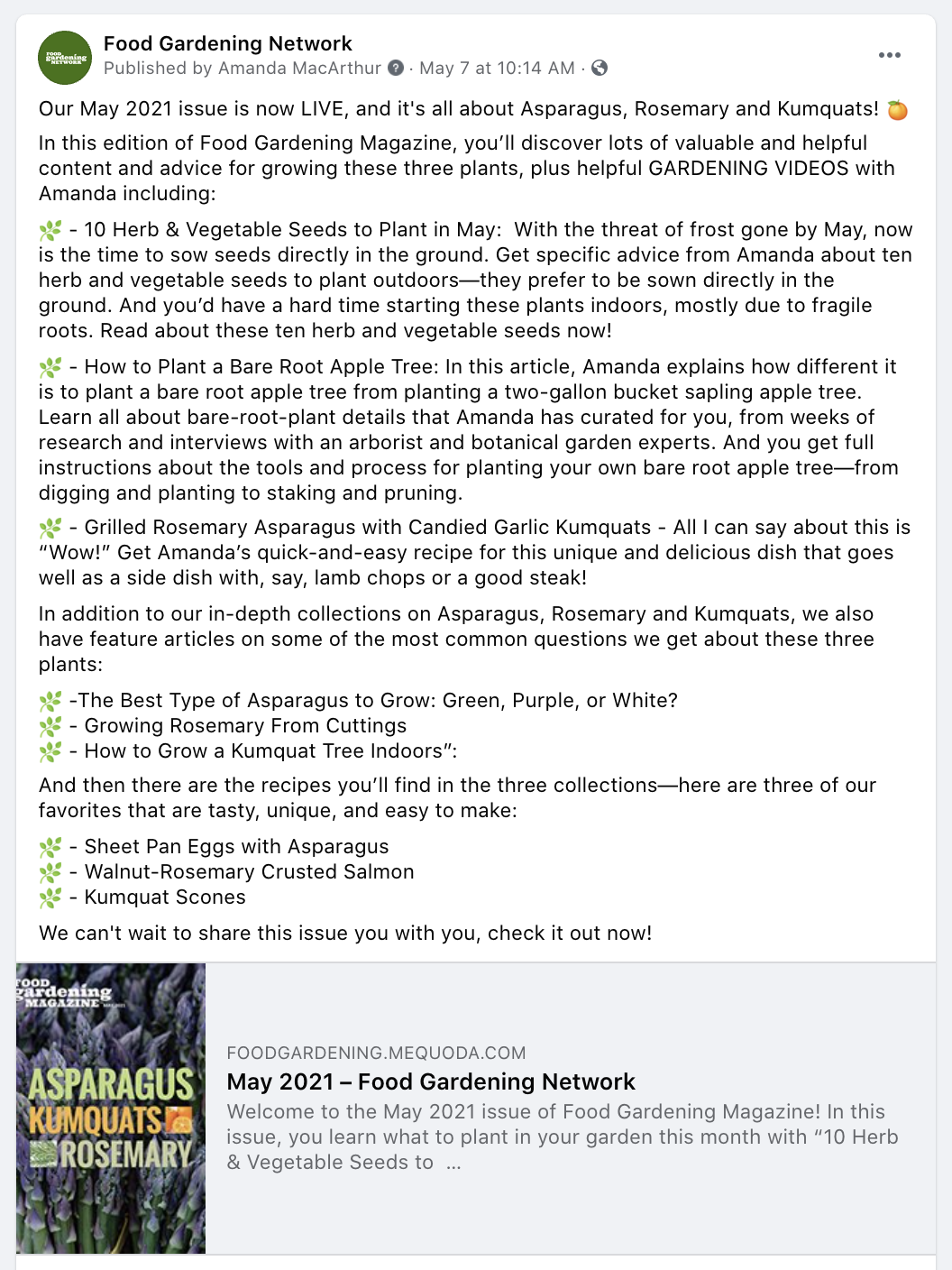 On Twitter, Food Gardening Magazine uses the 12x12x12 method above to share new articles for the first 12 days and then once a month for the next 12 months.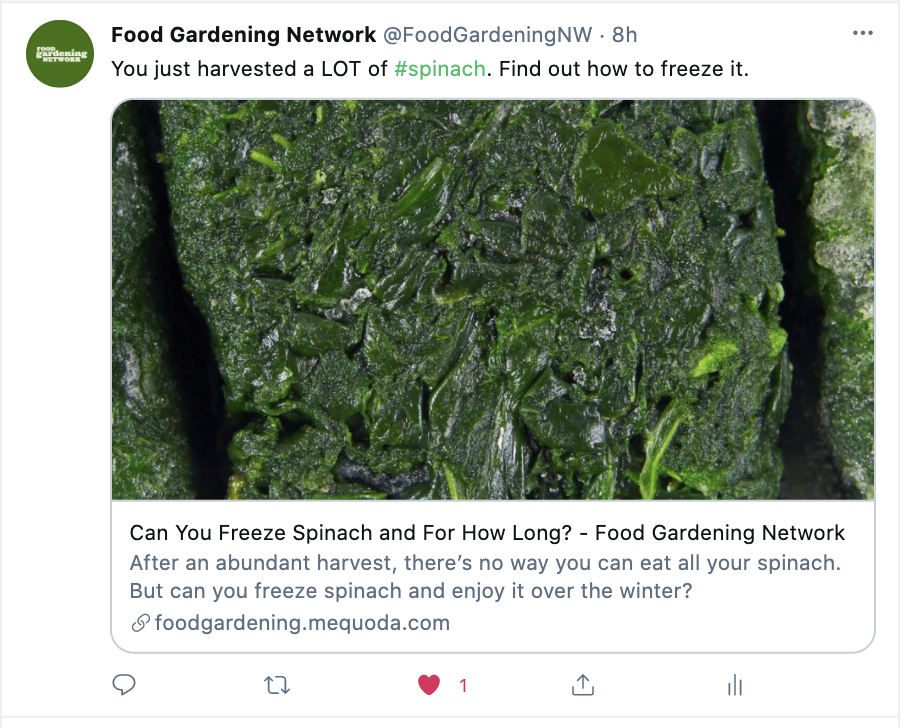 Since Instagram is a visual platform, Food Gardening Magazine (@foodgardeningnw) uses it to post recipes and how-to tips on gardening. Their "stories" feature issue previews and behind-the-scenes footage, plus fun gardening content.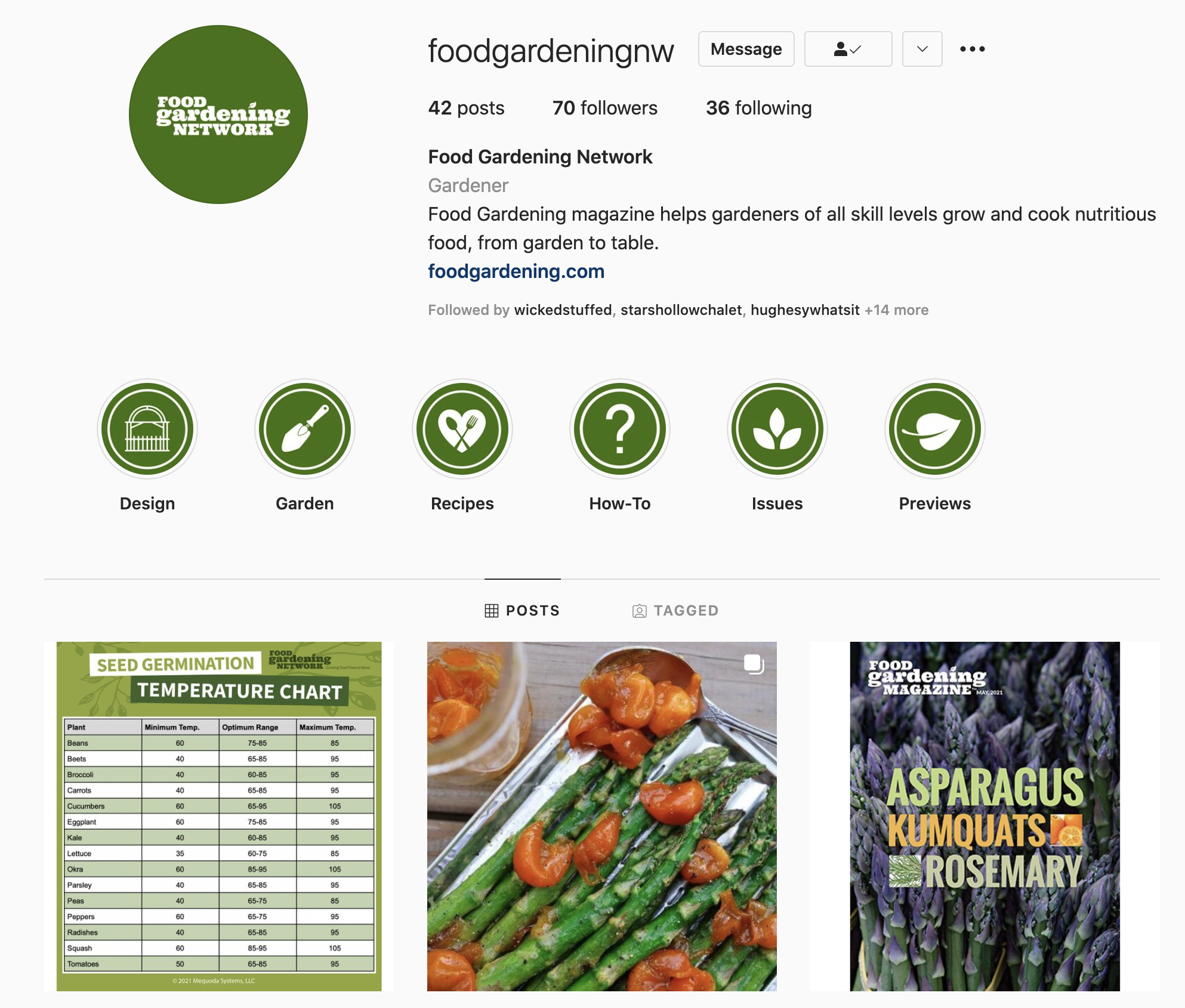 On Pinterest, Food Gardening Magazine has a folder of pins that align with the categories on their website.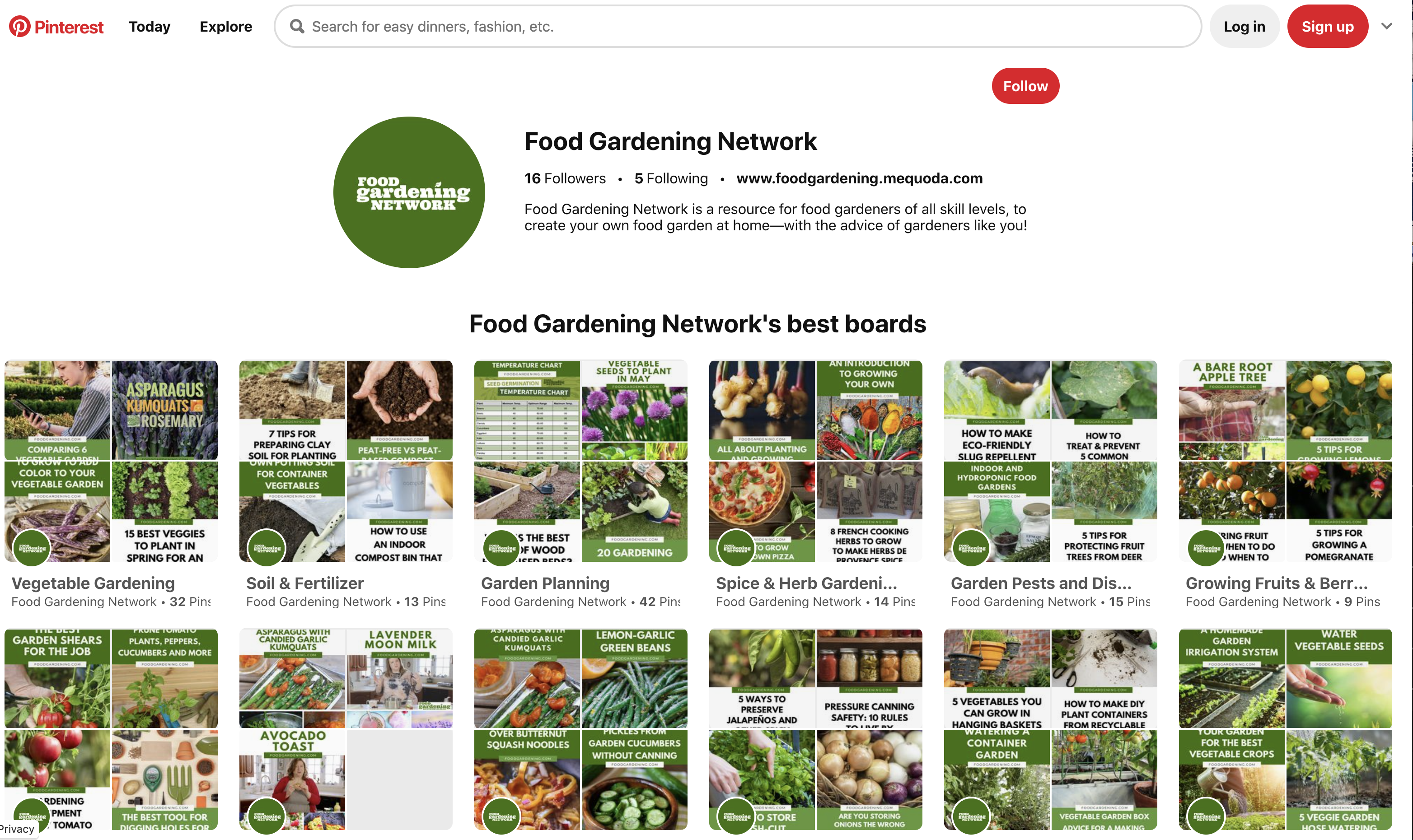 As new free and premium articles publish on the website and in the web magazine, they are published to Pinterest using different templates to create the visual appeal that's so important to Pinterest while also including all the meta data required for the pins to be found in the Pinterest search engine.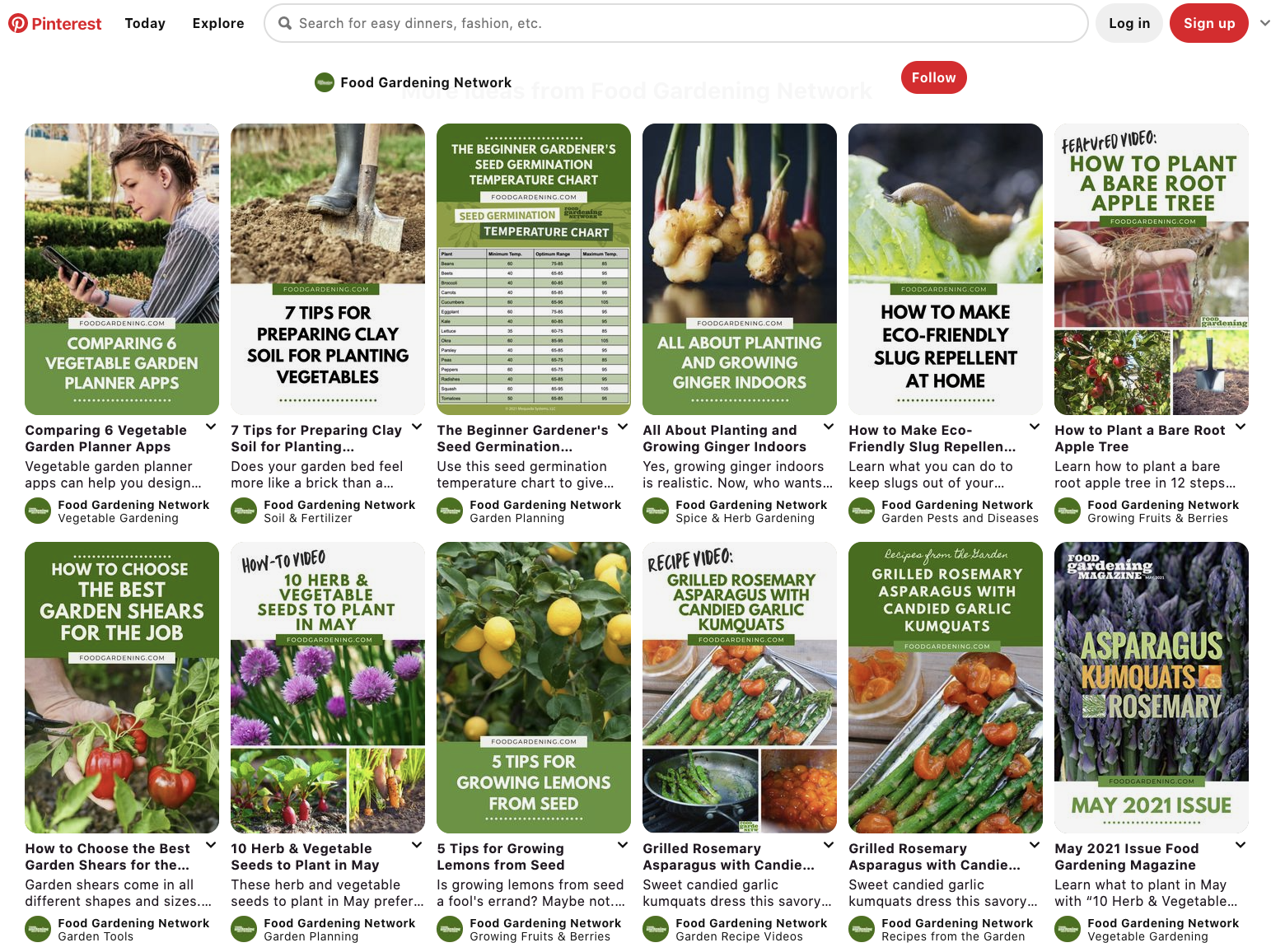 GQ, Instagram
GQ has Instagram wrapped around its little finger—at one point they reported that Instagram was responsible for 70 percent of the publication's social media revenue. The magazine knew they had the following and the content, so they took it one step further and began to monetize the platform using social advertorials that integrated paid brand promotions in non-obvious ways. They use LikeShop.me to track their Instagram performance, but also to turn posts into shopping links for featured products.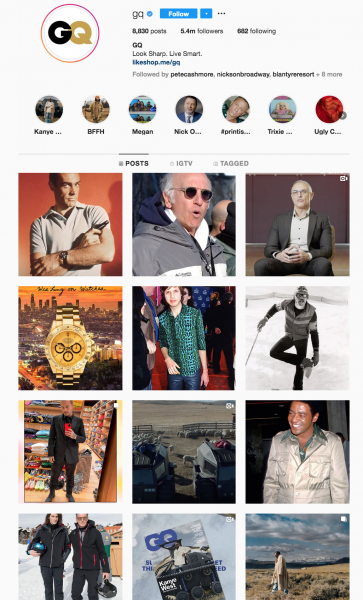 New York Magazine, Instagram
Attracted to the intimacy of Instagram and its potential for platform-specific storytelling, New York magazine has experimented a lot with the growing social media app. When they published their "Cosby: The Women" issue, they used the stunning photos and video interviews they already had and adapted them to create a unique Instagram experience the called "Audiograms"—a static image with a pull quote overlay, with 15 seconds of audio loops on top and a narrative story in the caption. During the COVID pandemic, they've used it in similar ways, using their profile link to bring users back to the featured story.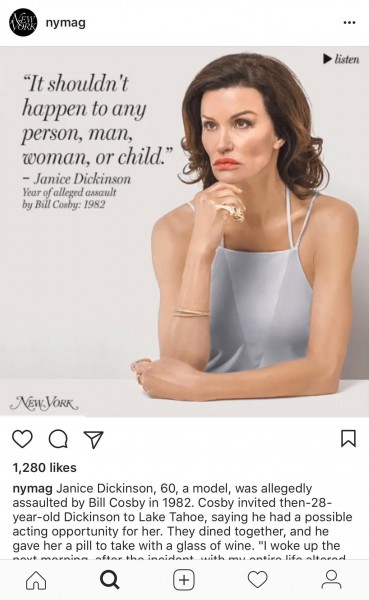 Newport Life Magazine, Facebook
As a smaller, destination-specific magazine, Newport Life magazine uses Facebook to drive interest in upcoming issues. Newport, Rhode Island is a tourist destination, but it is also home to very loyal residents, so the magazine will sometimes combine beautiful imagery with ploys to guess where they are currently shooting a feature for an upcoming issue.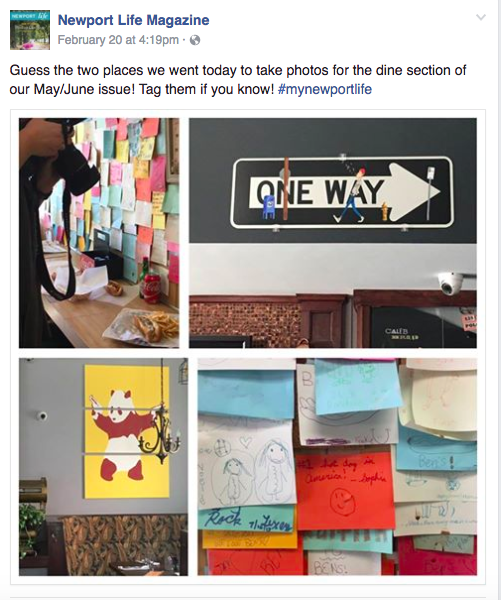 Bon Appetit, Twitter
Bon Appetit is a well-respected magazine for readers who enjoy recipes and cooking, but the name itself sounds a bit stuffy. To appeal to more readers and show they've got the personality to spare, Bon Appetit is quite witty on Twitter and has clever one-liners that prove social media marketing for magazines doesn't have to be boring.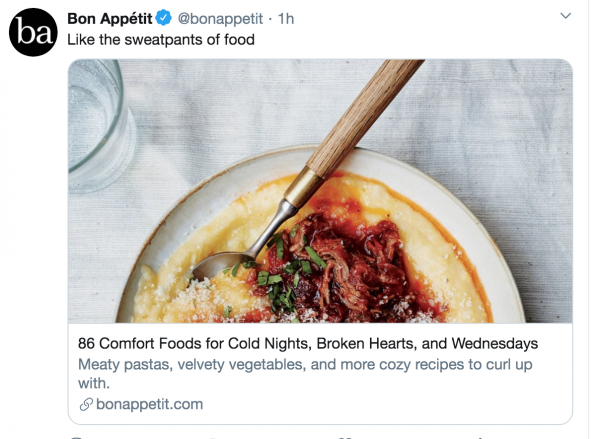 American Patchwork & Quilting, Facebook
American Patchwork & Quilting knows they're a niche publication with a very particular set of readers. They know the value of an engaged community, and instead of just posting links all the time, they also ask simple questions to prompt conversation among followers—and it's often quite fruitful.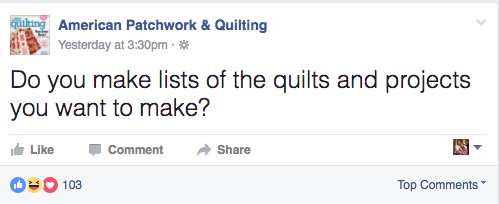 Travel + Leisure, Pinterest
When you're in the business of selling experiences, beautiful photos are worth more than a thousand words. Travel + Leisure magazine knows that when it comes to sharing the splendor of different destinations, there are certain situations where they can just let the photos do the talking—and that's what they've done on Pinterest. The magazine has over 100 unique boards on Pinterest and their photos have been pinned countless times.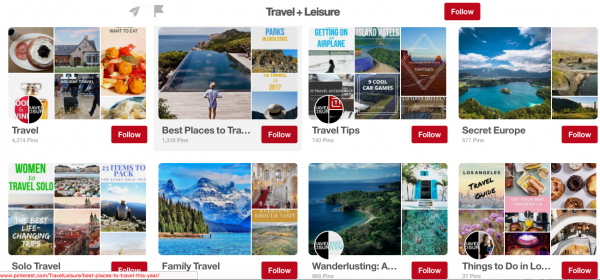 People, Snapchat
As a relative newcomer to social media marketing for magazines, Snapchat may be a little intimidating to some publications—but People jumped right in and made it their own. The popular magazine has used Snapchat to create almost an interactive version of their publication that incorporates video with text and music, cute graphics, and fun quizzes.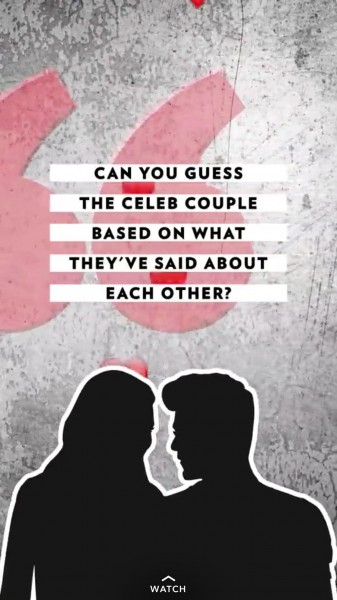 Grazia, Facebook
Nearly every publication is on Facebook, but Grazia was one of the first brave magazines to broadcast on Facebook Live. And they didn't just say hello—they put their entire publication process for an issue out there live, unfiltered, and for the whole world to see. They created more than a dozen Facebook live videos, ranging from ten minutes to hour-long shows, and generated 600,000 views overall.

The moral of the story? Don't be afraid to get creative with the ways you're marketing your publication on social media. If you're only on Facebook, look into other platforms, and figure out if making the leap would make sense for your brand. You already put so much effort into producing unique and compelling content for your magazine readers—put that effort into social media as well, and you'll be unstoppable.
What's your approach to social media marketing for magazines? And which magazines are your favorite to follow on social media?