Varying experiences from publishers that made the switch to digital-only magazines and portals (and came back to tell the tale)
Digital-only magazines have had their ups, downs, and (in some cases) its "in-betweens." While some digital magazines have remained powerful and influential after going digital, others have since been discontinued. And some of them end up seeing the light of print again after they go digital for while.
Publishers have their reasons for adopting digital only magazines–from a decline in circulation to a loss in ad pages. One of the publishers below was very clear about why they went digital: print advertising went from 95% to 5% of their revenue. All of their ad revenue moved online. Why? Because advertisers want online advertising analytics.
Learn the secrets behind today's most rapidly growing niche publishers. Download a FREE copy of How to Develop a Multiplatform Magazine Business Plan, and discover how large your magazine business could become and how much of an investment will be required to build your business to maturity.
5 pubs that turned from print to become digital-only magazines and portals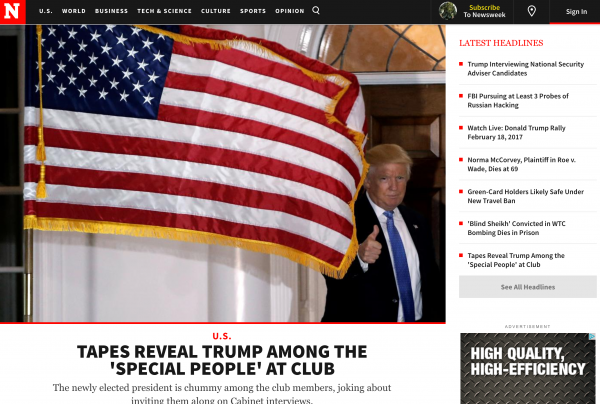 One of the most internationally recognized publications became one of the most powerful digital only magazines…for a moment.
In 2012, close to 80 years after the release of its first issue, Newsweek's new publishers (IBT Media) stated that they would make the magazine all-digital, foregoing any further printed editions. At the time, subscribers reduced by 50%, going from 3 million to 1.5 million readers. At the time, circulation and profits were diminishing.
As a result, the creation of the Newsweek app saw a bump in ad pages by 13.3% and they developed a relationship with The Daily Beast (where content from Newsweek is available). In addition, Newsweek became the first current events magazine to go digital only.
By 2013 (months after its announcement to go all digital), print editions of Newsweek were resurrected from its all-digital coma. When the business owners found that they could gain revenue that wasn't dependent on ad pages, they decided to put it back into circulation. Although it's no longer considered one of the most popular digital only magazines, it's still legendary in the industry.
Well, so much for "digital only."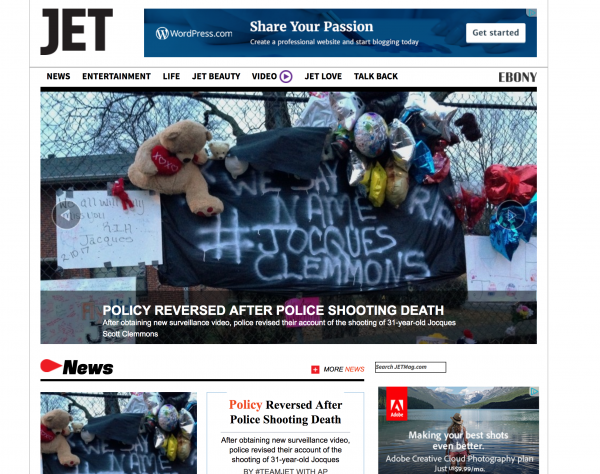 One of the most popular magazines to date, Jet has been a huge influence since its genesis in 1951. The magazine targets the African American community, where it has featured and discussed topics such as the civil rights movement, beauty tips, sports, and entertainment. With its immense popularity, Jet has since made an indelible mark in the industry.
In 2014, Jet joined the ranks amongst the digital-only magazines. Its publishers, Johnson Publishing, stated that it would live true to the vision (which the title also represents). The original concept was to provide the news at a fast pace. With Jet going digital, it's staying true to its core and delivering stories for people on the go–it can be accessed on an iPad, tablet, smartphone, or other devices that can carry the app.
Although the transition stemmed from a drop in ad pages, there were no indications made by the publishers that they would lay off any employees. There were discussions of shifting positions and hiring new people; however, it can be taken as a good sign that Jet is still running today. In February 2017, Jet's CEO said they may return to print. Cheryl Mayberry McKissack said they would be producing more digital website content, but that they are "considering repositioning Jet for millennials with a focus on entertainment and having limited newsstand publication." So far, no print issues.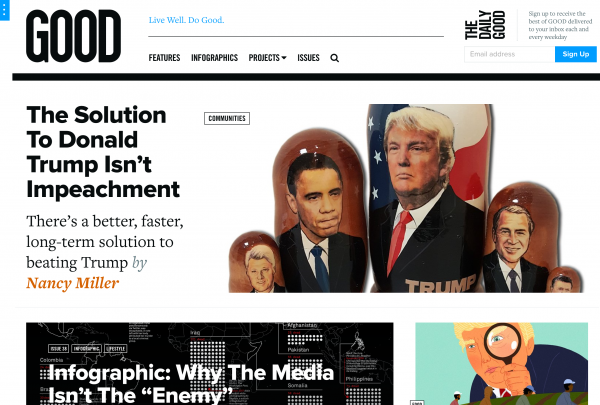 GOOD magazine is another example of going from print to digital and back to print. They were founded in 2006, and after becoming a digital-only magazine for about a year in 2013, they came back as a quarterly in spring 2015, "for globally minded individuals who want to be part of pushing the world forward."
"People still love print, but they're expecting different perspectives than they have in the past. Today, our readers are seeking a magazine that is thought-provoking, intellectually satisfying, and something beautiful that they'll want to hold onto and make a part of their lives," said Casey Caplowe, Co-Founder of GOOD. "With that in mind, we set out to create a periodical that was more than just a quick skim; one that digs deeper into provocative issues, offers new ideas, and poses questions intended to inspire our readers."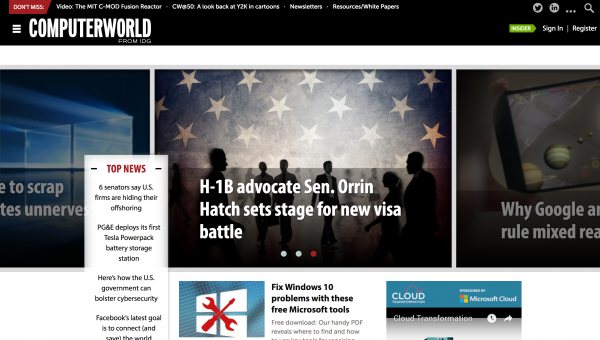 Computerworld made major headlines when it went digital. "After 47 years in print, Computerworld finally goes digital only." Finally, they said. In June 2014 they printed their last issue. D.B. Herbert wrote up a great piece on this transition for Computerworld worth reading.
'We are merely taking part in the natural evolution of the media industry, like so many great publications before us. Trains, after all, were once powered by coal and steam; Computerworld is moving from paper to electrons," said editor-in-chief, Scot Finnie.
In terms of their team, resources simply shifted to digital. They didn't go on any hiring or firing sprees, simply focused the publishing medium to the web. At the same time, they relaunched Computerworld.com to be mobile-friendly and easily read on tablet devices. Through email, the digital edition is sent, and can be opened and read on digital devices, as well.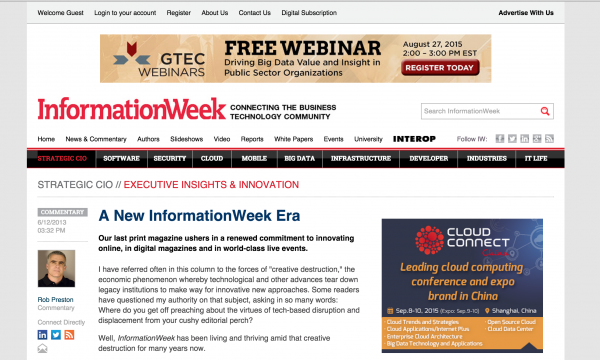 Informationweek, in the same vein, went digital in 2013 after 1,300 print issues, calling their 28 year run "terrifically turbulent." The reason for this transition, according to the publisher, is that in 2000, 95% of their revenue came from print ads. In 2013 when they closed up their print shop, it was just 5%. Instead, the ad dollars had shifted to Informationweek.com where they post few dozen pieces of new content every day.
In addition to ad sales, it wasn't mobile, search, or interactivity that caused them to go the digital route. They came right out and said it: analytics. Advertisers want analytics. VP & Editor in Chief Rob Preston of InformationWeek said, "Advertisers today want to measure everything — ad click-throughs, downloads, reader time on site/story, etc. — and print magazines simply can't deliver those metrics."
These bounces back and forth between digital and print show us that readers want both platforms, that advertisers value digital metrics, and that a digital presence can revive a print magazine when it stops to reconsider strategy and build from the ground up.
To discuss how we can help you grow your audience, revenue and profits,schedule a free introductory conversation with Don Nicholas, our Chairman & CEO.
What pubs do you know that have ditched print and are now digital only magazines? Share your favorites with us in the comments!
This article was originally published in 2015 and has been updated.