It's not who you might think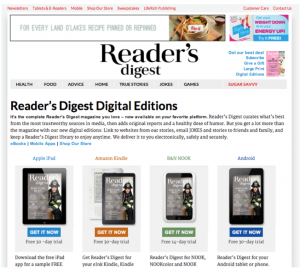 Now that AAM is allowing publishers to report their tablet magazine circulation separately, it's become possible to track those who are leading the way in this small but growing segment.
And the news is startling.
We compiled the Mequoda 25 Top Tablet Magazines drawing on those magazines reporting their digital circulation to AAM, which recently released its July-December 2013 data. And at the top of the list is one of the industry's most staid – one might almost say stodgy, at least by reputation – magazines: Reader's Digest with digital circulation of 287,055, but with a median subscriber age of 55, and 62% being over age 50. Those aren't exactly the demographics you'd expect to be especially tablet-friendly!
How do they do it? For starters, the path to a tablet magazine subscription on the website is refreshingly simple. You click on "Tablets & E-Readers" at the top of the page, view a simple layout with images of all four available versions, enhanced with a large, bold "GET IT NOW" button and the message "Free 30-day trial" (except for the Nook version, probably not something that Reader's Digest can control), and choose your device.
There are no confusing offers, such as the one we recently wrote about from Newsweek. There are no bundles – which admittedly goes against Mequoda Best Practices for decoy pricing – and the decision is an easy one.
And then there are the reviews. Four and a half stars, and raves all around. Research tells us that consumers definitely take these into account when deciding on buying tablet magazine apps, so comments like "LOVE, LOVE, LOVE THIS APP" and "Better than print" right up front again make the buying decision easy.
And it's easy to see why they love it: The covers offer multiple appealing images that rotate past for a few moments until the taglines appear; the reader can tap a tagline to go directly to the article; the magazine is vertically reflowed to offer an easy reading experience; there are plenty of digital enhancements; and the text scrolls past stationary images so the reader can continue to enjoy them. All this, and there are no glitches or other technical problems that I could find.
In short, #1 Reader's Digest scores an A+ in Mequoda Best Practices for tablet magazines. Interestingly, no other Reader's Digest Association tablet magazines are even in the Top 100 for digital circulation, so it appears that the flagship is where the company is focusing its resources for now.
[text_ad]
The other Top 24 tablet magazines by circulation
In compiling this Top 25 list, I need to note, we deleted any magazine that's free and/or associated with membership in a national organization. That eliminated some otherwise top performers such as Game Informer and several American Automobile Association publications.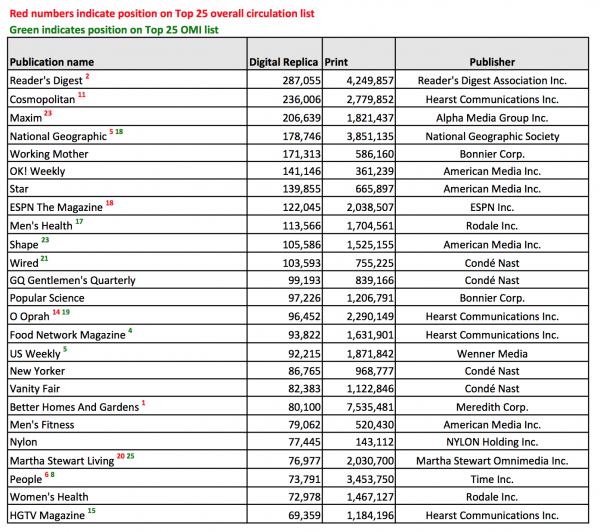 We also didn't include publications that haven't yet reported their December 2013 circulation, such as Taste of Home and Forbes, which otherwise would probably have been ranked in the Top 25. Finally, we removed Poder Hispanic, because although the company reports "digital" circulation, it doesn't actually have a tablet magazine, just a digitized version of the print magazine that readers must access at the website.
All that said, it's probably not surprising that Cosmopolitan and Maxim are numbers 2 and 3 respectively, at 236,006 and 206,639 circulation. Their readership lies comfortably within the "digital native" demographic.
Notably, the Top 25 consist predominantly of men's interest, women's interest, celebrity, fitness or general interest publications. Most of them are also fairly high on the list for overall circulation, such as Reader's Digest at #2, Cosmo at #11, Maxim at #23 and National Geographic, #4 for digital circulation, at #5.
Running down the Top 25 tablet magazines by circulation, that brings us to #5, Bonnier's Working Mother, with digital circulation of 171,313. Unlike the rest of the Top 25, it's not in the Top 25 for overall circulation – in fact, it barely makes the Top 100, coming in at #97.
We know Bonnier has always been at the forefront of the tablet magazine revolution, but this is an unusual result nevertheless. While there are no ratings for the current version of the app, back in 2012 the reviews were critical of technical problems, so it certainly wasn't building its circulation back then.
And the magazine is still a simple digital replica, with no reflowed copy to make it easier to read and no enhanced content. The technological leaps made at fellow Bonnier publications like Popular Science (#13 on the Top 25 list, with just over half the digital circulation of Working Mother), have not migrated here yet.
A logical answer to the question of how humble Working Mother leaps ahead of bigger players like Men's Health, O the Oprah Magazine, Wired and Better Homes and Gardens is most likely that its audience is so busy, they can only find time to read their magazine on the go via their tablets – at soccer practice or piano lessons, perhaps!!
Mainly, though, the Top 25 is populated by the usual suspects – big players from Condé Nast (4), Hearst (3) Rodale (2) and Bonnier (2). Time Inc. and Meredith each have one magazine on the list. Yet this leads us to yet another surprise: Matching Condé Nast with four tablet magazines on the Top 25 list is … American Media Inc.
Wait, who?
If you're like many people in the media business, this is not a company you're familiar with. But it is the publisher of magazines you do: OK! (#6), Star (#7) Shape (#10) and Men's Fitness (#20). American Media is the company born of the new owners in 1988 of The National Enquirer, who also later bought Star from Rupert Murdoch and, in 2002, Wieder Publications men's fitness titles.
AMI tells us in its media kit, "AMI owns and operates the leading celebrity and health & fitness media brands in the country. Our magazines have a combined total circulation of 7.1+ million and reach 60+ million men and women each month. Our digital properties reach a total of 31+ million unique visitors and 231+ million page views monthly.
"Today, AMI's celebrity titles have the #1 market share in total newsstand circulation in the celebrity category and are the fastest growing brands online. Our health and fitness titles command the #1 market share of national magazine ad pages in their competitive set."
That, and the $1.99 single-issue price for the top two, OK! and Star, doesn't hurt, either. It's certainly not fancy magazine design, which is a basic replica with absolutely no extras – in fact, the two magazines have largely the same content, written with emphasis on slightly different aspects of the same story, clearly keeping the cost of content generation to a minimum.
Shape and Men's Fitness, at least, have original content, reflowed design and enhanced digital content – and charge accordingly, at the usual $4.99 per issue. (On the other hand, their subscription price is half that of OK! and Star.) 
In all, it's an extraordinary performance for a publisher who's competing with companies that have much greater resources. For instance, compare these four magazines with the mighty Better Homes and Gardens, #1 on the overall circulation list with 3 million more subscribers than Reader's Digest at #2. BHG, with mighty Meredith behind it, still ranks only 20th on the tablet magazine circulation list, with just over half the subscribers of OK! and Star.
Are you surprised by our Top 25 list? We'll be looking at how tablet magazines stack up by their percentage of total circulation next Tuesday, and who knows what surprises will pop up then. We'll also be taking a look at top magazines by their Online Media Index – the measure of unique website visitors compared to total circulation – to see who's winning the subscription website publishing wars. Today's chart gives a hint: Four of these top digital magazines also appear on the Top 25 OMI chart.
If you have any thoughts on how smaller magazines – or even big players like Reader's Digest with an older audience – are managing to win the tablet magazine wars, let us know in the comments below.