An informative interview with Susan Laden, publisher at Biblical Archaeology Society
The Biblical Archaeology Society's Bible History Daily launched this month to become our 17th complete Mequoda System to go live. In honor of the occasion, we asked Susan Laden, publisher of Biblical Archaeology Society to talk about the company and the website's launch.
As Susan explained, the Biblical Archaeology Society serves the public with the latest that scholarship has to offer in a fair and accessible manner, while serving as an important authority and an invaluable source of reliable information.
Hershel Shanks founded the society in 1974 as a non-profit, non-denominational, educational organization, dedicated to educating people about biblical archaeology.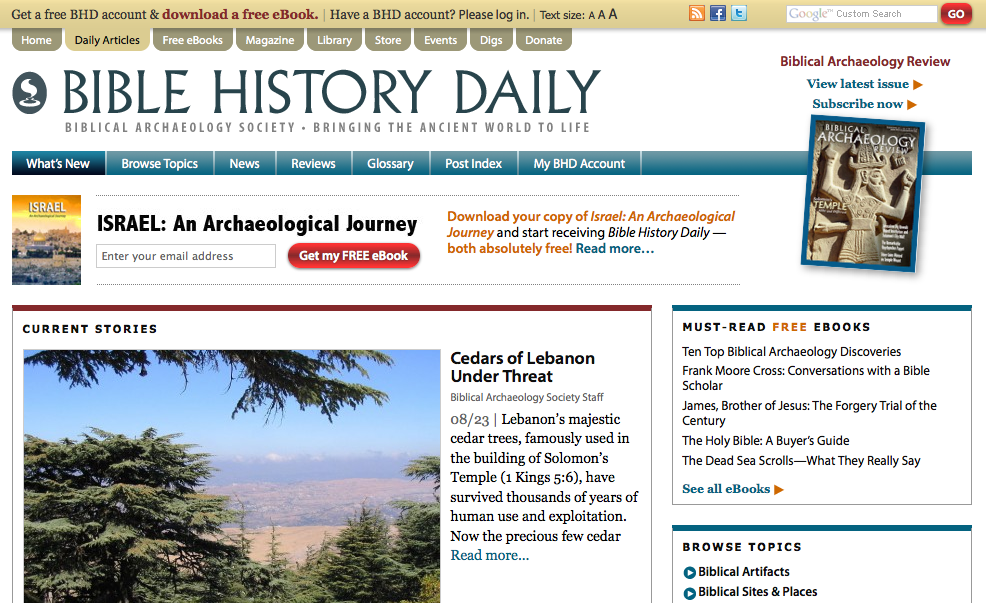 Who is your audience and what are their interests?
The readers of our magazine, Biblical Archaeology Review offer a mature, well-educated audience. Subscribers are mostly college-educated professionals, many with graduate degrees, who are financially secure, with better than average net worth and income. Almost all of them own their own homes. The file is 74% male with an average age of 56. They tend to live in small cities and towns in mid-America as opposed to big cities on the coasts.
BAR readers are active purchasers via direct mail, by telephone and online. Almost all of our readers have bought books in the last year, and more than half bought DVDs, CDs, clothing, jewelry, artwork, or other products from these sources. They travel heavily in the Middle East.
BAR readers are religiously oriented, with only a small fraction declining to state a religious faith. More than three-quarters of the respondents identify as Christian (evangelical Christian, mainline Christian and Catholic).
How do you serve your audience?
Our goal is to make available, in understandable language, the latest insights of professional archaeologists as they relate to the Bible. Our approach is scientific and historic, not religious.
We service the professional community, the scholars, archaeologists and clergy, but our core audience is the committed layperson, fascinated by the Bible or by ancient history with almost no background in archaeology. Our readers not only have different religions, but they have different commitments to the Bible. For some, the Bible is the sacred word of God against which all truth is to be measured. For others, the Bible is the literary remains of an ancient civilization that may be distorted and analyzed just like any other ancient literary document.
The society, its magazine and its founder and editor, Hershel Shanks, were instrumental in the publication of the Dead Sea Scrolls. They have been the subject of widespread acclaim and media attention in publications as diverse as Time, People, Civilization, US News and World Report, The New York Times, the Washington Post and the Jerusalem Post. They have also been featured on CNN, PBS and the Discovery Channel.
Learn the
seven strategies that all successful special-interest online publishers have in common
by downloading our
FREE
Seven Online Publishing Secrets
white paper.
What is your business model? Which premium products are considered as your top three revenue generators?
The Biblical Archaeology Society is a 501(c) 3 non-profit organization. However, it has no endowment and minimal fund raising and therefore must operate as a self-sustaining business.
Biblical Archaeology Review is the Society's most important product as it is a circulation-driven publication with a loyal following. More than 70% of its revenue comes from the magazine. Only a small fraction of that comes from advertising. The remainder of the Society's revenue is generated from product sales, travel/study programs, and minimal fund raising. BAR provides the database and our other programs are promoted within that database, providing additional fulfillment of our educational mission and added revenue. Content is king. We have been repurposing material since almost the inception of the magazine (lectures to videos and then CDs/DVDs, articles to books, etc).
Our strategy on the web is similar. I see it as an ecommerce model. We will use our content through Bible History Daily to expand our audience, so that we can sell BAR subscriptions, products, travel/study programs and access to our archive/library of 35 years. The website must also be an educational resource to keep people coming back. At some point it might turn into a paid membership model.
Please tell me a little about yourself. How long have you been doing this work? What do you find to be most rewarding? What did you do before coming to the Biblical Archaeology Society?
I have been doing this since 1976 – 35 years. The fun for me is building a viable organization and growing it. Today that means the development of our web presence, an exciting place to be.
The Biblical Archaeology Society was founded on Hershel Shanks' kitchen table. I was his first employee, hired part-time to open envelopes. Neither of us knew what we were doing, learning as we went along.
In 1994, after 18 years, I left BAS. BAR was at its peak. The Dead Sea Scrolls had just been published, due in large part to the efforts of the Society, led by Shanks. The magazine was receiving national and international acclaim.
During the 10 years I was gone, I first worked as an independent consultant and then two years on staff preparing Equus magazine for purchase, ultimately by Prime Media. Next, in 2000, I developed the business plan and was the publisher of BabagaNewz, a magazine on Jewish values for the 4th through 7th grade congregational and day school market until I returned to BAS the end of 2003.
What were the three mentor sites you used in planning Bible History Daily? Can you give me a little background on why you liked them?
We looked at Scientific American, The Atlantic and Real Simple. We were looking at them mostly for color and style.
Scientific American and The Atlantic were chosen because they had magazines somewhat similar to ours. I liked the look of Real Simple, but I'm not sure they are relevant for what we are trying to do. I feel a strong commitment to provide the depth that our existing website provides as well as develop the blog.