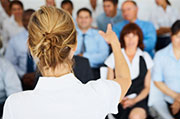 How to capture the benefits of one-on-one training, even if your platforms can only facilitate one-to-many communication
As a publisher, you may never get the chance to sit across the table from every one of your customers. You may never be able to ask them very specific questions and in turn, get them to ask you very specific questions.
But isn't this the "fidelity" that every customer wants with their beloved brands, the ability to ask questions and speak directly to the experts and celebrities behind these brands? And isn't this what every publisher or business owner wishes they could do more of, to speak directly with customers to understand (and better address) their biggest concerns?
So how does a publisher with low-fidelity products create these one-on-one experiences so richly desired by their audiences?
The Warren Buffet Example
Imagine you're about to embark on your first significant financial investment. You're nervous you're going to make the wrong move, you're confused about your options and you simply wish you could get five minutes with Warren Buffett to get his advice.
Except … Warren Buffett doesn't have five minutes to spare.
How do you scale this desire down? Maybe you buy Warren's book, or hope he produces webinars and plan to listen to those. You know deep down this is as close as you'll get to a one-on-one relationship with Mr. Buffett and maybe you're bummed out about this initially. But after spending a few days reading his book or watching his webinars, you've made a connection with Warren, even though he remains unaware of it.
As a publisher, you may not be able to offer the ultimate, high-fidelity experience of face time and one-on-one training for your customers, but there are ways you can use your different multiplatform publishing platforms to try and meet those human needs:
1. Take the time to answer blog comments. Turn the content in your portal into a two-way communication platform. The majority of your website visitors will not leave a comment on your blog, so when someone "puts pen to paper," take the time to hear them out. Your response to their unique situation could also extend the helpfulness of your article to other readers who were asking the same questions in their head, but were too afraid to attach their names.
2. Create workshops at your events. If you host yearly conferences or events, create an extra day for workshops that provide training. You may not be able to provide one-on-one training in these workshops, but if you keep them small, you can have a conversation with each participant enough to answer all of their questions.
3. Add Q&A to your subscription library. If you have some kind of training library, for example, a video training library, enable commenting so that users can ask questions. When you take an online class at an online college, you get direct access to the instructor who will answer all of your questions. You can do the same for your paid subscription websites. If you have a large community, users might still get that one-on-one connection through answers by others in your community.
4. Provide a way to talk to the editor. When someone joins your email list, give them a way to send a letter to the editor. This isn't a new technique by any means, but it provides a direct line of communication between you and your readers. Sure, you may need an intern to filter out the jerks, but you could find a gem in there.
5. Create a web magazine. We love digital magazines, and advertisers love you to put your digital magazine in the online newsstands. But the ability for readers to comment on digital magazine editions on tablets is not enabled for most. Web magazines, since they're built on HTML5 and aren't limited to particular devices, can allow comments, if you want them to. At your discretion of course, some content doesn't need a trail of mockingbirds.
6. Do an AMA (ask me anything) in social media. This open-forum discussion is becoming very popular. This is where you tell your audience that you'll be available at a certain time, on a certain social network, to answer questions. You might even come up with a hashtag for it. Celebrities get thousands and thousands of questions during these little chats, and they try to answer as many as they can. You could do the same. Tell your fans, followers, and email subscribers that your managing editor (or your on-staff expert) will be available at a certain time to answer any and all questions about anything they want to know. If it goes well, do it again another day.
Now it's your turn – how have you taken one-to-many products and turned them into an opportunity to connect more directly with your customers and readers?