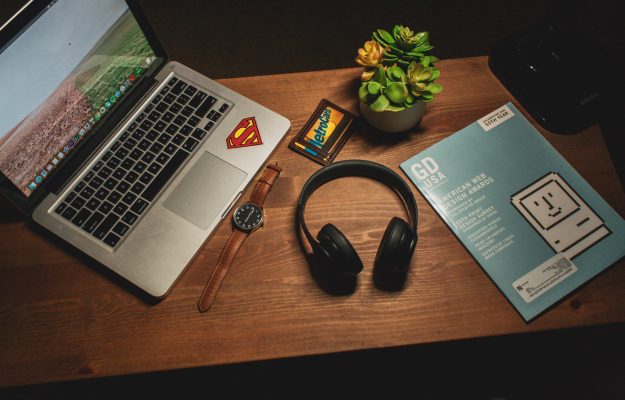 Multiplatform publishing — my how far we've come in the last two decades. Back in 2006, I read an article comparing the fidelity and convenience of watching a movie on an iPod, a home theater, or in a state-of-the-art movie theater. The author cleverly pointed out that the three media platforms offer the viewer an inverted user experience on the dimensions of fidelity and convenience.
In other words, the users will experience high convenience and low fidelity on the iPod, or what now would be an iPad; moderate convenience and moderate fidelity with the home theater; and low convenience and high fidelity at the cinema. And for some people, it's just about preference.
For example, not everybody wants to read a magazine. Some people like podcasts. The New Yorker offers The New Yorker Radio Hour, an hour-long audio recap of news events every week. One subscriber to these podcasts writes, "Many of us have subscribed to The New Yorker over the years, only to leave piles of them unread … this is the way New Yorkers were meant to be enjoyed." Another writes, "If you're like me, there's so much great writing out there that demands to be read, but you just don't have time to read it. That's what makes the audio version of "The New Yorker" so rewarding."
[text_ad]
Fast forward to today, and not much has changed in this regard. Perhaps due to the pandemic, we are all using a lot more video to share stories and ideas, but the way we use most media hasn't changed. What has changed is the number of publishers who have finally adopted them to become multiplatform publishers.
The multiplatform publishing niche media user experience
Based on the fact that every platform has completely different user experiences, we came up with our idea of the niche media user experience dashboard – that is, what users get out of the many different platforms. They all have their strengths and weaknesses, and we find savvy publishers use that as an excuse to publish on all six of them!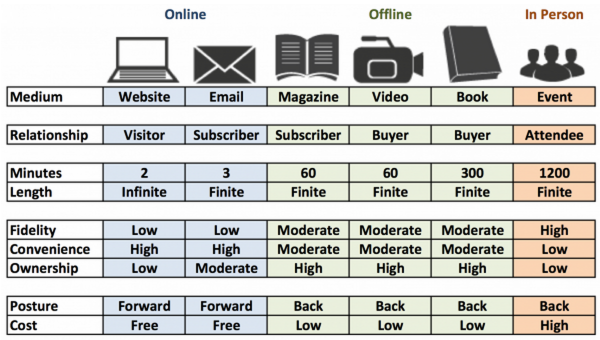 Multiplatform publishing focuses on three main types of content: online, offline, and in person, or live.
The image above helps visually describe the concept of multiplatform publishing. Mobile is not part of this grid because we consider it a device type instead of a publishing platform archetype. Smartphones and tablets support all of the online and offline media archetypes, some better than others. Smartphones excel at hosting audiobooks and magazines but they are much too small a screen to do a good job of hosting highly visual books and magazines, which can sometimes translate better onto tablets.
As you can see, moving from left to right, you begin with massively searchable, easy to access content whether it's free, paid, or metered, which is most likely the first place people come in contact with your brand. If online is not the absolute first time a person comes in contact with your brand, then it's at least the first time where you get to control the scenario. All the way to the right, you have your smallest, but most loyal consumer audience – the ones who attend your live events.
Medium: We've defined six major publishing platforms – website (which may also include your web magazine), email, magazines, videos, books, and events – and segmented them as to whether they're online, offline, or in person.
Relationship: When someone visits your website, they're a visitor. Once they've subscribed to your email list, they become the subscriber of a free, recurring product. They are also a subscriber once they've purchased a subscription to your magazine. When someone buys one-off videos or books, they become a buyer. Finally, if they purchase tickets to your event, they become an attendee.
Session Time: This is the amount of time most visitors, subscribers, buyers, and attendees will spend with you. For example, most website visitors will only spend two minutes on your website, but they'll spend up to 60 minutes with your magazine and 1,200 minutes at your event. Knowing these numbers offers the perspective of how much time people are looking at the content you create for the many different platforms.
Length: Some content is infinite, like your website, and some is finite, like a book or a magazine. Your website continues to grow, while each of your magazine issues has an endpoint. This is why we don't mind when people spend 2 minutes on your website, so long as they come back again and again and eventually become a subscriber who spends 60 minutes with your magazine or becomes an attendee and spends 1,200 minutes at your event.
Fidelity: Users most highly value a first-person experience from a combination of experts, colleagues, and peers. The best high-fidelity user experience is a live event that can be any in-person event, from a cocktail party to an industry conference, to dinner with friends.
Convenience: Some platforms are more convenient than others. In the movie example above, it's much less convenient for someone to go to a theater than to watch a video on their iPad. In the same way, it's more convenient to visit your website and get an answer to a question than to attend an in-person event to ask it.
Ownership: Ownership has value. The permanence of text, photo, video, or any tangible medium is an important media attribute. A user never "owns" the content they find on your website, but they can certainly own and even collect your magazines, videos, and books.
Posture: In what position does a customer absorb your content? On the web, they're leaning forward, like I am now to write this. They're on a mission, and often they're at their desk. But when they're reading a magazine, they're leaning back. They're more relaxed, and they're absorbing the information in a more leisurely way.
Cost: As you can imagine, web and email content tend to be free, or inexpensive, and offline and in-person content gets increasingly pricy.
[text_ad]
And it doesn't need to cost you a fortune to publish on all these platforms. You don't even need a whole new content department, just some savvy editors. Magazine publishers who recycle content strategically are building giant multiplatform publishing businesses by recycling content like so:

In this example, a magazine article turns into one chapter of a handbook. That one chapter gets turned into an entire free e-book, which then gets disaggregated into several portal posts. Naturally, magazine articles also can become pages in your web magazine library, which becomes a searchable part of your subscription website.

The magazine article could also be turned into a few pages of a handbook, a single chapter of a much shorter free e-book, and finally into a free post on your portal. This model might be for publishers putting out jumbo handbooks and large e-books who don't want to give away the cow on their blog.
There are, of course, many different versions of this cycle depending on what you're publishing, but the premise is the same: Take one thing and turn it into many things.
Some organizations don't have a magazine, so they do it backward, building as they go. A 12-chapter free white paper may be a set of 12 different posts from their portal. It will likely be edited and tweaked here and there for continuity, but the content is recycled from cover to back. It may take 12 weeks to write the 12 free portal posts, which are then turned into a handbook. This is how many publishers create their handbooks and white papers.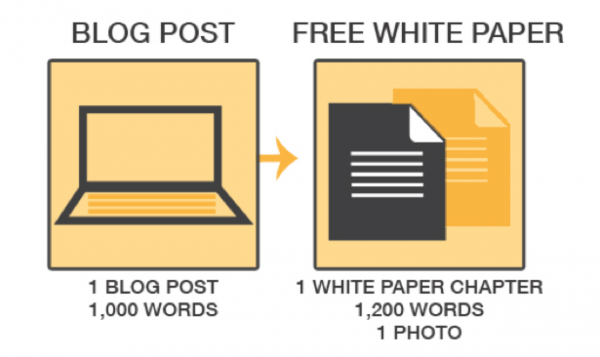 This process needs to be more methodical than the previous one. For example, if you want to create a 12-chapter freebie, then it requires writing a table of contents for the white paper at least 12 weeks ahead of time if you publish one post per week.
If you look at it in terms of our content pyramid, where live events are close to the top, you could easily transform the magazine recycling model into the event recycling model. You'd replace "magazine" with "presentation" and "handbook" with "slide" because many of our portal posts also refer to the infographics we present in our Mequoda Events.

And this can be remixed as well, just like every model we've mentioned so far.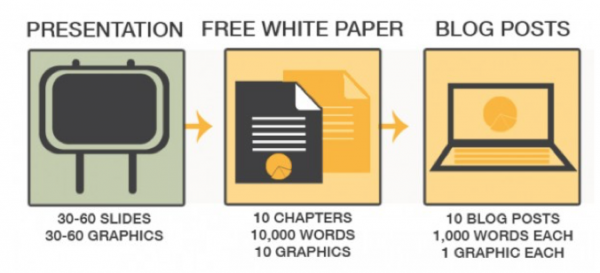 As you might have gathered, content recycling comes in unlimited varieties. The only thing you need to know is what your strategy is.
As a content marketer, your goal is to create the most accurate content by compiling first-person knowledge from reputable sources and making it available to your audience through various platforms. You can then use your content to create other products. Live events are the best high-fidelity user experience, with the highest price point. Most publishers will be very comfortable producing downloadable media, like books, special reports, or video pieces. Or, if you're The New Yorker, you ask the article writers to record their pieces and offer them as an audio subscription.
Successful content marketing will begin with understanding your users' needs. After you discover what will make your audience happy, you can begin working towards that goal with the content you produce and the process in which you promote it.
If you'd like to discuss how we can help you increase your audience, revenue, and profits, please reach out to schedule a no-obligation chat.
Does your definition of multiplatform publishing differ from ours? Let's discuss in the comments.