Far Too Many Landing Pages Fail Almost Immediately by Offering Up Lack-Luster Headlines and Subheads; Learn How To Deliver a Compelling Headline for a Single Product or Service
Most people arrive at a website and within less than 10 seconds can determine whether it's clean, professional and worth their time. Your landing page delivers the first impression. It's usually the most important page on your site. It needs to be a fast, effective messenger.
With a quick glance, visitors to your site should know exactly what your site is all about or what your business does. Determine what image and message you want the customer to "get" in those first few seconds, and design your landing page toward that objective. Anything that distracts from the central message or image you wish to project should be eliminated.
The Mequoda online marketing experts have developed 12 guidelines for optimizing landing pages that support getting the order. In this chapter of the Landing Page Handbook, we take a close look at headline writing. But first, here are a few quick tips for keeping visitors around and convincing them to order. You will find more on these tips and more on headline writing further in the chapter.
Keep it clean, efficient, and focused.
Write strong, engaging headlines.
Don't make them wait!
Make it easy to navigate.
Keep it fresh.
Five Tips
Here are some tips for keeping visitors around and convincing them to order.
Keep it clean, efficient, and focused.
Your website should create an immediate sense of comfort and well being. Accomplish this by choosing a clean, efficient design with an easily discernible central focus. Use lots of white space, choose comforting colors, and readable fonts. Avoid speckled backgrounds, unreadable type fonts and a bewildering assortment of buttons, animations, drop down or pop up menus, and multiple frames.
Write strong, engaging headlines.
Don't distract the visitors by confronting them with rotating banner ads for other products. Instead, write a forceful headline to capture their attention and interest.
Far too many landing pages fail almost immediately by offering up lack-luster headlines and subheads. A good landing page delivers a compelling headline for a single product or service.
Don't make them wait!
If you only have 10 seconds to capture the attention of your visitor, then your front page better load quickly. If it takes more than 20 seconds to load, many visitors will bail out before reading your message.
You can speed the loading of your landing page by eliminating unnecessary graphics, especially photographs. Review every image on the page carefully, and include only those that are absolutely necessary. The graphics that you must use should be minimized using an image compression program.
Also, avoid using offsite page counters, news feeds and other resources that slow down the loading of your main page.
Make it easy to navigate.
Use a standardized navigation system throughout your site. Easy-to-use navigation helps visitors feel comfortable about exploring your site.
Avoid using hard-to-read graphic buttons, hard-to-find drop down menus, or any other programming tricks that do more to prevent visitors from exploring than encouraging them to do so.
Keep it fresh.
Make sure the headlines, text, and other information on your landing page is always up to date. Visitors are usually interested in current news, reviews, and information, and will leave your site if they get the impression it hasn't been updated in months.
Check your navigation links. Most visitors will abandon your site after encountering just two broken links.
Find out the CMS features that publishers require to manage an online publishing business. Download a FREE copy of 7 Ways Haven Wordpress Goes Beyond Wordpress, and discover the features all publishers should have access to for a bigger audience, greater revenue, and higher profits.
Introduction
There is a lot of money to made selling information online, from books, reports and memberships to audio conferences and live events. How do you get your share of this bonanza?
You can create great content. You can set up an attractive website to display your wares. And you can drive traffic to your site through search engine optimization and Google AdWords.
But none of these efforts will be effective if your site visitors don't actually buy your products. So how do you convert visitors into buyers?
Among other factors, it's all about optimizing your landing pages by creating irresistible offers and making it easy for your visitors to order.
As a general rule, commercial websites should use the "real estate" of their landing pages conservatively. Whether your strategic objective is to get the visitor to sign up for a free email newsletter or buy a trial paid subscription, your landing page needs to be tightly focused on a single intention—getting the reader to take action.
How many times have you visited a new website and been confused by what is being offered? Often your mind reels from the possibilities. What should I read first? Where should I click now? What's the deal here? How much does this product cost?
We strongly advise simplifying the offer. Remove the clutter. More is less. Simplicity promotes clarity.
State your promise. Describe your unique selling proposition. List the benefits. Reveal the price. And only then ask for the sale.
The Mequoda online marketing experts have developed 12 guidelines for optimizing landing pages that support getting the order.
Headline (Strategic Intent)
When a visitor arrives at your website landing page, you have about 10 seconds to make a good impression and capture her attention. If you don't succeed immediately, she is likely to click away and you're apt to lose her forever.
So don't distract the visitor by confronting her with rotating banner ads for other products. Instead, write a forceful headline to capture her attention and interest.
Far too many landing pages fail almost immediately by offering up lack-luster headlines and subheads. A good landing page delivers a compelling headline for a single product or service.
Think benefits and features when writing headlines. The visitor who is reading your landing page wants nothing more than the answer to this one question: "What's in this for me?" Answer that question well and you will make a sale.
All the other messages about your corporate image, company background, brand, etc., are of little importance to your prospective customer at this stage. Stay focused on the site visitor's interests. Remember Mequoda System Habit #4: Organize Content Around the Customer. On your landing page, that process begins with a compelling headline.
A great headline is really an advertisement for an advertisement. It grabs the reader's attention with such force that she can't resist reading the next sentence.
The Big Promise Headline
Legendary copywriter (and Mequoda Daily contributor) Bob Bly advocates using a Big Promise headline. He characterizes a Big Promise as a succinct, compelling statement of why the prospect should buy your product that can be stated in 15 or fewer words.
If effect, the Big Promise headline says, "We know who you are, we know what your pain is, and if you buy this product, we promise to make your pain go away." The Big Promise headline works for a variety of "pain" and "solution" products, whether the customer wants to double his dating, retire at age 50, or be a self-employed copywriter.
Consider this example from the American Writers and Artists Institute (AWAI) landing page:
"In Less Than a Year You Could Have a New Career Working From Home, Enjoying Freedom and Income You Had Only Imagined."
There is nothing vague or ambiguous about that promise. If you long to be self-employed, you're intrigued, and you read on. If not, you don't. That's the test of a headline's effectiveness. The Big Promise "gets you into the tent." You take the next step by continuing to read.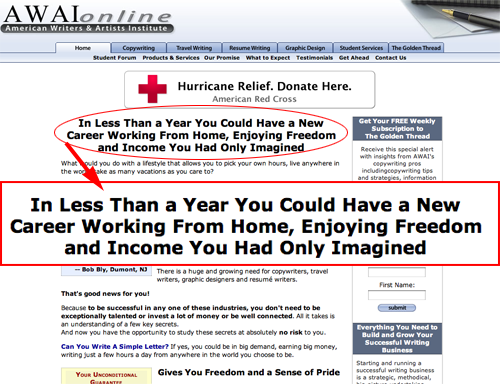 Here's another Big Promise headline from the eBookSecretsExposed.com landing page:
"How to Make MASSIVE Amounts of Money In Record Time With Your Own eBook (Whether You Wrote It Or Not!)"
The "how to" headline is always powerful, especially when the promise is for information on achieving prestige or financial success.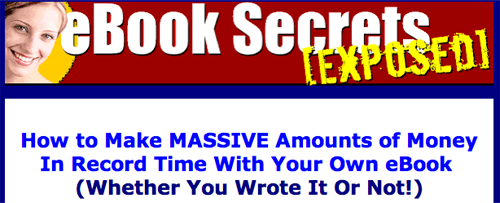 Headlines like these get the reader's attention, which is Job One. The formula for the effective advertisement, which was developed and proven in the print medium and works online as well, is summarized with the acronym AIDA (Attention, Interest, Desire and Action).
The A stands for attention; a good headline gets the reader's attention. The I stands for interest. And the Big Promise headline is effective because it quickly sorts out the Interested reader from the casual reader.
The Promise of Insider Information Headline
Now consider this headline:
"Seventeen secrets that only the most successful restaurant owners know for increasing casual dining profitability."
This headline identifies a target audience (successful restaurant owners and wannabes) and gets their attention (secrets) by offering a Big Promise (casual dining profitability).
Here's a "Secrets" landing page headline that InvestmentU.com uses to convert visitors to customers for its lead product, The Investment U Course:
"Inside: 141 Secrets… What It Takes to Become an Extraordinary Investor…"
If you're interested in successful investing, chances are you're going to keep reading.
The Intellectual Curiosity Headline
Consider this headline from Doctor Douglass' Real Health Breakthroughs Landing Page:
"URGENT HEALTH BULLETIN: Discover why one M.D. says 'I HAVEN'T HAD A GLASS OF WATER IN 20 YEARS…' And why you don't have to gulp it down by the gallon either."
The Big Promise offered here is the satisfaction of the reader's curiosity. The headline doesn't isolate a single benefit of the health bulletin. Instead, the site's strategic intent is to shake up the way the reader thinks about health and lifestyle-related issues. You can almost hear the paradigms shifting.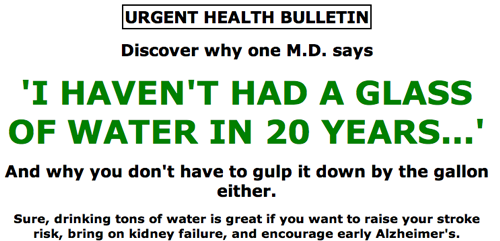 Convince your would-be customers with facts, not hype
The business model of writing boastful, self-serving copy is finished. It doesn't work anymore—at least not for anyone with an IQ greater than room temperature.
Customers don't want to be "marketed to." They're too smart and sophisticated for that. They want to be "communicated with." They want to buy from a person, not from a corporation. They want to be addressed personally, not as a faceless group.
You can still capture their attention with a big, bold promise in the headline. That's essential. But you'd better be quick to back up your claims and support your promise with factual, sincere and believable text, or you've lost them.
The Straight Product Offer Headline
This headline offers a Big Promise for the prospective customer who already knows your product and brand, wants to buy, and recognizes your offer as a terrific deal. It generally reads something like this:
"Get this product now for less money than you ever thought possible."
A straight Big Promise headline can be effective if your prospect is pre-sold and merely needs a reason to justify his purchase decision right now. However, this is seldom the case when selling information products. Selling information generally requires weaving a compelling story filled with reasons that justify a purchase decision.
Final Tip
Here's a simple formula for writing a compelling book title, press release headline, email subject or benefits list.
The most succinct copy writing tip we've heard in a long time came from Fred Gleeck at a product development seminar. Fred cited this maxim in a discussion of how to title your book. But the adage is just as valid whether you're writing a headline for an advertisement or a press release, or a pithy subject line for a convincing email message, or a list of product benefits.
We all know that people sort for self-interest. Everyone's favorite radio station is WII-FM. That's short for "What's in it for me?"
So here's Fred's formula for writing a compelling book title that appeals to the customer's self-interest: Combine your customer's greatest need with your product's greatest benefit.
Some examples:
Manual: "Low Cost Website Promotion"
(Need: website promotion; benefit: low-cost ways to do it)

Report: "Guide to Profitable Marketing Results"
(Need: marketing results; benefit: how to get them)

Workbook: "How to Get $1 Million Worth of Publicity Free"
(Need: free publicity; benefit: how to get $1,000,000 worth)

Book: "301 Direct Mail Tips, Techniques and Secrets – an Insider's Guide to Direct Mail Marketing"
(Need: direct mail how-to info; benefit: insider's secrets)

CD-ROM: "Building & Managing Profitable Subscription Web Sites"
(Need: Specific how-to info; benefit: profits)
You get the idea. Now make up your own list of headlines/benefits for your product or service.