Unfortunately, percentage of improvement is more impressive than the overall numbers
Last Thursday we took a look at subscription website publishing's best and brightest – those with the 25 highest Online Media Index numbers. The winners weren't much of a surprise, comprised mostly of the big names in publishing who have huge brand recognition and can drive traffic to vast websites.
Just as it was the last time we performed this exercise, Forbes Media led the way in OMI might.
Mequoda's OMI measurement calculates the health of a magazine by calculating an average monthly unique visitor number using data for June through December 2103 from Quantcast or Compete, and dividing that by the most recent total circulation figure from AAM. The higher the unique visitor count compared to circulation, the better – and Forbes Media earned an impressive 15.45, when, by comparison, legendary publishing names such as Ladies' Home Journal earned a scrawny 0.03 to land at #100.
In case you doubt the reliability of the OMI number as an indicator of overall publishing health, consider the fact that Meredith just announced the end of monthly publication for its venerable 131-year-old magazine. The company will still maintain its website, though oddly, LHJ ranks #11 in circulation figures, but only 91st in website unique visitors, so Meredith appears to have bet on the portion of LHJ's business that's weakest.
That's just our opinion, of course, and you may not think our OMI numbers are a good way to measure a magazine's health. If so, or if you have another measurement you prefer, be sure to let us know in the comments below.
Find out the CMS features that publishers require to manage an online publishing business. Download a FREE copy of 7 Ways Haven Wordpress Goes Beyond Wordpress, and discover the features all publishers should have access to for a bigger audience, greater revenue, and higher profits.
Top 25 magazines by OMI change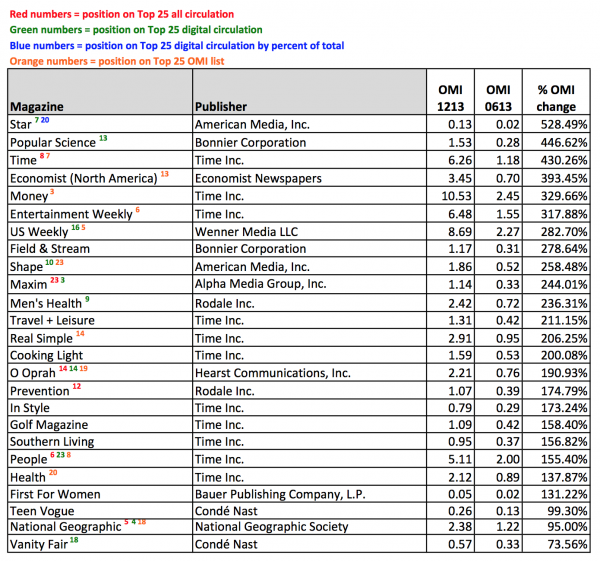 Meanwhile, instead of just looking at OMIs by themselves, who's at the top of our OMI improvement list? Star from American Media, which, as we pointed out in earlier posts, is also a star when it comes to the highest digital circulation and also highest digital circulation as a percentage of total circulation. In fact, it's the only magazine from the latter list that appears here, as that list, which we published on Tuesday, is populated mostly by much smaller magazines that many of us have never heard of, rather than household names from the big multi-title publishers.
Star's ranking comes by virtue of an astonishing 528.49% improvement over its OMI six months ago. And that's a good thing, since it earlier OMI was … wait for it: 0.02%. That's right: A magazine with one of the lowest OMIs possible actually improved itself by over 500% to 0.11 to "win" this little contest. At this rate, Star might actually get above 1.0 in a decade or so.
So it's a bit reassuring to see that #2, Popular Science, which began from a similarly sad position with a previous OMI of 0.28%, improved nearly 447% to get over the 1.0 threshold, finally driving more website visitors than paid circulation. And in third position, TIME, with its recently redesigned website, has the most impressive numbers: Starting from a healthy 1.18, it improved by 430% to get to an even healthier 6.26.
All in all, many of the magazines improving their OMI started from very little and are still at a very low number, just like Star. This is unsurprising to Mequoda, as we noticed this trend some time ago, and even have a little list we use in teaching about OMI at our Intensives that we call "Not Nimble" players – such as Reader's Digest, Better Homes & Gardens, and yes, Ladies' Home Journal – who are big magazines by circulation but have unhealthy OMIs.
Our "nimble" players are almost always magazines with much lower circulation, such as Forbes, EatingWell, The Economist, Wired and Men's Health. None of these nimble players are in the overall circulation Top 50, but they are much healthier overall because of their dedication to building a website audience as well as circulation.
Find out the CMS features that publishers require to manage an online publishing business. Download a FREE copy of 7 Ways Haven Wordpress Goes Beyond Wordpress, and discover the features all publishers should have access to for a bigger audience, greater revenue, and higher profits.
How good is this good OMI news?
In fact, only six magazines on this OMI improvement list also appear in the top 25 for overall circulation. (We haven't published this list because it's readily available at AAM.) When it comes to digital (tablet) circulation, these OMI improvers do a bit better, with 10 of them making it to the 25 top digital circulation list.
American Media, surprising star of the digital Top 25 list and top 25 digital as a percentage of total lists, has two magazines here, including Star at #1. Also with two are Bonnier, Condé Nast and Rodale. Hearst has only one, and Meredith has none. The real winner here is Time Inc., with 11 magazines improving their OMI well enough to be in the top 25, with the highest scorer being TIME, as we've seen, at #3.
Three magazines actually scored well enough to rank in the top 25 for three other measurements – overall circulation, digital circulation and OMI. These are O Oprah, Heart's only entrant here, People and independent National Geographic. This indicates a healthy focus on both circulation and website traffic.
There are seven magazines here that haven't appeared on any our Top 25 lists published so far: Cooking Light, Travel + Leisure, In Style, Golf, and Southern Living from Time Inc.; First for Women from Bauer Publishing; and Teen Vogue from Condé Nast.
But the news isn't as rosy as it would seem overall for Time Inc. and the other publishers on this list. The best way to improve your OMI is to increase both circulation and traffic, with traffic improving faster. Unfortunately, no one on this list is doing it this way. Instead, circulation has remained largely stagnant, and it's only increased traffic that's improving the OMI numbers.
While increasing traffic volume is always a good thing for advertising-reliant publishers, it's not the only thing. And while Mequoda has several small niche publishers earning  hefty revenues with websites alone, relying on the Mequoda Method, no one among the multi-title publishers has yet demonstrated that they're capable of pulling off that feat.
We're pleased that mature Mequoda clients, which are too small to be reported on here, all have healthier numbers than most of the players on this list – and while we wish the big multi-title publishers would heed our advice, we know that's not likely to happen, and six months from now, when we re-examine all of these measurements with AAM's June 2014 data, there may be new company for Ladies' Home Journal in the land of retired magazines.
Next Tuesday we'll publish the last of our analyses of AAM's latest data, when we'll find out who's improved digital circulation the most. Do you have any guesses?