Google has passed Facebook as the top source of referral traffic in 2017; Google AMP showing signs of value with new referral data; Audience development strategies for Facebook becoming harder to pin down as publishers report drops in traffic due to Facebook's algorithm change
Publishers select a variety of audience development strategies depending on their market, the skills of their staff, and their content. Today we're looking at news on referral traffic, pertaining to Google and Facebook, two major audience development partners.
We begin with statistics from a recent study from Shareaholic on referral traffic. Venture Beat reports, "Google passed Facebook as the top referral traffic driver in 2017 as the search giant doubled down on mobile and the social giant cleaned up its News Feed. That move resulted in an even bigger change last year: Search overtook social in 2017, after the two first swapped spots in 2013."
The chart below shows this best, "detailing the quarterly share of visits for six search engines and the top 13 social networks."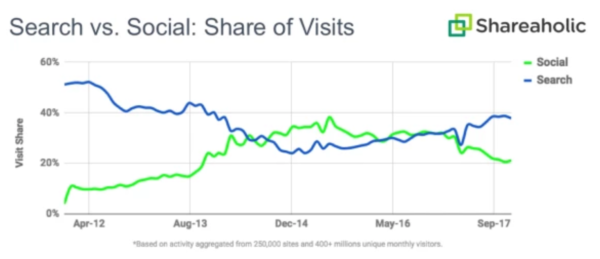 "The findings come from social discovery and sharing platform Shareaholic, which today released a report covering referral traffic data for 2017. The platform tracks over 400 million users visiting its network of over 250,000 mobile and desktop sites."
The article continues with more on these findings. "These results are in line with the latest data from Google Analytics alternatives Chartbeat and Parse.ly. Both have found that Google has been steadily replacing the traffic publishers are losing from Facebook."
"Shareaholic found Google's share increased from 28.56 percent in 2016 to 34.66 percent in 2017, while Facebook fell from 30.92 percent in 2016 to 22.64 percent in 2017."
Our next story looks at some publishers who have seen their Facebook traffic drop since the algorithm change was announced. Digiday reports, "Publishers such as Viral Thread, ViralNova, 9gag, Bored Panda, Diply and Distractify have all seen interactions — likes, shares, comments and other reactions — slide precipitously since Facebook announced in January that it would deprioritize publisher content in its news feed, according to Facebook-owned CrowdTangle."
"That drop implies Facebook has limited their reach on its platform, bad news for publishers that depend heavily on Facebook for referral traffic, according to data from internet analytics firm Jumpshot. Distractify, for example, saw its monthly traffic decline 78 percent year over year in January and 84 percent year over year in February, with most of the declines attributable to declines in Facebook referral traffic."
The article continues with a look at how severe these drops can be for audience development strategies of some publishers, depending upon where the other sources of traffic are coming from. "The interaction rate on 9gag's posts fell 50 percent month over month from January to February, according to CrowdTangle data; Viral Thread's interaction rate fell 32 percent, the second-largest decline month over month, over the past 12 months, according to CrowdTangle data."
Our final story looks at data on Google AMP articles. MediaPost reports, "According to a recent story by Axios, after Google decided to "double down" on news by focusing on its AMP (Accelerated Mobile Pages) capabilities, which loads articles faster on Google Search and Google News, publishers saw their traffic numbers spike."
"Chartbeat found publishers are seeing referral traffic come from Google AMP more than any other platform. In fact, during the week of February 8, 2018, publishers saw 801 million weekly page views from AMP-enabled pages, and only 290 million from pages not supported by AMP."
"The data also suggests that a majority of traffic seen by publishers is coming from mobile platforms. Mobile traffic has reportedly increased by 100% since 2017."
Do you need to enhance your audience development strategies? If you'd like to discuss how we can help you increase your audience, revenue and profits, please reach out to schedule a no obligation chat with a member of our consulting team.