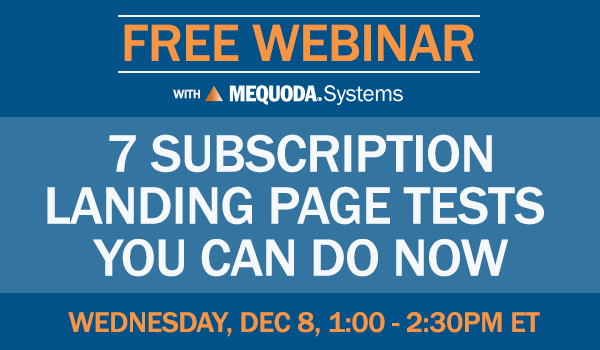 I'll make this quick because I know you're busy. You're invited to join us on March 16 at 1pm ET for a FREE webinar, Giving Life to Your New Digital Magazine Idea. This is your only chance to get these best practices for FREE, before this webinar becomes a premium training program in Mequoda Pro for $49/mo. All you need to do is join us promptly at 1pm on March 16!
If you are thinking about launching a new digital magazine, or converting a print magazine into a digital magazine, you'll definitely want to attend, so register now and get on the list, because it's filling up quickly.
If you're not quite sure if this webinar is for you, ask yourself these three questions:
Do you have a business plan for your digital magazine?
Do you feel confident you can meet the goals of your business plan if/when you do have one?
Do you wish somebody would just tell you exactly what to do to get it launched?
On March 16 at 1pm ET, join me and Mequoda's CEO, Don Nicholas, as we share and demonstrate how publishers are thriving in 2022 with profitable magazine membership websites. And because we want you and your team to attend without impediment, we are presenting this webinar absolutely free! 
In Giving Life to Your New Digital Magazine Idea, you'll discover:
How to launch a magazine that is 100% digital and meet your business plan goals

Five editorial frameworks that should be married into your digital magazine publishing system

The interlocking content and reader engagement goals you should consider

How to identify a top-flight technology stack that can build top-tier digital magazines

The editorial and marketing team required to run a new digital magazine
When you attend this FREE webinar, you'll learn all of this through an in-depth look at publishers who are leveraging some, or all of the above opportunities to glean ideas you can use in your own publishing business.
Register today so you don't miss out on this event, and please pass this along to colleagues and any friends in the industry who may benefit from this webinar. Seats are limited to the first 97 attendees to help ensure a successful Q&A session at the end of the webinar. Don and I look forward to answering your questions to help you relate our methodology to your organization, mission, and goals. Register for FREE today.