8 Online Magazine Design Best Practices
By— Kim Mateus • 10/02/2019
When planning out your online magazine design, consider these strategic best practices that go beyond font and color to create a subscription website that will drive the most revenue.
Online magazine design has taken a number of steps forward in recent years, starting with the launch of the first-ever web magazine in 2014 called I Like Crochet. An online magazine, also known as a web magazine, is a premium publication that is read through a magazine subscription website. In our definition, it is not the same as the homepage of a magazine, where content is freely distributed, unless that content is metered by a paywall.
Below, we share our current best practices for online magazine design.
1. Test a Metered Paywall.
One of the biggest moving targets in Mequoda best practices is the metered paywall. This is a rather new addition to our list of online magazine design best practices, but nearly all of our publishing partners are having success with this business model in comparison to the model of separating free and premium content. Your goal is to establish a sampling mentality. When the guy at the supermarket gives you a sample of cheese on a cracker, he's not trying to feed you dinner; he's trying to get you to buy cheese. So, your question is how much access you need to give in order to obtain a subscriber. Read 10 Tips to Convert Metered Paywall Visitors into Subscribers to learn more.
2. Use a Tier 1 Processing System.
If you're not on a tier-one payment processing and fulfillment system, you're leaving money on the table that's incredibly easy to pick up if you make the best choice for your business. I Like Crochet moved its fulfillment and payment processing to Strategic Fulfillment Group (SFG). This was a massive upgrade based on the success of our other publishing partners who have seen an increase of 20 points from a retention rate of 50% to 70%! This represents a 40% lift over the base in year one and a 121% lift by year five. This is the easiest money you'll ever earn.
Consumers are telling us loud and clear what they want—are you listening? How much would you pay for that information? Download a copy of our 2018 Mequoda Magazine Consumer Study for FREE instead, to find out how you can improve your digital magazine rapport with subscribers.
3. Create a Robust Library.
A web library is an archive of your content going back many years, likely since the beginning. By digitizing your magazine into a library, you can upsell a substantial number of would-be magazine subscribers to a higher-end and higher-priced product that requires a relatively small amount of additional time compared to an investment in creating the original content that's being leveraged.
4. Use Six Sigma to Test Offer Copy Regularly.
Even our best-performing publishing partners—who publish on multiple platforms, run several subscription websites, and have helped define our pricing best practices—will see a drop in subscription sales when they stop testing.
A standard Six Sigma email spotlight program focused on selling more magazine subscriptions might include a schedule of sending magazine spotlights 5 times per week, with a combination of editorially-driven creative alternating with offer-driven creative.
The email campaigns are planned and measured in a 2-week cycle, where we identify the 5 best performing spotlights and the 5 worst performing spotlights in a given 2-week cycle. We keep the five winners and include them in the next 2-week email cycle, and we replace the 5 losers with brand new creative.
I Like Crochet takes advantage of SFG's "FlexPage" system. SFG sets the standard on allowing our partners and agencies to create new subscription order pages that easily facilitate testing. The faster you test, the more you learn; and the more you learn, the more money you make.
5. Publish Special Collections.
Curating special collections is something that all of our publishing partners are adopting. It involves creating pages within your web magazine where you curate many articles from your archive.
Special-interest articles are often entirely evergreen, and even those that show their age are often of interest as they reflect tastes and styles from an earlier time. You can create a collection around themes and take advantage of the depth of your library content to create collections that focus on coverage that is no longer part of the current magazine.
Under a tab called "Collections" on the magazine website, subscribers to I Like Crochet get more than a dozen new collections per year. If you are looking for baby blanket patterns, it might be overwhelming to search through their large library of patterns, so the editors picked seven of the patterns they deem the "best" to showcase in their collection called The Best Baby Crochet Patterns Collection: 7 Little Designs. Learn more about creating special collections here.
Additionally, visitors can now buy access to a single collection or be upsold to the collections club.
6. Enable Single-Copy Subscription Pricing.
If your online magazine design includes single-copy subscription pricing, you are truly committed to selling subscriptions, and while this might not be your most popular product, it gives you the opportunity to upsell more easily.
If you create single-copy pricing, you create parity around access so that a subscriber to a single magazine issue can get it for 12 months, just like an annual subscription. However, when users see that they can access three or more years' worth of back issues in the web library for just a little more (example: $8.97 vs $34.97) they may do the mental math and decide that if they read just four issues in the next 12 months, it'll be cheaper to get an annual subscription. When bundling the archive into that higher price, it is this overwhelming value creation, a phenomenon from economic behaviorism, that dramatically increases consumer adoption and response rates. We expect the single-copy sales to generate less than 10% of all your transactions, but they will create a tempting comparison value that will increase annual subscription sales.
7. Create Club Memberships.
There's a new trend happening in the multiplatform magazine world, and it's the magazine club model. Publishers everywhere are adopting magazine clubs, an all-inclusive membership revenue model that can offer access to multiple editions of your magazine, video courses, special collections, library archives, discounts, and VIP event access.
I Like Crochet has recently adopted this model and now offers different levels of membership.
I Like Crochet Bronze Membership is free and allows users access to free crochet patterns, crochet alongs, and other helpful crochet tips.
I Like Crochet Collections Club Membership, $1.97 monthly and billed annually, includes access to their carefully curated collections of stunning crochet patterns for scarves, blankets, and more. These collections include 50+ gorgeous designer patterns.
I Like Crochet Magazine Club Tablet Membership, $2.97 monthly and billed annually, includes web access to the next year of bi-monthly digital magazines; with 25+ exclusive patterns, expert tips & step-by-step techniques in every issue. Plus, access to the library with 700+ patterns & articles for free on your computer.
I Like Crochet Magazine Web Membership, $2.97 monthly and billed annually, includes web access to the next year of bi-monthly digital magazines; with 25+ exclusive patterns, expert tips & step-by-step techniques in every issue. Plus, access to the library with 600+ patterns & articles for free.
The Gold Club, I Like Crochet's most popular product, includes just about everything they create. It includes full access to everything— Magazine Club web & tablet editions for a year; plus the library of 700+ patterns & articles and all the special collections in the Collections Club. It's billed monthly at $3.97.
This approach has been successful so far. Any time someone tries to subscribe to either the Collections Club or the Magazine Clubs, they're presented with the Gold Club as the best offer. This is causing the majority of orders to upgrade to the Gold Club.
Note: The prices above are for the full-price offer. At any given point in time, you are likely to find a special offer that is being tested for 30 days as part of their Six Sigma offer testing program, like the one below.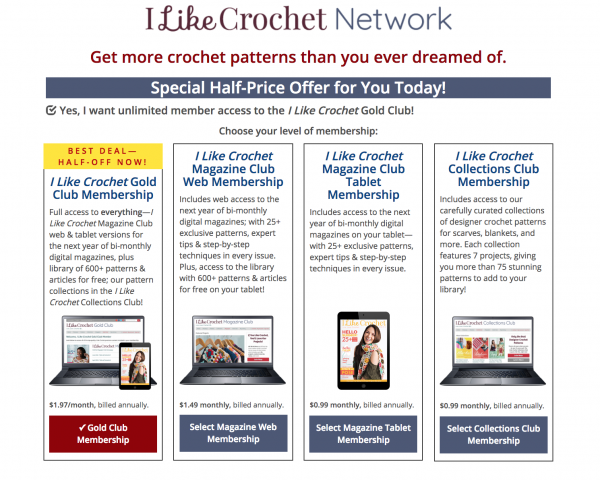 8. Publish Library Previews.
I Like Crochet has always published some content for free as part of their online magazine design, but now they are releasing informational Library Previews. These are posts, also distributed through email, that preview content from the library in an effort to shed light on what's available for those who aren't subscribed and curate content for those who are. Many of our publishing partners use the preview format to tease collections on their sites, while I Like Crochet focuses its previews on one crochet pattern from a past issue or collection, highlighting the item and the designer.
Over the past two decades, we've guided more than 300 niche publishers through the process of transforming themselves from legacy print publishers into multiplatform operations that often dominate their industry niche and generate operating margins that surpass those created by their legacy print business. Learn more about how we can help you apply these strategies to your publishing business by scheduling a FREE consultation today.
Posted in Digital Magazine Publishing