Some helpful hints on generating revenue through online advertising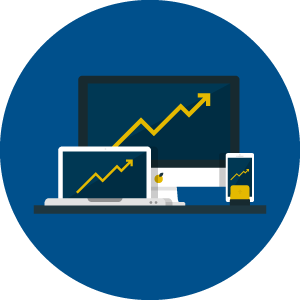 What comes to mind when you think about revenue models online? Is it a relatively new model that was designed specifically for the internet? Or do you think of traditional business models that have transformed from the physical world to the digital world?
That may have been a trick question, but if you answered "both," you are correct. The internet offers an array of revenue models, which in turn have their own subsets of revenue-generating models. This means revenue can be generated in many ways. As you read on, the intricacies should become more understandable.
The core of online business models
Online business models can be first broken into two main categories: conventional business models adapted to the internet and internet-specific business models.
There is an array of conventional business models, ranging from direct sales to the brick and mortar business model. These businesses may have started in the physical realm, with many ending up online. These models did not develop on the Internet, although they have transitioned to this medium.
Internet-specific business models are ones that did not, or could not exist without the internet. Many of these revolutionized the way online businesses generated revenue as many traditional business models operating on the internet also adopted some of these internet-specific models.
The following examples are of internet-specific revenue models that are valuable components of online advertising strategies.
Eight Internet revenue models
1. Web and email banner advertising
These images can be included on websites or in email newsletters. They should have attractive copy and inviting imagery in order to get viewers to click on the advertisement, which links back to the advertiser's website.
These banners can come in an array of shapes and sizes and can be placed in different locations on a website. Leaderboard banners typically run across the top of a website and are seen as soon as users enter the site. Skyscraper banners used to be an ad of choice, typically running along the sides of the screen, but they have been replaced by their more successful counterparts – medium rectangles.
Countryside is one such publisher (and also a Gold Member client) that sells advertising on their website and in their newsletter. You can see a banner ad at the top of their free Portal, and to the right, including ads for their free and paid products mixed in. You have to love this example, because an article on beekeeping aligns with the advertisers and also for their own internal beekeeping guide freebie.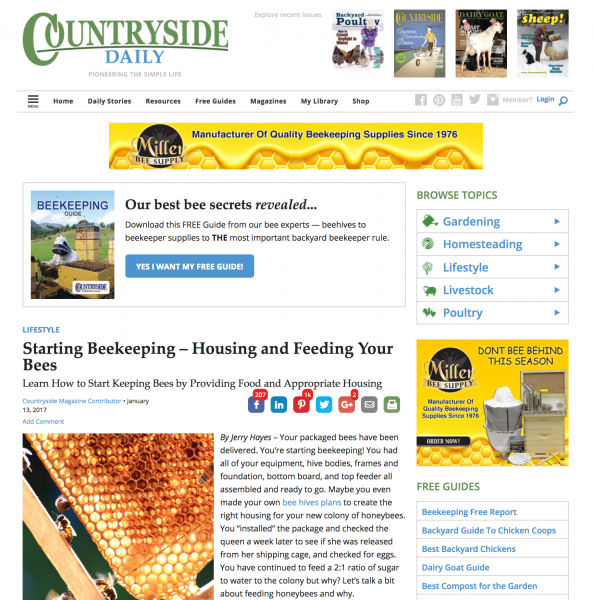 2. Sponsored downloads
If you are following Mequoda Best Practices, then you are engaging in content marketing by offering free downloadable products in exchange for a user's email address. Free, downloadable products are intriguing to visitors due to the associated price point, and therefore, are downloaded often.
Sponsored downloads are also common. Download forms are typically longer, requesting lots of information from the user, as the user data is then provided back to the sponsor. We recently wrote about Prime Publishing's sponsored ebooks, which have been incredibly successful for them.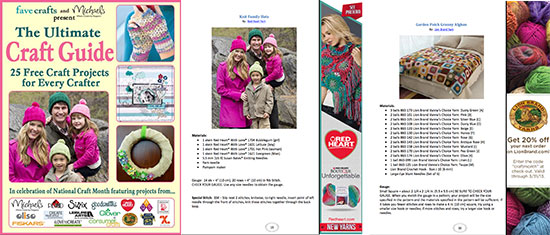 3. Sponsored webinars
Webinars are popular these days because business professionals can learn emerging practices and theories without having to constantly travel around the country or across the world. Webinars are typically educational while using a medium that incorporates both audio and visual enhancements.
Due to the popularity of webinars, sponsorships can be offered. Some companies avoid charging customers to view the webinars and instead operate a sponsorship model.
Sponsors could be sought for paid webinars as well, but in that instance it's important to take into account the amount of external promotion for the sponsor. It's important to not over-promote if you are charging viewers. This could irritate them and cause them to question the content's credibility.
4. Resource directories
Ceramic Arts Network is one publisher that has sponsored directories. They have a directory of ceramics equipment, materials, and service providers that can be filtered by keyword or geographical location. For example, if you filter for California you'll find an abundance of resources, including highlighted sponsored or "featured" listings for vendors who have paid for premium placement.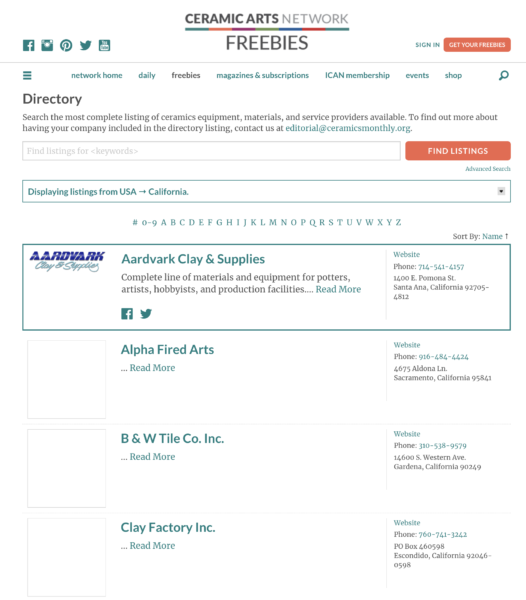 5. Job Boards
Laurel Touby started MediaBistro in 1997 in the dot-com heyday with the goal of creating a community for journalists. "We weren't really sure how we were going to make money," she confesses, "we just wanted to bring media people together." While this may not sound like an auspicious mission for a profitable business, MediaBistro has developed some very profitable income streams, all of which flow from this community, and all of which provide content models easily adopted by traditional publishers.
MediaBistro's largest source of revenue is its media job listings, access to which is free to registered visitors. The site currently features some 688 job openings, which cost employers $297 each to list for 30 days. Do the math: Bistro's job listing operation has got to be pulling in around $2.5 million a year. The whole listing and payment process is automated, so expenses, aside from developing and maintaining the job listing function, have got to be minimal.
6. Sponsored channels
One version of native advertising involves paid ads that appear to "own" a channel, or category of a website. They can be banners, articles, snippets and  links that are assimilated into the design and flow with the platform functionality, so viewers feel the ads belong on the page and are related to the content. The publisher sells total sponsorship of a single category of the site, and pay more for it.
Again, Countryside is a great example of sponsored channels. Take a look at their channel on Poultry and you'll find articles are sponsored by Purina's chicken feed.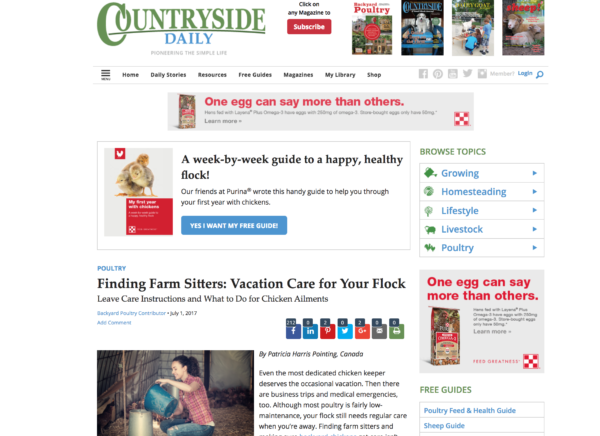 7. Sponsored content
The best native advertising examples offer fantastic editorial content that doesn't turn off the reader as being too promotional or non-contextual. Although the FTC is currently updating their guidelines every day, we think sponsored and custom content is a great way for publishers to increase revenue using their existing staff and while improving the reader's experience with good content, rather than distracting them with animated ads, or otherwise interrupting the content digestion experience.
One of the mass media examples of native advertisement styles we've seen is produced by none other than the New York Times. In this example from Capital One, the content speaks to small business owners and their financing struggles, while using quotes from executives at Capital One to help and support their pain points. Meanwhile, the design is outstanding, while still clearly labeled as sponsored throughout. It's more than an article, it's a work of art that any reader would enjoy reading. It's broken up into sections, animated, with pull quotes and graphics that bring readers from beginning to end. It's produced by NYT's internal team, called BrandStudio.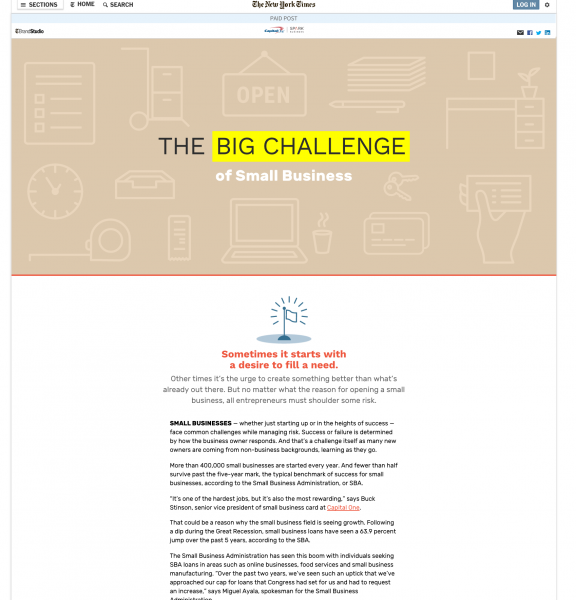 8. Custom Newsletters 
Many publishers include custom sponsored newsletters and promotions as part of their advertising packages. For example, if you subscribe to Mr. Food, you might get a special newsletter from one of their gourmet food sponsors. There's a nice little disclaimer at the top of the newsletter explaining that these promotions help pay for copious amounts of free content they create for their subscribers daily. A fair trade off, we'd say.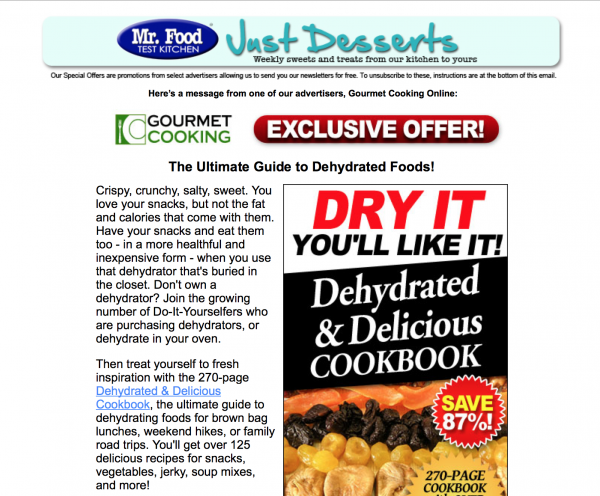 If you'd like to discuss these online advertising revenue models, or come up with even more creative solutions, I'd love to chat. Set up a call and let us know where to reach you.
Editor's note: This article was originally published in 2010 and is updated frequently.