Digital magazine success can be monitored with the help of these publishing metrics
Digital magazine publishing has come a long way from its inception. Some digital publishers are very active in offering digital magazine apps, including premium and affinity versions.
Like all other digital platforms, you must track relevant data so you can focus on the most successful products and plan for future ones.
The following seven digital magazine publishing metrics pertain to selling digital magazines within Apple and from your own website.
Learn the secrets behind today's most rapidly growing niche publishers. Download a FREE copy of How to Develop a Multiplatform Magazine Business Plan, and discover how large your magazine business could become and how much of an investment will be required to build your business to maturity.
Seven digital magazine publishing metrics
Digital Magazine Publishing Metric #1: Downloads – The number of times your app is downloaded by audience members.
Digital Magazine Publishing Metric #2: Activations – This metric goes beyond the act of downloading and focuses on the app being registered or purchased. If an app is downloaded but not purchased or used to register a user, then it is not activated.
Digital Magazine Publishing Metric #3: Activation Rate – Out of all the downloads that take place, what percentage of users purchase and/or register.
Digital Magazine Publishing Metric #4: Activation Mix – This metric relates to the type of content consumers can buy or download from digital publishers. As you can see in the pie chart from Adobe, the four main types of transactions involve single-copy sales, subscription sales, free downloads, and entitlement offers that include bundling digital with print subscriptions.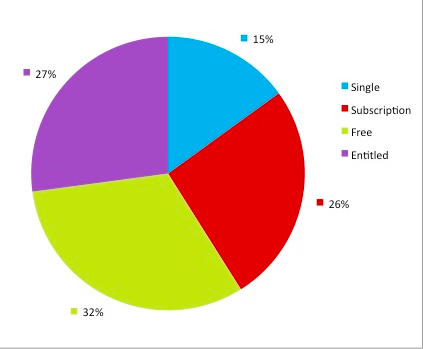 Digital Magazine Publishing Metric #5: Allow-Sharing Rate – When you purchase from Apple specifically, a little "yes/no" box pops up, and asks if you want to share data with the publisher. Some publishers have complained that they don't receive buyer information, yet 65-85% of the time the user empowers or authorizes Apple to share information with the publisher. This typically includes name, email, and zip code.
Digital Magazine Publishing Metric #6: Percent New to File – Are your digital products helping reach new audiences? This metric will help you determine if the people who are downloading your apps are already in your database, or if they are new to your brand and content.
Digital Magazine Publishing Metric #7: Retention Rate – This metric takes a look at annual subscriptions and the percentage of subscribers that stick after a 12-month period. In some instances, the subscription period is monthly. Therefore, the retention rate for these apps will be monitored on a smaller scale.
These digital magazine publishing metrics aren't the only ones to take a look at. The MPA suggests measuring the total number of sessions per issue, the total time spent per reader per issue, and the average number of sessions per reader per issue.
What do you measure? Leave a comment and share your thoughts with our community.
This article was originally published in 2012 and has been updated.