Publishers aren't just going digital anymore, they're creating digital magazines that are evolving as quickly as the technology that hosts them
In 1967, an eight-page issue of Computerworld was published for the first time, deemed "the newsweekly for the computer community."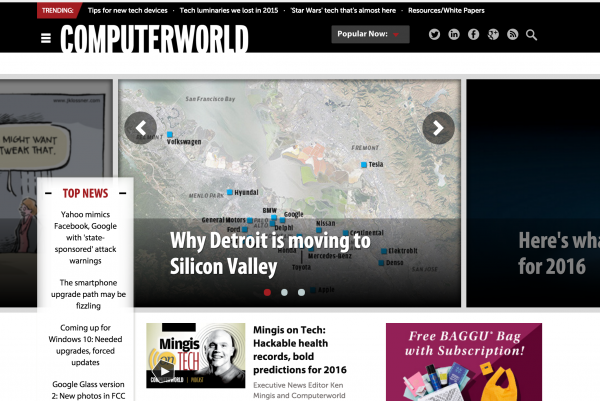 The goal with Computerworld: provide its readers with insight into the world of technology and how to generate revenue through its endless functions. With this publication, content ranged from technology related news, reviews, insights, analyses, and tips. Computerworld targeted IT and business professionals, providing them with content to help them expand and maintain their work within an evolving industry.
In 1996, a website for the magazine was launched, and in 1997, they updated their style to include more colors and graphics, making it very magazine-like in nature.
But by 2014, after 47 years of print, Computerworld went digital only–staying true to its niche. Editor-in-chief Scot Finnie explained the necessary decision to progress. Like many other industries, he stated that it was time for Computerworld to move on from printed media. During its transition to digital, Computerworld's staff of editors and writers carried on, providing new and original content for the publication through their Portal. It feels like an entire lifecycle that many legacy publishers are familiar with.
Learn the secrets behind today's most rapidly growing niche publishers. Download a FREE copy of How to Develop a Multiplatform Magazine Business Plan, and discover how large your magazine business could become and how much of an investment will be required to build your business to maturity.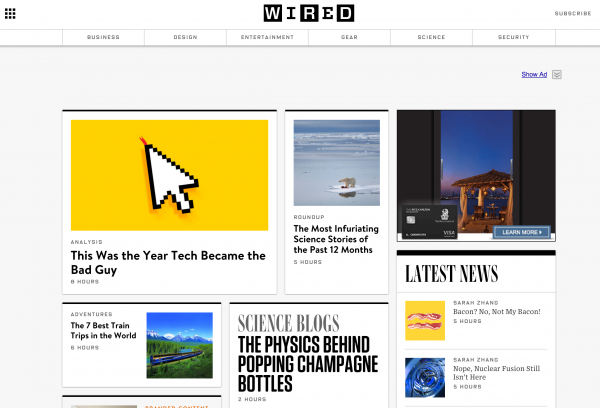 Wired, on the other hand, is a fairly new publication that was developed as technology and personal computers became more mainstream. Louis Rossetto and Jane Metcalfe had foreseen the future of digital publication before most people knew about the internet. This magazine team began the early stages of Wired while working in Amsterdam in 1988.
At the genesis of this process, Rossetto was a novelist and adventurer working with Metcalfe (also his partner) at a language translation service. The two created a business plan, and the rest is history. Rossetto and Metcalfe joined forces with designers (and friends) John Plunkett and Barbara Kuhr to bring Wired to life. At the time, it was going through different name changes, including Millenium and Electric Word.
After binding one of the most successful magazine teams, Rossetto and Metcalfe noticed that they were running low on funds. Ultimately, they turned Nicholas Negroponte (co-founder of MIT's Media Lab and successful fundraiser) to invest in Wired. Once he saw the prototype, he was sold on the publication. Following the lead of Negroponte, Wired benefitted from many other investors, including the founder of Silicon Beach Software Charlie Jackson.
Once the plan for this publication finalized, the first issue of Wired went out in January of 1993. At the time of its debut, the magazine recruited a variety of staff members–from publishers to editors, designers to photographers and art directors. Over 20 years later and Wired is still living true to its name.
In May of 2010, they launched their iPad edition, with a funny letter from the editor that said:
"The irony that Wired, a magazine founded to chronicle the digital revolution, has traditionally come to you each month on the smooshed atoms of dead trees is not lost on us. Let's just say the medium is not always the message."
He finished his letter stating, "Wired magazine will be digital from now on, designed from the start as a compelling interactive experience, in parallel with our print edition. Wired is finally, well, wired." And Wired is and has always been an excellent digital edition, having completely skipped over a basic replica and going straight for the bells and whistles like scrollable content, animation, videos and even music to enhance storytelling.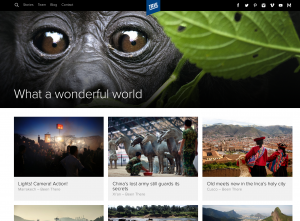 But then in comes TRVL in 2010. Meet Dutch duo Jochem Wijnands (travel writer) and Michel Elings (Apple whiz), co-founders of the vastly popular TRVL magazine, and the only digital-only magazine team at the time. They met and quickly began collaborating on this digital publication. The goal: change the magazine industry.
And change, they did. What initially made TRVL stand out was its exclusivity to the iPad–the first of its kind. They originally launched using a WoodWing plugin that exported Adobe InDesign files to an iPad reader, but they felt constrained by that – so they promptly developed their own software program, Prss. Prss (apparently The Netherlands suffers from a serious vowel shortage), has an advertising manager, and they solicit advertisers in their terms of service. Amusingly – because they're quoted in Apple Insider – they call it "the software Apple forgot to make."
In fact Apple went ahead and bought Prss in 2014, making a huge (silent) statement at the time about the future of digital magazines and their future in the newsstand, or whatever Apple News would become.
Some unique qualities resulted from the magazine team publishing only on the iPad. For starters, have you ever opted out of downloading an entire album on iTunes and instead purchased a few good songs? Apply this concept to downloading articles (as opposed to the entire magazine), which began with TRVL. Readers no longer had to scroll or flip through many pages to read an interesting article, nor did they have to store an obscene amount of memory on their iPad.
Another important element that made TRVL acclaimed was that it was free (you read that correctly!). The magazine team initially put the app out for free with paid content. When this exchange didn't work for them, they decided to offer the entire app for free. TRVL received over 1.7 million subscribers. This was not just using the new digital technology to push the envelope; it was exploding the envelope in a way that no digital edition of an existing print publication had managed to do yet.
But the lifecycle begins yet again. Maybe it took almost 50 years to get from print to digital magazines with Computerworld (considering tablets didn't exist until a few years ago), but TRVL hit its own wall — Apple News. Without a newsstand, and with their company getting bought by Apple, they seemed to drop off the map until last month when they announced they re-launched and would certainly be available in Apple News, as one of the first publications using it — however their focus would be their website.
In a direct letter to readers and news outlets on December 4, Wijnands writes :
"My last words are for the publishers out there, those who are seeing their business circling the drain in ever smaller circles – and don't see a way out. Don't despair. We believe there is a pot of gold waiting for you if you stop thinking "revenue" and start thinking "adding value" for your users. We are dedicated to proving this point (that is all I can say for now)."
Does this transition from tablet to web seem to ring the bell of what we've been talking about over the last year or so, where magazine subscription websites and web magazines will be the future of digital magazines?
Whereas publishers like Computerworld who left the print world for digital may have been judged for giving up the good fight, we see the transition from apps to responsive web editions as the next reasonable step. App editions are great for when you're not connected to the web, and they have their place, however when the biggest digital magazine marketplace for tablets is brushing off the magazine industry, we're learning that it's OK. Why wouldn't we design for the web what we do for an app?  Why wouldn't we make our digital magazines simply work on any device regardless of operating system, just like we do for our websites?
With web magazines, publishers will be bringing premium content to the devices of their customer instantaneously, not pending an app update, or even a device update.
What do you think will be the future of digital magazines? Will web magazines be the next transition for publishers?