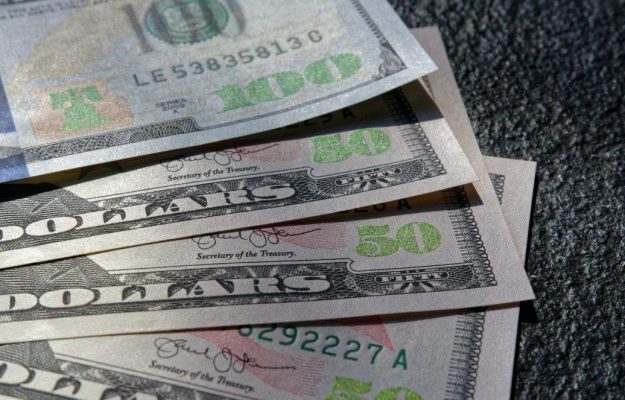 Print advertising rates have always been robust. After all, magazine ads have been superior to broadcast ads in several ways: They offer a targeted environment, they offer adjacency, and they're self-paced, giving readers as much time as they want, not just 15 or 30 seconds.
Digital magazine advertising offers the same enticing features. And these ads can leverage technology that allows greater interaction between advertisers and readers.
However, print publishers have felt they were trading print dollars for digital dimes, and with the prevalence of mobile, they feel they're trading digital dimes for mobile pennies.
[text_ad]
But something that our inner circle of Mequoda publishers is seeing, is that "digital dimes" and "mobile pennies" can be upgraded to "digital dollars" like the good old days by offering a better package of advertising. Instead of selling one-off banner ads and email campaigns, these niche publishers are selling packages of ads and custom content.
Here's what you may be used to seeing and creating. Magazine ad costs in People magazine, for example, are based on placement in regular issues, feature issues, and other special editions. At 3.4+ million subscribers, People charges Super Bowl prices. We've seen their rate card change over the years to include digital, but we're not seeing that anymore.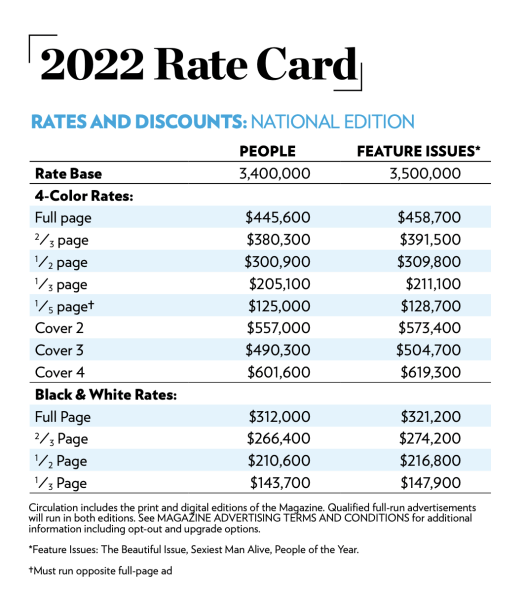 What a multiplatform magazine rate card includes
Rates in most publications run the gamut from full page, 2/3 page, 1/2 page, 1/3 page, 1/6 page, 1/8 page, cover, back cover, inside cover, inside back cover, web banner; also the number of times it is slated to run (usually 1 to 24 times).
But there's no innovation or added value for the advertiser in these advertising options, as publishers simply transfer what they know about print into a digital medium. Advertisers are wising up and choosing to work with publishers who can offer more bang for their buck. We believe that lies in custom content, but we'll get to that in a minute.
We have talked about how publishers are selling multiplatform sponsorships in the past. Rate cards now include banner and text ads on websites, social media campaigns, lead generation opportunities, enhanced directory listings and most notably, sponsored content and distribution. Multiplatform magazines no longer have rate cards that look anything like the above. Instead they include massive layers of content, like this example of a Diamond package that a multiplatform publisher might be selling.
In this sample of a 5-year magazine rate card plan, you can see that from year one to year five, advertisers pay more as print, digital, and email circulation increases.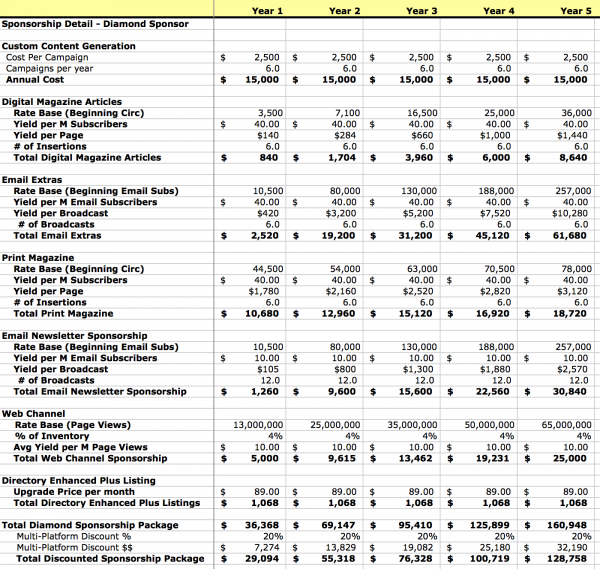 Custom content generation is otherwise known as native advertising, so a diamond sponsor would get six articles per year, developed by the publisher's editorial team, at a rate of $2500 each, for a grand total of $15,000 per year. This is the only rate that stays the same throughout the years.
Custom content can also be published in online versions of your publication as digital magazine articles, and depending on your circulation growth, the rate would increase from year to year.
The sponsored email extras are inserted into your daily editorial email newsletters and push readers back to the online versions of your content which also exposes the user to the other great content you publish.
Custom content may also be published in the print magazine. In this diamond package, there's no exclusivity on the web – a true multiplatform package will always contain a print ad component and this is our way of adding value for advertisers by giving their custom content more reach.
Email newsletter sponsorships offer opportunities to have the lead spots on daily and weekly newsletter emails. Sponsors will get the first rectangle in the email, along with the first text ad associated with the mobile-first email stack. These efforts can be aligned with web channel content, so the sponsor's ads are, again, adjacent to the content most popular with their target audience.
Web channel sponsorship refers to advertising space on your website – exclusive to one of the major topics covered by your portal and magazine. For example, in our fictitious Green Gardens case study, we would offer an exclusive on the ads appearing in the "roses" channel. Whenever someone looks at rose content on the site, only the web channel sponsor's ads will appear.
Directory "enhanced plus" listings are paid listings, like the job board on MediaBistro. Advertisers pay to be part of the directory to be found by prospective buyers, job seekers, or someone else of value. As part of a multiplatform magazine rate card, sponsors get an "enhanced" listing. Enhanced listings appear at the top of the list of providers, and often contain video, or other elements of a micro-site that make them stand out from the rest.
We think publishers should make custom content the primary focus of a multiplatform magazine rate card. Advertisers aren't as excited about banner ads and half-page ads as they used to be. For a more detailed look at these rate card elements, check out this post.
Are you looking for new ways to reinvigorate your digital magazine publishing sales? To learn more about changes in the world of digital marketing, subscribe to Mequoda Pro.
What's your take on our multiplatform magazine rate card? Leave a comment and let's discuss.
[text_ad]