Double Your Revenue With an All-Access Offer
By— Kim Mateus • 08/26/2019
How to use web editions, collections and libraries to double your revenue 
Are you still selling your magazine on one platform? Sure, print magazines smell good and even look good on a coffee table, but the most successful subscription and membership marketers we know are leveraging more than paper to increase profits.
What are they doing exactly? They're adding a web magazine, back issues and special collections to their magazine offers and are creating an all-access membership that includes both print and web. This allows them to price the web magazine and the all access-membership at higher price points than their print editions, causing a significant increase in their average price per order.
They also experience lifts in conversion rates due to the overwhelming value proposition that is created by a web magazine library and special collections. Having collections of archival and curated content, which is often valued at hundreds or thousands of dollars, creates a perfect direct marketing offer that generates more orders at a higher price per order. Factor in conversions and renewals over a five-year period and revenue doubles while profits soar.
Below is a case study showing how a single-platform publisher could increase revenue over five years by switching from selling print-only subscriptions online to selling a multiplatform all-access program.
The legacy offer is print-only:
They sell 100,000 print subscriptions per year online with an introductory $12 offer, yielding an average of $12 per order.
The multiplatform offer adds web and all access:
They offer print-only for $12, web edition and library for $15, or all-access (both print and web) for $18.

Online sales are now 50% higher thanks to the value of the web library, bringing them 150,000 orders.

20% of orders are for print-only, 20% are for web-only and 60% are for all-access, generating a yield of $16.20 per order.
The results of testing print against all-access:
With the legacy offer, total sales rise to $3,915,450 by year five. This assumes a 45% conversion rate and a 65% renewal rate.

Keeping the conversion and renewal rates the same, the multiplatform offer total sales are $7,612,192 by year five, and subscription revenue has nearly doubled.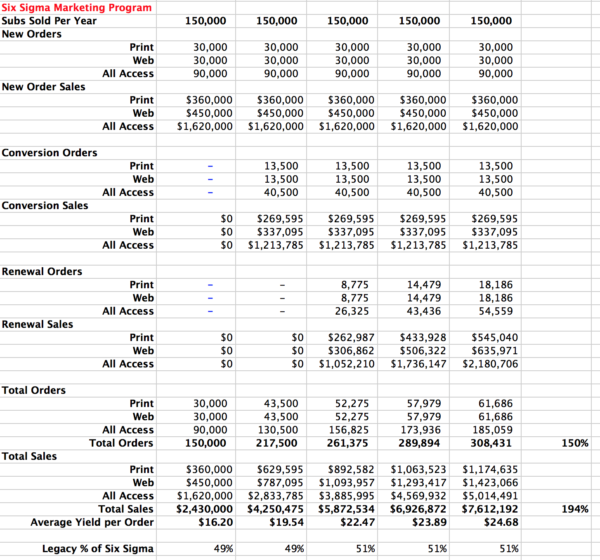 What's driving the doubling?
Unleashing the power of a magazine archive allows a publisher to increase the number of all-access premium memberships sold online at a significantly higher price. For a publisher already generating a substantial print only order volume, the math is incredibly compelling.
And while the above analysis does not assume any change in the overall marketing efforts beyond the change in offer and the availability of the new web edition, library and collections, in reality we'd be initiating a high frequency Six Sigma marketing program. This program would be anchored by the digital collections and could produce another 50,000 to 100,000 orders annually depending on the size of the existing database, website traffic levels and email capture rates.
Over the past two decades, we've guided more than 300 niche publishers through the process of transforming themselves from legacy print publishers into multiplatform operations that often dominate their industry niche and generate operating margins that surpass those created by their legacy print business. Learn more about how we can help you apply these strategies to your publishing business by scheduling a FREE consultation today.
Join other senior publishing executives at the Membership Marketing Secrets: 2020 Workshop—where you'll learn how to plan, execute, and optimize a profitable magazine-driven membership marketing system. And how to double your publishing revenue!
Secure your registration now, while seats are available and Early-Bird Registration is open.
May 20-21, 2020
Mirbeau Inn & Spa
Plymouth, Massachusetts
This two-day membership marketing secrets workshop is intense—it's not for the faint-of-heart, and it's only for magazine publishing senior executives who have the vision and resources to grow their businesses.
This event is also for curious publishing executives who want the membership marketing secrets for publishers revealed—so that profits, growth, efficiency, and total transformation will power a magazine business that leads the industry and is the envy of competitors and collaborators alike.
You're familiar with the growth and prominence of the emerging membership economy—you can see it daily as you interact with Amazon, Netflix, or even your local gym. And luckily, magazine publishers can learn a lot from others who have "paved the way" to condition consumers to buy memberships.
This is no fad, it's a bona-fide trend that you should know about, understand, and latch on to membership marketing secrets for your own business' purposes.
You should first know what isn't a secret—having a metered paywall at your website. Yes, thanks to many news-oriented publishers, metered paywalls have become commonplace and are a powerful way to showcase your premium content and convert website visitors into buyers.
But having a metered paywall is not a secret. Who doesn't know about metered paywalls or already have one for their content?
And simply having a website where you publish content is not the answer to staying competitive these days … let alone blowing your competition out of the water.
For that, you need to attend the Membership Marketing Secrets: 2020 Workshop! You'll not only learn about the membership marketing secrets, but you'll also discover all the online publishing myths that often distract or derail many publishers from keeping their eyes on the prize—growth and profits!
When you attend the Membership Marketing Secrets: 2020 Workshop, you'll be among the publishing industry's elite—those who are ahead of the trends and will know exactly how to optimize your publishing efforts, based on the latest business intelligence. There will be plenty of time for networking, too, so you can get to know your fellow publishing professionals!
So that you don't have to wait until our event, here's a list of 7 membership marketing secrets:
Web Magazine
Web Magazine Library
Curated Special Collections
Leveraging Existing Content Platforms
Content Previews
Email Marketing Frameworks
Landing and Offer Page Frameworks
And of course, much of the "secret" is not just having a list, but fully understanding what's behind these secrets and learning what to do about them, so that your own publishing system is in alignment with all these secrets.
When you come to the Membership Marketing Secrets: 2020 Workshop, you'll learn about all of these in detail—and you'll learn how to plan, execute, measure, and optimize your very own magazine-driven membership marketing system.
I promise you this now, too—when you register and attend our event, you'll get 3 bonus membership marketing secrets. And while my colleagues prefer me to hold these bonus secrets back until you register, I can tell you they involve growing your audience, growing customer engagement, and growing revenue.
You're probably wondering how I can make the claim that you'll double your revenue when you register for our Membership Marketing Secrets: 2020 Workshop. Well, Mequoda has been around for more than 15 years—and we've helped many magazine publishers over that time, including Prime Publishing, Yankee Magazine and Hearst Magazines … and we've counted AAA Northeast and the Biblical Archaeology Society as clients (non-profit membership organizations that both have magazines!).
You'll leave this event with a clearer vision and plan for transforming your magazine publishing business. Here is the agenda for the Membership Marketing Secrets: 2020 Workshop:
Wednesday, May 20
Creating a New, Successful Membership Product
3 Ways to Build Your Audience Marketing Database
Offer- & Price-Testing Strategies for Maximizing Revenue
How to Organize and Outsource Your Business Processes
Thursday, May 21
Building an Integrated Membership Marketing System
4 Key Metrics for Measuring Your Success
Modeling and Budgeting Your Five-Year Plan
3 Bonus Membership Marketing Secrets Revealed
For a full description of all the sessions, click here to download your FREE Program Guide.
This entire membership marketing secrets event will be led by me, Kim Mateus, as Chief Strategy Officer at Mequoda Systems. In 2004, I started with Mequoda as employee #2, and have since overseen strategic planning for many of Mequoda's publishing partners. Having guided the development of more than 20 subscription and membership marketing systems, my team and I monitor and maintain a robust best-practices database of marketing techniques and business processes that helps power all Mequoda partner marketing programs. My focus on client content strategies is a natural extension of my journalism education and background.
And here is a high-level summary of the entire Membership Marketing Secrets: 2020 Workshop:
WHO: Besides senior executives like you from magazine publishing companies, the Mequoda Systems team who will join me at this membership marketing secrets event are veteran publishing professionals themselves—you'll have plenty of time for networking with your fellow publishing executives and with the Mequoda Systems team:
Don Nicholas, Chief Executive Officer
Bill Dugan, Chief Copywriter
Nancy Horan, Chief Systems Officer
Eileen Shea, Content Marketing Director
Norann Oleson, Analytics Director
WHEN: May 20-21 (it's NEVER too early to sign up!)
WHERE: Mirbeau Inn & Spa in Plymouth, Massachusetts
For inn room reservations at preferential rates for our attendees, click here or call 833-MIRBEAU (833-647-2328) for room reservations.
WHY: Because the magazine publishing world is fast-changing and keeping up with trends can be a full-time job—this membership marketing secrets event will help you focus on only the key initiatives that will help drive growth for your business.
For a full description of all the sessions, speakers, and the venue for this event, click here to download your FREE Program Guide.
I'd tell you to "mark your calendar" for this event, but if you only do that you might miss out—we only have a limited number of seats for this exclusive event, so sign up right now.
I hope to see you in historic Plymouth, Massachusetts, in May 2020!
Sincerely,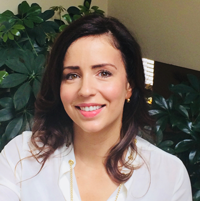 Kim Mateus
Chief Strategy Officer, Mequoda Systems
Program Leader, Membership Marketing Secrets: 2020 Workshop
P.S. If you already know that this event is for you, sign up right now while seats are still available (this is a small event—we really only have space for a few dozen people). Register now for the Membership Marketing Secrets: 2020 Workshop!
P.P.S. Prefer not to wait until 2020 to benefit from all these membership marketing secrets? If you have a sizable team at your organization who should hear all about this, email me at kim@mequoda.com and let's chat about accelerating the process for you and bringing this membership marketing secrets workshop on-site at your company.
Posted in Multiplatform Publishing Strategy