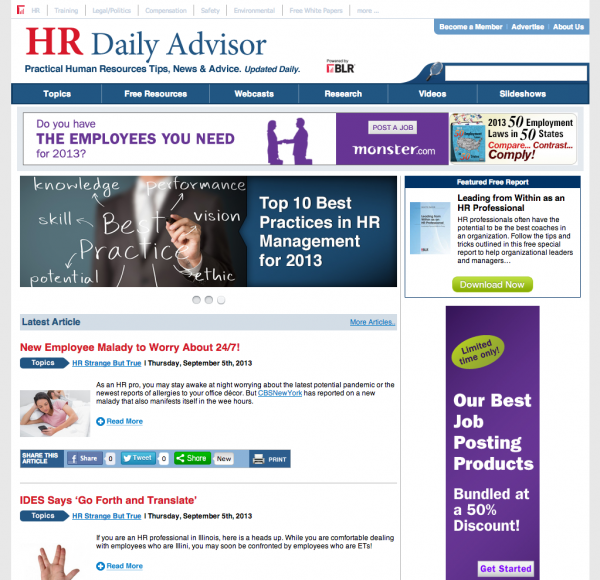 Mequoda has worked with many publishers over the past 10 years. If I were to describe the "average" Mequoda client, it would be a small to medium, independent publisher with one or more titles in narrow consumer or enthusiast niches. Yes, we have worked with huge multinational publishers as well as single-title startups. And, we have also worked with a number of traditional B2B publishers as well.
For evidence of that, I never have to think long because BLR (Business & Legal Resources) comes to mind right away. Not only because I've known owner and CEO Bob Brady for many years, and serve with him as directors of the Specialized Information Publishers Association (SIPA), but because BLR is one of the top practitioners of the Mequoda Method — and not just among B2B publishers, but among them all. The team at BLR has embraced the philosophy and the tactics, devoted the necessary resources, and maintained the discipline that makes the system a highly profitable strategy and tool.
Recently, Mequoda Daily Managing Editor Amanda MacArthur and I had the opportunity to talk with members of the BLR team to get an update on how they're doing, and to be wowed once again by their success.
Below we illustrate how well this business, and its rockstar team, have put together a publishing empire that produces content on many platforms while recycling content in smart ways.
And recycling content isn't new for BLR, they've been doing it for a while. In fact, when Brady was named 2009 Mequoda Publisher of the Year, he reminisced about the first time he used a CD, which was basically an encyclopedia on disc.
He said, "I went in thinking, what can I do with a CD? I make books! But then I thought, I have 600 page books, that cost me $25 to mail. A light went off that this was a real opportunity."
The HR Daily Advisor Brandwheel
It's important to note that HR Daily Advisor is just one of BLR's six identically-built audience development websites. The model that BLR developed with HRDA was so successful that they replicated it five more times for Compensation, Safety and Environmental professionals. All six audience development websites look like clones but offer completely unique information and products for the niche professionals they serve. "The most important thing I did was put together a great team of editors and marketers who can execute on the Mequoda/BLR strategy," Brady said.
One major strategy that we applaud HRDA for, is the way they use and reuse content. Any good publisher knows how to recycle content across many platforms and HRDA is no exception. "It's always been our goal to repurpose content on every medium people can use," says Rafael Cardoso, who heads up the BLR team. As you can see from the brandwheel we've created for them, there's a lot of content moving around.
Let's start from the top and work our way clockwise.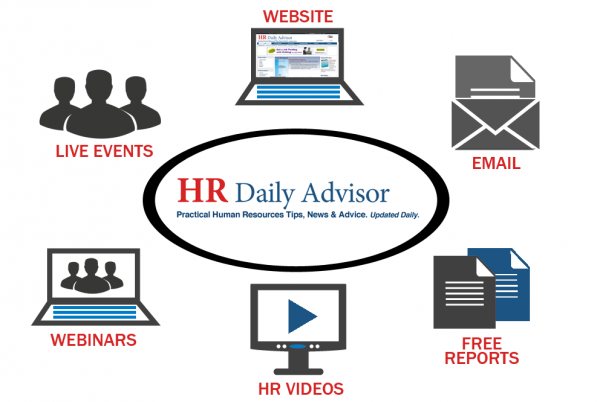 Let's start from the top and work our way clockwise.
Website
Content on the website is recycled across almost all of their platforms. The HRDA website and news blog covers hot topics for HR professionals through a number of content deliveries. Publishing news articles, infographics, videos, quizzes, and slideshows on it. It's all free though. "We've got a lot of volume, a lot of content, but we don't want to give it all away for nothing," says Cardoso.
The goal of HRDA is to convert site users to email subscribers and then sell products. And the nesting ground for those leads is the blog. Every opportunity is taken to convert website visitors into email subscribers. For the truly free news articles that don't require the reader to log in, they have an embedded text ad instead, floater ads, and other conversion mechanisms asking the reader to convert into an email subscriber by signing up for a free report.
And on the thank-you page, they ask you to sign up for a free trial of HR.BLR.com, their paid HR portal. Naturally!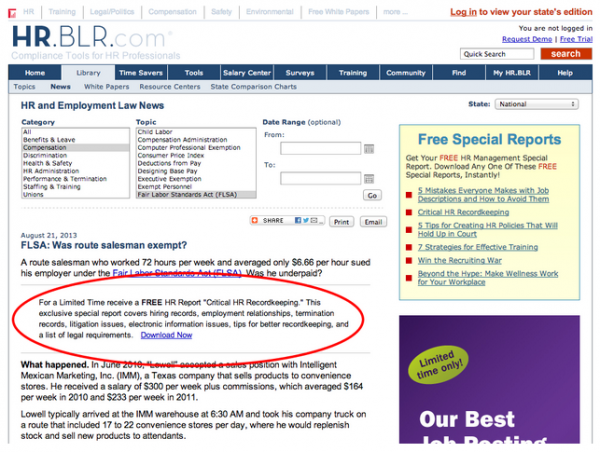 Email
HRDA's email strategy is no joke. In fact they've won awards for it and we use them as an example of email strategy whenever we can. The basic premise is that on Monday they send an email newsletter to their 240,000 email subscribers that provokes thoughts about a common problem to the HR professionals who subscribe. On Tuesday, they send a newsletter that promotes a product that can solve that problem. They do this again with a new problem on Wednesday and Thursday.
"For the HRDA, I often go to our website or print products for material, particularly when I'm writing about hard-core compliance topics," says Steve Bruce, editor at HRDA. "As you mention, our HRDAs are written in pairs so, for example, one pair I wrote this week is promoting a webinar on FMLA certification issues — a big hassle for HR managers. I went to HR.BLR.com and extracted some practical materials on FMLA certifications from which I crafted an article. If I do it right, I offer good, practical tips but also ignite the desire to find out more—by attending our timely webinar on the topic."
In terms of recycling content, you'll find everything in the email newsletter on their blog.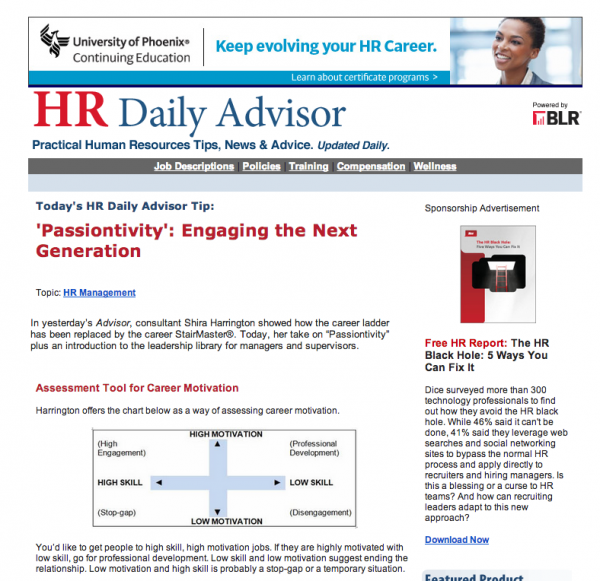 Free Reports
The content in their free reports actually represent portions of the paid content you'll find in their paid reports. This content is used in their email subscription strategy as incentives for signing up. Its secondary goal is to present BLR's content expertise in the niche strengthening the brand and setting the stage for the upsell to paid content. These content downloads are extremely popular.
"We've even begun taking sponsorships for this high quality content where we find synergy with other vendors that's not competitive," says Cardoso.  "It's a win for our readers, BLR, and our sponsors."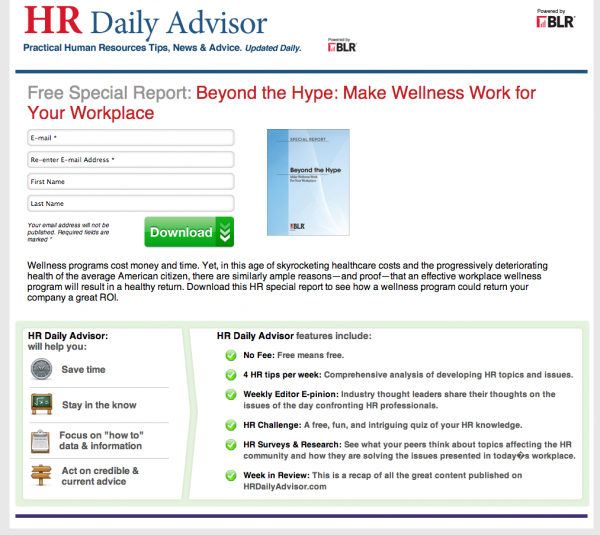 HR Videos
The HR Videos that HRDA posts are created mostly for SEO. Most people wouldn't consider video an SEO strategy, but it's actually one of the best ones. Google views pages with multimedia content on them highly, so articles that have video in them, especially when linked with a video sitemap, are great for SEO. HRDA's videos have full transcripts that read like articles, so they please the search engines. The content on these pages can be repurposed as news articles and in email newsletters.
Live Events and Webinars
HRDA promotes BLR's Live Events and paid webinars where the content is original. Portions of this content is used to create their free videos, free reports, and e-newsletter articles.
Of course, all of their free products are a natural gateway to their paid HR reports, forms, tools and training.
"I think one of the big reasons I've been successful at this, is that I was free to make mistakes, and there was no one around, because I own the company, to fire me," Brady jokes. "In the culture that we're all in, we need to allow mistakes as long as we learn from them. You need to make mistakes and immediately know what you can improve next time."
Bob, with the help of his team, has been successful enough to stay in business and prosper for nearly 40 years, so he must be doing something right!