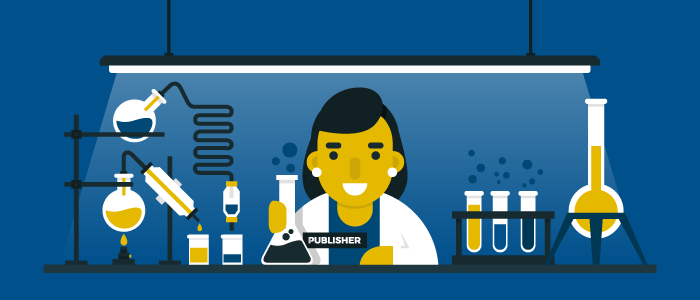 If this was a traditional newspaper, our headlines would read, Adopt video or sink! Accept severance or go down with the boat! Adopt AMP or say goodbye to site traffic!
If there's one thing true about the publishing industry, it's that the world is always pushing forward, whether you're ready or not.
Publishers should invest in video or perish
Recently, Pat Keane, former Google Exec and current president of Sharethrough who sees 30% of his revenue from video, said in a podcast, "Every publisher, if they don't have a sound, scalable video strategy will die." He added, "You can't just take the guy who knew how to shoot video from high school and claim he's going to be a smart videographer," he said. "You have to have broadcast-level investment oftentimes to be successful."
He also emphasized search as more important than social, even with a successful social channel. He said, "Content creators have less power over Facebook than they do over natural search. … Look at publishers like Refinery29: About 50 percent of its content comes from Facebook. That's a good thing but potentially a bad thing because if publishers are instinctively consuming your content solely on Facebook, are you going to generate the same ad revenue that would come at your singular destination?" Read the full article on Digiday.
Dow Jones & Co shrinks staff on a voluntary basis (for some)
Recently the Wall Street Journal's editor-in-chief Gerard Baker said they'd be offering voluntary severance packages to a "substantial number" of news employees worldwide, according to CNN Money.
Subscription Site Insider's Dana Neuts notes this is "part of a greater restructuring by Dow Jones & Co." and "The goal is to limit staff layoffs through the buyouts. Staff have until the end of the month to take advantage of the voluntary severance, though the company has the right to reject volunteers." Neuts reports, "Later in the day editor Ed Finn from Barron's, also owned by Dow Jones & Co, sent a follow-up email, mistakenly addressing it to the entire WSJ newsroom instead of the intended executive and human relations staff, revealing layoffs to occur at Barron's, the Dow Jones's weekly business magazine, this week, reports the Wall Street Journal."
Publishers love AMP and are getting more mobile traffic from it
As if Google isn't disruptive enough, they recently fed the rumor mill by suggesting that next year they will favor mobile-friendly pages on all platforms, even desktops. Why? Because they're fast. In February they started showing AMP (Accelerated Mobile Pages) next to search listings in mobile. The open-source code creates superior mobile-friendly pages that are Google-friendly, and if you adopt the code, you get an AMP logo next to your listing.
Thrillist.com's editorial director says, "We love it." Digiday reports "Thrillist is getting 15 percent of its search traffic from AMP, boosting its search traffic by more than a third, which he called "exciting," given the company is more lifestyle than news. At news-heavy USA Today Network, AMP is generating 12 percent of all mobile page views, said Michael Kuntz, svp of digital there."
The Verge reports 14% of its traffic from AMP pages, and Digiday says, "One multi-title publisher, which didn't want to share its results publicly, said its AMP pages are loading 95 percent faster and bounce rate is more than 50 percent lower than regular mobile search pages."
"AMP now represents 10 to 15 percent of publisher search traffic, a figure that is poised to grow as Google expands AMP to all its search results, potentially leading publishers to rely less on volatile social traffic, said Shahzad Abbas, vp of digital media at SEO consulting company Define Media. (Figures are based on data from its 100-plus publisher clients.)," reports Digiday.
Have you heard any other interesting publishing news this week? Share it in the comments below and tell us what you think.