TIME almost hits the mark with their magazine subscription website, but niche publishers hit the bullseye
One of the most profitable subscription websites is a magazine subscription website.
It's not because it's cheaper to build, or brings in substantially more revenue than other business models, it's more profitable because once your platform is up and running, you can recycle content you've already paid for, and create a content bundle that's priced higher while you're adding very little cost and work on your end.
Finally, content is valuable again. The days of $10 print subscriptions aren't over, but we hope magazine subscription websites combat the allure of pricing your magazine at the bottom of the barrel.
A magazine subscription website is built to increase subscriptions for a related print or digital magazine and to provide access to issues of the magazine. When the Internet dawned, it was one of the first subscription websites invented, as mass media magazine publishers quickly jumped on the bandwagon.
Find out the CMS features that publishers require to manage an online publishing business. Download a FREE copy of 7 Ways Haven Wordpress Goes Beyond Wordpress, and discover the features all publishers should have access to for a bigger audience, greater revenue, and higher profits.
Website architecture is critical not just because it makes it easy for users to navigate their way to your premium products, but it also helps deliver new customers even while you sleep.
A website is only a magazine website if the user can view or download an issue of a magazine—one that is linear and periodic, has pages and a regular frequency, and can be viewed in HTML, downloaded as a PDF or downloaded to a mobile device.
In order for a magazine subscription website to prosper most effectively, we recommend pairing it with a Portal subscription website. This is your free site where you publish free content in order to attract search visitors and convert them into email subscribers. From email, you convert them into paying subscribers of your magazine website.
Features of great magazine subscription websites
Magazine subscription websites come in all shapes and sizes, but for the most part they're consistent in what they offer — a way to buy and read a magazine on any device, with consistent table of contents, and an archive of content that can be searched for by topic and/or date.
We think TIME's magazine subscription website is a particularly good general interest example everyone can relate to. It's cleanly designed, and even on a desktop, makes you feel like you're reading a magazine, and not just skipping through blog posts. We'll start with TIME as an example because we think they've almost got it right, and then explain where they missed the boat.
Magazine subscription website feature #1: A paywall that gates access.
When you arrive on TIME.com, you can't access any articles on the site. You can see what you'll have access to, but you're prompted to log in to see any more. Some of the articles are available for free on the TIME.com free Portal, but when you arrive on the magazine subscription website, you can't gain access until you sign in. They lure you in with a $2.99 price point, but as I'll discuss later, they're using an effective form of contrast pricing.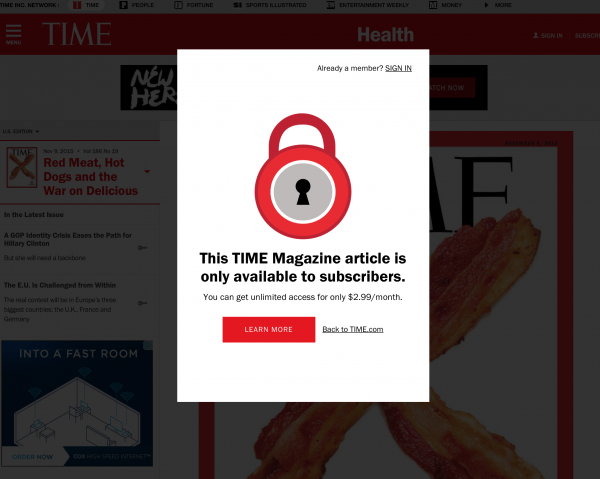 Magazine subscription website feature #2: A table of contents that's consistent on every page of the web magazine.
The main screen of the TIME magazine subscription website for a logged in user is the cover of the current issue. Below the cover is the full feature article. In this case the article is an expose on meat. However, this magazine doesn't need to be scrolled down to be read. There's a table of contents to the left so that at any point, you can switch to a different article. This table of contents stays present no matter what article you're reading.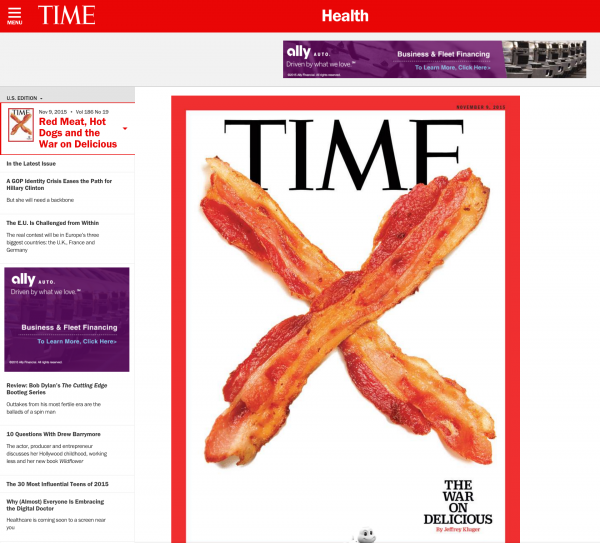 Magazine subscription website feature #3: A place for advertising so you can continue to sell it, but without annoying paid subscribers.
There's a pair of ads surrounding each article, sometimes related to the content and sometimes not. There's always an animated banner above the magazine, and also to the left, within the table of contents. Even if you scroll, the square ad in the table of contents is always present on the page—a huge benefit to their advertisers, I'm sure.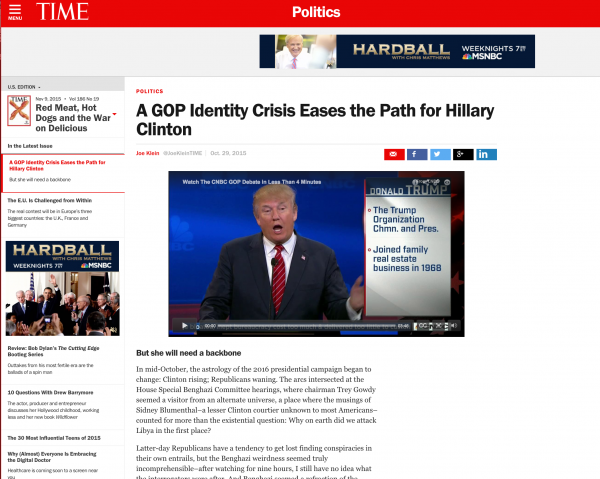 Magazine subscription website feature #4: An archive of old magazines that can be read online and sorted by topic and/or date.
At the bottom of the table of contents is a link to "see other issues" where you pop into TIME's "The Vault" and are greeted by what looks like a pop up for a native video ad for Boeing, but if you close it, you get a collection of TIME covers. You can then organize them by year, or by subject.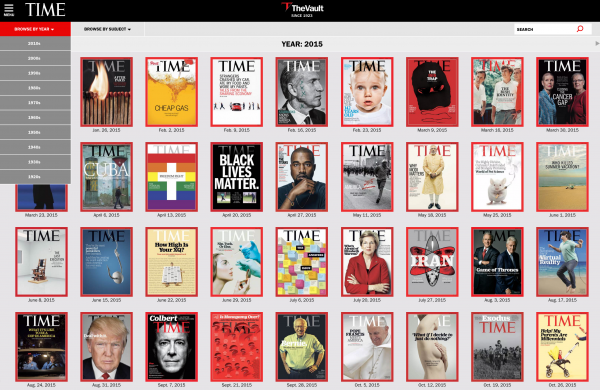 Magazine subscription website feature #5: The ability to page through archived content online without needing to download a PDF.
Finally, once you've gotten into the archive and used the navigation to select an issue from, say, February 1974, you can page through it like a magazine. There are page back and page forward buttons and a table of contents. This page below is actually a good old-fashioned native ad from the power company, before they were called native ads. To the right you can drop down a table of contents and skip to different sections of the magazine.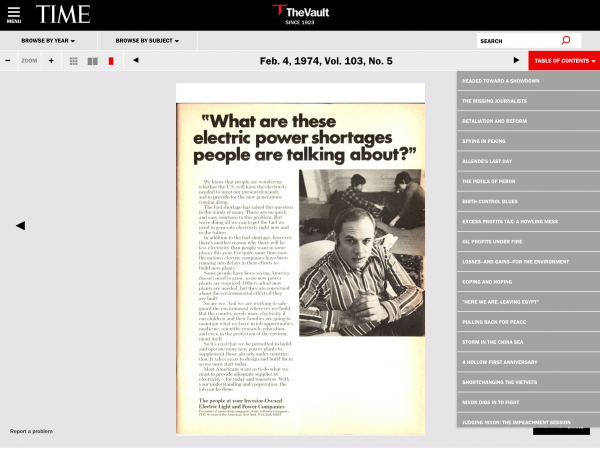 You don't need to page through it in this way, though. Once you're in the magazine, TIME allows you to "browse issue" or view the "web version". Browsing the issue allows you to page through it using the interface above, while viewing the web version sets up the pages more like you're used to viewing on a Portal.
Magazine subscription website feature #6: See if a metered paywall makes sense for you.
What's interesting about "The Vault" is that you don't need to be a subscriber to access it, so surely Google is indexing it. In fact, there are two versions of the Vault, the one you pay for and can page though entire issues, and a free version that looks a lot like the TIME.com portal and offers links to all the articles available on TIME.com.
Of course, once you've viewed a few issues or articles, and hit your limited number of articles for the month, you'll arrive at the metered paywall that asks you to pay to read more articles.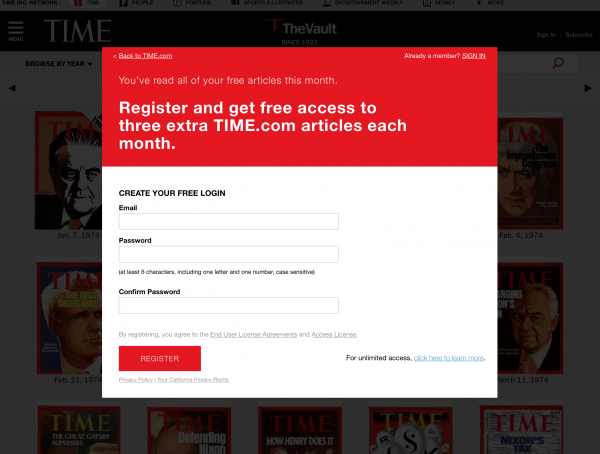 If you choose the web view, you'll simply get a snippet with a call to action to read the full story.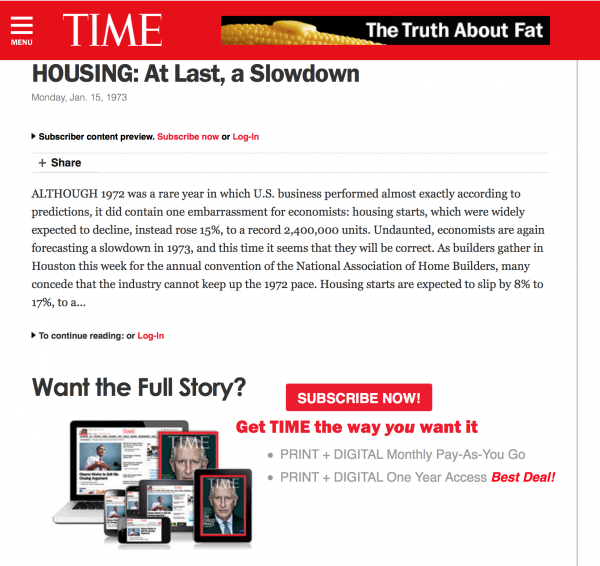 Magazine subscription website feature #7: Bundling content to leverage contrast pricing and increase conversions.
The best part about this magazine subscription website is how they've leveraged contrast pricing. The general principle behind contrast pricing is that you offer three price points. The bottom price is the lowest, but the middle and highest price points are much higher. However, because the middle price point is so close to the highest, more than 60% choose the highest price option. Here's how TIME's magazine subscription website is sold using contrast pricing.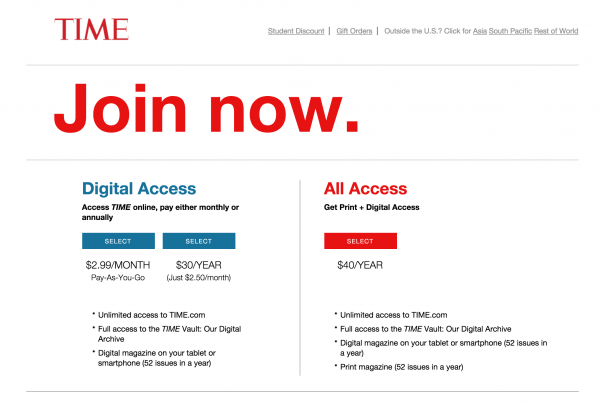 $2.99 a month sounds tempting, and $30 is a huge jump, but wait, you can get everything for just $10 more? Even if I was only originally interested in reading an article or two behind a firewall, suddenly $40/year looks great. In fact, it's a true story that this very offer converted me into an all-access subscriber, when all I needed was a $2.99 month to get what I needed. That's why we love contrast pricing (also known as decoy pricing) so much.
As you can see, we think TIME.com is a great, simple example of a magazine subscription website and we think they're doing it well. However, there are a few places where we think TIME could benefit from how niche magazine publishers develop their magazine subscription websites.
Magazine subscription website feature #8: Places sponsored content in front of the paywall.
TIME used to give access to their subscription website, and some of the articles in the table of contents were free. Others were marked with a key symbol to show they were premium content. TIME no longer allows any access to the site without logging in.
We think revoking access to the table of contents is a mistake, especially when you have sponsored native content. Allowing that advertiser content to be indexed, searched, and shared, benefits your advertisers tremendously.
MetroParent.com is the Portal for Metro Parent magazine, a free, sponsor-supported publication for parents in the greater Detroit and southeast Michigan areas.
Metro Parent has great examples of quality native advertising content in their web magazine. One of the keys to their native ad success is their web magazine, because the content can be viewed on any device and read like a magazine, with an index, just like TIME.
But unlike TIME, the native ad content is placed in front of the firewall, so that unknown, logged out users can still access the native ad content. For every issue of the web magazine, you can see the index on the right hand-side of every "page" of this web edition.
Even better for their sponsors, sponsor content can be promoted in social media and in email newsletters because it's on the web, and not contained to the box of a newsstand app.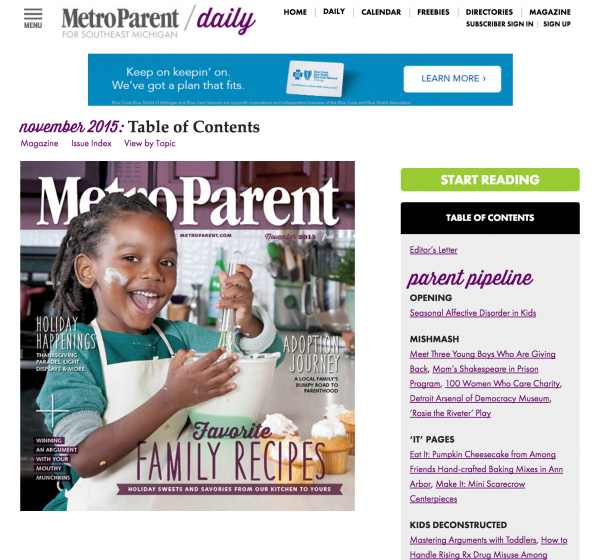 What we love most about Metro Parent's native ad approach is that they're not saying to advertisers, "let me sell you ad space."
What they're saying is, "let's talk about your content goals and message development – and let's work in conjunction with your experts and our experts to write 12 great articles. And let's make a media package that drives traffic to those articles." Ad package sold!
Magazine subscription website feature #9: A table of contents that is always present so you're never confused about where you are.
TIME's vault (archive) is surely robust, but you have two options to view the content. The first is to page through it like a flipbook. Unfortunately, flipbooks tend not to be particularly reader-friendly, offering a poor user experience, which is reflected in the reader engagement data showing readers usually only stick around for 8-10 minutes with a flipbook edition of a magazine (versus 50-70 for a typical print magazine).
The second option to view content is to view web editions, and once you get to those editions, you lose the table of contents and navigation that had been consistent in every issue up until that point.
But at I Like Crochet, a reader finds the issue date and a table of contents, and is invited to enjoy a linear "discovery" experience like any other magazine, in which there is a table of contents and she can navigate page by page, instead of by topic, to find out what's next.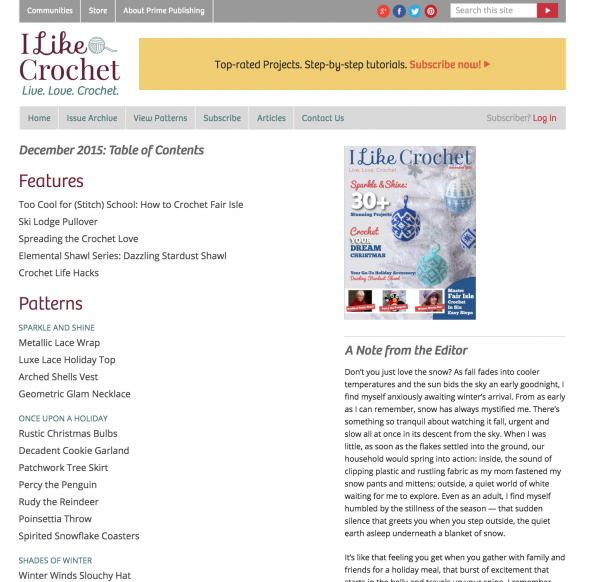 There's no point where the reader doesn't know if they're on the free Portal, or the paid magazine subscription website. Clicking on the issue cover at the top of the right rail brings you to the table of contents, where the reader can click any link to go directly to a particular article.
Clicking to the first item on the list gets the reader right into the issue, and from that point, all she has to do is click on the title/arrow at the bottom of the page to go forward or backward one "page." And there are still more navigation choices: Click on "View Patterns" in the navigation bar, and everything is organized by type – afghans, baby items and so on.
Magazine subscription website feature #10: Include a search function.
The reader can spend an hour or so with the I Like Crochet magazine subscription website, just as she would with an app edition. But she can also access the pattern library to access all of the magazine's past content via search, which makes I Like Crochet exceptional. Although we're used to organizing magazine content by topic and date, when you bring your content online, there's no reason to hinder users from searching for content on an individual article basis. As long as when they arrive to the article, they can see they're "in" a magazine issue.
Magazine subscription website feature #11: Make it responsive and multiplatform friendly.
TIME's site has this feature, but we think it's worth highlighting here. I Like Crochet has a tablet app edition in addition to their magazine subscription website. On I Like Crochet, the archive is exclusive to the website edition and is not available within the tablet edition – though, of course, many readers will actually access the website edition from a tablet, which is why Mequoda now refers to the tablet edition as the app edition.
Magazine subscription website feature #12: A subscription homepage that highlights the most recent month's content.
When you arrive to the TIME magazine subscription website, you're faced with a very simple interface. A large image of the cover, and a table of contents. It's a pleasant and simple introduction, sure, but the publishers we work with include more on this "home" page.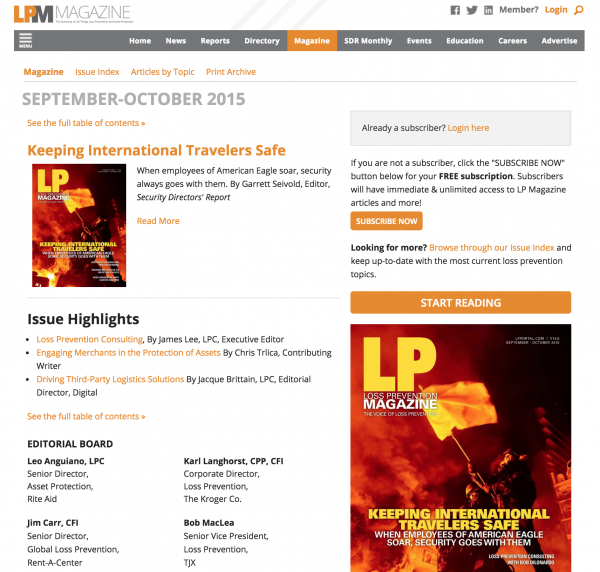 So for example, the homepage for the most recent issue of Loss Prevention Magazine offers the feature article, as well as a short list of issue highlights. From there, they can choose these, or see the full table of contents. Below this, they can see the magazine credits for the issue. Non-subscribers can subscribe, look through their issue index, because like TIME, this is not behind a wall. Or, as the big orange button says, they can start reading. When you click "start reading" it brings you to the publisher's letter for that issue, with the table of contents on the right-hand side of the page, which stays throughout.
At this point, we'd like your feedback. What else have you included in your own magazine subscription websites, or, as a user, what would you like to see included?