The New Yorker shows that it's not only the wave of the future, but can also remedy the sins of the past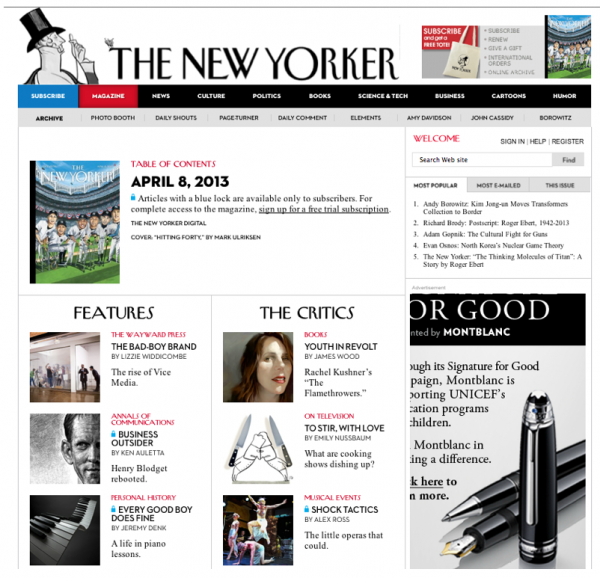 Take a trip with me today to the Big Apple, home of The New Yorker magazine. This venerable publication, like everyone else in the industry, has struggled in the Internet era with declining ad sales and even more recently, with consumer disdain for print media.
But unlike many other magazines, The New Yorker has mastered subscription website publishing so that not only has it stabilized its declining readership, but – and I hope you're sitting down – raised its subscription price at the same time.
In addition, The New Yorker has seen ad sales leap by 221% between 2009 and 2012, according to publisher Lisa Hughes, speaking at the recent MPA Swipe 2.0 conference. But that's post for another day … right now I'm agog at the readership and price data, and what lies behind these success stories.
Successful subscription website publishing, Part 1: The OMI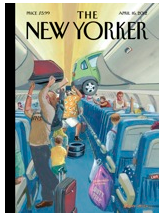 At Mequoda, we talk a lot about the importance of OMIs in subscription website publishing. That's your online media index, a ratio of your print circulation to your unique website visitors. Divide your monthly unique visitors by your print circulation to get the number.
Have we mentioned that your visitor number should be higher than your print circulation? It's a lot easier to get people to read free content than to convert them to paid subscribers, so if your OMI is much less than 1, you might need some audience development training. That, of course, is something Mequoda focuses on for our clients and Internet Marketing Intensive attendees. (Shameless plug: We've got one coming up in just a few weeks.)
Not only is a high OMI number a good thing for publishers who accept advertisers, it's a strong indication of whether your organization is going to thrive or fail going forward into the digital media age.
At the moment, The New Yorker currently has an OMI of 0.7. In the Mequoda universe, that's a grade of C. But because their digital circulation is currently taking off like a rocket, we expect them to pass 1 any day now. According to the Alliance for Audited Media, The New Yorker went from 29,325 digital circulation in 2011 to 59,471 in 2012 – almost double. That trend will almost surely continue, as I'll discuss later on.
Bottom line for The New Yorker's subscription website publishing: A strong online presence driving increased digital circulation despite a price increase.
[text_ad]
Successful subscription website publishing, Part 2: A feature-rich website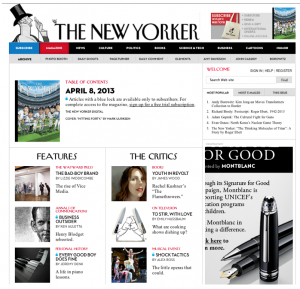 Actually having a subscription website in the first place is enough to make The New Yorker stand out. Most leading consumer publications have no such thing – that is, a website full of free content that drives subscriptions to its paid content.
And what a gorgeous subscription website it is!
The reader revels in page after page of free content, from news to culture to books to humor – just like the magazine itself. Daily blogs cover photographs, news, politics, feminism, science, and opinion on everything under the sun – all of it free. Now this is juicy subscription website publishing!
And while you're paging through the site, you can't miss the first two navigation tabs: Subscribe and Magazine. On the magazine page, the prime real estate at the top left includes the current issue cover, a link to the table of contents, and a link to a free trial subscription.
Content from the magazine is listed below that, with a blue lock icon that indicates premium content available only to subscribers. Some of the magazine content is provided for free. But unlike some other magazines engaged in subscription website publishing, the paywall is obvious, and has in fact been in place since the beginning, Hughes noted at Swipe.
Successful subscription website publishing, Part 3: A tablet edition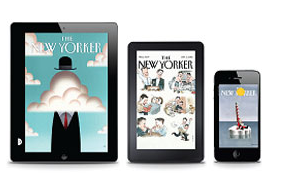 The New Yorker launched its tablet edition in May 2011, within six months of the release of the iPad. Again, this is a rewarding experience for the reader: It's simple to use, and offers a plethora of digital-only, multi-media content, including video, slideshows and content read by the authors.
Unlike The Economist, whose universal, all-access pricing policy we praised recently, The New Yorker is slightly more complicated when you decide to subscribe. You can choose to buy a single digital issue for $5.99; get the digital edition including tablet and iPhone access plus the complete digital archive for $59.99; get print only again for $59.99; or get all of the above for $69.99.
That's a great deal for all the content you get digitally, and as a magazine addict and trained historian like me, the inclusion of the archive is icing on the cake. It's certainly a fair price for what The New Yorker is putting into its subscription magazine publishing.
And yet, the deal has been even more amazing in the past.
If you've been in the magazine business since the print-only days, you know that US magazines established the incredibly obtuse precedent of practically giving away their content in the early days. Thus consumers became accustomed to buying their Hearst, Time Inc., Condé Nast and other publications for $9.99 or $19.99 per year – paying literally pennies for thick, glossy, expensive-to-produce issues.
Thankfully, the American subscription magazine publishing industry is catching on. The New Yorker previously offered its subscriptions for similarly dirt-cheap prices – $19.98 per year for 47 issues in 1998. That was half of its rate base price of $39.95. When it launched its online edition in 2008, the single-year price was still $39.95, but the last issue of 2008 saw a slight single-issue price increase from $4.50 to $5.99. One-year price was still $39.99.
And then, subscription website publishing at its finest: The day The New Yorker launched its tablet edition in 2011, the announced prices were $59.99 and $69.99, as I mentioned above. Nowhere was there a mention of the old $39.99 price; nowhere did The New Yorker announce a price increase. Within days, the last few outlets selling print for $39.99 had fallen into line.
The new tablet edition allowed the bundled price, and the bundled price disguised the price increase. Pure genius. At last a publication was charging a fair price for its product. And by August of that year, Ad Week was reporting that The New Yorker had sold 20,000 iPad subscriptions.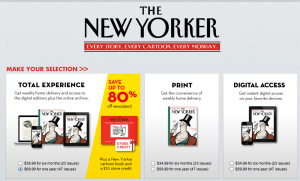 Best of all, that year, 2011, saw New Yorker circulation increase a full 5%, according to ABC — while the industry as a whole gained the merest .04 percent! While the 2012 circulation dropped slightly by 3%, we'd guess that most of it came from a drop in renewals as some subscribers were uninterested in digital and in paying the higher price for print alone. That trend will be reversed as new, younger subscribers join the party, with no knowledge of any other price.
And that's still a 3% circulation increase over the past two years, along with the price hike. Indeed, based on this evidence, we say that subscription website publishing is being redefined by The New Yorker.
What do you think of The New Yorker's strategy? Agree, disagree, or have something to add if you work there? We'd love to hear it in the comments.
[text_ad]