What to look for in a learning management system, from Haven Classroom, to Edmodo, Moodle, Teachery and Blackboard.
Many multiplatform publishers have turned to e-learning platforms to help subscribers either increase their skills or improve their lives. Publishers, along with many other organizations, such as universities and corporations, have found that text heavy explanations of complex subject matter can sometimes make for poor user engagement. Some individuals simply digest information better through a more interactive format, and video offers the opportunity to engage audience using the same content in a different format.
A learning management system (LMS) allows publishers to create, edit and manage learning material. This can be an essential tool if you want to provide e-learning or ongoing certification courses for customers. A good LMS will enable you to offer the courses, register and accept payment, track course completions, and auto-renew subscriptions.
Some larger publishers, like Rodale and Penton, have changed their business plans to take the leap into e-learning platforms. But you don't need to be a big publisher to make this worthwhile. Several niche publishers have made this change as well.
In fact, niche publishers have a great opportunity in learning since the kind of information these audiences need is not provided widely. Consumers increasingly turn to trusted brands and publishers to find the information that can make a difference for them professionally or personally.
Find out the CMS features that publishers require to manage an online publishing business. Download a FREE copy of 7 Ways Haven Wordpress Goes Beyond Wordpress, and discover the features all publishers should have access to for a bigger audience, greater revenue, and higher profits.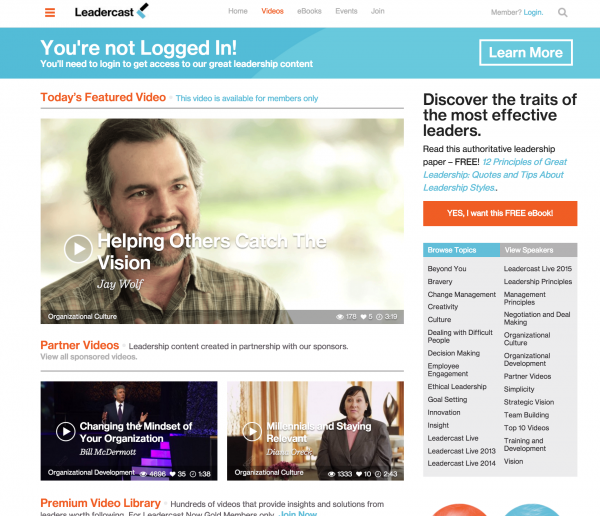 One of Mequoda's clients, Leadercast, launched a new website that offers a robust, premium content membership. Members can watch short videos of respected world leaders – from all sorts of industries, professions and disciplines – discuss the principles of leadership, as well as strategies and techniques for implementation.
Leadercast members can track the videos they have watched, videos they plan to watch, their favorites, and their own progress at completing hands-on exercises to reinforce their learning with a personal dashboard called Activity Manager.
This is all offered as a membership at $29.97 a month or $299 annually. The membership is supplemented with ongoing, daily training videos, and with an annual live event that is simulcast to a variety of cities.
Mequoda's learning management system: Haven Classroom
To help other publishers take advantage of this opportunity, Mequoda created Haven Classroom as a learning management system specifically for publishers who want to take advantage of this business model. Haven Classroom isn't just a system to register participants for classes. We've built this module specifically to support the activities of publishers who engage in many different types of online learning, and who need support for complex product offers and programs.
So, for example, the system allows users to self-register for events, but it also supports taking subscriptions – the critical business model for many publishers – and can auto-renew those subscriptions, ensuring a steady flow of income for the publisher.
Haven Classroom's integration to other critical system components 
More importantly, the system integrates with Haven Offer Manager, so publishers can vary subscription terms, pricing and premiums through a single system. Registered users can view transcripts and a summary of the video content.
Haven Classroom tracks user entitlements in order to limit access appropriately, and enforces restrictions on watching lessons prior to registration, which is limited to a specific number of lessons displayed within the online promotional material, and the number of videos that can be watched prior to purchase, which is limited to a specific number of lessons per topic which can be promoted via newsletter.
The system also includes integration with Wistia, a professional video hosting service that includes analytics and video marketing tools. Wistia supports responsive design to allow users to interact with their mobile device and tracks how many times each lesson video is watched, where users stopped and started, and can capture additional information about who is watching.
The Haven Activity Manager allows users to set goals and track performance within the Classroom module. This manager tracks recently watched videos, videos tagged to watch later, favorites and recommended videos based on other videos the user has watched.
Publishers can seamlessly serve ads for future courses based on past purchases and customer behaviors. Haven Classroom integrates with marketing automation tools such as Haven Message Manager and Haven Profile Manager, so publishers can market other products and services based on user behavior.
Other à la carte learning management systems

There are plenty of learning management systems and e-learning publishing systems on the market – so many that choosing can seem overwhelming. Some of the basic functionality you might consider includes easy course management, payment processing, marketing pages, and email marketing functionality and, as always, an analytics tool. Do they have the features you need and are they easy to use?
At its most basic, any learning management system should manage your content, provide different access to that content based on role (instructor or learner), and deliver the content. When looking at these features, remember that the functionality should meet the needs of both instructors and learners. For example, the functionality the system provides to the instructor should be much different than that provided to the learner.
Instructors will be interested in tools to build and edit courses, and will likely want the ability to track individual learner progress. Learners will be interested in ease of use, and knowing exactly where they are, and how far they have to go, in a specific learning module.
Some of the leading choices for learning management system include Edmodo, Moodle, Teachery, and Blackboard. Additional features like marketing automation tools and integration with your CMS and CRM also can be important considerations. 
And, of course, with any software integration you need to consider how it will integrate with your current technology or software. In addition, maintenance and adaptability are factors to consider as publishing businesses change frequently. Don't hesitate to ask for a live demo and ask to speak to other clients with businesses similar to yours.
Haven Nexus is built with efficiency in mind
Haven Nexus CXMS is a state-of-the-art SaaS content management, content marketing, and content publishing tool—built, owned and maintained by Mequoda—to enable all the functionality that multiplatform publishing businesses need to be successful and profitable.
Unlike retrofitted websites with disparate systems that make customer service and reporting more difficult, Haven Nexus gives you a complete, central database that informs your marketing decisions and helps you maximize the lifetime value of each subscriber. We manage all the infrastructure, so you never have to look under the hood.
We've even identified the best partners so you don't have to research software, email, hosting, and other functions on your own, or take stabs in the dark. When you put your system management into the hands of the industry's only strategy-centric provider, your organization reaps the benefits of stress-free technology, content-focused implementation and ongoing profitability.
Schedule a 30-minute complimentary consult with Mequoda's founder Don Nicholas to learn more about Haven Nexus.