Freebie Friday: Attract, Capture, Engage, and Monetize Better Starting Today
By Amanda MacArthur • 06/09/2017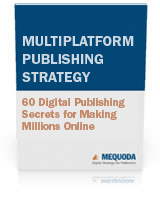 A complete guide to online magazine publishing platforms
The Multiplatform Publishing Strategy handbook delivers a proven, integrated set of business processes, principles, and tools for the digital publisher, whether you're B2B, consumer, local, regional, or national; multi-title or single.
Our invaluable Gold Members will tell you the handbook contains innovations in how we describe the process. And our Mequoda Masters – the publishers who take our publishing method to its highest level – say the handbook has greatly improved their ability to teach the Method to their internal teams.
You'll learn the entire Mequoda Method from start to finish: From discovering content assets in their legacy archive, to publishing them to a portal website, to generating large, profitable email lists, selling sponsorships, and creating the most effective multiplatform publishing teams.
If you can effectively Attract users, Capture their permission to contact them via email, Engage them with great content, and Monetize them, then you're on the path to digital publishing success.
In this handbook, you'll learn how to do all that and more:
Make more money online using the Mequoda Method
Build your own Mequoda Pyramid, which shows the natural hierarchy of your products
Build a Mequoda Portal, with examples of publishers who are currently deployed
Find and recycle your existing content, buried deep in your archives
Choose the right platforms your content will be most profitable on
Turn one piece of content into many products
Hire the right person to manage your portal, and how to hire an entire effective multiplatform publishing team
Generate value from both users and sponsors
Sell sponsorships and native advertising across platforms
Attract at least 5x the amount of website visitors as you have magazine subscribers
Multiplatform Publishing Strategy lets publishers have their cake and eat it, too. The handbook gives away intimate details about Mequoda's own business plan and strategy, using examples from larger publishers such as Men's Health, USA Today, and Forbes.
It also includes an intimate look at the product strategies of Mequoda's niche clients, such as HR Daily Advisor, Harvard Health Publications, and Nutrition Action.
Why are we giving it away? It's a massive freebie with a value of ($97) on Amazon, but we give it away digitally on Mequoda.com because once people read the handbook, they'll never look at their publishing business the same way again. We want to make sure everybody has access to read it.
If you want it FREE, download Multiplatform Publishing Strategy now. 
Posted in Multiplatform Publishing Strategy