3 Niche Membership Website Ideas You Can Profit From
By Luis Hernandez • 01/08/2015
Whatever your specialty, there are membership website ideas you can profit from
The membership subscription website interests many of the small niche publishers who chat with us regularly. But it seems daunting to these folks when we've used mega sites such TheLadders.com or Match.com as examples. So here are some membership website ideas to inspire any publisher to forge ahead and, ideally, make a lot of money doing it!
An important note on the membership subscription website: Its name has evolved over time. Early in the Internet years, everyone, including Mequoda, considered all subscription websites to be "membership" sites. Some of our very early posts make this assumption.
Discover how to build a profitable subscription website when you download our FREE Subscription Website Publishing handbook today.
As online publishing evolved, we realized that "membership" really only describes one model. Here's the general description of this model:
A membership subscription website is user-driven and content-based, and unlike some other subscription websites, whose minimum information unit (MIU) is an issue of a publication or an article, a membership subscription website has content generated by its individual members as its MIU.
Membership website ideas
Users of membership websites are looking for other people: Some are looking for dates, such as at Match.com, and others are looking for employers, as at TheLadders.com. Membership sites are about connecting people to people in a value transaction, and they work best when there are repeated transactions – if you're single, you'll be looking for many dates in order to find Mr. or Ms. Right.
Even more importantly, these sites can be extremely profitable as the big social media players like Facebook and LinkedIn become so massive and generalized that users are turned off by them and seek alternatives.
Membership websites, of course, charge fees to join, unlike Facebook and LinkedIn. Those fees not only generate revenues for the publisher, but also serve as a filter to keep these sites more focused … and provide better value for the frustrated Facebook user.
So here are some specific membership website ideas to serve as inspiration and mentor sites for publishers who want to take advantage of this opportunity.
Backstage is one of our favorite niche membership website ideas.
Members looking for: Acting jobs
Average monthly unique visitors, 2015: 496,665*
Maybe The Ladders seems too big to use for membership website ideas. Try this niche employment site instead. Those 496,665 monthly unique visitors make for a  manageable example of profitable membership website ideas.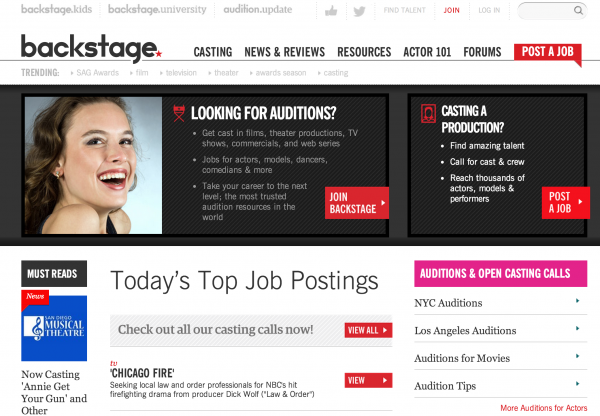 Discover how to build a profitable subscription website when you download our FREE Subscription Website Publishing handbook today.
Do you have expertise and/or content in a specific niche where people are looking for work? It could be academia, horticulture, dog training, or just about anything. For any of these niches, advertising possibilities are endless, and the audience would flock to you rather than face getting lost in The Ladders crowd.
Establish a free companion subscription website such as a blog or community – as we always advise our clients to do, no matter which premium website model they use – and you add audience engagement and loyalty that builds day by day.
Backstage, a spin-off of a legacy print magazine, is a website for actors looking for work, training and networking. It uses many features of the Mequoda Method, such as a freebie in exchange for email addresses, and could serve as a membership website template. It offers job listings – casting calls, in this case – forums, advice and training, and even a search tool that lets actors search by city, age, ethnicity, union status, compensation and more.
There are also reference listings for things important to actors, such as agents, headshot photographers, production companies and acting classes. In addition to the free content, paid members get access to exclusive listings, unlimited online submissions to casting notices, free uploading for headshots, resumes and demo reels, and more.
When it comes to membership website ideas, all of this type of content could be repeated for almost any employment niche.
Dow Jones Private Equity & Venture Capital is another one of our favorite membership website ideas.
Members looking for: Business opportunities
Average unique visitors, 2015: 111,774*
Here's an example of a large media company leveraging its content beyond magazines and newspapers, using it to provide information to members who pay to find their next investor, business partner or business deal.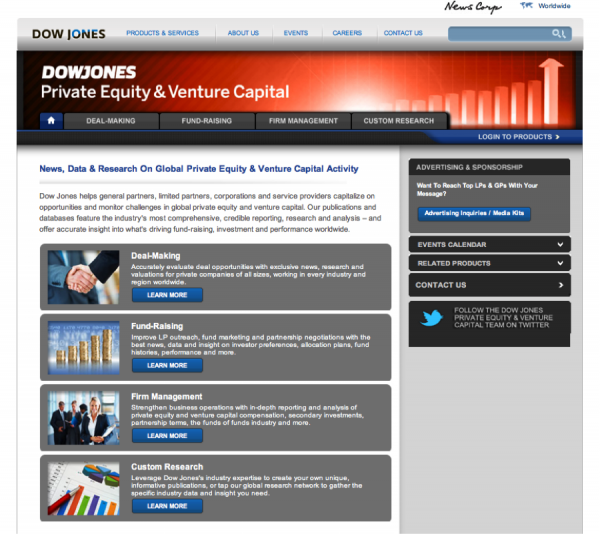 Dow Jones knows finance, so it's using that expertise to help others know what it knows. The website is fairly straightforward and easy to navigate. In each category – deal-making, fundraising and firm management – members have access to news, financial databases, and most importantly, to the people who are making deals or looking for investment opportunities.
Dow Jones also takes this model a step further: If you don't have the time to do the research yourself, they'll do it for you as part of their custom research product. Profitable membership website ideas take advantage of every opportunity to sell your expertise and/or content!
Ancestry.com rounds up our favorite membership website ideas.
Members looking for: Genealogy information
Average unique visitors, 2015: 7.2 million*
With the popularity of genealogical research, this site is incredibly successful, boasting more than two million members by its own count. Ancestry.com states that its revenues have increased from $166 million in 2007 to $561.5 million in 2013 and hitting $619.5 million in 2014. The company is majority owned by Permira funds, along with certain minority co-investors.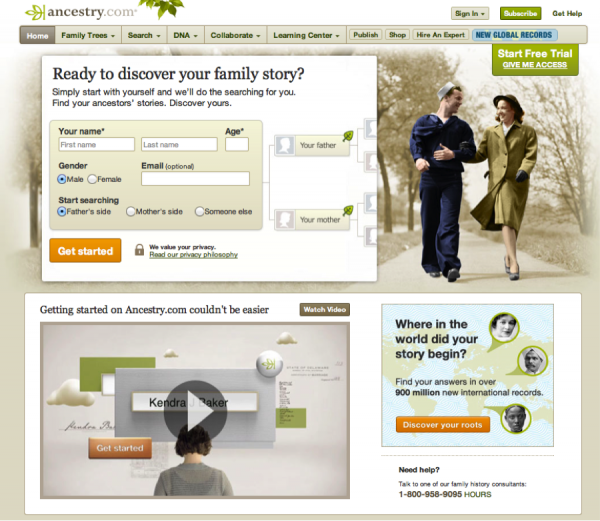 Ancestry.com's founders got their start by spotting an opportunity in 1983, when the immensely popular TV miniseries, Roots, had kicked off the craze for genealogy that is still going strong. It began as a newsletter, and was later purchased by a database company that has expanded the company to where it is today.
Today, members search for deceased family members via records, most of which have been submitted by other researchers. Ancestry itself has digitized some public data, such as census records.
This makes it different from the previous two examples, in which niche expertise and legacy magazines provide the content. Thus the main job of Ancestry.com's publisher is to provide curation and the technology to search those curated records.
Members can search for records, submit their own, build family trees, hire a researcher to do the work for them, and even buy a DNA kit. In fact, Ancestry.com has a plethora of related products it will sell you, including books, software and apps. Advertising is plentiful, too, so there are enough revenue streams to make this a highly successful venture all around.
These sites can all provide inspiration and direction to any publisher looking for membership website ideas. They all share some common features in addition to the primary "person" members are searching for, such as training, equipment and tools, and community forums for networking.
Other membership website ideas include:
Dodge Lead Center: Members search and bid on construction projects around the country
Firehouse: Members search for firefighting jobs, equipment, news, training, events and networking opportunities
Potters Council: Members search for training, books, studios, insurance, tools & equipment and more related to pottery making
Do you know of other successful membership website ideas? Share them with us in the comments!
*All unique visitor data from Compete.com.
Related Posts
Posted in Subscription Website Publishing