How recycling, repurposing, and repackaging content can create alignment in your marketing efforts
The number of steps required to create an effective audience development plan often confuses people new to organic content marketing. One of my favorite tricks is to use the acronym ARM to help people remember that there are three distinct elements or parts in a content driven audience development plan. A is for attract; R is for retain, and M is always for monetize.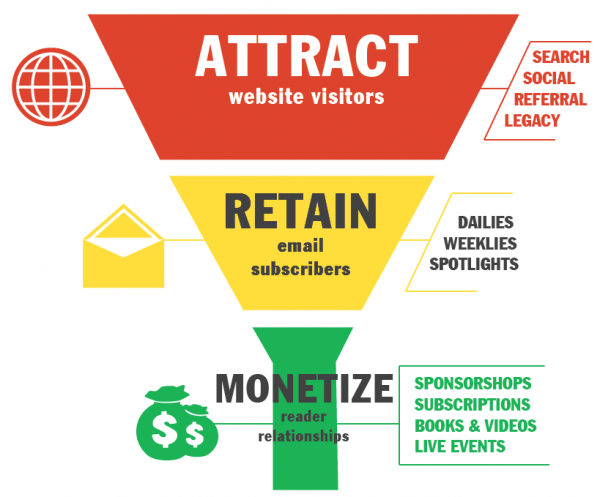 Audience development plan step one: Attract the right audience
An audience development portal is populated by content that's aligned with the services or products you ultimately want to sell. Most of our clients are ultimately selling tickets, books, videos, subscriptions, or other information products.
While content marketing can be used to sell pretty much anything, it works best when selling information products because those products can be used to create the content for your audience development portal.
The first step in any good content driven audience development plan is to be very specific about the products you're going to sell and the topics those products will cover. These topics for keyword phrases will form the backbone or taxonomy of your audience development portal and the first part your audience development plan.
Audience development plan step two: Retain the audience you want
The key driver for step two of your audience development plan is your email newsletter and the incentive you'll use to convince people to subscribe. The goal here is to build a large database of loyal followers who will open your newsletter and click on it many times each month.
This is a far more sophisticated and effective concept then simply driving people to a website and hoping they buy something today. When you convert a prospect into an email subscriber, you will have months and perhaps even years to build a relationship that results in that customer buying products from you again and again. This two-step concept leads to the idea of customer lifetime value.
Database marketers knew, before the Internet, that maintaining relationships with customers over time was a great business model. As an Internet business model, this continuity relationship is even better because of the low cost of maintaining contact through email newsletters, promotions, and other transactional communication.
The design of your email newsletters and promotions plus the schedule for contacting the customer and running test format that will drive improvements to your audience development plan. Once again, a content marketing system with all of the information in your email newsletters will be excerpted or summarized from the premium information products you're trying to sell.
These communications will vary from Google service journalism to hard-core direct marketing. Most publishers we work with find that a mix of effort and styles is best to maximize customer lifetime value.
Audience development plan step three: Monetize your loyal audience
Your loyal customers will be the ones that ultimately spend money on your products and/or your sponsors' products. Because they think of you as a publisher, author, and an authority on the subject they love, they'll want to support you and your enterprise.
If you've done your job in step two, your customers will have developed a preference for your brand and will even be willing to pay 10 to 20% more to do business with you then one of your competitors. The ability to charge a little bit more for people who trust you is the value of premium content.
For step three of your audience development plan, you'll need one or more e-commerce websites. Most of the publishers we work with find they need 15 to 35 information products to maximize customer lifetime value. These products include single purchase items like books and videos and often include subscription-based products that might be delivered as a website, digital magazine, or digital newsletter.
Some publishers develop more sophisticated products that look like clubs and offer multiple benefits of membership to these subscription websites. They are often the pinnacle of customer relationship building and generate maximum customer lifetime value.
At the end of the day, your audience development plan could start with step three and work backwards. There are many information product formats available to independent publishers that didn't exist even a few years ago. Digital magazines, digital newsletters, digital books, and digital videos, all allow an independent publisher and a small niche to produce a variety of products without worrying about the cost of printing and inventory.
Further, these multiple formats can in many cases be based on the same information or instruction. Once again, we see the idea of repackaging, recycling, and repurposing content into different format. This concept is key to the generation of premium information product and the audience development portal and email newsletters that will drive people to them.
What follows are a few links to one of our favorite niche publishers, the American Ceramic Society.
In addition to their audience development portal, Ceramic Arts Daily, you'll find that this publisher produces a variety of premium information products all about the same niche topic: pottery making. Check out their large website network and their landing pages for one of their magazines, one of their books, and one of their videos.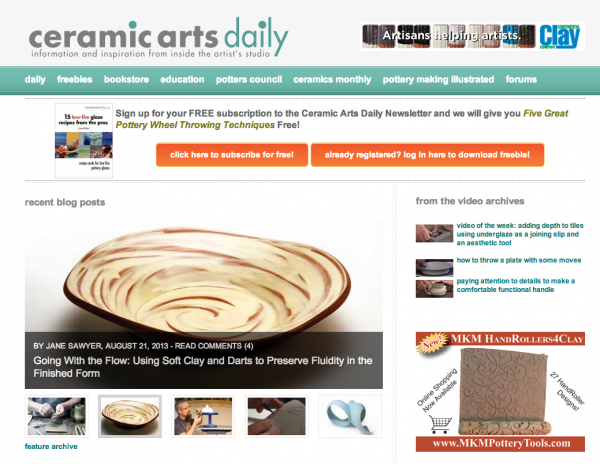 Like most of the publishers we work with, you'll note that they're still primarily selling physical premium products. Their approach to digital publishing is slow and methodical as they made first books, then videos, and now their two magazines available in the digital-alternative format.
Take a look at how they convert with their free downloads and then engage you with their free daily and weekly newsletters. You'll also notice regular hard-core direct marketing efforts that are designed to move you to buy their premium product in an efficient and immediate manner.
Ceramic Arts Daily, as an audience development portal, is one of the most accessible you'll find on the web. But as we've described above, the audience development portal is simply step one of their audience development plan. The audience development newsletters are step two, and the premium information products made available through the online stores and subscription websites are the final step in their audience development plan.
If you're new to content marketing, consider attending our quarterly Intensive, where we'll teach you how to start and run an effective online marketing system.
—–
Originally published on 7/2/2012.