BHG.com Internet Marketing System Review
Getting on TV is just one of many ways to leverage other people's media and drive website traffic—people who will log onto your website, register to download the free item, and, you hope, sign up for your free email newsletter. From simple search-optimized press releases to radio talk shows and local newspapers, PR is an effective Internet marketing tactic that works best when the release includes a crystal-clear reason why readers and viewers need to visit your website.
Basic, familiar PR activities are all that's required. It's PR101. The difference here is that publicizing your item (Step #2 in these guidelines) is sandwiched between the two other required steps—create something newsworthy that involves a downloadable item (Step #1) and make sure the conversion architecture is in place on your site to sign people up for your daily email newsletter (Step #3).
To publicize your valuable and newsworthy free item, you'll first want to include editorial mentions of the free item's availability in all your own information products—your paid or controlled print publication, your free email newsletter, your website home page, and on your network hub.
Then, leverage outside media for targeted outside publicity. You'll want to include all related (but non-competing) magazines and websites that are associated with your topic of interest, all relevant daily newspapers or newspapers with relevant sections, along with all radio and TV shows that might run a segment on the topic.
Today, in fact, you'll find a terrific proliferation of large media outlets. For TV, publishers with a newsworthy story used to be limited to getting on either the nightly news or a morning show. Now the market has opened up to include cable news shows, regional cable shows, and talk shows such "Regis and Kelly" or "The View." For print, you can target large national media sources such as The Wall Street Journal and USA Today. Even small niche players can reach large national audiences through media sources such as Ladies' Home Journal, Family Circle, and Women's Day.
Traditional press releases get the message out. We write them hoping a reporter will call back or pick up the story and mention the website address where readers can download or access the free item. To encourage that, the press release might include:
A list of items or topics included in the free item—a list that is so extensive that the journalist won't try to reprint the list in its entirety but, instead, will reference it with a link to your website.
Graphics or illustrations with enough depth and interest that the journalist will want to include them and provide the link to your website.
Let each outlet know that the free item is available for download and provide the URL. Mention, too, that relevant individuals are available for one-on-one interviews.
For the most important outlets, and if it's possible, you will get a lot more attention by enclosing a physical product with the print press release. If your free item is a downloadable eBook, for example, produce about 500 four-color, bound hard copies of the item at your local Kinko's. Include a note with the press release, indicating that you are enclosing a limited edition print copy of this special book and the publication's readers can get a free downloadable copy online at [your URL].
Note, too, that journalists who normally avoid referencing retail sites will point to sites that offer useful information that is free. This reinforces the notion that every online industry, even if primarily retail, should be giving away free content to drive traffic.
On the Internet, press releases take on new meaning. They provide search-engine visibility—an additional marketing opportunity that only some industries have figured out. Now that the public can read press releases directly on Internet news portals such as Yahoo! News or MSN News, it's becoming more important to optimize press releases for online distribution. They must include keyword-rich headlines and body copy and must provide extensive links back to your website or a specific web landing page.
Some online PR distribution services are free, and some are paid. For example:
Some of the paid services offer multiple payment options, depending on your distribution preferences. On PR Web, for example, you can choose free distribution, which is limited to PR Web distribution, SEO, and RSS feeds. Or you can opt to pay up to $80 to be included in Google News, Yahoo! News, eMedia Wire, and others.
Now that you've created an item that's available or accessible for free on your website and publicized it, you've completed two of the three steps to success for successful Internet marketing through public relations. Doing two steps but not the third won't work. You must do all three—and you must do all three well.
Case study: Better Homes & Gardens
The poster child for effectively using PR to build online relationships…
Consumer magazine Better Homes & Gardens "gets it," when it comes to using public relations to drive traffic to its free-content website. "We have a group here in the consumer marketing area that works in conjunction with our Interactive Media Group to develop what we call 'registration-required" applications and downloads," explains Andy Wilson, director of eCommerce at Meredith Corp. "We're constantly brainstorming on what to promote this month, as well as on what we need to create to continually expand the number of registrations that we generate on the website each month."
Most of the items the group creates play off of what's "hot" at the moment. And depending on the time of year, the website could have 15 or 20 or perhaps just two or three promotions. "We look at what we have available for free on the website and try to come up with things that we can promote as an extra," says Wilson. Of course, those things we create must be valuable enough that people will be willing to trade their registration data. They must also have a newsworthy element, so Meredith's PR people can work their magic.
Using PR
"This is a joint effort between our PR department and our Interactive Media Group," says Katherine Reitz, associate director of Meredith's Publishing Group Communications. Department. "Our corporate publicity department works with all the various departments and groups in the company. On these types of online projects, we work directly with our Interactive Media Group, our editorial people in the Publishing Group, and our broadcasting properties to see how far we can leverage the multiple channels within the corporation—including the pages of Better Homes & Gardens magazine itself—for whatever promotion it is we're doing online. Then we go outside, as well," she adds. "We utilize different newspapers, for example, and websites that drive traffic back to a sweepstakes, or radio stations. Our editors promote the items as experts."
For example, a Better Homes & Gardens "Better Living Contest" included a survey. As part of a promotional, nationwide radio tour, the editor-in-chief of Better Homes & Gardens magazine discussed the survey results and, during the interview, invited people to visit the BHG.com website to enter the contest. It was a constantly recurring contest—each month a new winner was announced—which also helped drive traffic to the website. People could enter to win something every month. "We had people appearing on TV and radio and we used press releases in an ongoing PR effort to promote the monthly winner," says Reitz.
The conversion
Back on the BHG.com website, conversion architecture captures the visitor's email address and offers a choice of email newsletter subscriptions in order to build a customer relationship. A large copy block on the upper right-hand section of the home page is the entry point for all the special "member benefits" currently being offered, such as a sweepstakes, free weekly recipes, calorie charts, arrange-a-deck information, and more. To access, sign up, or download any of the offers listed there, the visitor must register—and that simply requires giving up an email address.
"During the registration process," explains Wilson, "we offer five newsletters and generally get between two and three subscriptions per registration." The company doesn't share its newsletter circulation figures.
The newsletters are all well written, targeted to different reader interests, and, according to Wilson, perform very well. The titles include:
BHG.com Weekly Recipe
BHG.com Weekly Update (or What's Hot on BHG.com)
Decorating Newsletter
Weekly Shopping Deals & Discounts
BHG.com Free Stuff Newsletter
For each newsletter, a registrant can click on a link and open a popup box to view a sample issue before choosing to subscribe.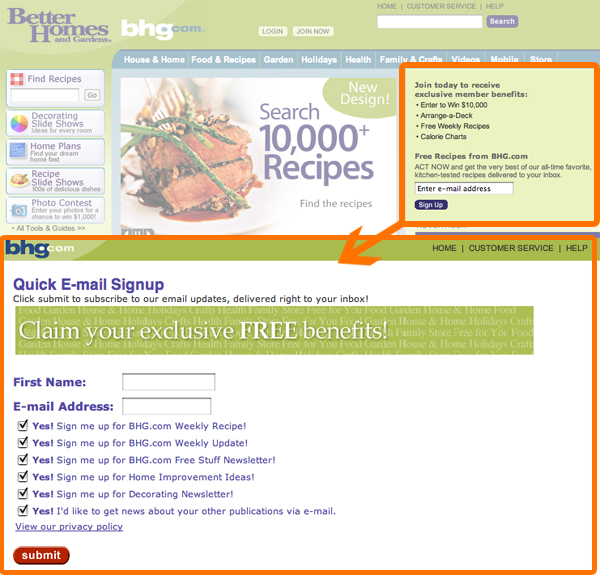 In addition to being an information source for the subscriber, the newsletters are used, of course, as a marketing tool for Better Homes & Gardens to sell its own products and generate revenue from advertisers offering relevant merchandise.
Most importantly, according to Rietz, BHG.com definitely experiences lifts in online activity that relate directly to promotional efforts. "When the editor of the magazine did the national radio tour," she says, "you could see spikes in the online registrations. Over the nine-month period of the 'Win America's Home' promotion, the increase in online registrants averaged 15 to 20 percent."
This article was written by Don Nicholas with the help of Jane E. Zarem in a series on PR & Earned Media 101.