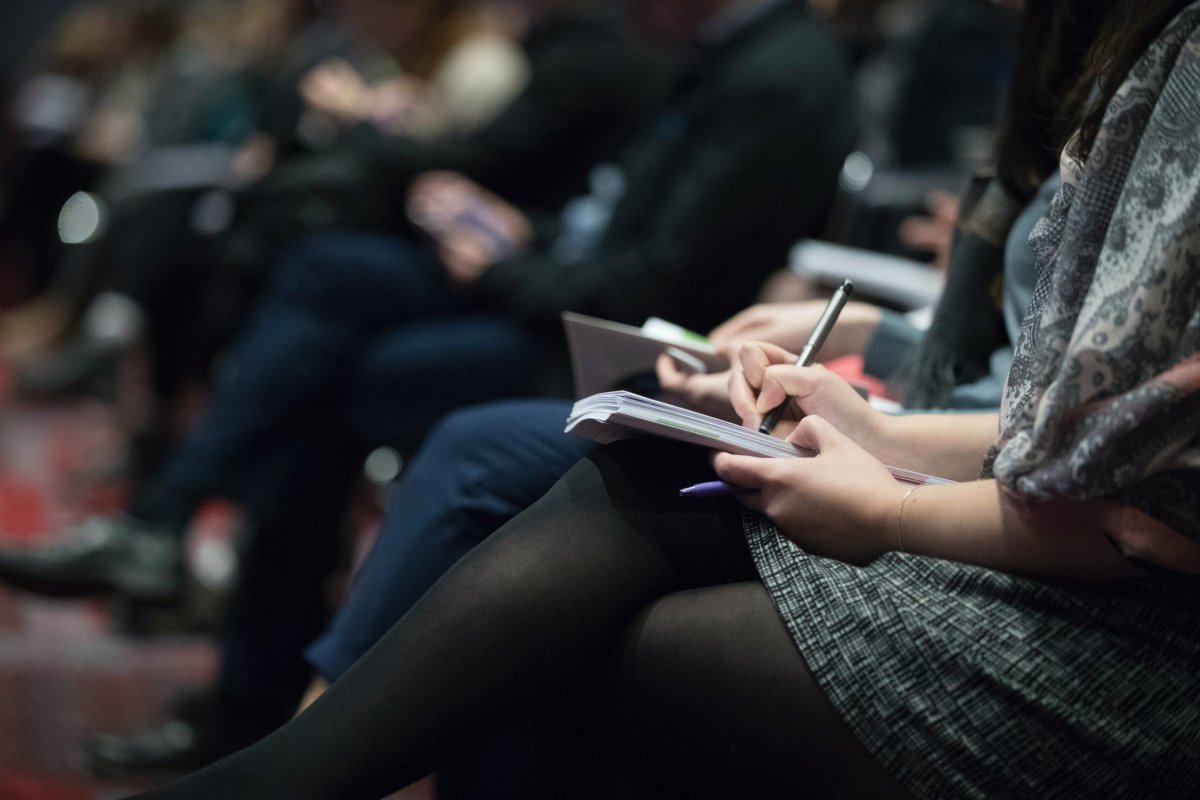 PR is so different now than it was even five years ago, never mind ten or twenty years ago. Isn't Facebook basically the new SEO press release portal now?
Well, yes and no. Yes, because it's certainly a good way to get information out quickly to a targeted consumer audience, but no because major news outlets still require press releases. And so, we still publish them, however there are secondary efforts too—you can't just press publish and expect it to get picked up. After publishing, you may contact a few journalists that typically cover your niche. At Mequoda, we also keep track of their social media handles, too, so we can follow up with a Tweet.
When performed correctly, our SEO press release example will help you gain visibility for the topics you cover. After creating your press release, you should begin the SEO process. This is where online PR incorporates aspects of SEO campaigns. With your press release optimized for your keywords, you will be positioned to receive coverage on these topics.
[text_ad]
If your press release is picked up by Google after distribution, you will likely see the listing of the release on Page 1, 2, or 3 in Google. We have personally seen some of our press releases get picked up by Google and reside on Page 1 and Page 2 for over a week.
The instructions below are in regards to promoting a freemium via a press release. A freemium is a free product you create in order to build your email list and create relationships with your readers.
Note: Assuming that your Freemium has been titled in an SEO-friendly way, with primary and secondary keywords in the title and subhead, all you need to do is leverage those same keywords within your press release.
Headline Optimization
Develop a 100-character or so headline for your press release that includes your primary keyword.
When writing a headline for your press release, incorporate your primary keyword and the name of your company. Search engines like keywords in titles, and adding your company name will help in branding purposes. Also, if your release gets picked up by a major source like Google News, your company's name will be page-one in that search engine for as long as the release remains up.
Subhead + Summary Optimization
Follow up on the promise of your headline with a 200-character subhead. This will also be used as your summary, which press release sites request. Add your secondary keyword phrase in the subhead of the press release. This way you'll be hitting multiple keyword phrases while maintaining a solid written flow.
Lead Paragraph Optimization
Your lead paragraph needs to set the tone for the entire press release. Without it, the rest of your press release will not be read. Focus on creating interest while delivering the journalistic standard of supplying who, what, where, when, and why the rest of your press release is important.
As your lead paragraph is ranked just below your headline and subhead in importance, the first 250 words of content in your press release are what Google will use to determine how relevant your information is, compared to the rest of its search results. Use the first 250 words to set the tone of the rest of your release and make sure you include your primary and secondary keywords several times.
And keep the content newsworthy – distribution sites want to have the best content on their servers to increase credibility and traffic. You have to play by their rules in order to get their assistance in page rank and visibility.
Body Copy Optimization
For press releases getting distributed through the Internet, make the body copy at least 300 words in length. This way, if you're including keyword phrases throughout, you make it possible to get indexed by Google. If your release isn't at least 300 words long, Google will not pay attention. 300 words is also short enough to digest by the person who's reading it, especially if you break it up into bullet points.
Link Optimization
When a distribution site will allow it, link your keywords and your press release's title back to the landing page for your report. On free press release sites, this is less likely of a feature but paid press release sites often allow it. Google will understand that the linked word is more important than other generic, unlinked words.
When linking, always link back to the product's landing page when possible. For additional tracking, create a unique URL for each landing page that you can point to from your press release.
[text_ad]
An SEO press release example you can model after
Below is a solid SEO press release example. It includes all of the sections we talked about previously and where they belong, those are highlighted in green. Keywords are highlighted as well.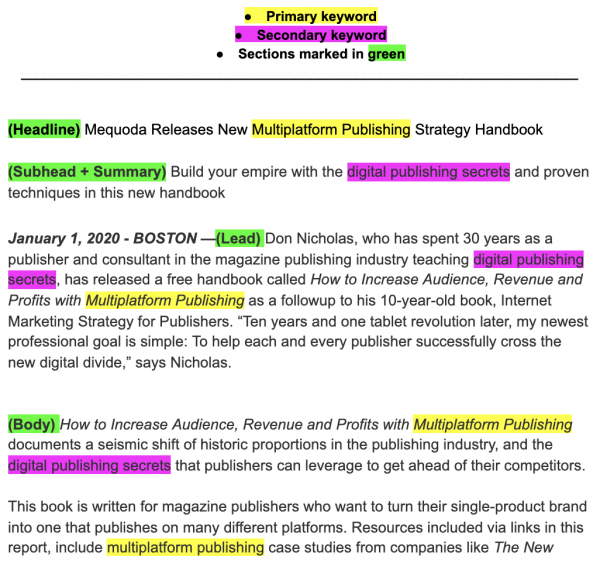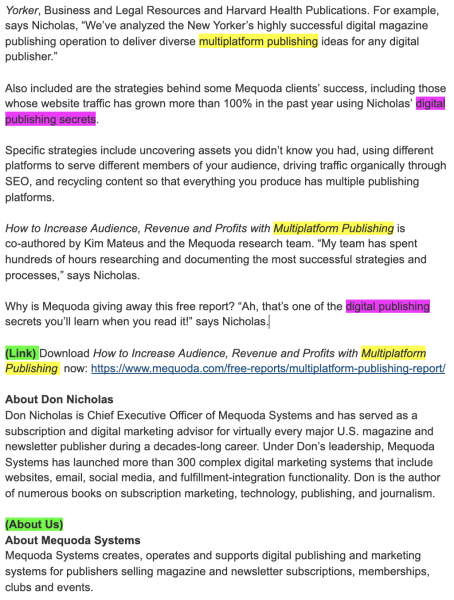 Do you optimize your press releases? Have you noticed an influx in search traffic through them? Check out our list of free and paid press release sites to which you can submit your SEO press release.
This article was originally published in 2015 and has been updated.