Digital magazines can thrive, but they can't be Yahoo
On March 3, 1923, TIME magazine was born. It was what most publications were in that era: an aggregator, dedicated to rewriting the news from around the world in pithy, pointed nuggets. To their prospective financiers, founders Henry Luce and Briton Hadden boasted that the average reader could get through an entire issue in 30 minutes.
Fast forward almost exactly 90 years, and today's TIME is no longer a mere aggregator, but the grandfather of the weekly news magazine, boasting a worldwide staff of journalists, award-winning, in-depth reporting and an august history.
But this is another turning point in TIME's history. With parent company Time-Warner recently deciding to spin it off, along with its 20 magazine siblings, as a separate, publicly-traded company – and with print publications, especially news weeklies, already struggling to survive in an instant-media digital world – the future is frighteningly uncertain.
I wish I could whisper in TIME's ear.
TIME as it turns 90
First, I'll give TIME credit. The website boasts a strong OMI – that is, Online Media Index, which is the ratio of online users to print users (you should have more of the former than the latter) – and generates about 10 million unique visitors per month.
So they're doing about 80% of what a strong digital media brand should be doing. But that's simply not going to be enough going forward. Content strategy, brand strategy and revenue strategy all have to be perfect for TIME. Because in their cutthroat market, anything but perfect is death.
I often praise The Economist for refining its content strategy, expanding its brand strategy and keeping its revenue strategy subscriber-based. TIME's got content down, but is losing its brand in the mad dash to become CNN news, and is completely upside down on revenue strategy. TIME management is assuredly wrestling with new ideas for the future even as publications like The Economist redefine digital publishing.
I believe this could be the beginning of a new era for TIME, if only its leadership knew what Mequoda clients know. It's time to go back to its roots of investigative, interpretive journalism as content strategy, stop trying to compete with Yahoo, CNN and every other soundbite medium as a brand strategy, and forge an entirely new revenue strategy that relies more on its products than its advertising.
The method that rescues dying print publications
I'm not going to be bashful here. I've spent years perfecting the Mequoda Method of successful online publishing and marketing, I've seen it work over and over, and I believe it would work for TIME.
One of the problems that mass media brands like TIME struggle with is the fierce competition for advertising in the digital age. If you can advertise on CNN or Yahoo and be seen thousands of times a minute, all day long, why would you bother with TIME?
The answer is: You won't. So when I say TIME has to get back to its roots, I mean it has to not only remember that its primary function has always been investigative journalism, but also that journalism's function is serving readers first and advertisers second.
This lesson was driven home to me last week at the MPA Swipe 2.0 event, where I enjoyed hearing about the incredible strides that TIME's competitors are making with digital publishing. One thing I heard over and over: Content is king (or at least queen). The asset that these publishers believe is most important to them is their writers. Long-form journalism reigns, and all their brands are built around it.
Sadly, TIME Inc. was represented at Swipe only by Sports Illustrated, and trust me when I say that the topic those magazine's editors discussed as the event's grand finale was not journalism, but photography. If you know what I mean …
No, it was major publishers at Hearst, Meredith, The Atlantic, The New Yorker and Foreign Affairs who waxed eloquent about their journalism. These folks are confident that real journalism – not general newsgathering – is a valuable commodity even as they leap into the digital world. Indeed, even TIME executives and employees are said to be heartened at the spin-off because they believe that now they can return to the time-honored Henry Luce journalism model.
So if TIME, The Atlantic and similar publications aren't trying to compete as general news publications, they've become niche brands – just like all niche brands which have never relied on advertisers for the bulk of revenues.  And the Mequoda Method works for all niche brands, large and small, because it solves the advertising problem and makes the most of the content that publishers are already producing.
Learn the secrets behind today's most rapidly growing niche publishers. Download a FREE copy of How to Develop a Multiplatform Magazine Business Plan, and discover how large your magazine business could become and how much of an investment will be required to build your business to maturity.
TIME magazine of the future, step 1: Content strategy
Read TIME and understand. Remember that advertising slogan from not so long ago? It was compelling, effective, and truthful. But while TIME rushes to compete with soundbite journalism, the "understanding" part has been overshadowed by an emphasis on speed. The first step to TIME's future is to refocus its content strategy on what it's always done best, and claim the niche of original, in-depth reporting and interpreting the news.
Americans could once again trust TIME to tell us what we need to know, what it means, and what everyone else is saying about it. TIME must find its editorial voice once again, and prove that the news weekly is still meaningful.
This means refocusing its content strategy on interpretive journalism, discarding soundbites, 30-second "news" videos and other trappings of an Internet news source, and putting its service journalism front and center. TIME has always been the home of the best writers, the best thinkers and the most compelling topics, but these things have been somewhat lost in the desperate search for relevance in the digital world.
Reminding us of its true purpose should not only increase TIME's readership, but will also help put the shine back on a slightly tarnished brand.
TIME magazine of the future, step 2: Brand strategy
No matter how popular Internet and cable TV news become, one thing will always be in TIME's favor: Reading stimulates thought in a way that video does not. Former parent Time-Warner is an Internet and TV company, not a news company. Even they recognize the cognitive dissonance, according to media reports:
Time Warner CEO Jeff Bewkes explained the spinoff will allow the larger company to "focus entirely on our television networks and film and TV production businesses, and improves our growth profile". He also said it will allow Time Inc. to attract "a more natural stockholder base", which could mean luring investors who want to invest purely in news and publications rather than the wider world of entertainment.
Time Warner move leaves Time Inc. magazine company to fend for itself
The Guardian, March 3, 2012
To rebuild the brand, TIME must be led by a magazine publisher or editor with a journalism degree. Not someone from advertising, not someone from TV. And if I heard that this individual was someone who had actually worked somewhere in the TIME Inc. building for at least the past 20 years, I'd be a happy man. That someone would, of course, be familiar with the Luce model that many of us in the industry believe is TIME's saving grace.
Once value has been added to its news reporting by interpreting and explaining the news, TIME's content becomes evergreen. More than just "Today the President said …", which is irrelevant tomorrow in the instant-news business, TIME would have content that has meaning far into the future. And evergreen content like that can be recycled into new premium products such as books and DVDs.
In just a few years, historians, students and simply interested readers would be able, for example, to study a TIME book on the 2012 election. TIME becomes the go-to source for understanding a moment in history. Remember my post on the Biblical Archaeology Society and their collections of past material? They use them as teasers to sell subscriptions to their archives. If a tiny niche publisher like BAS can do it, certainly TIME can.
With its evergreen content and new products in hand, TIME could then generate that brand wheel to support its business model, like the one below. This includes a new portal, TIME Daily, where TIME would offer readers free real-time reporting, and also host SEO blogging that drives web surfers to subscribe to another new brand – the new, all-important e-newsletter. It also includes free reports, which are used to harvest email addresses. This is the heart of the Mequoda Method.
As all my successful clients know, those email addresses and newsletter subscribers become the most qualified audience of potential buyers of premium products for any publication, from TIME down to the tiniest craft publication. TIME could sell evergreen DVDs, books and book collections all day long.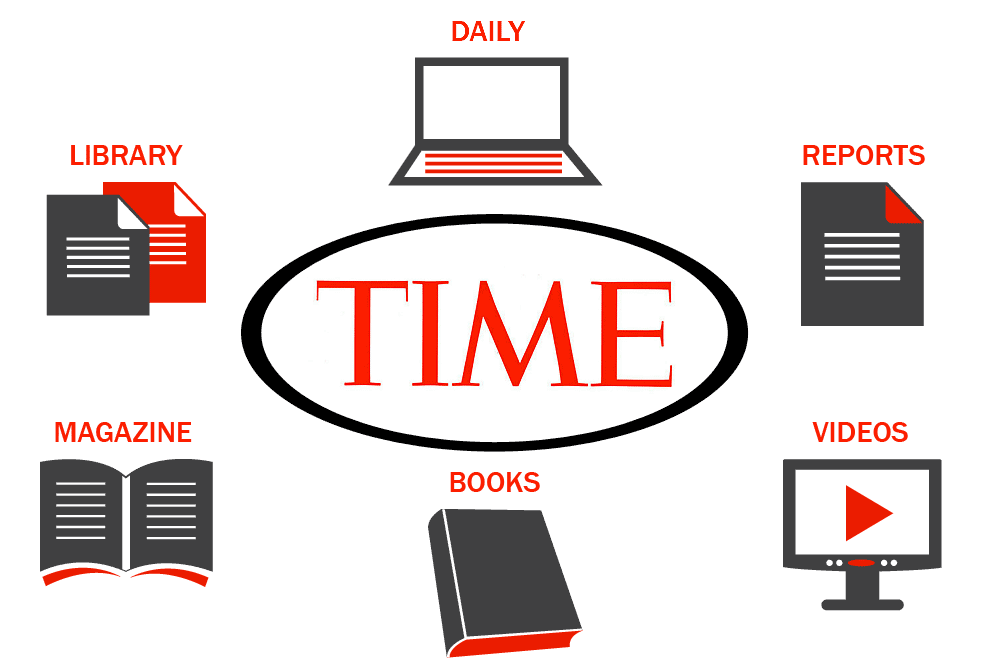 TIME magazine of the future, step 3: Revenue strategy
If you visit TIME.com today, you find free news soundbites and free videos. Even the archives are included in a print subscription. TIME simply isn't selling much of anything, and, as mentioned above, it's competing with much bigger fish for advertising.
On the new theoretical TIME brand wheel I've invented, the only free things at TIME.com are the portal/blog, the newsletter, and the free reports which are used to harvest email addresses. Videos, books and archives become paid, premium products along with the magazine itself. Presto: brand new revenue streams, and still no advertising required.
But once TIME has created satisfied readers and established desirable new products, advertising comes back into play. The point is to establish the appealing environment of interested, engaged readers that print publications once had before TV and the Internet, so you can get advertisers to pay you the prices you were once accustomed to before the Internet came along. Not to mention, native advertising comes into play huge here, where TIME can charge top dollar for premium advertorial content in what is considered a prestigious and highly respected magazine.
TIME wouldn't be delivering just eyeballs and impressions. It would deliver adjacency and qualified buyers who spend an hour or more with TIME – not just fleeting moments as with cable TV and Internet ads. Once again, the news weekly can command attention, respect, and hefty advertising dollars. But never again should a journalism publication rely so exclusively on advertising that it chases website-based economics.
As I often tell clients, your magazine is not a website – if you do it right, it's worth far more to advertisers than any website. And your website is not a magazine – it's only a place to generate an engaged audience and sell premium products that include your magazine, books, DVDs and even events.
I'm still refining the Mequoda Method as the evolution of the tablet and other technology continue to change publishing. Starting next week we'll be blogging about some fantastic ideas for digital publishing that we learned at Swipe, with some of the savviest publishers on the planet revealing how they're managing their brands and moving forward in the digital age, without falling prey to the Internet, TV and cable, and without trying to be something they're not.
In the meantime, I hope you'll share your thoughts on this ongoing struggle in the comments below. We can all learn from each other  … and all hope that TIME leads the way.