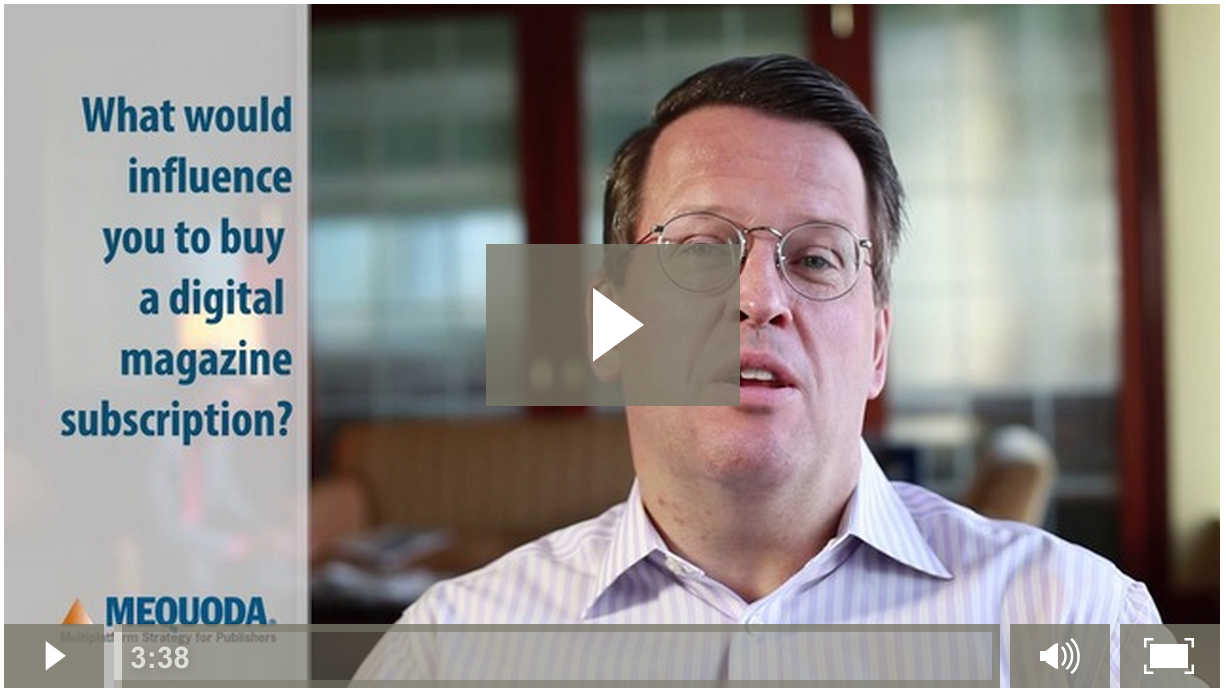 Consumers love digital magazines, while publishers proceed with very different strategies
Four years after Apple introduced the iPad and a floundering magazine industry latched on for dear life, consumers value digital magazines more than ever, have firm opinions on what they like about digital magazines – and are adamant that digital editions should cost less than print.
Those are just some of the conclusions drawn from our just published Mequoda Digital Magazine Market Study: Digital Magazine Reader Habits and Digital Magazine Publisher Case Studies. While our 2013 study surveyed consumers who owned or had access to a tablet, this year's study surveys 1,136 people who specifically read or subscribe to magazines on a tablet. The study is available for free download here. You can also watch a short three-minute teaser below featuring our video interviews:
Market studies like this normally cost hundreds of dollars, and it certainly cost us thousands, but we're making ours available to everyone free to ensure that this business-critical information gets into your hands right now!
Our Mequoda Digital Magazine Market Study holds a multitude of digital magazine statistics that can impact your bottom line. Of course at Mequoda, we don't believe in guessing, so this data also helps us form our Best Practices for Gold Members. Here's a sample of what you'll learn about these digital magazine readers:
iPads are still the tablet of choice, but another tablet is making small inroads on Apple's market share. It's getting much easier to choose which newsstands you want to publish on.
Magazine subscriptions are a small but growing percentage of the content these readers recently bought, with single copies right behind. In case you're wondering how to sell digital magazines – single copies in your app are an exciting revenue stream!
These digital magazine readers trust digital magazines more than their own friends, family and colleagues as a source of information. If you're still on the fence about publishing digitally, this should get you going.
A majority of digital magazine readers say they prefer digital magazines because it saves paper. This is a splendid opportunity for some "green" marketing.
This is just a sample of the digital magazine statistics in this FREE study. There are other fascinating insights into digital magazine readers in this study that you can apply to pricing, marketing and issue planning. Why not download it now and start making plans to leverage this data profitably?
Learn more about our Mequoda Digital Magazine Market Study now and download today.