What does your website say about you?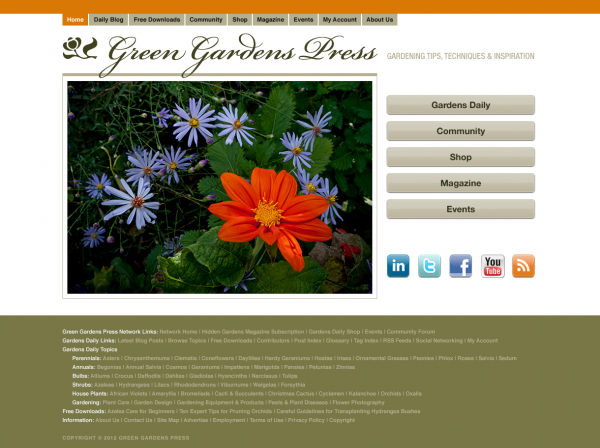 I'm a big fan of planning.
And I believe that your website is a reflection of your entire business and business model.
A visitor to your website should quickly be able to understand your mission, your audience, the scope of your content, and even how you make money.
It always surprises me that people don't start the process of building a profitable website by building a website plan. While the website planning process can seem complex, it really can be boiled down to answering a few simple questions:
How will your website make your user's life better?
How will your website content fit into your brand pyramid?
How will your website generate revenue for your organization?
Who are the people that will be running your website?
What process will you use to build an audience for your website?
Let me illustrate, by answering the above questions for the case study we use to teach our quarterly Digital Publishing & Marketing Intensive:
Green Gardens Network – 1 Page Business Plan
Mission: Provide gardeners of all experience levels with the inspiration and knowledge they need to create beautiful gardens in any climate.
Content: Our website is home to Hidden Gardens Magazine and our online store, which includes 48 in-depth gardening encyclopedias. We produce a daily newsletter and blog posts that offer curated content from our magazine and encyclopedias. We use social media to distribute gardening tips and photography that will promote our brands and bring new and repeat visitors to our website.
Revenue: We sell digital and print subscriptions to our magazine, we sell our encyclopedias, and we partner with leading gardening suppliers to sponsor our content and brands.
People: Our website is operated by our marketing department. Our staff includes a full-time online marketing director, daily editor, store manager, email marketing assistant, and customer service assistant. We partner with Mequoda Group for strategy, analytics, design, development and systems management.
Marketing: We use a variety of organic sources including search engines, link building, and social media to bring new visitors to our website. Once there, we make every effort to convert them into free email subscribers. Finally, we monetize those relationships over the long term by offering our subscribers great deals on our premium products and our sponsors' products.
Obviously, there's a lot of detail that falls behind the above. But the above is a great place to start. It frames the scope of the website as it relates to the total business. It is written in simple language that anyone can understand.
Whether you're launching a business from scratch, expanding a legacy franchise into the digital arena, or just thinking about optimizing a digital business that already exists, I think you'll find this exercise a valuable one.
If you'd like to take a deeper dive into the process of building profitable websites, I invite you to join me and our team at the next Digital Publishing & Marketing Intensive.