Cook's Illustrated demonstrates the four key attributes of a blockbuster subscription website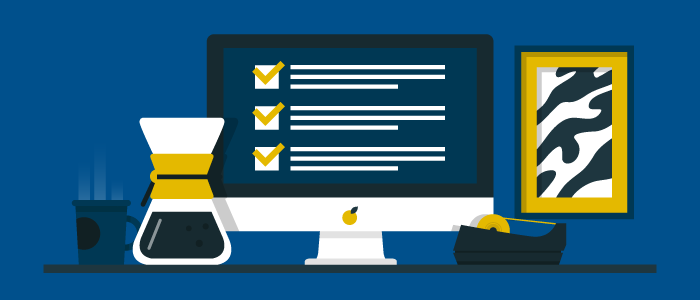 A couple of years ago, Don Nicholas outlined the attributes of a premium content subscription: not a website itself, but the thing that customers buy – the content subscription.
In updating this post (as we often do with our website content – that's a Mequoda best practice), here's a prime example of a great premium content subscription: CooksIllustrated.com, the companion website to Cook's Illustrated magazine from America's Test Kitchen.
This subscription website is, after all, a resounding success in the tremendously crowded recipe and cooking space. Its continued success tells us that this is indeed the perfect premium content subscription website.
If you want to create the perfect premium content subscription at your subscription website, use CooksIllustrated.com as a mentor site, because it exhibits all the necessary attributes to make it a stand-out premium content subscription.
Find out the CMS features that publishers require to manage an online publishing business. Download a FREE copy of 7 Ways Haven Wordpress Goes Beyond Wordpress, and discover the features all publishers should have access to for a bigger audience, greater revenue, and higher profits.
Attribute #1 of a premium content subscription: Premium content
In order to be a premium content subscription, the content being sold must stand out in the crowd to get customers to pay for it. By its very nature, the word premium means that the information product you're creating is better than most of the products already available. It must meet an unmet customer need that's compelling, valuable, and easy to communicate.
CooksIllustrated.com certainly delivers here. Compelling? Here is an example of a sales letter that used to pop up when a user clicked on any premium recipe. "Our test cooks spend their days obsessively testing recipes until they offer consistently great results." The letter notes that you can get hundreds of free recipes on the internet, but warns, "You should tread lightly if you don't know the source." At CooksIllustrated.com, what you get are rigorously tested, foolproof recipes. I'd call that pretty compelling.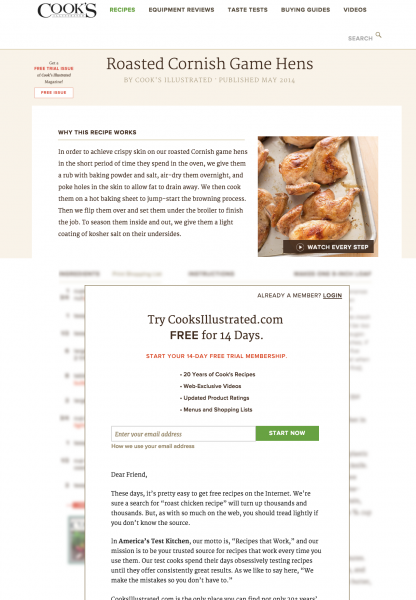 As for the content being easy to describe, the sales letter delivers that in one sentence. "CooksIllustrated.com is the only place you can find not only 25 years' worth of our foolproof recipes, but also objective reviews of cookware, and blind taste tests for hundreds of everyday supermarket ingredients."
As of late, these floater ads have gotten simpler, like the two below, but it's worth testing more copy-driven floaters to see which performs best.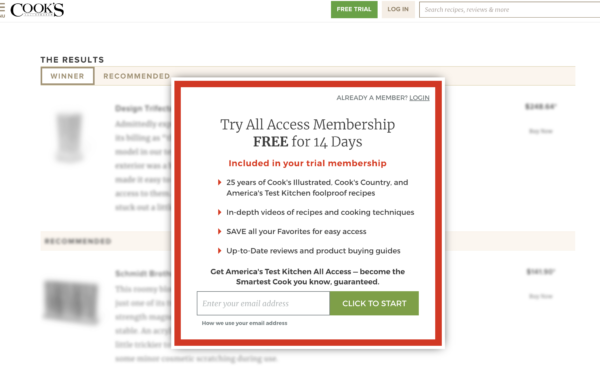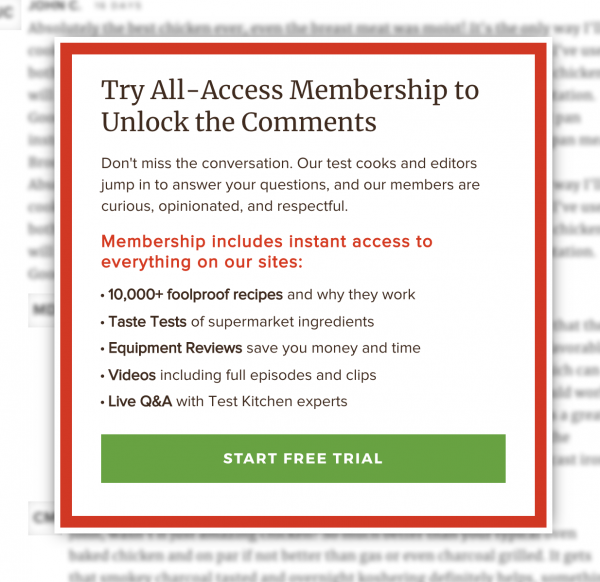 And when it comes to value, the brand associated with the site delivers all that and more. Cook's Illustrated is a 25 year-old brand which, in turn, is associated with America's Test Kitchen and Cook's Country, two of PBS' most popular television shows.
Attribute #2 of a premium content subscription: Simple and familiar
"Become the smartest cook you know," reads the sales page for their all-access pass, which we call a super club because it bundles multiple platforms and sources of content beyond the scope of the magazine. If you're selling dozens of products, all of them in different formats, you can face challenges in describing them to your customers. And if customers don't understand what you're selling, you won't make a sale.
CooksIllustrated.com sells their all-access pass in the most simple of terms, but it's incredibly appealing:
CooksIllustrated.com – 25 years of innovative and science based cooking.

AmericasTestKitchen.com – All 18 seasons of the hit tv show.

CooksCountry.com – Regional favorites and meals for busy weeknights.

Premium Cookbook Collection – Nearly 1,000 of the VERY BEST recipes picked by our editors.

10,000+ foolproof recipes and why they work

Taste Tests of supermarket ingredients

Equipment Reviews – save you money and time

Single Sign-On – Seamless access across all three sites.

Your Favorites – Save and organize recipes, reviews, and videos.

Members-Only Facebook Group – Join the community of like-minded cooks.

Live Video Q&A – Get up close with the tv cast and test kitchen experts.
Not only are those things simply stated, they're also easily recognizable by consumers. Formats that they're familiar with make users comfortable and facilitate sales.
Attribute #3 of a premium content subscription: Make it easy to pay
The first thing you see when you go to CooksIllustrated.com is an excellent rendition of our best practice pricing structure, front and center. Three big and bold options to subscribe to digital, digital + print, and their all-access pass.
At CooksIllustrated.com, you don't buy recipes individually, or even packaged together by type. You pay $1.46 per month for digital, $2.50 per month for print + digital, and $4.61 per month for the all-access pass which includes access to Cook's Illustrated, America's Test Kitchen and Cook's Country.
Attribute #4 of a premium content subscription: Keep the price reasonable
Users believe that digital delivery is cheaper, and expect digital content products to cost as much as, or less than items delivered in print.
At $17.52 for a year for a digital subscription, CooksIllustrated.com comes in lower than the $24.95 cost of an annual subscription to the companion magazine.
We do think that Cook's could charge the same for digital as print. The fact is that the instant convenience and searchability of a website's content, especially for content that's demanded for a specific, inevitable event – the next meal – has convinced consumers that, well, maybe it's OK to pay a little more for digital content … especially when it includes access to 25 years of magazine content.
One of the best things about subscription website publishing to me is that, unlike a print magazine, websites allow observers and visitors to study all aspects of the publisher's operation: content, design, curation, frequency, advertising and marketing. And, with one caveat, you can't go wrong studying CooksIllustrated.com to learn how to produce a blockbuster premium content subscription.
We do think that Cook's Illustrated could benefit from some pricing adjustments. Currently they are priced at:
Digital: $17.52/ year
Print: $24.95 / year
Print + Digital: $30.00 / year
All-Access: $55.32 / year
It would be more beneficial for them to price them more closely, like:
Digital: $24.95/ year
Print: $24.95 / year
Print + Digital: $44.95 / year
All-Access: $49.95 / year
By using decoy pricing, the increase in price from the print + digital subscription to their all-access pass would be de-emphasized and the penny-pinching buyers who are just looking for the lowest price will pay a little more.
As we have written about, The New Yorker was able to benefit from this same effect, enticing more orders at the combo price while at the same time deflecting attention from increasing the base subscription price from $39 to $59.  For multiplatform publishers, decoy pricing is a beautiful thing.
Do you have a premium content subscription website, or a different one that you consider a good example? Share it with us in the comments so we can study it ourselves!
This article was originally written in 2014 and has been updated.