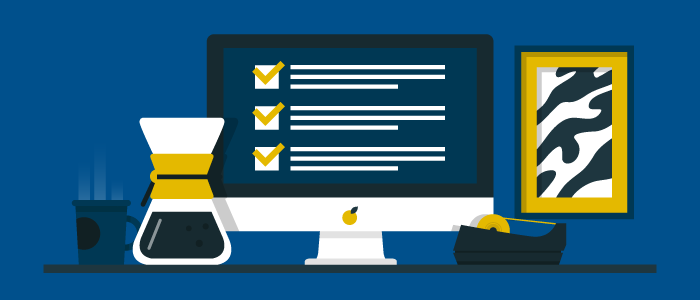 A couple of years ago, our CEO Don Nicholas outlined the attributes of a premium content subscription: not a website itself, but the thing that customers buy – the content subscription.
In updating this post (as we often do with our website content – that's a Mequoda best practice), here's a prime example of a great premium content subscription: CooksIllustrated.com, the companion website to Cook's Illustrated magazine from America's Test Kitchen.
This subscription website is, after all, a resounding success in the tremendously crowded recipe and cooking space. Its continued success tells us that this is indeed the perfect premium content subscription website.
If you want to create the perfect premium content subscription at your subscription website, use CooksIllustrated.com as a mentor site, because it exhibits all the necessary attributes to make it a stand-out premium content subscription.
[text_ad]
Attribute #1 of a premium content subscription: Premium content
In order to be a premium content subscription, the content being sold must stand out in the crowd to get customers to pay for it. By its very nature, the word premium means that the information product you're creating is better than most of the products already available. It must meet an unmet customer need that's compelling, valuable, and easy to communicate.
CooksIllustrated.com certainly delivers here. Since we've been updating this case study for years, I can show you the difference between how Cooks has promoted their premium content subscription over a period of a few years.
Here is an example of a sales letter that used to pop up five or more years ago when a user clicked on any premium recipe. "Our test cooks spend their days obsessively testing recipes until they offer consistently great results." The letter noted that you could get hundreds of free recipes on the internet, but warned, "You should tread lightly if you don't know the source." At CooksIllustrated.com, what you get are rigorously tested, foolproof recipes. I'd call that pretty compelling. As for the content being easy to describe, the sales letter delivers that in one sentence. "CooksIllustrated.com is the only place you can find not only 25 years' worth of our foolproof recipes, but also objective reviews of cookware, and blind taste tests for hundreds of everyday supermarket ingredients."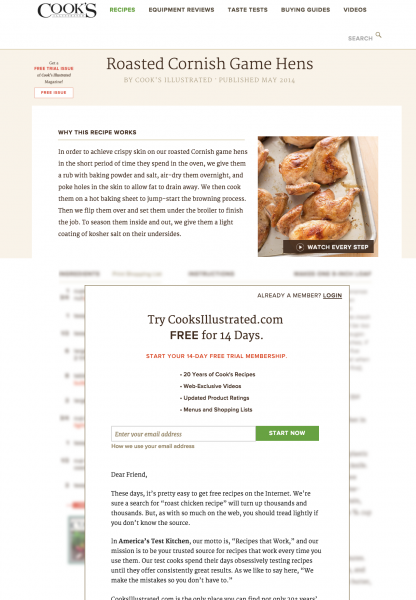 Flash forward a few years, the sales letter is gone, and the offer is now for a pass to America's Test Kitchen All-Access members, like the two below. We think it's always worth testing more copy-driven floaters to see which performs best, but for Cook's, these shorter bullet-focused floaters must be performing because we haven't seen them go back to long-form. Below is the floater they were using two years ago…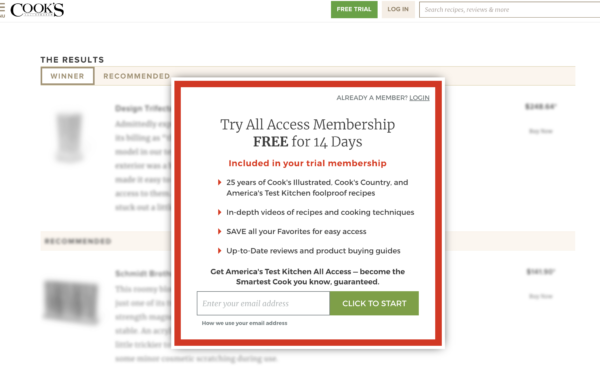 …and here's how it's been adjusted in those two years.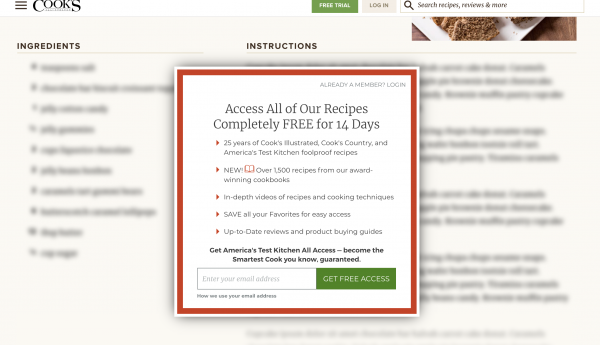 At one point the message had an emphasis on the depth of their content, with a new headline, "3 Sites. No Paywalls." But that has since changed too, so the "FREE for 14 Days" messaging must be working. They've also added more premium content to their all-access offer: over 1,500 recipes from their award-winning cookbooks.
When it comes to value, the brand associated with the site delivers all that and more. Cook's Illustrated is a 25+ year old brand which, in turn, is associated with America's Test Kitchen and Cook's Country, two of PBS' most popular television shows.
Attribute #2 of a premium content subscription: Simple and familiar
"Become the smartest cook you know," reads the sales page for their all-access pass, which we call a super club because it bundles multiple platforms and sources of content beyond the scope of the magazine. If you're selling dozens of products, all of them in different formats, you can face challenges in describing them to your customers. And if customers don't understand what you're selling, you won't make a sale.
CooksIllustrated.com sells their all-access pass in the most simple of terms, but it's incredibly appealing:
CooksIllustrated.com – Every recipe, rating, and discovery from all 25 years of Cook's Illustrated

AmericasTestKitchen.com – Every recipe, rating, and episode from America's Test Kitchen TV show

CooksCountry.com – Every recipe, rating, and episode from Cook's Country Magazine and TV show

Over 1,500 recipes from their award-winning cookbooks

In-depth videos of recipes and cooking techniques

Up-to-Date reviews and product buying guides

Private Members-Only Facebook Group with like-minded cooks
And for those who include the print magazine in their bundle, they also get six bi-monthly issues of all-new recipes, ratings, and discoveries.
Not only are those things simply stated, but they're also easily recognizable by consumers. Formats that they're familiar with make users comfortable and facilitate sales.
Attribute #3 of a premium content subscription: Make it easy to pay
The first thing you see when you go to CooksIllustrated.com is an excellent rendition of one of our best practice pricing structures, front and center. The option to subscribe to digital-only all-access pass, or the print + digital all-access bundle.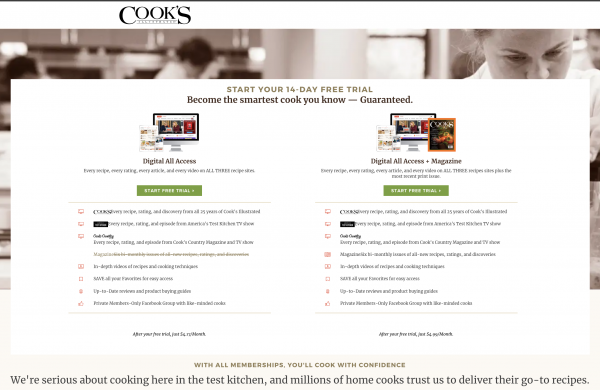 At CooksIllustrated.com, you don't buy recipes individually or even packaged together by type. You pay $4.17/month for digital all-access or $4.99/month for the print and digital all-access pass.
Attribute #4 of a premium content subscription: Keep the price reasonable
Users believe that digital delivery is cheaper, and expect digital content products to cost as much as, or less than items delivered in print.
At $50 per year for a digital subscription, the premium subscription isn't lower than the $24.95 cost of an annual subscription to the companion magazine, however, Cook's does a superb job at selling the additional benefits of all three website subscriptions in one. Plus, they don't say it will cost the user $50 per year, they say $4.17 per month. That's less than a subscription to Netflix.
The fact is that the instant convenience and searchability of a website's content, especially for content that's demanded for a specific, inevitable event – the next meal – has convinced consumers that, well, maybe it's OK to pay a little more for digital content … especially when it includes access to 25 years of magazine content.
One of the best things about subscription website publishing to me is that, unlike a print magazine, websites allow observers and visitors to study all aspects of the publisher's operation: content, design, curation, frequency, advertising and marketing. And, with one caveat, you can't go wrong studying CooksIllustrated.com to learn how to produce a blockbuster premium content subscription.
Do you have a premium content subscription website or a different one that you consider a good example? Share it with us in the comments so we can study it ourselves!
This article was originally written in 2014 and has been updated.