The Mequoda Rocket Awards honor the fastest growing website among Mequoda's Gold Member websites, many of whom are using our Haven CXMS.
In this week's strategy spotlight, Don Nicholas, Chairman & CEO of Mequoda, announces the winners of our 2017 Rocket Awards. From there you can download How to Increase Your Audience and Decrease Your Marketing Budget to learn more about some of the best practices they use to grow.
---
Quick Strategy Tip of the Day from Don

As the name implies, the Rocket Award acknowledges online publishers who soar above their competition to position themselves at an admirable place in the online environment.
The Mequoda Rocket Award, which premiered in 2009, was originally created by looking at a large sample of online publishing websites. In 2010, we started looking only at Mequoda Gold Member websites. The winner of the Rocket Award is the online publisher who experiences the greatest growth in online traffic throughout the year.
Last year our winner was University Health News with a 53% increase in traffic year over year using their new Mequoda System, which only launched May 2016. Their acquisition of Natural Health Advisory, our 2015 winner, was a large factor in their win.
The winner of our 2017 Rocket Award
This year, our winner was Countryside Network, who launched their Mequoda System in February 2016. Countryside was founded in 1969 and today includes four farming-related magazines (Backyard Poultry, Countryside, Dairy Goat Journal and Sheep!) and a portal at CountrysideNetwork.com that spans all four niches.
They won our 2017 Rocket Award with an astounding 87% increase in organic traffic over the last 12 months. While we'd love to take all the credit for Countryside's growth using our Haven CXMS system, one factor that most Rocket Award winners have in common is a stellar team. There is usually at least one rockstar who is leading audience development and content marketing. In Countryside's case,  the leader of the pack is Steph Merkle, a veteran Mequoda System operator, who we first met at Interweave, one of our most successful consumer magazine clients. Steph was trained by Interweave's own rockstars Danielle Werbick and Bob Kaslik before Interweave was sold. Mike Campbell, General Manager of Countryside Publications, has been leveraging her skills and her Mequoda savviness first as an online editor, and now as the Multichannel Content Director for all four of their magazines.
The moral of Countryside's success is this: You can give ten people a race car, but only one person will be the winner. And it's not just the car, and the wheels that are going to get the winner over the finish line first, it's the driver. If you want to run a fast-growing, profitable website, put a rockstar at the helm, there's no substitute for a talented content marketing professional.
The runners up
The runners up below have grown tremendously during their tenure as Mequoda Gold Members. They have employed rockstar editors, and follow our best practices in email conversion architecture and search engine optimization. There's a lot to learn from the forward-thinking publishers below, and I recommend checking out their sites to see how your site compares.
#2: TSI is a Canadian-based wealth management firm, and TSI Wealth Network is the front end for their high-end advisory services. TSI Wealth Network saw an 86% increase in their organic traffic year over year. Their Mequoda System re-launched in June 2016 and much like Countryside, they have a strong team powering their System and following the Mequoda Method. They have been avid followers of the Mequoda SEO Scorecard when creating all of their daily evergreen content, and it shows!
#3: Loss Prevention Media is in B2B niche of retail loss prevention and their Portal LPM Insider is the gateway to their print and digital channels of LP Magazine. They launched their Mequoda System back in November 2015, and have seen an incredible 51% increase in organic traffic in the last 12 months.
#4: I Like Knitting is the home of what we believe to be the first-ever web magazine, which is completely responsive for all devices. ILikeKnitting.com, which launched December 2014 is still growing rapidly, and saw a 45% increase in organic traffic in the last 12 months.
#5: University Health News is a leading resource of research-backed health information from leading medical schools, hospitals and health centers. Their content is written by doctors, health writers and medical editors. Their free Portal, which launched on our Haven CXMS in May 2016 saw a 35% increase in organic traffic over the last 12 months.
#6: Investing News Network is an investing news publisher, creating daily investing advice for investors in the resource, tech, and life science sectors. Their Portal INN Daily launched in July 2015 and they've seen a 34% increase in organic traffic in the last 12 months.
#7: Cabot Wealth Network is one of the oldest and most respected independently-owned financial advisory services in the U.S. Cabot sells several premium advisory services, including specialized investment newsletters and memberships, and registrations for an annual Wealth Summit. They launched their Mequoda System back in November 2016, and saw a 32% increase in organic traffic in the last 12 months.
#8: The American Ceramic Society is a 100+ year-old organization that serves the ceramic and pottery world. Their Portal, Ceramic Arts Network only just relaunched on Mequoda's Haven CXMS in August 2017, however they did see a 29% increase year over year. We believe this growth was based on a recommitment to the Mequoda Method in the months prior to launch, and updating to current Mequoda audience development best practices. We are eager and waiting with bated breath to see how this recommitment pairs with their new Portal over the next twelve months.
#9: The Program on Negotiation at Harvard Law School, is dedicated to developing the theory and practice of negotiation and dispute resolution and includes faculty, students, and staff from Harvard University, Massachusetts Institute of Technology, and Tufts University. Their Portal, which launched on Haven CXMS back in 2009, offers an abundance of free content and free reports, plus lots of paid products including training materials and executive training programs that comprise the majority of their revenue. They saw a 28% increase in organic traffic in the last 12 months after a recent adoption of the Mequoda SEO Scorecard late last fall.
#10: Forester Media Network is a multiplatform publisher of resources and training for professionals engaged in infrastructure, engineering, and related environmental professions.  Their Haven CXMS system launched back in April 2015, and they are still watching their traffic grow. They saw a 23% increase in organic traffic in the last 12 months.
To learn more about boosting your organic traffic for little extra cost, download How to Increase Your Audience and Decrease Your Marketing Budget for FREE today.
---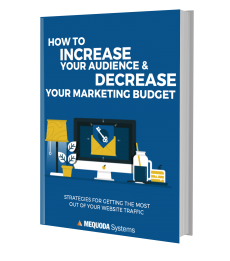 Discover how to get the most out of your website traffic and turn visitors into digital dollars.
How to Increase Your Audience and Decrease Your Marketing Budget is FREE to download and will show you how to use audience development to reduce costs and increase revenue. Download it today.
And if you want to talk more about everything you've read, and how to apply it to your own business, schedule a call to talk with Don and me.