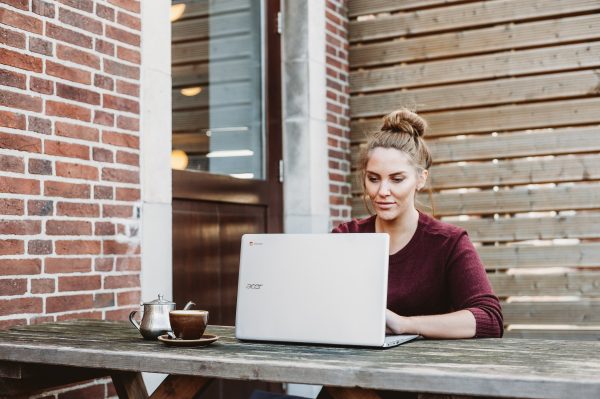 A web magazine library is an archive of your content going back many years, likely since the beginning. When done right, you can upsell a substantial number of would-be magazine subscribers to this higher-end, and higher-priced product that requires a relatively small amount of additional time, compared to the investment in creating the original content that's being leveraged. Typically, a web magazine comes packaged with a web library, so when someone subscribes to your web edition, they get monthly HTML issues, and access to everything published prior through the library.
Subscription marketers must relearn and rethink how they promote content in the age of the Internet. Instead of promoting the next 12 issues, you can promote back issues, special collections and categories of content that can span decades. This provides many options for launching a diverse marketing program. One empowering a content marketing frequency that would be unthinkable if you were only promoting the next 12 issues.
[text_ad]
When looking for mentor sites, there is no shortage of online magazines, but many are poorly done. A web magazine that's truly user-friendly follows three rules:
Offers scrollable HTML articles (not a PDF)

Issue-based (so you know if you're in the November issue or the December issue)
Table of contents, preferably staying with the reader on every page of the issue OR has some other way to make clear what issue they're in and how to easily visit other articles from the same magazine.
HTML articles are where most publishers miss the mark. For example, National Geographic really does a nice job in all of their digital realms, even in their current web magazine. However, their library is an exception. A Nat Geo Plus subscription includes access to their web magazine library, an archive of over 130 years of issues, over 1400 issues in total, since 1888. Unfortunately they're all flipbook-styled, not scrollable or easy to search and read.
Web magazines should be designed to be responsive, so they can be viewed on any device. It doesn't look like your print magazine, and it doesn't look like your tablet magazine, but it contains all the same content, and in order to remain linear and digested as an "issue," it follows the three rules above.
Below are eight web magazines and libraries that we think are doing a great job:
1. Food Gardening Magazine
You caught us, this one is ours. But we have to put it at the top of the list, because it's built using the best practices we love from every web magazine and library you'll see below. Food Gardening is a monthly magazine, available digitally only. Food Gardening has a metered paywall, allowing visitors to see three premium articles per month. After that, magazine issues and the archive are only available to subscribers.
Each issue in the web magazine library starts with a letter from the editor called the Gardener's Notebook, followed by Gardening with Amanda, which is a section of three feature articles on garden planning, garden crafts, and garden recipes, all with an associated how-to video. Finally, the magazine includes three informational articles that help gardeners grow a specific type of featured vegetable, fruit, or grain and which leads to in-depth, comprehensive collections on three that are featured that month.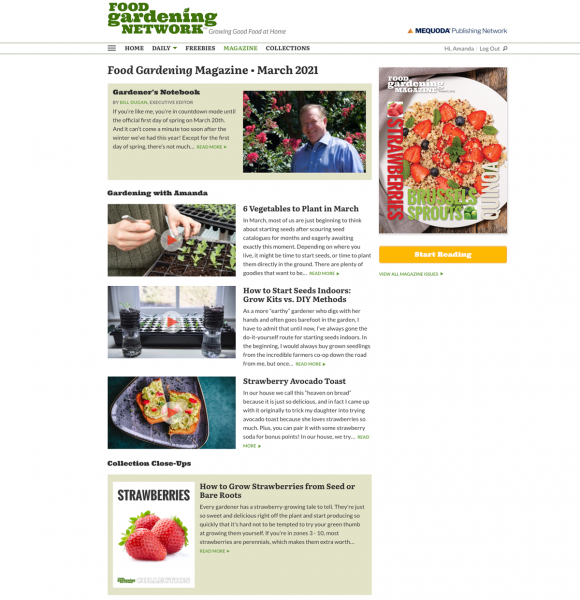 In the Gardening with Amanda feature article below, you can see that on the right-hand side you'll find a persistent table of contents that always lets you know which issue you're in and allows you to skip around to other articles in that issue. Additionally, at the top you'll see which issue you're in.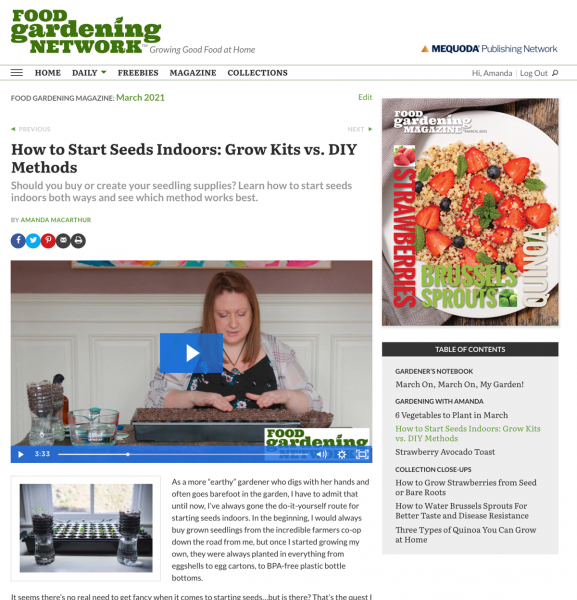 The Collections are a big value-add to this web magazine library. Three collections are featured subtly in each issue, but subscribers also get access to the full bounty of this incredibly comprehensive resource, which includes full handbooks on how to grow the most popular vegetables, fruits, and grains. Every month, three more are added to the web library.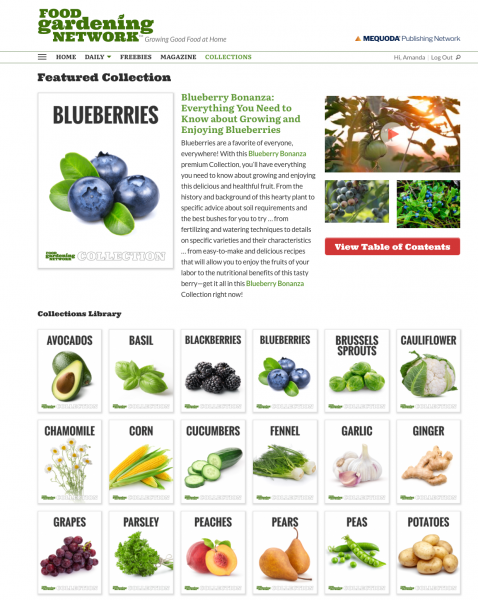 Next up for Food Gardening is a separate section of how-to videos and also cookbooks, which we hope will put us well on our way to creating a complete resource for food gardeners online.
2. I Like Crochet
I Like Crochet is what we believe to be the original web magazine, launched in 2014. Although we may be biased because we developed the web magazine with them and they are a partner of ours, they are also a highly user-friendly example with an easy to search and use archive. Considering their focus is on crochet patterns, offering an archive for subscribers amplifies the value of their  web magazine.
Their magazine library is accessed on the Internet through a web browser, meaning it's accessible on any device and any platform, without restrictions. It delivers access to all past articles and special curated collections, instantly available with just a click. All of the articles on ILikeCrochet.com are premium, but visitors can access three per month before they are asked to subscribe.
Articles within each issue of the library include an ever-present table of contents on the right-hand side below the issue cover so there is never any confusion as to what magazine you're in, or where you are. This is where most publishers fail, as their premium content blends into the free content and it makes it difficult for users to digest an "issue" on the web.
If you'd like to see other examples of best-practice web magazines we've built that use the same platform as I Like Crochet, check out Yankee Magazine, Your AAA. and RecipeLion. Even as you peruse the rest of this list I think you'll agree this is the most user-friendly web magazine and library you'll find online.
3. Time
Time has the highest domain authority of a web magazine, and we've featured it several times here on the blog as a best practice example. Visually, the web magazine looks as close to a magazine as it gets without being a flipbook. The table of contents remains on the left, while the article appears on the right. You are always aware that you're inside of an issue, and can easily jump from article to article, where the TOC remains on the left with the issue number at the top, and the article you choose appears beside it.
Time has tested many revenue models with their web magazine. At first, only specific articles featured a lock symbol, only available to premium subscribers. Then, they put all content behind the wall. Currently, they seem to be relying on ads, as content in every issue, even the current one, is available for free. This isn't a practice we recommend, we'd suggest at least a metered paywall for new content in the Time web magazine, but we do still like the design of it, as it feels very magazine-like.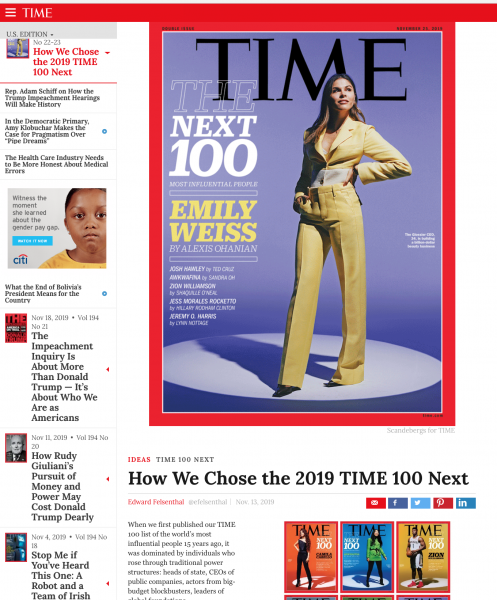 Time's content library is called the TIME Vault, where you get access to over 90 years of issues, including photos, ads and stories. The library archive is formatted differently than the web magazine, but you can search articles, and even covers going back to 1923. Below is an example from April 1948, you can see the cover, and the table of contents below it.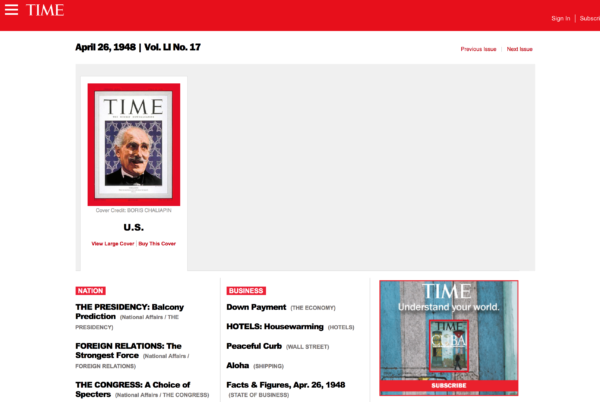 Each title opens to a new page with a scrollable article on it, which may be broken up into different pages, navigated by "next page" buttons. The library is comprehensive, easy to search, and easy to read.
4. Scientific American
Scientific American offers a massive 150,000-article archive, dating back to the magazine's first issue in August 1845. An archive like that is rare – Scientific American is the nation's oldest continuously published monthly magazine. Only through their all-access and print/full-access bundle do you get access to the full archive, and the ticket costs are $199 and $99 per year. Access to the web magazine and the prior four years' worth of archived issues is just $39.99. Each issue can be downloaded, or read in HTML, starting with an easy to understand Table of Contents which links to scrollable HTML articles.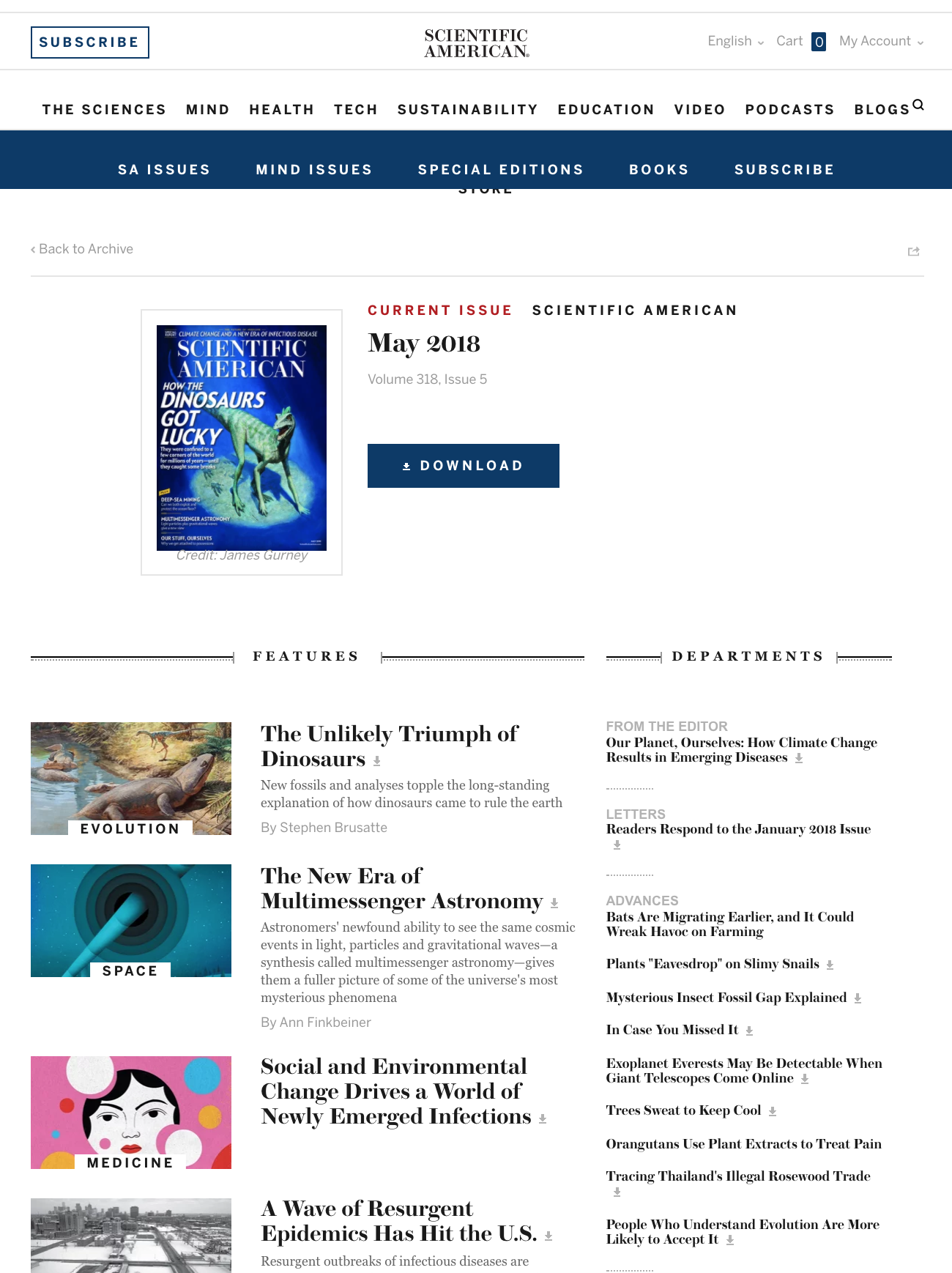 The archive is searchable by month and date and features the covers of the magazines as a way to select an issue. The newest issues are completely digitized and in HTML, and they are chipping away at having completely HTML versions of every article in the original issues, but offer a scrollable HTML table of contents for each.
5. Harvard Business Review
Harvard Business Review has an engaging library with functionality that allows you to peruse magazine issues and articles in their archive, and save articles you like to your personal library using a red folder icon.
The archive includes everything going back to their 1956 November/December issue. The older issues like this one have a table of contents that only includes the feature article of that particular issue, but the newest magazine issues have complete tables of contents with all featured content.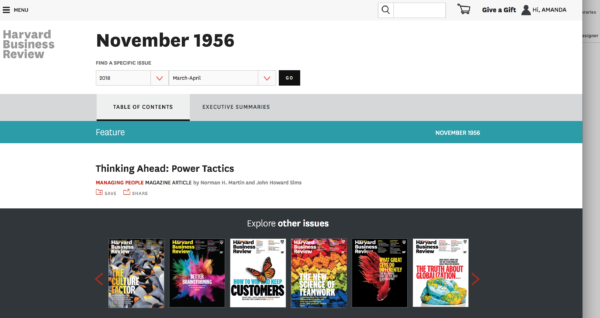 This is one of the most attractive magazine libraries we've perused and love that HBR has taken the extra step to help customize the subscriber experience with a personal library of clippings.
6. The Atlantic
The Atlantic has another robust archive, dating back to 1857, and we like that they're transparent about what's been digitized in their archive. For example, from September 1995 to the present, you'll find all the articles in each issue, excluding articles where online rights are held exclusively by the authors. Older issues, like those from 1857 only include the feature articles.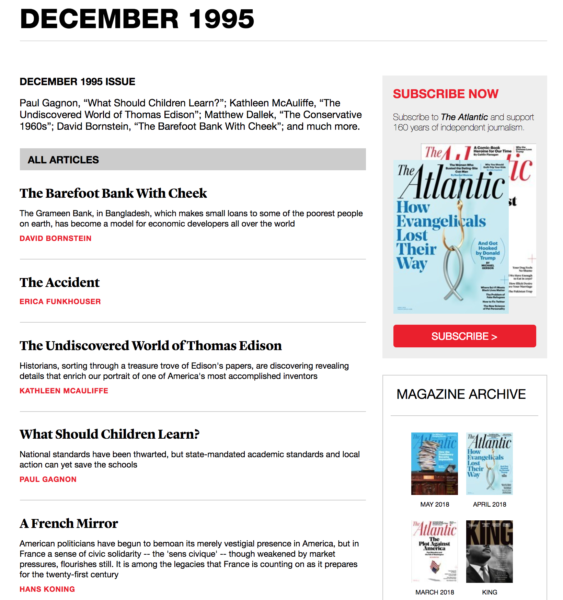 Articles in the web magazine and archive are bold and attractive, featuring a large main image, and always citing the original issue at the top of the page, which makes it easy to navigate.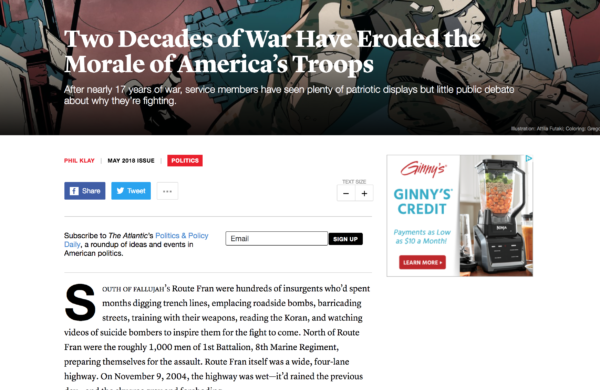 7. Biblical Archaeology Review
There's nothing quite as robust, though, as the Biblical Archaeology Society library. For $29.97 per year, subscribers to their BAS Library can search over 7,000 articles from 40 years of Biblical Archaeology Review (1975 to present), 20 years of Bible Review (1985 to 2005 complete) and 8 years of Archaeology Odyssey (1998 to 2006 complete).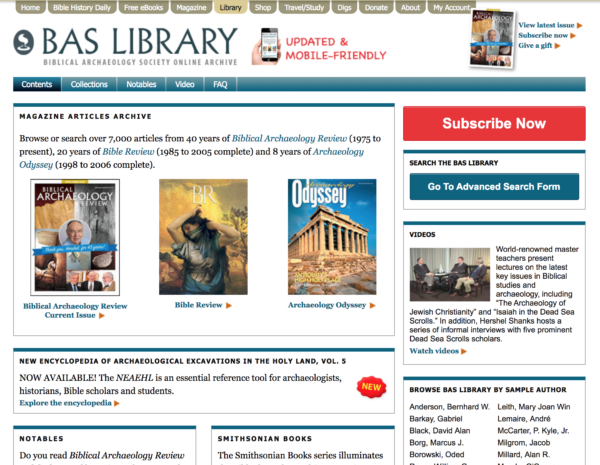 BAS does a great job at promoting their library by creating "special collections"  where they break up their best content into individual pages that summarize some of their best premium content in the library. These collections are excellent navigational tools within the library and double as marketing tools where they can re-use the copy in email promotions for the content.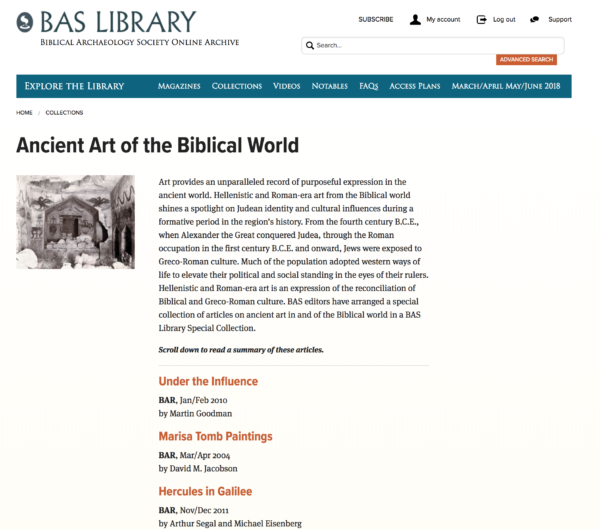 Articles within the library feature the magazine cover to the left, and a clickable breadcrumb link at the top displaying the issue month and year which brings users back to the table of contents.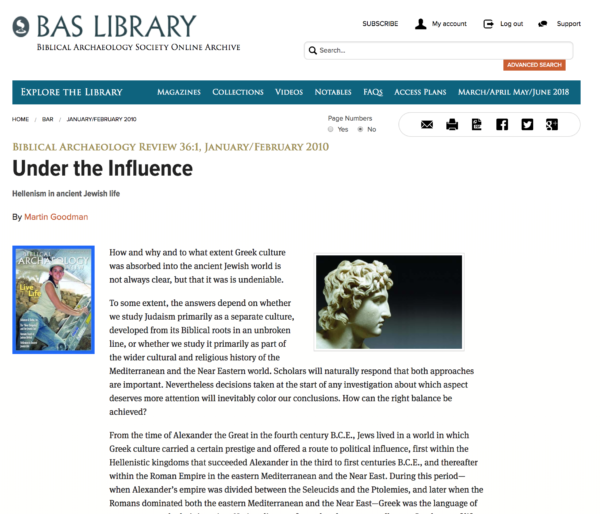 The library itself is indexed by year, so you can choose which year you're looking for and it will display all the covers and all the featured articles below it in each issue.
The BAS Library is a comprehensive multi-publication library that stands out for the depth of its archive, ease of reading, and also has a library of videos paired with it that is accessible to any library subscriber.
8. Fine Woodworking
Wrapping up the list, Fine Woodworking follows a lot of our best practices when it comes to a web magazine and library, and can even be compared to I Like Crochet above in design in many ways.
Subscribers to Fine Woodworking can either subscribe to get print issues for $34.95 or choose an all-access membership for $99 which includes digitized HTML issues going back to 1975. The articles in the archive feature 500 words of content before asking the user to download the article. Membership also includes a library of videos, over 700 project plans and a reference of downloadable books.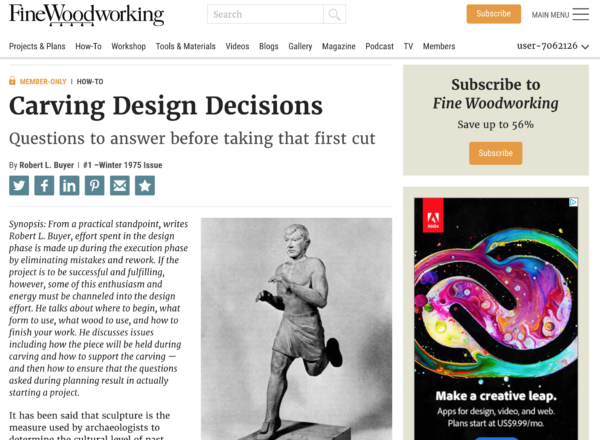 New issues of their web magazine have a familiar interface with the table of contents consistently displayed in the right-rail, making it easy for the user to peruse the issue how they please. The Fine Woodworking library also includes videos, over 700 project plans and a reference of downloadable books.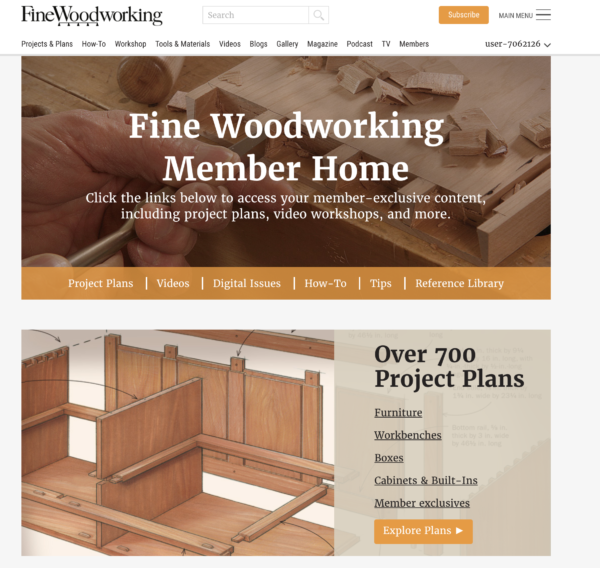 Having a web library and collections allows you to dramatically increase your promotional frequency which leads to even higher online revenues. When building your library consider how you can make it a true resource. Read more about all the good reasons why it's worth developing and selling a web library subscription.