How the iPad is Saving the Publishing Industry
By— Mary Van Doren • 04/14/2013
And Why It Could Save You, Too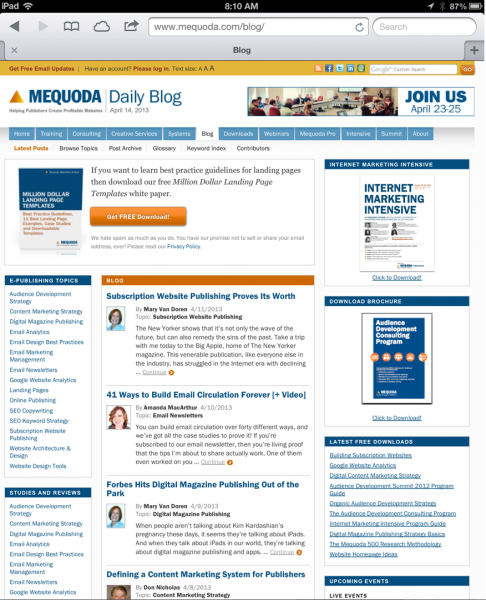 Mainz, Germany, 1439: Johannes Gutenberg, a goldsmith, invents movable type technology. This launches the information age, and the use of the printing press all over Europe even leads to a name for the new information media, the press.
Germany, 1663: The Western world's first magazine, Edifying Monthly Discussions, is published. The magazine industry is born.
It took 224 years for an entrepreneur to harness the printing press for generating what we now know as magazines, and create an entire new industry.
London, England, June 20, 1981: The Economist mentions the World Wide Web in an article about CERN (European Organization for Nuclear Research).
United States, Aug. 12, 1981: IBM releases its first personal computer.
United States, Oct. 27, 1994: The first commercial magazine website, HotWired, is launched by Wired magazine. The digital magazine publishing industry is born.
It took 13 years for the magazine industry to jump on the computer bandwagon.
California, United States, April 3, 2010: Apple releases the revolutionary new iPad.
United States, May 26, 2010: Wired magazine's iPad edition goes live and sells 24,000 copies in the first 24 hours. Condé Nast is only slightly behind Wired. The digital magazine publishing industry is born again.
It took 53 days for the magazine industry to begin leveraging the iPad.
United States, Jan. 17, 2013: Forrester announces that in the three years since the iPad was released, 200 million tablets have been sold worldwide. By contrast, they note, it took the laptop 10 years to sell 27 million units. And today the laptop is being abandoned for tablets.
United States, April 9, 2013: The iPad newsstand includes 8,419 magazine apps. Amazon, creator of the Kindle tablet, has 609 magazine apps.
It took 3 years for the magazine industry to make digital magazine apps as readily available as any other product on the market today.
Anyone who doubts that the iPad is the most important media-related technological innovation in all of human history should re-read those dates. If speed of adoption indicates affection, then consumers and the magazine industry are truly, madly, deeply in love with tablets.
And the exciting thing for those of us who live and breathe magazines is that we get to live through this incredible era!
The other exciting, but also sobering, thought is that the iPad has clearly become the savior of our industry, once on the verge of extinction. The iPad and its competitor tablets are perfect for lean-back consumption of content, in a way that computers never could be – who wants to sit at a desk to relax with their favorite magazine? – and consumers are increasingly demanding rich digital content that print obviously cannot deliver. Finally, tablets are more portable than laptops, but have a large enough screen to make reading content comfortable.
Tablets, led by the iPad, are hotter in the marketplace than anyone ever imagined. Forrester has projected that 112.5 million US adults, or 34.3%, will own a tablet by 2016. In Europe, that number is 105.7 million, or 30.4%. And that's small potatoes: Forrester also believes that the Asian Pacific region is growing in tablet ownership so fast that it will be the home of 34% of all tablet owners worldwide by 2017.
Caution: iPad ownership in Asia, Eastern Europe and South America is currently lagging behind to the extent that magazines trying to reach the digital audience there may have to rely on iPhones for the time being. And reading magazines on iPhones is problematic, as I'll be blogging about in due time.
At the same time, the Alliance for Audited Media reported in February that the number of US magazines sold on tablets and other mobile platforms in the second half of 2012 more than doubled from the same period in 2011. There are 289 titles with digital editions audited by AAM, which saw 7.9 million sales, up from 3.2 million in the same period a year earlier.
Put tights and a cape on the tablet, it's a superhero!
Consumers quicker to adapt than digital publishing industry itself
Oddly, many of the publishers I talk to regularly still haven't recognized the significance of the tablet to their own survival. Today's tablets are not the boring black-and-white experience of the early Kindle. They deliver a user-friendly, saturated four-color publishing platform.
The iPad has taken off well beyond Apple's expectations, and I suspect that Steve Jobs – who initially considered content consumption a minor "hobby" use for the Apple tablet – will go down in history not for the Mac or even the iPhone, but for the iPad.
For awhile there, it was touch and go for digital magazine publishing. Some of us feared that the industry would collapse before the right technology came along. But today I'm thrilled that both the reading public and the digital publishing industry have so quickly adopted the tablet as the lifeline it is today.
Indeed, the data starting to flow indicates that consumers might even love reading magazines on tablets more than they do in print. As reported in FOLIO:, Time Inc. has been researching its subscribers since it launched its app, and those readers say they return to view the same issue close to five times, and spend about 40 minutes with each tablet edition, comparable to the average for print.
Better still, reports Condé Nast, their tablet subscribers (including those who are tablet-plus-print subscribers) are renewing their subscriptions at a higher rate than print-only subscribers – and they're also paying higher prices for their renewal subscriptions.
Certainly, some publishers are farther along than others in riding the tablet train. Generally speaking, FOLIO: notes in its recent Digital Magazines 2013, the larger the company, the faster and farther the tablet adoption has come. The recent MPA Swipe 2.0 conference speaker list was filled with Hearst, Condé Nast, and other large-circulation publishers discussing their latest app launches, or even relaunches.
But that doesn't mean smaller niche publishers shouldn't get in on the action. While Forbes magazine has that absolutely awesome, technology-rich app that I wrote about last week, let's not forget the comparatively tiny Biblical Archaeology Review, whose digital magazine publishing strategy Don wrote about recently.
BAR is the publication of a nonprofit organization, and has roughly 50,000 unique visitors monthly. But its digital edition drove 6.4% of the organization's revenues in 2012, even though digital wasn't launched until October of that year, and that rate doubled in the first two months of this year.
Digital magazine publishing and you
Obviously, Mequoda urges every publisher reading this blog to get going with a digital edition, whether you're BAR or Forbes, or something in between. The monetization of your content will go through the roof for a plethora of reasons.
First, as FOLIO: notes, tablet editions open you up to younger and more affluent readers. Usually you can get one or the other in your audience, but not both: This is the best of both worlds. In addition, with the cost of printing and mailing print issues eliminated, your content can be "delivered" and read all over the world.
Then there's advertising. You probably already know that advertisers are fleeing print for digital in droves, but did you know that you can charge more for those digital ads? Rich content enhanced with extra photos, slideshows, videos and audio content such as I recently described in Forbes and The New Yorker is worth more to readers, keeps them engaged longer, and of course, builds a bigger audience base. Not only that, but many platforms allow for interactive buying from within an ad.
At Wired, 2012 saw digital ad revenues hit 50% of its total, and The Atlantic hit 59%. Some observers are cautious, but with the rapid and enthusiastic adoption of mobile magazine reading by consumers, we're still optimistic here at Mequoda.
There are dozens of companies out there looking for your business in translating your print product to a mobile edition. BAR, our modest-sized client, partnered with BlueToad, and Forbes went with MAZ for its fancier version.
Of course, if you can do it in-house, the Adobe Digital Publishing Suite is the industry standard. And another technology that fascinates us here at Mequoda is FlipBoard. Intended originally as a platform for social sharing of consumers' favorite content, it's simple to use, and we think it has potential for very small publishers to use for dipping their toes in the waters of digital magazine publishing.
So don't wait. If you haven't jumped into the pool yet, take the leap! We'd love to hear about your success stories, challenges, mistakes made and problems solved in going mobile. And remember, being here for this incredible moment in media and technology history is rewarding all by itself, so let's all enjoy the ride.
Posted in Digital Magazine Publishing