Leverage the bells and whistles of modern email tools to boost your magazine marketing and advertising efforts
"It's more effective than direct mail and as effective as telephone – and so much less expensive." That's a quote from ClickZ's latest report, Email and the Age of First-Person Marketing. While marketers were saying just three years ago that social would consume email, it's proven to become even more powerful and celebrated during that time, especially in magazine marketing. A study by the Direct Marketing Association shows that "email campaigns conducted with house lists achieved an ROI of 30% to 32%, compared with 15% to 17% from social media, and 18% to 20% for direct mail using house lists."
I'm always amazed by how many people still seem to think of email as if it's postal direct mail, instead of a publishing platform. That's because most of the world thinks about email marketing instead of email publishing. As effective as email is as a marketing channel, we think it's more effective as a publishing and marketing channel because doing both allows you to increase your publishing frequency.
Learn the secrets behind today's most rapidly growing niche publishers. Download a FREE copy of How to Develop a Multiplatform Magazine Business Plan, and discover how large your magazine business could become and how much of an investment will be required to build your business to maturity.
If you want to know how much revenue you can earn from an audience, it all comes down to how many people you can reach and how often you talk to them. If you use email exclusively for marketing, like you would direct mail, it really limits how often you can reach out. But if you use it for editorial content, you can reach out daily and your readers will be engaged. It's all part of brand-building, because you're sending high-quality content and teaching them that opening an email from you is a good thing they'll enjoy.
Send more email and make more money from products and advertisers.
One big monetary benefit of being able to send more emails, is added space for your advertisers.
One of our clients, Yankee Magazine, follows our best practice of layering text ads in between editorial features in their daily email newsletters.
In the past, they would send large space ads out in their emails on behalf of their sponsors as a sole effort, and it was typically image-based, so subscribers would receive an email with a large clickable image. But with our help, they redeveloped their email newsletter based on our email stack design and how have space for 7 text ads in between featured content. Here's an example:
.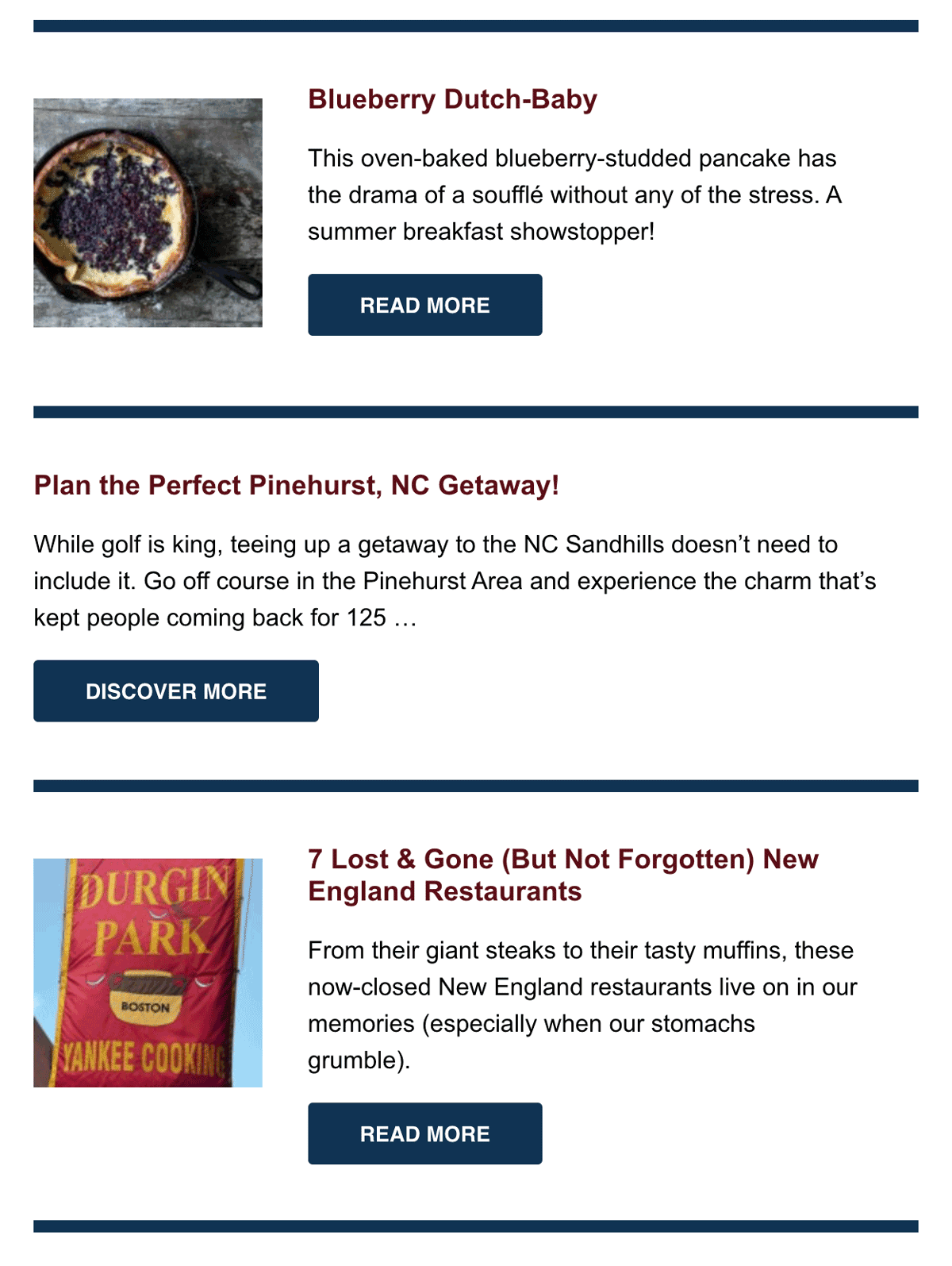 .
Since they've done such a great job at building their email list and have a consistent publishing frequency, they're begun to sell these ad slots out. The ads link back to the sponsor websites, but not all ads are used for sponsors. They also use these slots to promote their magazine and freebies, mingled with their sponsor's ads.
Part of the success goes back to the design, which is single column and responsive. According to ClickZ's study, Tim Clark, Vice President of Analytics and Insights at NASCAR says, "The world is no longer going mobile; the world is mobile. I think that responsive templates have been incredible for the [email] space. To have the ability to design a single template that will render across all devices — that's great for marketers, and great for the user."
Email as a magazine marketing platform has even more room to grow.
Segmentation and automation are the hottest trends in email right now and may be the reason for its resurgence. Segmentation has always been a feature of most professional email platforms, but we're seeing more publishers use it for connecting the right products with the right customers, and giving subscribers options on how frequently they wish to receive email so that they stay subscribed longer.
ClickZ's report refers to George DeFlora, Marketing Analyst at BlindsToGo, who uses segmentation based on where a customer is within the funnel. "If they're higher up in the funnel, ordering samples and catalogues for example, we would send them more informational emails. If they're closer to purchase, we're able to send them more promotional emails right away, to try and get them into the store or online."
So what makes a great email platform to take advantage of all these bells and whistles?
Adestra's Consumer Adoption and Behavior Study showed that 83.4% of respondents prefer to communicate through email  with a business. Only 14.2% said they prefer social media. So how can you hone in more on email? It starts with using the right tools.
ClickZ's report notes that "a true best-of-breed email service provider needs features such as detailed, granular reporting; responsive templates that make it easy to build mobile-adapted messages; integration with databases for segmentation, automation and triggering; and of course, a responsive customer service team in case something goes wrong."
We concur, and our tier 1 email management system is fully integrated with our audience database and content management system, allowing you to spend less time making more money.
Want to learn more about it? Contact us.