Starting an online magazine business brings one platform that offers advertisers the visibility and tracking accountability they desire
When publishers began diving in to tablet applications from print, they might have abandoned the web too quickly.
In fact, at Mequoda we're fond of saying, "your magazine is not a website, and your website is not your magazine." And in many ways, we still believe that. But we, along with the rest of the publishing world thought for some time that consumers would never read magazines on the web. So we've spent years building magazine portals on the web, with free content and a hyperlinked, topic-based experience.
[text_ad]
For some time, we also thought people would only spend a few minutes reading content on a computer. Conventional wisdom also held that readers would never do anything other than "snack" reading on smartphones, either.
But after 10 years with the Internet and five years with tablets, our data began showing that people are reading long-form content not just on tablets, but on smartphones. And that blew all our assumptions out of the water!
Starting an online magazine business
In 2014 we launched two online magazines for Prime Publishing – I Like Crochet and I Like Knitting, complete with page-by-page navigation and a linear, magazine reading experience. We also launched them as Apple app editions.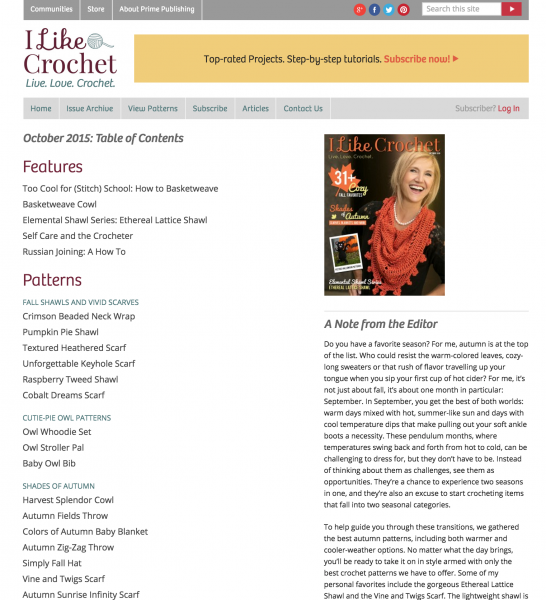 Another online magazine we launched last year was for Metro Parent magazine, a free, sponsor-supported publication for parents in the greater Detroit and southeast Michigan areas.  MetroParent.com is the Portal, and their magazine lives in print, as well as through an online magazine and a tablet edition.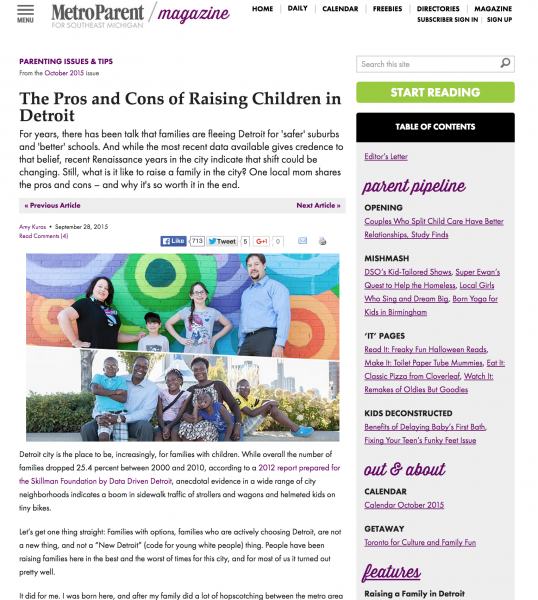 Designing an online magazine
Online magazines are read online. They aren't formatted solely for a tablet and they can't be bought in an app store. They are available through a magazine subscription website, where the user can view an issue of a magazine—one that is linear and periodic, has pages and a regular frequency, and can be viewed in responsive HTML on any desktop or mobile device at any time. There's nothing to download.
In all of the online magazines above, a reader finds the issue date and a table of contents, and is invited to enjoy a linear "discovery" experience like any other magazine, in which there is a table of contents and she can navigate page by page (although without the page turning sound and graphics that make the flipbook magazines so user unfriendly), instead of by topic, to find out what's next.
It acts very much like a hybrid of a website and a magazine in that the user experience is familiar like a print magazine, but since it's online, the publisher can add interactive elements like they can on the web, including video, advertising that can be tracked, font sizes that can be increased, and words that can be scrolled rather than pinched and zoomed. The basic elements of an online magazine include:
A user and non-user interface. The non-user interface prompts the user to subscribe.
A table of contents that's consistent throughout the magazine, usually in view through a sidebar so that the reader can easily switch to new articles.
An archive of old editions that can be accessed easily from any article.
Making money from an online magazine
Publishers of online magazines usually generate their revenue through subscribers and may also take advertisements.
If you're starting an online magazine business, we don't deny that the digital newsstands are valuable marketplaces that can account for 20 percent of your income from the magazine. But what's nice about the online magazine is that you're not giving up 30% or more to Apple, Google or Amazon.
The luxury that an online magazine affords, is that pages in the magazine can be indexed by Google and found in search engines. So even if you only offer an excerpt and prompt the visitor to subscribe when they arrive, you're still driving trafffic to paywalled content. This can only increase your subscriber revenue, as each page of your magazine is a landing page. When your articles are tucked inside of a digital magazine app, there's nothing to be indexed or found online.
You can also offer the same benefit to your sponsors. In fact, Metro Parent is one publisher that doesn't hide their sponsored content behind the paywall. That way, their advertisers can be seen not only by their online magazine subscribers, but also found by the rest of the web, and promoted in social media.
If you're starting an online magazine business, we recommend selling sponsorship packages. Most online magazines also offer digital PDFs that users can download, and that offer the same ad space opportunities as print. We encourage you to include native ads, like Metro Parent that are visible from inside your online magazine, but also through search.
Online magazines offer tremendous flexibility when it comes to selling sponsorships that aren't afforded by print or even tablet magazines. The fact that the content lives online gives it great strength when selling.
Starting an online magazine business is a lot like starting a print magazine business, except you're spending cash on design and development rather than design and distribution. Have you started an online magazine business? What have you learned?