Financial success for online publishers begins with embracing the right content and revenue model
In 2010, anyone with editorial content, or the capacity to create it, can become an online publisher.
If you're a blogger, with a passion for any niched, special-interest topic, you might be able to get paid for writing about it using an online publishing business model.
If you're the author of a printed book, or a successful public speaker, you can launch a one-person online publishing company.
If you're a traditional print newsletter, magazine or book publisher who wants to begin an online publisher, you can quickly and easily create a separate profit center for online publishing.
A feasibility study, business plan and business development program can help your online publishing enterprise get started right. But regardless of the platform on which you launch your online publishing enterprise, and no matter the business model you eventually embrace, you must begin by making a fundamental decision.
Where will the revenue come from? Or more precisely:
How do you expect to make money online?
Will your online publishing business be user-driven?  Or will it be sponsor-driven?  Or will it be a hybrid combination of both?
In other words, who will support access to the content on your website and email newsletter? A paying audience or advertising sponsors?
If you chose the user-driven online publishing model, how will you get users to pay you (and how will you collect the money)?
On the Mequoda Digital Media Pyramid, the online publisher's periodical website (or blog) and email newsletter (which is tied lockstep to the blog), are both free. They are the marketing arm of the online publishing enterprise, designed to build an audience.
So you won't derive any revenue at those levels from users.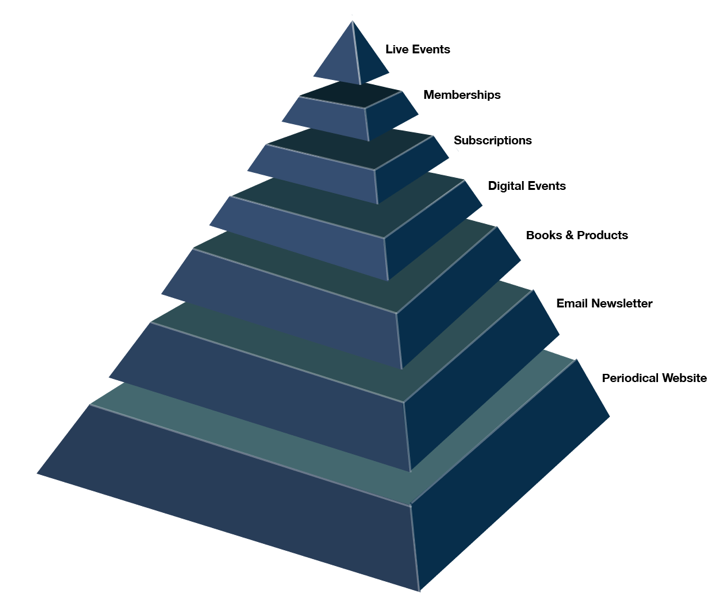 The revenue-producing levels are further up the pyramid.
Learn more about building a user-driven (product), sponsor-driven (ads) or hybrid online publishing model when you download Digital Media Strategy 2010: The Only 3 Ways to Make Money Online Now for free right now.
By the way, the 2009 Mequoda Hotlist is our annual listing of the fastest growing Mequoda System Publishers in America.  The multi-media publishers in the Mequoda Hotlist are used by the Mequoda Research Team to maintain the Mequoda System Best Practices for Successful Online Publishing & Marketing and are the base line for virtually all the content produced for Mequoda Daily, Mequoda Webinars, Mequoda Pro Seminars on Demand and all live Mequoda Summits and Workshops.