During the last 12 months, how much have you spent on digital magazines, subscriptions, and single copies?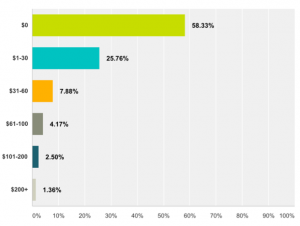 Throughout the week, we've released stats from our 2015 Digital Magazine Market Study. One stat covered print readership, and the other covered readership of digital magazines.
We're proud of cultivating these publishing stats after months of research, and we're happy to share them with you. But they center on consumption. Today's stat centers on conversion. Turning readers into revenue. They give you a glimpse into how best practices – exemplified in the Mequoda Method – can pay off.
First, in case you missed it yesterday, 36.8% of American adults have read an average of 2.37 digital magazine issues in the last 30 days. This means that 77 million adults have read an average of 184 million digital magazine issues.
We wanted to discover was whether these digital magazine readers had paid for their digital magazine content.
We found that on average, over the last 12 months, there has been a spend from US adults on digital magazine subscriptions and single copy issues of $17.20, bringing total spending on digital magazines to more than $1.3 billion.
[text_ad]
Publishers are responding with a renewed focus on paywalls for online content, and are finding favorable results by and large. One of the most intriguing approaches was the one The New Yorker undertook in 2014. For months over the summer, it opened the floodgates on its content, before capping it with a metered paywall in November. What happened? Well, traffic and time spent increased during the free-for-all, as expected, but not as much as one might think.
No, the real catalyst for explosive growth came when the wall went up! Readers wanted to pay for a digital magazine's content.
"It wasn't a massive increase in readers between July and November. There was an increase, but there wasn't a massive increase," NewYorker.com editor Nicholas Thompson told Nieman Lab in March of 2015. "What's weird is we launched the paywall, and then there was a massive increase."
In the meantime, "all-you-can-read" outfits like Magzter have jumped on consumers' propensity for spending on good content, particularly good niche content. Magzter Gold debuted in January.
At Mequoda, we're buying, too … buying in big on subscription strategies. Of course, we have been for years now. Check out all of our up-to-the-minute coverage on subscription website publishing here!
And download our free 2015 Digital Magazine Market Study here!