How important are each of the following attributes of digital magazines to you?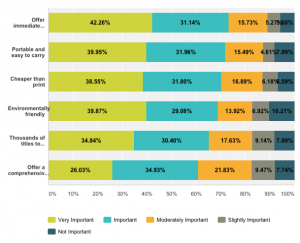 That's the question we asked 3,642 U.S adults with Internet access earlier this year, looking to learn more about consumption of digital magazines – and, more to the point, the spending habits and preferences of readers – in the time since our inaugural study in 2014 (when we polled 1,136 people).
We presented multiple options (see the graphic at left), including: "offer immediately delivery," "portable and easy to carry," "cheaper than print," "environmentally friendly," and "thousands of titles to choose from."
Forty two percent of American adults who read digital magazines say immediate delivery is the most important digital magazine attribute, followed closely by portable and easy to carry, cheaper than print, and environmentally friendly.
We believe that good mobile apps for digital magazines exemplify these attributes. Mobile app users want fast, inexpensive, quality content.
Publishers are tracking this segment of consumer demand closely, especially as smartphone, tablet, and phablet sales, taken together, are soaring, and as Apple phases out Newsstand while "Netflix-for-magazines" services proliferate.
Earlier this year, Fast Company partnered with Adobe to launch its revamped app built on Adobe's new DPS. But the means hardly matter here, although of course the new Adobe platform is impressive as always. No, it's the motive that's of interest in the context of the aforementioned findings. Fast Company and Adobe aimed to create a more agile app, one that could keep up with the need for immediacy on the part of consumers.
"Why not offer those users a unified app-based experience that lives on both iPad and iPhone? The new app does not sit within Apple's Newsstand, so the content can be a click or two closer for users. And the app and all its content is being offered free to consumers at launch," wrote Editor Robert Safian in Fast Company's February 24 announcement.
"In our beta testing – to a universe of 700 volunteers – the feedback on the experience and the content was strongly positive. As the app is opened up to wider users, we'll learn more. We believe this app provides a step forward for our users, a better experience for iPhone and iPad users than they can get elsewhere. We also know that this is just the beginning, that the relationship between apps and mobile sites is still evolving, that we need to provide better tools for those on Android and other non-iOS devices, that even our fresh-from-the-gate app needs additional features that aren't feasible on Adobe's platform yet, but will be in the months ahead."
The app's news feeds are updated relentlessly, keeping content fresh and fast. But this immediate delivery capability is just one example, one interpretation, of what consumers want and what digital magazines are capable of. We must seize mobile-first opportunities like this one, strengthening our brands with a flexible, immersive, and reader-friendly experience. It can be done!
Looking for "immediate delivery" of more data? Download our free 2015 Digital Magazine Market Study today!