Profitable combination of direct marketing, fulfillment, advertising and content expertise hits one out of the park
Some of you might be familiar with our favorite publisher, Rose Harper. Of course Rose isn't a real publisher – she's someone we invented as the embodiment of a typical publisher who we use as an example in teaching our Digital Publishing & Marketing Intensive.
We recently had the chance to do for a real-life publisher exactly what we've done for Rose: Take the quintessential legacy publisher and transition the company into full out multiplatform publishing, complete with portal, free email newsletter, and free reports to help build an email list.
That publisher is Sovereign / Homestead Publishing, led by Founder & CEO Mark Hintz, Founder & Editorial Director/Chief Content Officer Carl Gnam, and Vice President Diane Hintz. The team had built plenty of print magazines in their long publishing history, but they needed help transitioning to multiplatform publishing. So Carl and Mark attended a Mequoda Intensive and learned all about Rose's success, and earlier this year, Warfare History Network was born.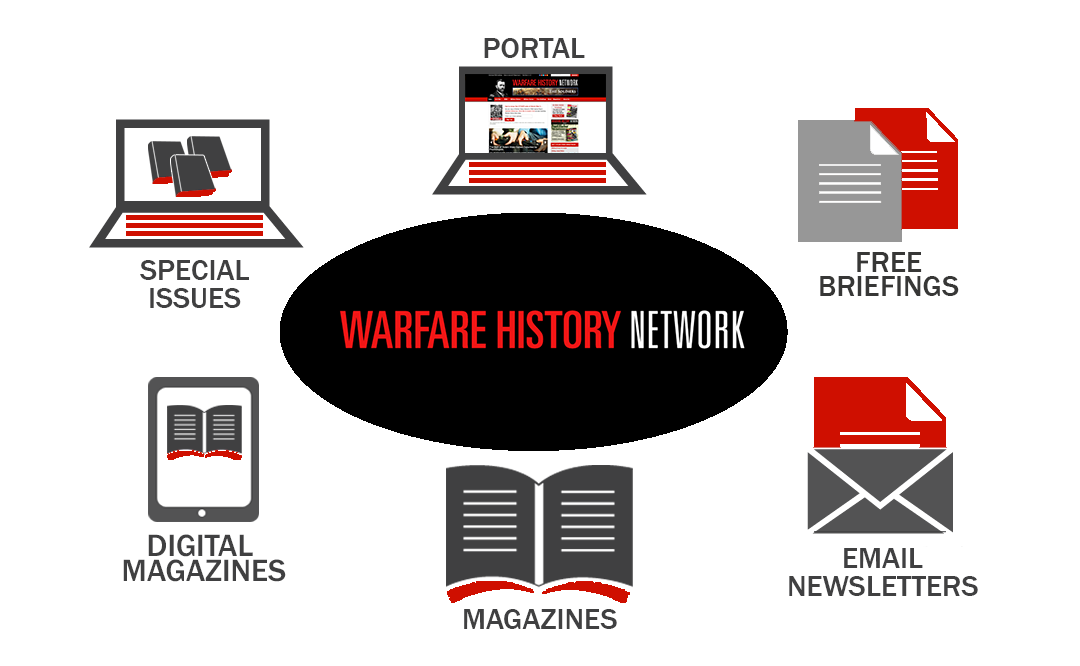 Like Rose, Sovereign made this transition from a position of strength. The company's principles had solid publishing experience, seven magazines and a healthy bottom line. "Our magazines serve niche enthusiast consumer markets, so we've fared the hardships of the publishing industry better than most," says Hintz.
Thus, unlike many publishers, they weren't moving to the Internet out of fear or desperation, but from an informed belief that business could be even better by becoming a real multiplatform publisher.
"Because we're privately owned, we want the company to be as healthy five years from now as it is today. Although we feel the traditional magazine distribution markets will still be around in the next decade – have you looked at airport newsstands recently – packed with product! – we feel it's prudent to develop major new distribution channels when it has been proven to us that they are viable.
"Applying the Mequoda Method to our niche products, and leveraging our brands to start a large, viable online community of enthusiasts made tremendous business sense to us. So, we made the decision to think long-term, and make what for us is a major investment, and alter our business model. It's very exciting."
Sovereign arrived at our doorstep with seven publications on various subjects:
WWII History
Military Heritage
Civil War Quarterly
WWII Quarterly
Log Cabin Homes
Otaku USA
SciFi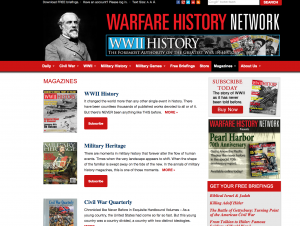 Because four of their seven products are military-related, the decision was made to create a single portal for those products, rather than separate portals for each warfare product or for the other non-warfare products. This made the launch more complicated than most, but just as much fun because of the added challenge.
In addition, in a potentially profitable adjacency move, the new Military History Network includes a channel, warfare gaming, for which the company has no premium products.
This team is remarkably well positioned for success as multiplatform publishers. Mark is an expert direct marketer – he is also the founder of Publishers Services Associates, a fulfillment operation – and Carl is an esteemed expert in the warfare history content.
"Carl is a professional editor through and through – we've never found a CCO with his head on any straighter," says Mequoda CEO Don Nicholas. "We love how he prioritizes all his affinity and premium content. He and James (Hart, the newly hired online editor) work brilliantly together in creating and recycling content for every page of the portal."
James was hired early on and has proved to be a top Mequoda operator, having attended the Intensive for training and using his strong content and SEO background to come up to speed fast, producing a huge amount of content for launch in just a short time, including numerous free reports that James is prolific in producing.
The new portal has also meant new pricing. Per Mequoda Best Practices, the magazines are priced the same for tablet and print editions, and the combo package of the two is priced at just $5 more to drive more orders to the higher price point, and more orders overall. This was a new experience even for these experienced publishers.
"We haven't used that pricing strategy before. Up until now, we had marketed each of our magazines separately, and because they only had one format (print), we didn't offer our subscribers any type of upsell," explains Hintz.
"We've started using the decoy pricing strategy with a good deal of success. Early results show a majority of our subscribers will purchase a combination print and digital subscription for a small upcharge over just a print or just a digital."
That, of course, is the desired outcome of using decoy pricing. With more and more data coming in showing that consumers still love holding a magazine in their hands, but also love having all their magazines handily stored on a tablet, this option checks off both boxes, while generating more profits for publishers. We call that a win-win at Mequoda!
There are other benefits from having a Mequoda Method portal, complete with blog and daily newsletter, in play for legacy publishers. One is frequency, which is especially important for Sovereign's bimonthly publications. Hintz says, "We feel that the portal has brought an immediacy to our brands that we didn't have before."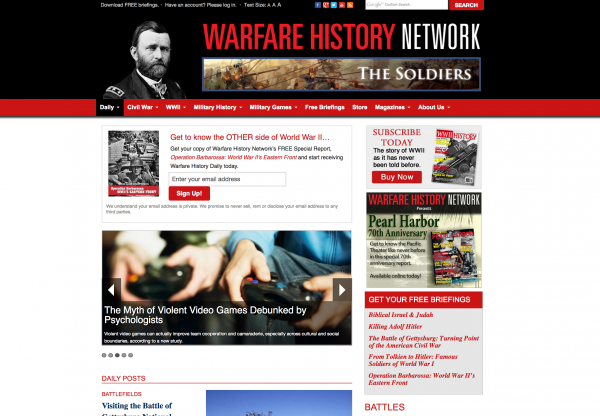 The other is the way a portal with a library suddenly turns past issues into valuable content. "We also now have an incredible opportunity to leverage our backlist of 20 years to produce scores of highly targeted digital books. It's a whole new world for us," Hintz says.
Overall, moving to a Mequoda portal model is a huge step for even the healthiest, most profitable legacy publisher. Hintz says his experience with WarfareHistory.com is significantly different from the sites for their other publications. How? "The business plan from the outset is more finely tuned, and we have a clear plan on what keywords we're going after, and what strategies we're going to use to grow the audience."
If you've been reading us here at Mequoda for awhile, you'll know that we've long talked that very talk. And Sovereign's experience shows exactly how we walk the walk.
But if you have any questions about the Mequoda Method, Mequoda portals or Mequoda business plans, don't hesitate to ask them in the comments! There's nothing we love more than explaining our method – and delivering new success to legacy publishers. It makes it all worth getting out of bed every morning.