Creating the World's Most Popular Website for Entrepreneurial Capitalists
With 2006 revenues estimated at more than $510 million, up from an estimated $460 million for 2005, the newly formed Forbes Media Network is on a roll.
Forbes Media currently includes print, online conferences, radio and TV properties. At this time, an estimated $330 million still comes from the American edition of Forbes Magazine, however, senior executives Steve Forbes and Jim Spanfeller both tell Mequoda that online publishing revenues will pass print in 2008 or 2009—if the current growth rates for both print (up 6% for 2006) and online (up 57% for 2006) hold for 2007, 2008 and 2009.
This would the first time in media history that an online publishing business using an existing media brand would surpass the revenues of its successful print sibling. It will happen sooner or later. The question is simply which media brand will be the first. Forbes is an odds-on favorite for accomplishing the feat. And the feat will be all the more impressive because Forbes Magazine is continuing to grow its revenue and profits while Forbes.com makes its impressive climb. The milestone will prove that a wildly successful dot.com brand extension does not hurt the print sibling from which it sprung. In fact, the power and synergy of the integrated brand strategy may give the existing magazine a competitive edge on several fronts.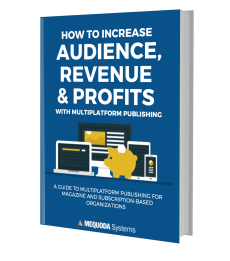 Learn the secrets behind today's most rapidly growing niche publishers. Download a FREE copy of How to Increase Audience, Revenue & Profits with Multiplatform Publishing, a guide to multiplatform publishing growth for magazine and subscription-based publishers. Download now.
Background
B.C. Forbes launched Forbes Magazine during the First World War. Since then it has remained a family owned, privately held company, with only three leaders in its 89-year history: B.C., his son Malcolm and Malcolm's son Steve.
During that time, Forbes has competed successfully with much larger and better capitalized public media companies by remaining focused on its primary mission: to provide information to entrepreneurially oriented business people.
The dot.com bust in 2000 that negatively impacted much of the business press, negatively impacted Forbes as well. However, the picture in 2006 is an entirely different one. Today Forbes Media is a very attractive media enterprise as evidenced by a recent, significant minority investment from Elevation Partners, a private equity group that includes among its six partners the rock star Bono, the singer in the group U2.
Elevation is taking a large position in the new company, Forbes Media, which includes Forbes Magazine, Forbes.com, conferences, radio and video operations, specialty newsletters and some smaller properties (such as the American Heritage Magazine group).
Roger McNamee, cofounder and managing director of Elevation said that the new group was in the business of "helping content creators in the traditional media world manage the transition imposed by the Internet."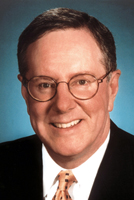 Steve Forbes, CEO
Forbes Media
"No one is master of their own universe. Time and circumstances change. We wanted the wherewithal to pursue the enormous opportunities in front of us, and Elevation understands technology, media and print," said Forbes Media CEO Steve Forbes regarding the investment by Elevation Partners.
Elevation was attracted to the Forbes Media brand for two reasons: One is its highly successful website, which had 10 million unique visitors in June, according to one measuring service (comScore Media Matrix). The other is what Elevation co-founder Bono characterized as "its point of view and consistent philosophy throughout its history."
The Forbes Media Network includes:
Forbes Magazine: with ten foreign, local language editions in addition to the flagship biweekly US publication
Forbes.com: which is completely separate from the magazine and has been profitable since 2005
ForbesAutos.com: operated as part of Forbes.com
Forbes Video Network: original broadcast quality news programming that is webcast on demand from the Forbes.com website
Forbes Email Newsletters: 37 free email newsletters plus Forbes Desktop Alerts, a unique contextual email system that sends users email on more than 10,000 topics and keywords.
Forbes Newsletters: 40 paid investment advisory newsletters including the new Forbes International Investment Report
Forbes Conferences: Forbes offers about a dozen conferences and seminars every year in cities around the world.
Forbes Radio: a Talk Radio Network (TRN) syndicated radio programs in 157 markets
Forbes on Radio: Podcasts
Forbes on Fox: weekly TV Show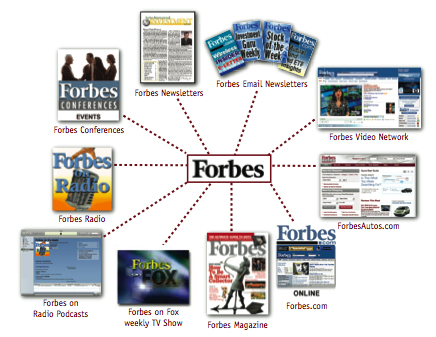 Core Strategy: Audience & Purpose
Steve Forbes has a very clear picture of the audience for all of the products of Forbes Media. He calls it "The entrepreneurial, capitalist class."
The purpose of all the products in the Forbes Media Network is to provide useful information to that group, according to Steve. "…. the people who read us, who use us, see us as more entrepreneurial, more on the edge, more conversational, more sympathetic to those who are trying to make things happen rather than preserving the status quo."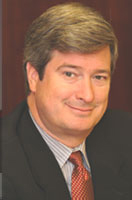 Jim Spanfeller,
President and CEO,
Forbes.com
Jim Spanfeller, President and CEO of Forbes.com describes the purpose of the website this way: "Clearly we're there to help you succeed at business, make the most of the fruits of your labors, and then make the most of the rewards of winning. We help you make the money, invest it, save it, deal with it wisely; and then spend it in as fun and appropriate way as possible."
Business Strategy: Products, Branding & Revenue Models
Forbes was, for many years, primarily Forbes Magazine. But the Internet has brought a major change. Forbes Magazine is just one of the products in the new company called "Forbes Media." The magazine is still the largest product in the group, but both Steve Forbes and Jim Spanfeller believe it is just a matter of time before the website passes the magazine in revenues.
As far as we can tell, Forbes.com would be the first major publisher whose online product succeeded in outpacing its established, successful print product. This would be a major milestone in the digital century.
The Forbes Media Network Products
Forbes Magazine: The original flagship, the U.S. edition of Forbes, is published biweekly with a current circulation of more than 900,000 paid subscribers and a total claimed readership in the millions. These readers boast an average household income of $206,043 and average household assets of $1.6 million. Ad revenues are estimated by an independent service (TNS Media Intelligence) to be in the $300 million range in 2006.
In addition there are nine foreign language editions at last count, including everything from an edition in Turkey with 12,000 circulation, to a magazine with 150,000 circulation in China.  Apparently, there are a fair number of people in communist China who want to keep up with the latest capitalist tools.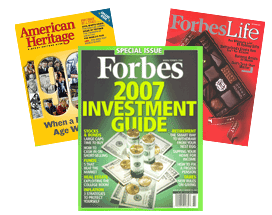 Forbes.com: NOT simply a web version of Forbes magazine. It is a completely separate company producing a unique product. Nearly all of the information and material on the website is unique to the site. Forbes may be the only established magazine that created its website this way. It has worked brilliantly.
There is no generally accepted third-party method of measuring website visitors, but Forbes.com claims between 15 and 20 million unique visitors per month, a very impressive figure.
Forbes Video Network: Forbes produces original broadcast quality news programming that is webcast on demand from the Forbes.com website. This channel offer advertisers a chance to target their made for TV ads at the well-healed Forbes online audience.
Forbes produce original broadcast quality news programming that is
webcast on demand from the Forbes.com website.
ForbesAutos.com: A separate website providing automotive news and reviews and a targeted advertising environment for luxury car marketers.
Free and Paid Newsletters: There are two parts to Forbes's newsletters. One is a series of 37 free email newsletters on a variety of topics available by subscribing at the website. These newsletters often come with sponsorships.
There is also a stable of 40 paid newsletters, focused on investment that Forbes sells on its website. Some are published by Forbes, but most are published by other media companies. On these, Forbes gets a commission for every sale.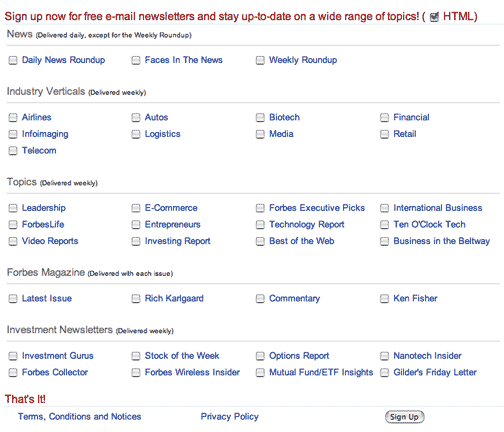 Forbes offers 37 free email newsletters on a variety of topics available by
subscribing at the website. These newsletters often come with sponsorships.
Forbes Conferences: Forbes offers about a dozen conferences and seminars every year in cities around the world. According to their promotion, these conferences "bring the pages of Forbes magazine to life." They include panels led by editors, one-on-one interviews with "business and political visionaries,"case studies and networking exercises.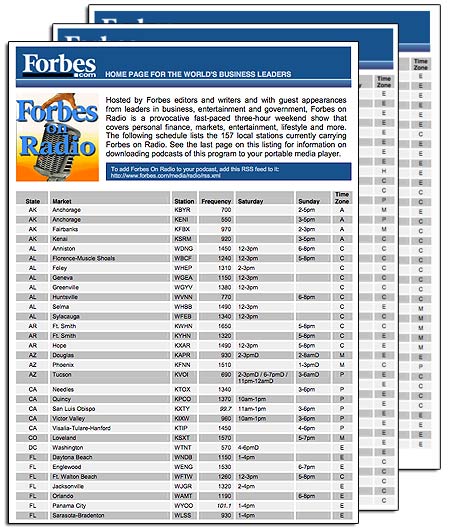 Forbes Radio: Forbes has a syndicated radio program that is run on 157 stations around the U.S. Three hours long, the program is broadcast on weekends, and covers "finance, markets, entertainment and lifestyle."
Forbes on Fox: Forbes.com has a growing in-house video production department that it uses to produce videos, which it then streams on the website. Most of these are paid programs done for sponsors.
The magazine also has a weekly TV program featuring its editors on the Fox Channel.
Revenue Models
The Forbes Media Network is an empire built on advertising. Yes, Forbes makes millions selling subscriptions to the print magazine, and conference attendance, and newsletters, and even some wine, but the vast majority of Forbes Media revenue comes from advertising. In the case of Forbes.com, that figure is above 90%.
Forbes is selling business people the chance to reach their audience of millions of high income, highly influential entrepreneurs and capitalists—in traditional print, by mail (snail and electronic), with audio, on video and in various forms of web advertising. They also have millions of registered "members" that receive regular emails from them (alerts, newsletters) available for targeted "outgoing" messages.
Website Strategy: Content & Conversion Architecture
While Forbes.com retains the magazine's editorial philosophy and serves the same audience as Forbes the magazine, editorial content was not simply migrated to Forbes.com. This is very unusual among magazines that move their brand online. Most simply create a companion website with the primary goal of selling print subscriptions and providing 24/7 customer service. Others simply archive the print magazine's content online for readers to use to research a topic the magazine covers.
Steve Forbes told Mequoda that 98% of Forbes.com is unique editorial matter. And there is a huge amount of it. There is a very broad range of news, investment and financial information, reference material, audio, streaming video—and a large selection of "tools" you can use to manage your investments.
Forbes.com is the largest single source of new print subscribers for Forbes Magazine. Mequoda estimates that more than 135,000 net paid subscriptions will be sold online in 2006—almost one-third of all new subscriptions sold and far exceeding those sold by direct mail—the magazine's former number one source of new business. Forbes.com views Forbes Magazine as a major advertiser as it gets paid a fair market agency commission for each subscription it sells. Almost every page of the website offers visitors a chance to subscribe to the print magazine.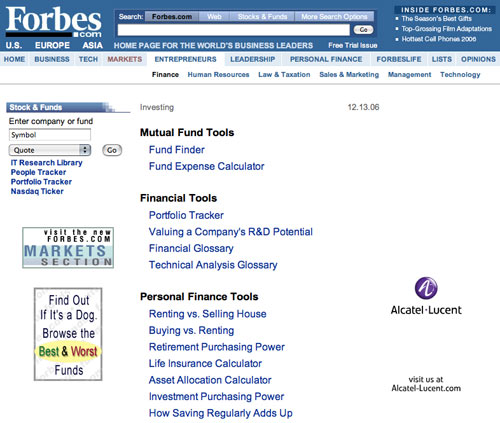 Forbes.com also promotes all of the other Forbes products
as well as those from selected other companies.
Forbes.com also promotes all of the other Forbes products as well as those from selected other companies. You can view the entire list of radio stations that broadcast the Forbes weekly program along with times of the broadcasts. You can find out about the current availabilities for Forbes conferences and sign up. You can subscribe to a financial newsletter from a number of well-known experts. You can get free newsletters and news alerts on specific subjects. And Forbes is even experimenting with a wine club!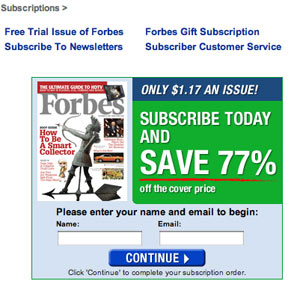 While Forbes.com aggressively sells all Forbes Media products and generates a large number of subscribers for Forbes Magazine, the overwhelming economic driver of Forbes.com is third-party advertising and their conversion architecture is designed to support that fact. With 15-20 million unique viewers per month, and with a high-powered demographic very much like Forbes Magazine, Forbes.com has become so attractive to advertisers that as we mentioned earlier, Jim Spanfeller predicts that it will not be long before Forbes.com overtakes the ad revenues of Forbes Magazine. As we said, when and if this happens, it will be big news.
Advertising on the site comes in many forms. Some advertisers buy videos that are streamed via the Forbes Video Network. Spanfeller says the Network is serving four to five hundred thousand streaming videos a week. Advertisers can also sponsor one or more of the free newsletters sent to email subscribers. And much of the revenue still comes in from banners and interstitials and other, more traditional forms of web advertising, like sponsored links.
The website also uses contextual conversion architecture to ask visitors to sign-up for notification when new information is posted about a company, industry or topic. This conversion architecture drives circulation acquisition for the Forbes Desktop Alerts that, in turn, drive Alert subscribers back to the website creating more impressions for advertisers to buy.
Audience Development Strategy: Using Earned and Paid Media to Drive Website Traffic
Forbes Media executives can no doubt tell you the value of the average website visitor in advertising revenue per year, but they do not release these figures to outsiders. Mequoda estimates Forbes.com Revenue per Average Visitor at $8.48 for 2006. Revenue per Average Visitor (RPAV) becomes the wholly grail for how much an online publisher can spend to create one average monthly visitor.
Understanding how to acquire online visitors efficiently is a much newer problem for online publishers and many have not figured this out. Forbes.com has figured out a formula that relies heavily on using their content to earn free media coverage from other print, broadcast and online media that all drive traffic to Forbes.com with little or no spending to "buy media." Mequoda calls this strategy "earned media" since it can not be bought, but must be "earned" by providing valuable content to other media outlets at little or no cost to them. This strategy, when executed well, can build a strong online brand that generates millions in new revenues for its parent organization. Forbes.com is among the best examples we've documented of using earned media to build a massive online brand.
How does Forbes.com generate all those unique visitors? Spanfeller says that there are four major drivers of traffic to the site: earned media, organic search, brand preference and email newsletters.
Earned Media: Forbes "syndication program," includes partners all over the world whose use of Forbes content gains Forbes exposure on other sites, which encourages people to visit Forbes.com. This includes larger media portals like Yahoo!, Forbes Radio and Forbes on Fox. This is Forbes largest source of visitors and while none of these programs generate any significant revenue for the organization, they all generate website visitors for Forbes.com and build the Forbes brand.
Organic Search: Google, Yahoo! and MSN generate the second largest number of visitors. There is so much information on the site that people looking for specific things in business often get a hit at Forbes.com. To maximize this source, Forbes.com started a specific search engine optimization (SEO) program in 2004, with excellent results.
Brand Preference: The third major source of visitors is people who have set up Forbes as their home page, or have it on their "favorites" list or for other reasons go directly to the site, typing in Forbes.com. Clearly Forbes Magazine and other branded media programs are key to creating a media brand that people choose first for the business news.
Email Newsletters: While Forbes Email Newsletters and Forbes Desktop Alerts are no longer a top source, Spanfeller notes that they were a "top three" source until last year and still drive 15 to 20% of the sites traffic. The success of Spanfeller's efforts to diversify and grow his website traffic make him one of the few publishers we interviewed for whom email newsletters is not the largest source of website visitors.
Customer Contact Strategy: Email Newsletters & Desktop Alerts
Forbes.com has a highly sophisticated email system based on its 37 free email newsletters and email alerts. Visitors to the site can sign up for free newsletters in a variety of topics. They can also sign up for single-story alerts by subject. Mequoda estimates that Forbes.com has six to eight million email subscribers to its various email services with a variety of contact frequencies that include daily, weekly and "as needed" for the Forbes Desktop Alerts.
On the main Forbes Email Newsletters page there are 37 newsletters listed. Twelve are on various topics. Nine cover hot industries. Eight are on investment. Four are related to Forbes Magazine. There are three on news, including Daily News Roundup and Weekly News Roundup and one on the Forbes.com Wine Club.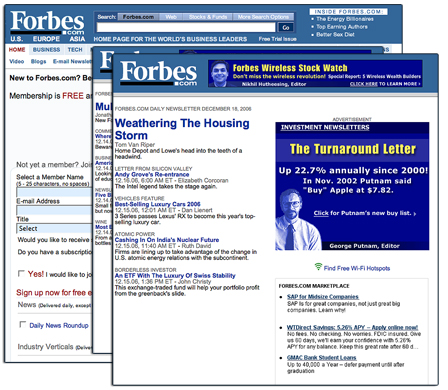 Forbes.com sees the primary purpose of newsletters as promoting visitors to return to the site, although as we said it is no longer one of their top three sources of traffic. The newsletters generate website traffic and provide direct sponsorship opportunities for Forbes.com advertisers and are used to sell Forbes.com's print newsletters and conferences.
Forbes.com also uses the newsletters to enhance its database. To get you to register, Forbes.com often hits you with a list of free newsletters to tempt you to subscribe when you first go to the site.
The Forbes.com email newsletter and alert system is one of the best we have seen. It is sophisticated, broad, and well done.
Organizational Strategy: Job Analysis, Team Building & Organizational Structure
Forbes Media is divided into two separate, equal, cooperating companies. Forbes.com is one company focused on operating the website and Forbes Video Network. The other is focused on Forbes Magazine plus the conferences, radio and TV operations. They operate with two different groups of employees, sharing only some financial and legal staff.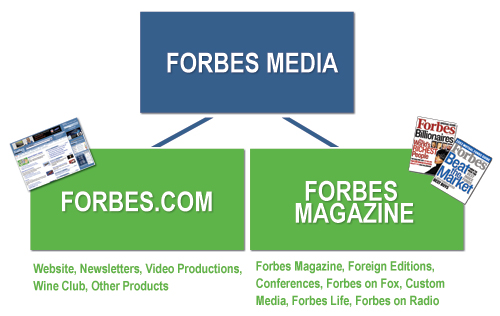 This is an unusual arrangement for print publishers with a website, and may be the key strategy behind the impressive success of the online business. Each of the 200 people employed by Forbes.com is dependent for their income on the success of the website. There are no fallbacks. No distractions. If the website does poorly even though the magazine is booming, they will be out of a job.
Steve Forbes also points out that this prevents magazine advertising executives from giving away online advertising at bargain rates to protect or improve print advertising sales contracts. Mequoda analysts have routinely seen the combined sales force organizational strategy hobble the growth of a magazine's online publishing business. Forbes Media made a commitment to grow online as a separate line of business in the mid-90s and has stayed with that vision through boom, bust and the second boom the online advertising business is now experiencing.
Spanfeller finds that the website requires different skills than are found in the magazine company. For example, his editorial employees (led by an "editor") tend to come from newspapers not magazines. His sales people almost always have online experience before they are hired because the online sell is different from the print sell. The people doing his video come from the world of television, not publishing.
Hiring and retaining people on the web side is more difficult than in print, says Spanfeller, because the demand for people with web experience is much higher. He expects this to be true for some years until the industry settles down.
Reporting & Key Metrics: The Top Management Dashboard
The primary metrics used by Forbes Media are audience (both quantity and quality) and revenue. On the magazine side this means readership, circulation revenue, and ad revenue. On the web side, it means traffic and revenue. As Spanfeller puts it, "How many page views, how many unique visitors, and then how much revenue. "
Forbes Magazine revenues should be about $330 million by our estimates in 2006, using advertising revenue estimates from TNS Media Intelligence, which are usually high, and adding in other products and circulation revenues. Steve Forbes told us that Forbes Magazine revenue would be up five to six percent for 2006 and has almost recovered to the boom levels achieved in the 90's and 2000. He happily reports that the advertiser mix is different now for both the print and online business units. Gone are the VC-funded advertisers with millions to spend on advertising and no business plan. Forbes is comforted that the second boom will not bust like the first. This time his advertisers have sound business plans, growing revenues and profits. This is perhaps most important for Forbes.com, where the bulk of the advertisers are now the same blue-chip companies who run ads in Forbes Magazines. For Steve Forbes, the quality of his sponsors has become a key metric that he monitors closely.
We further estimate that Forbes.com 2006 revenues will exceed $127 million. Steve Forbes and Spanfeller both told Mequoda the dot.com has been growing top line revenue at 50 to 65% year over year since hitting bottom in 2002. Both also agree that if the 50 to 65% online revenue growth continues, that dot.com revenues will pass print revenues in 2008 or 2009.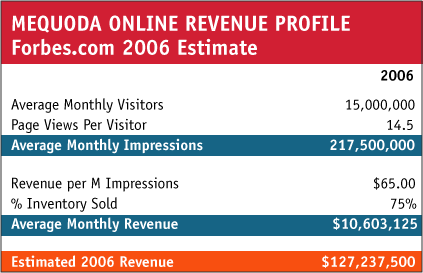 Mequoda Online Revenue Profile – Forbes.com 2006 Estimate
While outside services report only 10 million unique visitors a month, Spanfeller estimates 15- 20 million "uniques" per month and does not reveal page view totals.
To help Forbes.com achieve maximize total page views per visitor, Spanfeller relies both on counts of page views for various stories and on frequent web surveys done by an outside vendor. They ask randomly selected visitors questions like "Did you find what you wanted?" "Would you come back?" "Would you recommend this site?" "How was the design?" Spanfeller himself reviews this data in detail once a month.
Both the magazine and the website also gather demographic information which is important in selling advertising.
Conclusion
While Forbes Media is comprised of two distinctly separate companies, it is functionally an integrated, platform agnostic, 21st century publisher. The fundamental element is the attention of a high volume of high quality, high-income executives who influence their organization's spending and who have a great deal of personal money to invest.
The magazine gathers these people in all of the traditional ways (direct mail, newsstand sales, blow-ins etc.) and drives some of them to the website. The website, in turn, uses the famous brand name and the same approach to editorial to create a major website, that in turn, becomes a high volume source of subscribers and readers for the magazine.
This synergy is the center of the economic model driving Forbes Media today.
Would this have worked if Forbes.com simply picked up the content of Forbes magazine and made it the primary content of the site? We do not think so. Even if the site had embellished the content with video and audio, it would not have been enough. The genius of this model in our opinion is the unique content of the website.
The web is not only different in some ways (it includes audio, video, and interactive tools) but it is far broader and deeper than the magazine and available with new information all day, every day. It covers more subjects more deeply than the magazine can. There are only so many pages in a print publication (the old joke about The New York Times slogan is that it is really "all the news that fits") but web content is, for all practical purposes, unlimited.
An excellent idea, backed by an efficient and sensible organizational strategy, and well executed, is the lesson of Forbes Media. Maybe Bono will write a song about it.