Winners are not always who you'd expect

Every six months, the Alliance for Audited Media issues its top 25 lists of reporting magazines for various data points. Most recently, this past June, it issued its list for the first half of 2013, including digital circulation, and the media promptly went with this theme:
Why Magazine iPad Subscription Numbers Are Worse Than You Thought: Game Informer Magazine Accounts For One-Third Of All Digital Replica Editions
This is no surprise to us here at Mequoda. We're quite accustomed to media covering the publishing industry being as pessimistic as possible. We don't know why they do it, but we're accustomed to it.
So instead of making simplistic observations about digital magazines, such as that one above from Ad Age, let's actually explore the full list and try to come up with some practical ideas from it. This is how it looks:
| | | |
| --- | --- | --- |
| TITLE | DIGITAL CIRC | PUBLISHER |
| Game Informer | 2,974,512 | Game Stop (video game retailer) |
| Reader's Digest | 292,285 | Reader's Digest Association Inc. |
| Cosmopolitan | 246,815 | Hearst Communications Inc |
| Taste of Home | 215,658 | Reader's Digest Association Enthusiast Brands |
| Maxim | 211,429 | Alpha Media Publishing Inc. |
| National Geographic | 180,288 | National Geographic Society |
| Working Mother | 163,539 | Bonnier Corp. |
| Poder Hispanic | 137,717 | Page One Media/Televisa Publishing |
| OK! Weekly | 135,709 | Odyssey Magazine Publishing Group |
| Star Magazine | 117,554 | Radar Online |
| Men's Health | 109,935 | Rodale Inc. |
| Wired | 102,450 | Condé Nast |
| ESPN the Magazine | 101,325 | ESPN Internet Ventures |
| Popular Science | 100,470 | Bonnier Corp. |
| O, the Oprah Magazine | 99,412 | Harpo Inc. |
| GQ | 99,185 | Condé Nast |
| US Weekly | 92,600 | Wenner Media |
| Parents | 92,348 | Meredith |
| Food Network Magazine | 91,491 | Scripps Networks Digital |
| Nylon | 79,616 | Nylon Holding Inc. |
| New Yorker | 78,511 | Condé Nast |
| Vanity Fair | 75,293 | Condé Nast |
| Martha Stewart Living | 73,733 | Martha Stewart Living Omnimedia Inc. |
| WebMD Magazine | 73,568 | WebMD LLC |
| People | 73,181 | Time Inc. |
Yes, Game Informer is killing everyone else. The magazine is published by video game retail chain GameStop, and obviously focused on video games. The key takeaway from its continued dominance (it has led every list for some time now) is this: It's bundled with a store loyalty program.
According to GameStop, when the loyalty program launched in 2010, the magazine's digital circulation was a puny 4,844. Game Informer circulation rose to 223,000 in 2011, blew past the million mark to 1.2 million in 2012, and is close to hitting 3M today.
Do we think that's a primary factor in Game Informer's awesome digital magazine circulation? Well, certainly video games are hugely popular, but no other video game magazine (and there are many, of course) is even close. And celebrity gossip, Oprah Winfrey and cooking are pretty popular among consumers, too, yet their numbers are seriously lagging behind Game Informer on this chart.
Another clue: Numbers 1 and 2 on the print circulation list, AARP the Magazine and AARP Bulletin (at 21.9M and 21.7M, respectively), are also bundled titles, in this case, included with membership to AARP.
Number 3 on the print circ list? Game Informer, at 7.8M.
Building digital magazine circulation by bundling your magazine with another program is almost certainly the driving factor here. If you're advertising-driven, it behooves you to find a loyalty program or other group to take in your magazine.
The possibilities for bundling are endless, and there's a good option somewhere out there for every publication, no matter how small. Even now, reports Ad Age, Condé Nast and The Gap have partnered to offer subscriptions to Lucky magazine with specific Gap purchases. Ad Age also notes that public radio stations often give magazine subscriptions to their members.
[text_ad]
More than just the big digital magazine players represented
And speaking of Condé Nast, they're the winner in terms of number of titles on the Top 25 list. WIRED, GQ, The New Yorker and Vanity Fair all make the list. Second to Condé Nast are Reader's Digest Association, with Reader's Digest at #2, and Taste of Home in fourth place; and Bonnier Corp., with Working Mother and Popular Science making the list further down.
No one else has more than one title, including giants Hearst Communications, Rodale, Time Inc. and Meredith.  And many of the Top 25 publications come from less powerful media companies.
I was most curious about PODER Hispanic, a magazine I'd never heard of. And I still know very little about it. It bills itself as "Intelligence journalism for the business elite," and is geared toward the Latino community. It was formed in 2010 in a merger between PODER and Hispanic magazines, creating one publication with the healthy print circulation of two magazines.
How it promotes its digital magazine, I can't tell, because I can't even find the digital magazine. It's not available at the Apple newsstand, and when I subscribed to the digital edition at the PODER Hispanic website, I discovered that my first issue won't arrive for four to six weeks. This boggles the mind, but there it is. Also, the media kit makes no mention whatsoever of the digital magazine. I guess I'll just have to wait for a couple of months.
Quality of digital magazines not a prediction of circulation
As you may have noted, we've been reviewing various digital magazines lately, and have developed a Best Practice list by which we judge them. I decided to take a spin through Game Informer and Reader's Digest, the top two, to see how well they stack up. Both scored fairly well, with the uniting theme being that they use the technology well to enhance the reader experience.
Reader's Digest, for example, shows you visually how a popup turkey timer works. I'm proud to have gained this knowledge, which I shall certainly share with my family this Thanksgiving.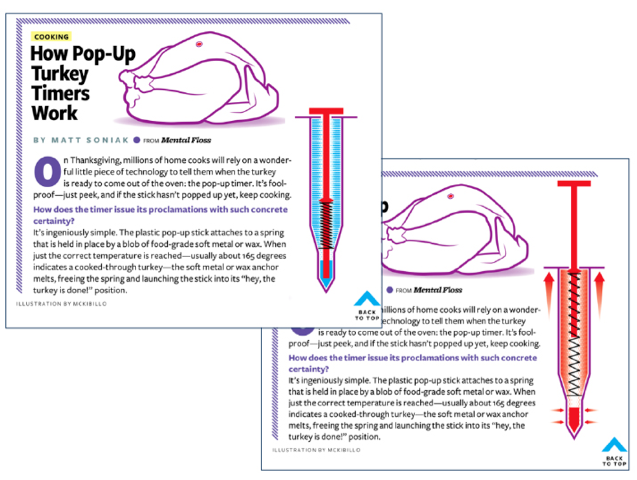 Both use vertical reflow, a Mequoda favorite, and in general click all the right boxes. I do admit I'm baffled as to why Reader's Digest hides its reader-friendly instruction page at the end of the issue.
And many of the other large-publisher titles, such as Cosmopolitan, Men's Health, The New Yorker and WIRED, also fare well against the Mequoda Best Practice list. We actually reviewed the very nice Popular Science digital edition not too long ago, and you can read about it here.
But oh, dear, there are some real duds on this list, too, proving that your domain's popularity can overcome even the worst digital magazine design. I recently studied OK! magazine's digital edition … and abandoned the project because it's the most basic of replicas, with not a single nod to the technology used to publish it.
Celebrity mags routinely cram four or more short pieces on a single page, along with images for all. When you squeeze it all down into the iPad screen, it's simply an eye exam, no matter how young you are!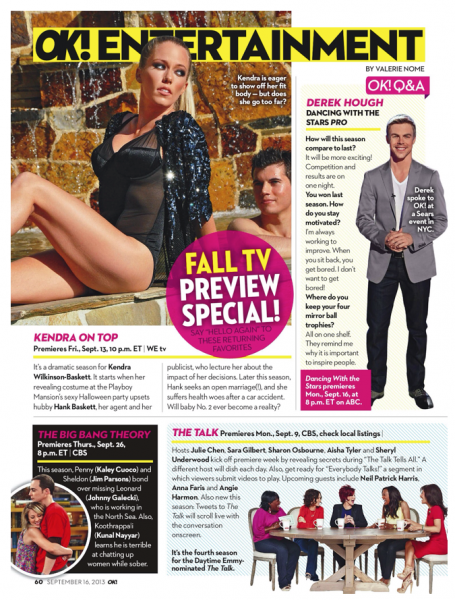 [text_ad]
And US Weekly is what we'd call a replica plus: No reflow, just squished magazine pages, and a teensy bit of "Tap here" for the rest of the article. But mostly, the best opportunities for technology are lost. A coupon in an ad … that can't be accessed? I suppose the subscriber could bring the iPad shopping and have the screen scanned … but I do hope Visine isn't paying extra for the digital circulation.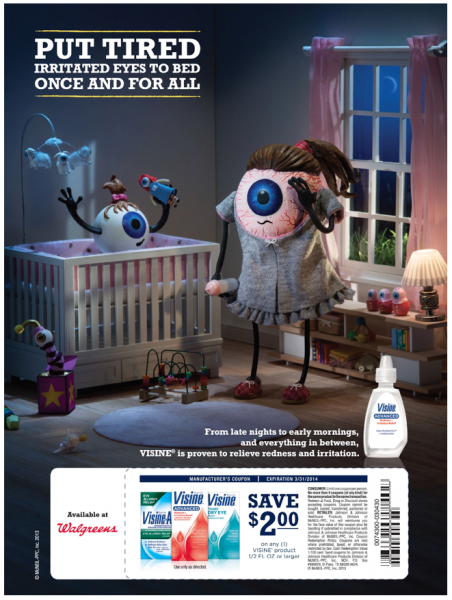 And now for the good news
If you only read the Ad Age article referenced above, you'd have no idea there was anything good going on in digital magazine circulation. Thankfully AAM isn't in the pessimism business itself, so it reports factually (emphasis mine):
Digital editions continue to be a small but growing portion of magazines' total circulation mix, nearly doubling year-over-year. For the first half of 2013, magazines reported a total average of 10.2 million digital replica editions (paid, verified and analyzed nonpaid), or 3.3 percent of total circulation. This compares with 5.4 million digital editions, or 1.7 percent of total circulation, in the first half of 2012.
And according to the Association of Magazine Media, recently-released Publishers Information Bureau data shows that tablet ad units are up +17.5% in Q3, and +22% YTD.
And seriously, if a basic replica edition can make the Top 25 circulation list,  there's clearly a market eager to see their favorite magazines in a tablet form. Yes, we know that tablet circulation makes up only a tiny portion of total circulation, and that, as all the observers are fond of noting, it's not enough yet to make up losses in print circulation.
But the opportunity is clearly there for publishers. And you can't build digital circulation to sell ads and make up for lost print circ if you don't have a digital magazine. So hold your head up, try to ignore the naysayers, and get going! We say go digital … or go home. But what do you say? Are you an optimist like Mequoda, or a pessimist like Ad Age? Don't hold back … tell me what you think.