Digital Magazine Publishing Gives Black Belt a Fighting Chance
Debate rages in magazine land about the future of the industry, and especially the role that digital magazine publishing will play in that future. But at least at Active Interest Media, there's little doubt about what's keeping Black Belt magazine in fighting trim, and there's plenty of earned optimism about the digital future.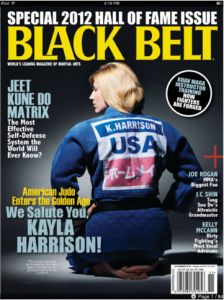 Black Belt sold 9,600 digital subscriptions since debuting its app in April 2012. That volume puts it in the top third of AIM's 42 magazine products, all of which have digital editions. "We're excited about the consistent growth month over month," says Andrew Clurman, AIM President & COO.
Black Belt's digital circulation accounts for about 5% of its total – and the largest total at AIM is about 10%, Clurman says – which makes it a leader in digital publishing, where the average is 1.7%.
Clurman isn't among those discounting digital circulation, either. "I think it will be significant" in the industry, he says, noting that the market is still establishing itself, with consumer awareness of digital content and device ownership still growing strong.
He's also optimistic about advertising in these fancy new digital magazines. While some publishers fret that the industry is trading print advertising dollars for digital dimes, Clurman firmly believes that the interactive reading experience, instant connection between advertising and users, and longer reader engagement will all turn into strong CPM rates for digital publishers in the long run.
[text_ad]
Black Belt offers a real kick for readers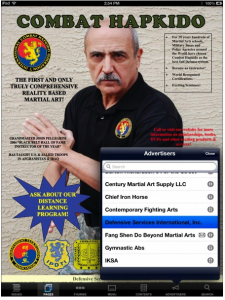 Black Belt, a Mequoda client, is helping define digital magazine Best Practices. It actually made my recent Best Practice list, with its advertiser index, a feature I haven't seen anywhere else (yet). Clurman says all of AIM's digital editions offer the index, and adds that advertisers expect it.
The Black Belt digital edition is accessed via a standard app that offers no free content, just the opportunity to buy issues or subscriptions. Mequoda still believes in delivering some kind of free content in your apps, because readers expect it, but in the meantime, Black Belt readers who do buy in are getting a rewarding experience.
The magazine offers what I'll call a replica-sorta-plus: There are certainly bells and whistles, but no videos, which the magazine excels at on its YouTube channel and website.  Raymond Horwitz, Director of Digital Media, notes that Black Belt, which produces all the digital editions in-house, doesn't have the manpower at present to offer anything fancier. However, he adds, the magazine might at some point include links back to the website's archive of editorial and video content.
In the meantime, it's still more than just a simple replica. One of my favorite features is the seamless link back to the website that's available on every page. When the user arrives at any page, the words "BLACKBELTMAG.COM" that appear in the bottom margin of article pages are briefly highlighted, drawing attention to themselves.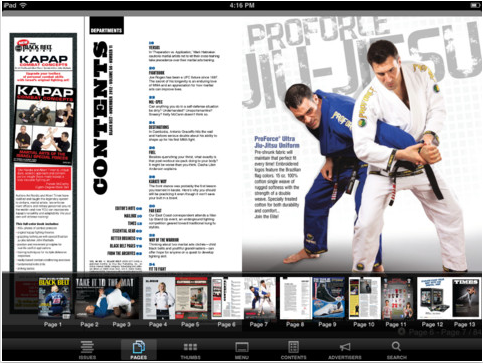 Tap that text, and you're delivered a half-screen view of the website – at the bottom when using your tablet vertically, at the right when using it horizontally. You can make that view take over your entire screen, make it go away, or keep it where it is and read the article by scrolling while simultaneously viewing any website page you also want to check out.
The title of every article will also highlight itself, and tapping it delivers a half-screen of text only, with the option to enlarge the text – always appreciated by us (ahem) more mature readers.
[text_ad]
Pricing, promotion and future plans
For all of this fun and informative content, readers are paying $24.99 for digital only. The print edition is $24 per year, and there's no option for a bundle at the moment. We're happy to see that Black Belt isn't giving away its content for $8 or $9, like many other magazines.
The digital subscription is sold via the Apple and Amazon newsstands, Barnes & Noble, Google Play and Zinio, all of which are promoted on a single page at the website. Horowitz also notes that plans are in the works for an online store that will sell Black Belt digital content directly, including back issues.
Black Belt is also vigorously marketing its digital subscriptions, most successfully via popups or floaters that appear when a new user arrives at the website on a mobile device, Clurman reports. There are also ads in the print magazine, email blasts and banners on the website.
Perhaps the bottom line for Black Belt digital is the role it's playing in Black Belt circulation and revenues. Clurman says that both numbers for all of AIM's publications have been flat over the past three years, as they have for most publishers, even after digital editions were launched. But what helps him sleep at night is that without the digital edition, those numbers would have dropped.
And with his optimism about digital going forward, Clurman is anticipating rising numbers as the demand for mobile magazines increases, and as publishers like AIM discover new, high-quality digital content products to sell.
If any readers have unique digital magazine features that they're proud of, please tell me! You might get to star in a Tuesday blog post!