5 Expectations of Web Magazine Consumers
By— Don Nicholas • 08/22/2017
Web magazine consumers like to read their magazines like they read their news – online.
Users are becoming more accustomed to viewing magazine content in the form of web magazines. Web editions can be displayed on any mobile or desktop device, so users are as familiar with the interface as they are with a web browser, which is making adoption even more rapid than tablet editions.
If you're considering building a web edition, it's good to know what the most important web magazine features are for those who are subscribing to them. And if you haven't built a web magazine with an archive yet, read up on the many benefits.
------------------------------------------------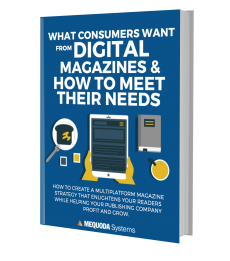 Consumers are telling us loud and clear what they want—are you listening? How much would you pay for that information? Download a copy of What Consumers Want from Digital Magazines and How to Meet Their Needs for FREE instead, to find out how you can improve your digital magazine rapport with subscribers. Download now.
------------------------------------------------
5 expectations of web magazine consumers
A couple weeks ago we published a post about all the features we thought consumers wanted in digital magazines, both web and app, and today let's review specifically which features they want in their web editions.
The same content from the print magazine is available (maybe more). This feature is a given, right? But we've seen publishers, on occasion, leave out the smaller editorial pieces and clips from their print magazines when it comes to their digital editions. Try attaching these smaller snippets, formatted to stand out, at the bottom of the same articles they're paired with in your print magazine.
It's readable, and conforms to any device. This was the number one request of users who consume web magazines. Those who dislike tablet magazines, have a distaste from having to learn and re-learn different interfaces between every magazine they subscribe to. And when they want to read an article, they want to scroll to read like they can online, while many publishers force readers to pinch and zoom a PDF, or flip pages like print. Take advantage of the features of digital magazines, like scrollable text and your readers will thank you.
It can be shared, saved, and bookmarked. The user may understand that premium content may not be read by non-subscribers, but they want to be able to share it. And they want to be able to save and bookmark content to come back to later, which is a built-in feature in any internet browser they'll use to view the web edition.
Archives are available to view older issues. If your magazine has been in business for ten to twenty years or longer, then you have a mighty back issue archive still to digitize, but it will become your greatest resource of new content and passive income. Offering this archive of older issues is not only an added bonus for your readers, but is also a huge selling point for upselling print subscribers to digital subscribers.
An "all access pass" will cost more, but it should be offered. For publishers who offer print, digital, and an all-access pass that includes access on all platforms including print—the all-access pass is the best-seller. If this isn't a sign that consumers want to have their cake and eat it too, I don't know what is.
If you'd like to discuss how we can help you build a profitable magazine subscription website and multiplatform niche media business, please schedule a no-obligation appointment with me.
Posted in Digital Magazine Publishing