At the fundamental level of multiplatform publishing, and as a basic principle of the Mequoda Method, we say that you can use your content to create other products. Live events are the best high-fidelity user experience, with the highest price point. However, most publishers will be very comfortable producing downloadable media, like books, special reports, or video pieces. Or, if you're The New Yorker, you can ask the article writers to record their pieces and offer them as an audio subscription.
Last week, at our quarterly Digital Publishing & Marketing Intensive in Boston, we discussed multiplatform publishing opportunities in depth. The publishers we had the honor of sharing a room with – from niche consumer magazines to extremely niche B2B magazines – hailed from all over the country.
In the form of video, we've captured some of their most interesting takeaways from the conference and will roll them out in the Daily throughout the week. Here are a few attendees talking about their best multiplatform takeaways.
We also wanted to share three of the most interesting – and also common – questions we received about multiplatform publishing during the Intensive.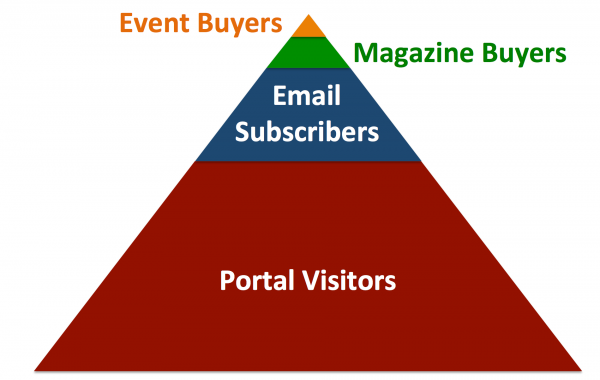 1. Why do you put Portal Visitors at the bottom of your pyramid, taking up the largest percentage?
In this example, visitors come to the portal (your website), convert into email subscribers, are monetized by turning into magazine buyers, and then climb to the top revenue-producing activity – event buying.
In a Mequoda System, or ideally any publishing website, the largest percentage of your audience are visitors to your portal. These are the thousands to millions of website visitors who come in through search, social, and direct traffic. The next level of the pyramid is your email subscribers, because only a percentage of your visitors will convert into email subscribers, and an even smaller percentage will convert into paid magazine subscribers. Event attendees? Even fewer.
Publishers have many different levels to their pyramids, but this is one example of a simple product pyramid for a publisher that offers a magazine and events as premium products. The fundamental truth of the Mequoda Method is that attracting portal visitors isn't that hard, and we can afford to help them with free products like blogs and email newsletters, because a percentage of them will eventually pay by subscribing to the magazine or attending an event.
Check out the Mequoda Pyramid for a more in-depth explanation of a multiplatform pyramid.
2. I have a bad OMI, so what does that mean?
When someone calls me with a legacy website, the first questions I ask are "What's your website traffic per month?" and "What's your circulation?" I can immediately tell if their website is an afterthought. Never have so many billions of dollars been spent with no business goals in mind.  A key predictor of multiplatform success is something called the OMI. For the purpose of this blog, I should remind you that your OMI is a calculation of your monthly unique website visitors divided by your magazine circulation. Ideally, your OMI should be more than 1, because it means you have more website traffic than magazine subscribers.
The reason why we put publishers with an OMI of 5 and above on a pedestal is because if you look at all magazine publishers, 89% of their revenue is coming from legacy sources. Yet, when I find someone with an OMI of 5 and above, 20% to 50% of their revenue is coming from digital. It's an indicator of a sustainable business model. As Pat McGovern once said to me, "I will happily take 50 cents in digital revenue over a dollar in legacy revenue because digital revenue gives me more profit."
Boost your website traffic, and your OMI will rise. Read more about your Online Media Index and who's winning the subscription website publishing wars.
3. When building a multiplatform publishing team, what personality types should I hire?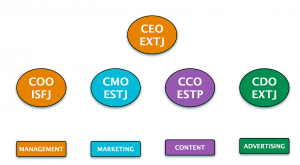 People who are in jobs where they're a good fit tend to be happy.
Before the Intensive, we had all of our attendees use an instrument called the Myers-Briggs Type Indicator® (MBTI®). During our session about multiplatform organizational strategy, we talked about how to work with different personality types, and also what happens when you mix different types into a team. Here's a free, less intensive version of the one they took.
We suggest doing the same before you hire someone, and use their profiles to find people who will be naturals, who are a good fit for the job, and who will mesh best with the team. With that said, when you take a few people and put them together and ask them to do something, they will take on their own type with a bias toward the type of the CEO.
While there aren't good or bad MBTI types, some tend to correlate more to success in certain positions.   When the MBTI types aren't as natural a fit, it's particularly important to be aware of that and how individuals and the organization can act to compensate.  In the graphic you can see the MBTI profiles of the senior executives in our composite case study.  These personality types are a pretty good fit:
CEO – EXTJ (ENTJ or ESTJ)
COO – ISFJ
CMO – ESTJ
CCO – ESTP
CDO – EXTJ (ENTJ or ESTJ)
You might notice X above, but X isn't a personality type; it means that the person can be either/or. In the examples above, X is in the second position for both the CEO and CDO roles. This means that someone who is either S (Sensing) or N (Intuition) would be a good fit for each, although a CEO would ideally be an N (and a high E).
We find that the COO should have a strong S and be able to see the reality of any situation and figure out how challenges will get accomplished. They may be less of a people person – that's the I (Introvert) – and be more focused. A CEO will always be high on the T and J scale. They have a low tolerance for irrationality and wants things done.
With all of this in mind, there are many possible combinations, these are simply the most common types we've identified within highly successful multiplatform publishing teams.
What are your most pressing multiplatform publishing questions? Lay them on me.